We use affiliate links. If you buy something through the links on this page, we may earn a commission at no cost to you. Learn more.
Product Requirements:
Device:
Compaq iPAQ
I have been wanting a Dual Slot PCMCIA sleeve since they
were first shown at COMDEX last December. Being able to use a memory card while
accessing the internet and e-mail wirelessly, was a mighty attractive
prospect. 
Since that time, I have been on someone or
another's waiting list, hoping to receive this sleeve. It seemed like every time
a release date was eminent, something would come up that would push that date
back, further and further.
Then there was the fact that I had actually purchased a Type III PC Card Cellular
Modem back in January. That piece of equipment has been sitting all this
time, while I have been waiting to finally use it in my iPAQ like I had
originally intended when I bought it. 
In late June I was, at long last, able to get my hands on a Compaq
Dual PC Card Sleeve. It was a thrill to finally see this screen displayed on
my iPAQ: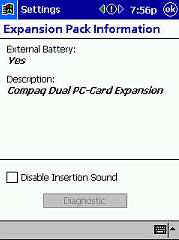 However, after I got over my initial excitement of acquisition, I realized
that there was a reason that the Dual PC Sleeve is also referred to as "The
Brick"…there just isn't any kind way to put it: the Dual PC Sleeve is
humongous, heavy, and just this side of fugly. I have to admit: I was
completely non-fazed about the size, because I had already made plans to send
the Dual Sleeve to Whitney LuBean for modifications
before I had ever received it. 
Since I had already waited six months to receive the Dual Sleeve, it was no
problem to wait an additional week or so for Whitney to work his magic. I had
already seen what he could accomplish by modifying both the CF
& PC sleeves, so I was confident that he would find some way to tame
this beast, and make the Brick, less, well….bricklike.
On the off chance that you are not familiar with Whitney's work, let me fill
you in on what you have been missing… 
Never miss one of our posts again. Sent MON, WED, and FRI with the latest gadget reviews and news!
Whitney takes the regular sleeves that Compaq puts out, and pares them down –
until they are a mere shadow of their former selves. He then covers the result
with luxurious, soft, smooth-grained black leather. His result is a modification that sits easily in hand, and feels wonderful to
touch. 
The Whitney modification is an item
that while beautiful and much smaller than original, remains quite strong and
durable. These creations are meant to be used everyday, and you don't have to
worry about babying them.
When I sent my Dual Sleeve to Whitney, he offered me the choice of keeping
both batteries in the modification; or going for the maximum possible space
savings by eliminating one of the batteries. I opted to go "small".
Therefore, all of the resulting pictures that you will see in my review are of
the single-battery Dual PC BackPack.
First, I will post a table of weights and measurements. Since you are going
to be looking at pictures that were taken weeks apart, and since the
perspectives are slightly different in some of them, I want you to have an idea
of what I am showing you.
| | | | | |
| --- | --- | --- | --- | --- |
|   | Height | Width | Thickness | Weight |
| Naked iPAQ | 5.11" (13.0 cm) | 3.13" (7.95cm) | .63" (1.6cm) | 7.1 oz (202g) |
| iPAQ in Dual PC Card Sleeve | 5.2" (13.3cm) | 3.4" (8.6cm) | 1.8" (4.5cm) | 14.1oz (400g) |
| iPAQ in Whitney Mod | 5.11" (13cm) | 3.13" (7.95cm) | 1.5" (3.8cm) | 10.6 (301g) |
Well, enough talk. Take a look for yourself, and see what you think about his
results:
Here is the unmodified Compaq Dual PC Card Sleeve. As you
can see – there is quite a bit of bulk added to the normally svelte iPAQ
when it is attached. 
Next, you see the Whitney Dually. I am not going to kid
you…this is still a large sleeve; however, it is much less cumbersome
and much more portable after Whitney has had his way with it.
The Dually is held in place by the serial port located at the bottom of the
PDA. I do want to mention right here, that unless you are going to carry this
combo inside a case, you really should attach either some double-sided
tape or Velcro to secure the Dually to your iPAQ. The Dually is a bit too
heavy to stay attached without this help.
       
As you saw, Whitney has done away with the side rails that formerly held the
sleeve to the iPAQ. You might be wondering what else he had to do away with to
achieve these results?
Well, to begin with, the little swinging door that covered the PCMCIA slot
access area, is now MIA. You won't miss it.
Also, the charge indicator light is now gone from the back
corner of the sleeve…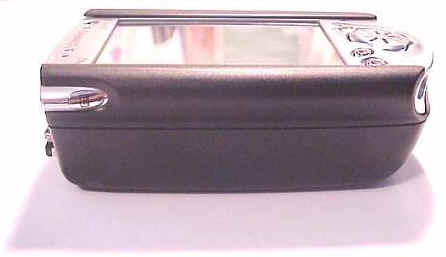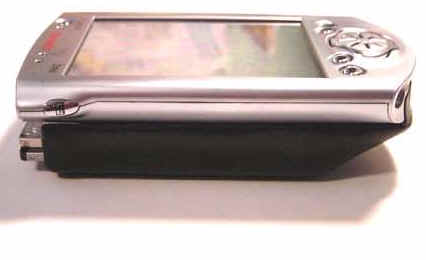 All this means is that you will have to look under Power in QUtilities
to see when it is fully charged.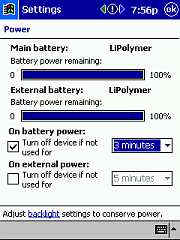 From this side, you'll notice that the dual ejectors are
also missing. What this means is that you will have to grasp the PCMCIA
cards from their sides for removal from now on. This is not difficult to
do, but it is a little less convenient – especially as there are two cards
stacked together and people with larger fingers might not be able to
easily do this easily. I found that the simplest way to get either card
out, was to remove the Dually from the back of the iPAQ. Theoretically,
since you have two slots in this sleeve, you might never even need to
switch out your PC cards.
As you can see, all PCMCIA cards will stick out a minimum of
.4" (10.2mm) when installed. This makes it possible to remove them in
the manner I previously described.
Looking at the bottom of the iPAQ in both sleeves, you will
see that the power jack is also gone. As the Dually will also charge when
the iPAQ is plugged in, this should not pose a problem for anyone. 

I would like to mention here, that I have heard of some
people finding that with the Compaq Dual PC Card Sleeve installed, they
were having trouble getting their car-chargers to supply enough power to
refill both the batteries in the sleeve, and the battery in the iPAQ when
the power levels were down. If you think about it, three batteries
simultaneously would most likely be a huge power drain.

This should not be a consideration with this single battery
Dually, as it is should be no different than a regular PC sleeve in
regards to power draw when charging.

 
Here is a view of the iPAQ in both sleeves from the top. Although the
original sleeve fit in my hand just fine, the more pronounced curves of the
Whitney Dually are easy to grasp, and quite comfortable to hold.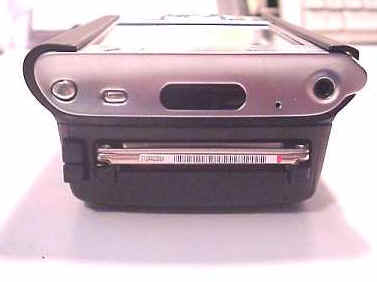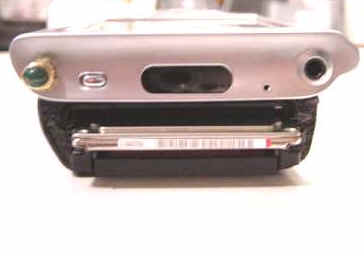 Looking at my iPAQ head-on, you can see that there is no added thickness to
its sides when the Dually is installed.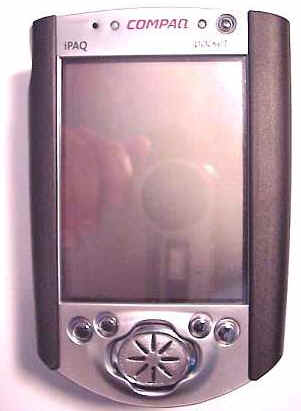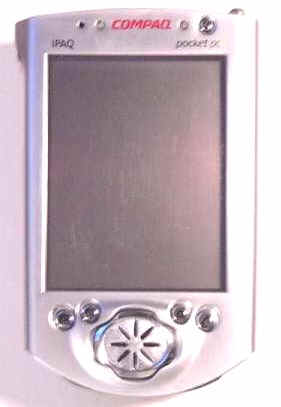 Here is my iPAQ with the cellular modem that I was
mentioning before installed.

 I was pleased to see that the iPAQ immediately recognized this
modem, and without the need for additional drivers. Yes folks, that is a
working Type III PCMCIA Card sticking out of the back of my iPAQ. Quite
impressive!
| | |
| --- | --- |
| | Here is yet another view of the Dually BackPack on my iPAQ. |
Any way you look at it, gravity is really working against
this duo when they are out of a case.

This picture better illustrates what I meant when I mentioned that the
iPAQ and Dually really need something added to keep them together
safely. 

This problem can be easily solved by adding Velcro or double-sided tape
between the two components, or by keeping the duo in a case.
I realize that it was a bit unrealistic – but I was kind-of hoping that the
single battery Dually might fit inside the Vaja #805 case, which holds the iPAQ
and CF sleeve. The PC BackPack fits the Vaja #805 a bit loosely, and so I
figured there might be a chance. 
Well, I was wrong – but I am not too disappointed, as the iPAQ and Dually
will fit perfectly in the Vaja #807, which is designed for the iPAQ and
single PC card sleeve.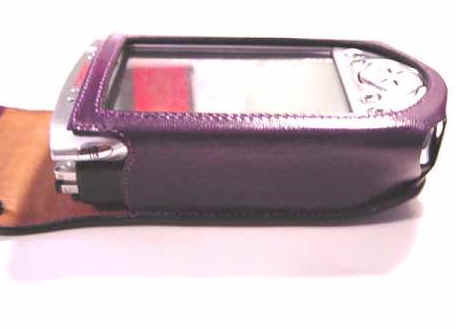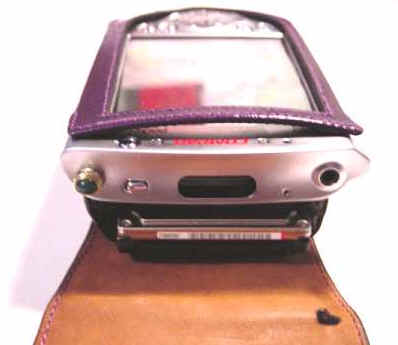 There is only one area where the Dually is a little bit
unfinished, and I can't honestly say that there is anything that
Whitney could have done to fix this: There is a .18" (4.7mm) gap of
dead space between the circuit board and where the first PC card will rest
when installed. 

I have been staring at it for a bit, and I can't think of any way to
remedy it. I imagine that Whitney probably felt the same way when he was
looking at it, too. 

This is a very minor thing to point out in an otherwise completely
impressive modification, but you know how picky I can be…
Here is a picture of the Dually taken next to an unmodified
Compaq PC Card Sleeve. As you can see, they are essentially the same
height, and as such, the Dually mod should fit into almost any case that
is made to fit the regular PC sleeve when installed on the iPAQ.
All in all, I am thrilled with what Whitney accomplished with my Dual
PC Sleeve. While having the Dually attached to your iPAQ still makes it a bit of
a hand-full, the Dual PC Card Sleeve becomes much more manageable once Whitney
has modified it.
Price: $149 for the single battery Dually
Modification (You must supply a Dual PC Sleeve for the Mod)
Pros:
Whitney has managed to make "The Brick" about the same
size as an unmodified Single PC Sleeve  
Professionally done with superior materials and craftsmanship
Cons:

Expensive
Must use either double-sided tape or Velcro to attach Dually to iPAQ if you
don't intend to use a case
Product Information
Price:
149.0
Manufacturer:
Whitney LuBean
Pros:

Whitney has managed to make "The Brick" about the same
size as an unmodified Single PC Sleeve
Professionally done with superior materials and craftsmanship

Cons:

Expensive
Must use either double-sided tape or Velcro to attach Dually to iPAQ if you
don't intend to use a case