We use affiliate links. If you buy something through the links on this page, we may earn a commission at no cost to you. Learn more.
Product Requirements:
Casio: All; Compaq:
All Aeros, Naked IPAQ, IPAQ with CF Card Expansion Pack; Palm: Palm
IIIc, Palm VII/x, Palm III/xe; Palmax: Amigo
07/01/01 I have
received a slightly different version of this case, so
Updates will appear in RED
  
There are those that want a good-looking case that can hold their PDA without
adding much bulk. Sure, a trade-off is made, in that the owner knows that if
their PDA is dropped or taken in a hazardous area, that smart looking case may
or may not actually protect their investment. Some people make their case
decisions based on their sense of style, while others base it on an actual need
and desire for ultimate protection. 
Deciding on what  features are essential to you, when you
are picking out a case can be one of the most important and sometimes stressful
decisions facing a new PDA owner. Knowing where the PDA will be used a majority
of the time, and under what conditions, can help you make a more informed
decision.
For those of you that need a more rugged, yet completely customizable
solution, there is a case worthy of your attention: Cyberpocket's Flipout
QR Case.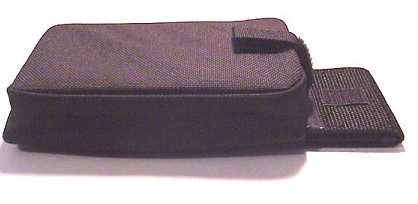 Sized at 6" (15.2cm) tall x 4" (10cm) wide x 1.50" (3.75cm)
thick, the Flipout is big – there is no getting around it. On first glance, It
would be easy to dismiss this beast as an overlarge accessory made to hang off
of your belt. I almost made that mistake, myself. 
Upon further examination,
however, the beauty of the Flipout concept began to shine through. 
I'll discuss the construction of the case first, and then we'll move on to
some of its special features and add-ons. Ready?
Construction:
The Flipout is made of waterproof ballistic nylon. Does this mean that you can
submerge your case, with PDA enclosed, under water and expect your PDA to
survive? Come on, you know better…absolutely not. But it does mean that
if you get splashed either by a bit water, coffee, or whatever, your PDA should
be just fine. It also means that the Flipout should resist stains. 
There is a 2.5" (6.4cm) belt-loop attachment, made of  nylon
webbing at the top of the case. This brings the Flipout's total length to
8.5" (21.6cm). This belt-loop is clever in that it can attach to your belt
without you having to actually undo your belt. You just un-Velcro it, and it
unfolds to reveal an area that can easily accept a 2" (5cm) belt.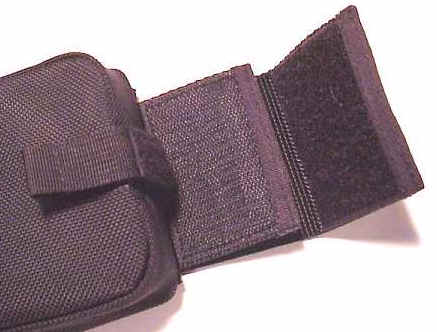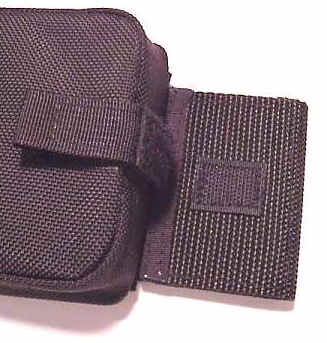 The front of the case has no branding or obvious decoration. It is a plain
front with a subtle weave. A strip of Velcro attaches the tab that will keep
your Flipout closed. A clever reverse spot of Velcro on the belt-loop will hold
that same tab out of the way when you have the Flipout open.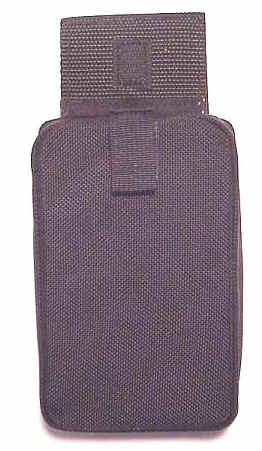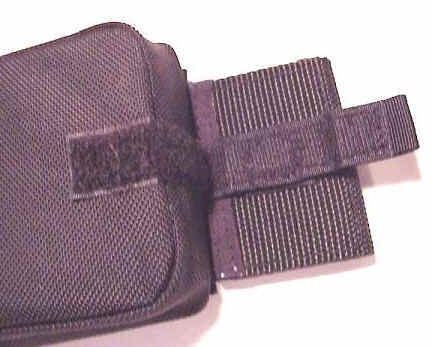 The rear of the Flipout is similarly plain, and except for the attached
belt-loop, the clean lines of the case are unbroken.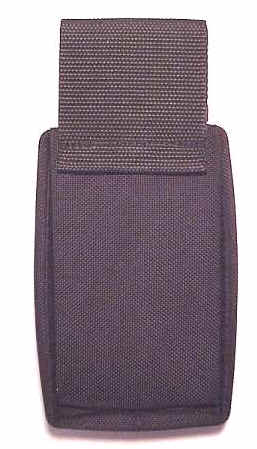 It is when you first open the Flipout that you get the idea that you may have
something special in your hands. The U-shaped cover of the case is reinforced
with strong  1/8" thick wire on all corners. A 1/8" inch thick
interior plexi-glass insert is hidden behind the soft, cloth-lined screen-cover
to protect your PDA against direct  frontal assaults when in the case.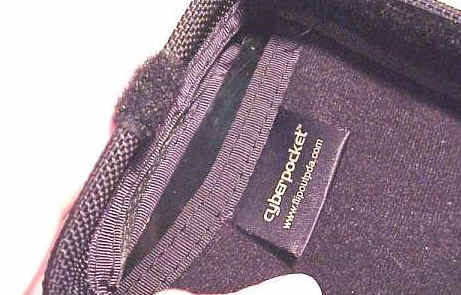 Attached to the base of the case, is an ingenious holster. This holster can
be custom sized, with the use of six interlocking Velcro tabs, to accept almost
every PDA on the market! I personally tried it with the Palm III, Handspring
Visor Deluxe, Hewlett-Packard Jornada 548, Casio EM-500, and the Compaq iPAQ. I
was able the following iPAQ & sleeve combinations by adjusting the Velcro
sides of the holster: the naked iPAQ, iPAQ in basic style sleeve iPAQ, and in GM's Silver
Slider.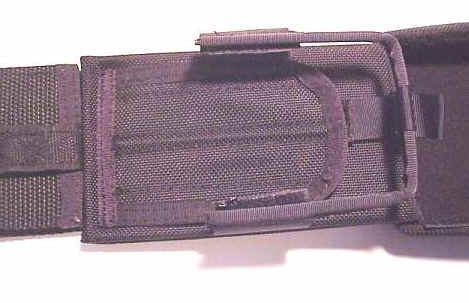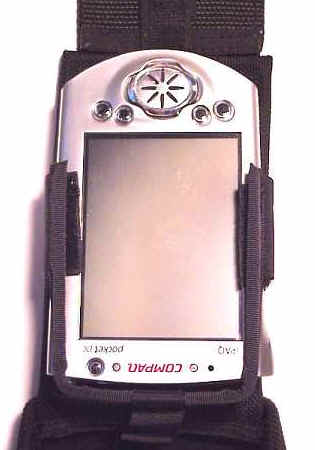 Although you can adjust the Velcro sides of the holster to fit the iPAQ with
the PCMCIA sleeve, the case does not close properly over that combination.
07/01/01 – There is now a version of the Flipout
available that although essentially the same, features a different holster that
uses vinyl and 1/8" wire to secure your PDA. The vinyl is not intended to
cover the screen of your PDA, but rather just the top and bottom edges and
around the PDA's sides. What I like about this new holster is that more of your
PDA's case area is protected, but there is (what I consider to be) a massive
trade-off.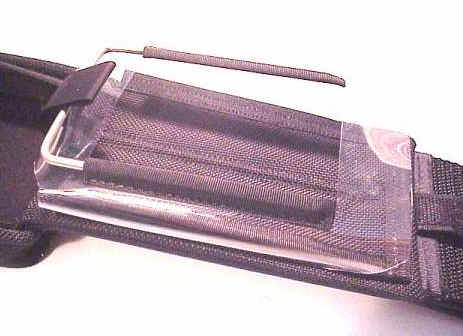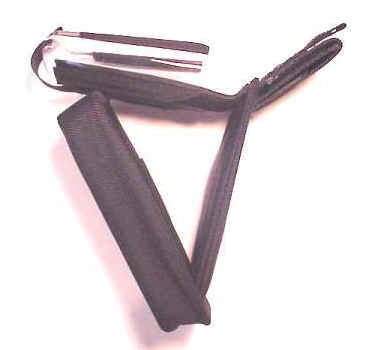 The vinyl covers everything except for the
actual screen of your PDA. While at first this may seem like a great idea, you
quickly realize that this means almost every button, microphone hole,
joy-pad, whatever, is now covered…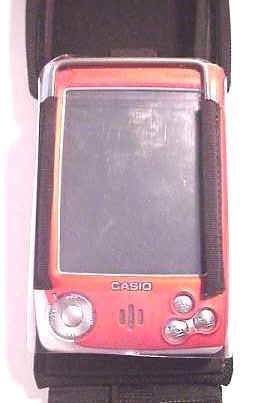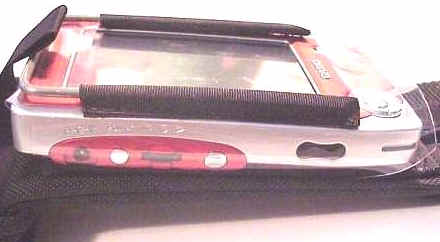 This seems like even more of a problem on the Casio, as
it has many buttons and a jog-dial located on the side. 
Hewlett-Packard 540 series owners would also be
inconvenienced, as their jog-dial and record buttons would be covered.
However, their four main hot-buttons are not.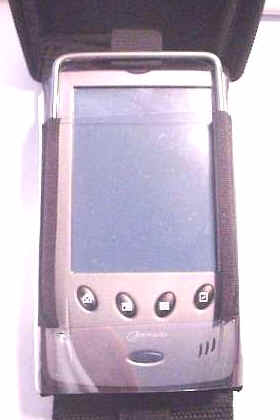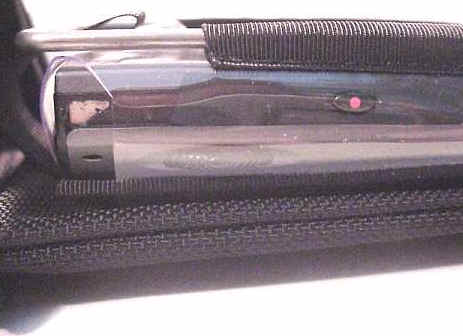 I believe that the screen shot of my 548, shown above,
also shows quite well another objection I have to the new vinyl holster: It
covers the top potion of the screen on several PDAs; most notably, the Casio,
the HP Jornada 548, and the Palm IIIc. 
Of particular interest to Jornada owners is the stylus
sleeve that can Velcro into the side of the case's lid.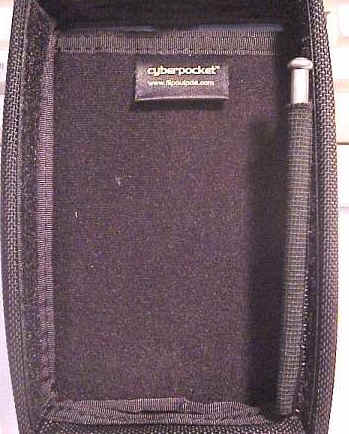 The iPAQ suffers mainly from having its entire front
panel of buttons and the side record button being encased in vinyl.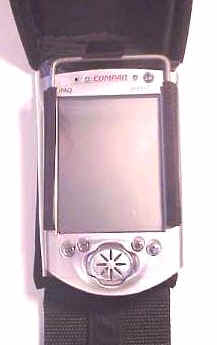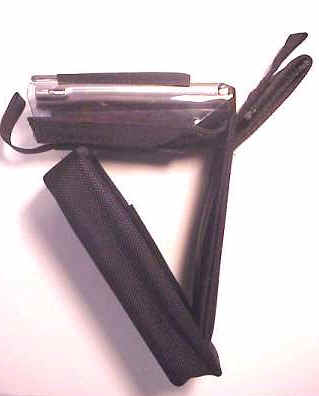 I am certainly not saying that the buttons are
impossible to use, I just personally don't like the feel of trying to
access them through a sheet of vinyl.
Worth noting, however, is that there is no blockage of
access to the stylus silos, nor to the headphone jacks for most PDAs.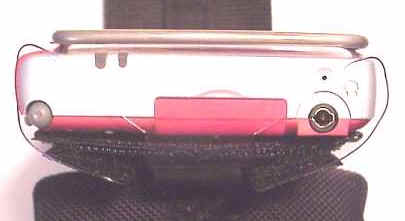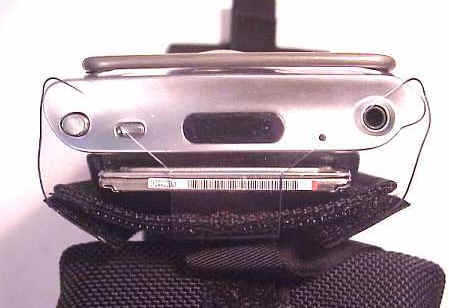 The picture you just saw of the iPAQ is taken with
the  Whitney's PC
BaqPaq modification in the new Flipout holster. As you can see, while it is
a "chunky-monkey", it does fit.
It is possible to get the vinyl holster to accept so
many PDAs because of the use of an adjustable Velcro system on its back-side.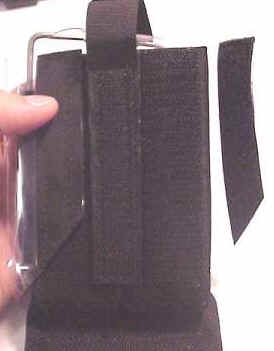 I would like to interject here that for all the Velcro used in this case,
there is actually none that will either touch or attach to your PDA. If
you have an aversion to the sticky-stuff, like I normally do, this is good news.
:0)
Features:
The single coolest feature of this case – beyond the fact that it is almost
crushproof  when you have it attached to your belt, is the fact that
you can actually use the Flipout case from your belt. By flipping the
holster up from the back of the case, it will actually rest on its open lid,
which then creates a base to support your PDA at your side – ready for whatever
data entry you need to perform. There is a natural barrier created by the lifted
up PDA holster pushing into your side, that keeps your PDA from slipping out of
the bottom of the open holster.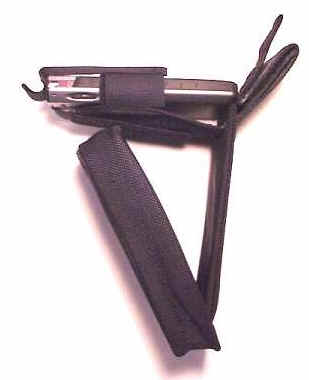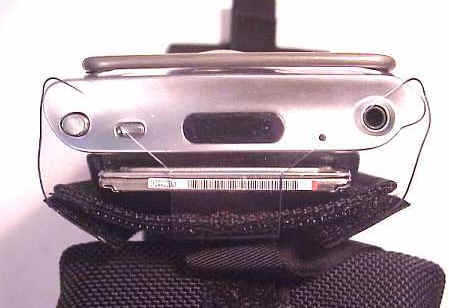 Velcro, on the bottom of the holster attaches to the Velcro strip previously
mentioned on the front of the case, creating a secure base to support your PDA.
While I don't advocate walking all about with your PDA swinging around
semi-exposed in such a manner, you can certainly stand somewhere and enter data
one-handed.
People that I can see benefiting from this method of entry include, but are
of course not limited to: doctors making hospital rounds, people in the field
that have to read meters and notate information, and anyone else that needs access
to their information with one hand or while standing.
For those that cannot wear a garment with a belt, such as doctors wearing
scrubs, there is another way to wear the Flipout: you can use the optional nylon
waist-strap. This waist-strap is completely adjustable, and once fitted, opens
with a plastic belt clip. Be warned right now: the strap is extremely long, and
unless you have a very large waist, you will want to trim it down quite a bit.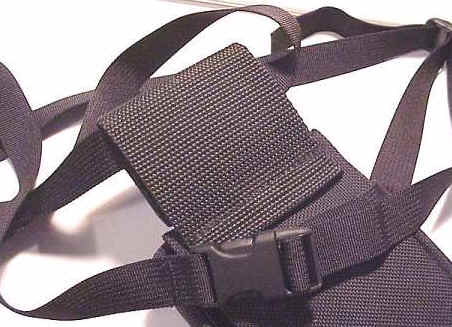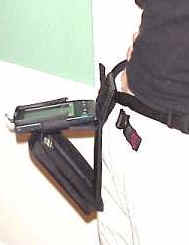 The Flipout case also offers easy, immediate access to your PDA ether buy
flipping it open, or by easily removing your PDA from the Flipout holster
completely.
You also have almost total access to the top and sides of your PDA. I
say almost, because there is some blockage caused by the Velcro tabs. For
instance, on the iPAQ, you can access the head-phone jack, and stylus, but the
Infrared port is covered by the tab. On the Casio EM-500 and the HP 548, the Record
button is covered by a side tab. It is a simple matter to side the PDA to a
position that you can use the covered features when necessary.
Add-ons:
At this time, there are two different pockets you can add to the Flipout: The
Stowaway Keyboard Pocket & the Wallet Pocket. These pockets are
interchangeable, and are easily added or removed. This is achieved by the use of
Velcro "wings" that  wrap around the sides of the Flipout's
front, and that securely lock into place. Both pockets are made of the same
ballistic nylon as the Flipout, so they actually complement the case when
attached.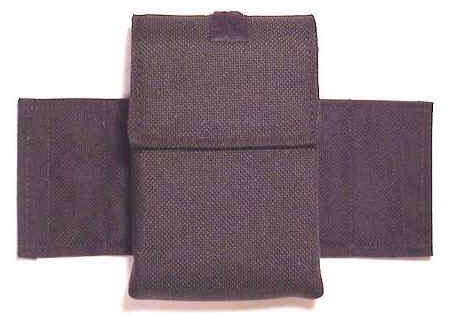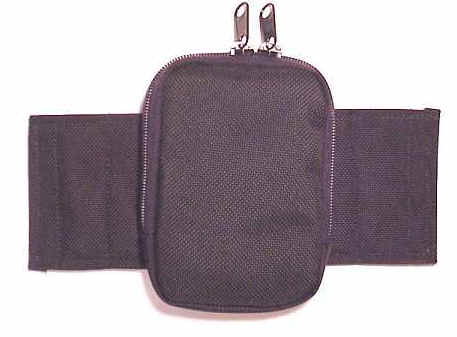 Both cases have sewn in stylus holders on each side, so their is no right
hand/left hand discrimination.
The Stowaway Keyboard Pocket, as the name implies, will
perfectly hold the various Stowaways to the front of your Flipout. Just to show
you what an incredible amount of forethought went into the Flipout products,
this keyboard pouch has a nylon retrieval system built in to make removing the
Stowaway incredibly fast & easy.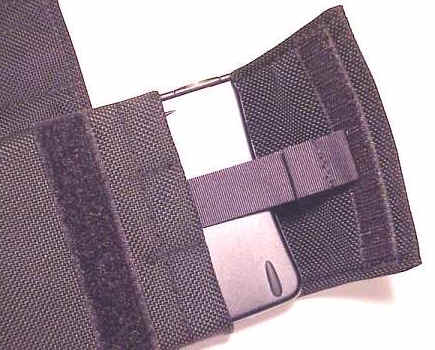 You simply pull on the exposed nylon tab, and your Stowaway will glide out.
This is much better than fishing around for a good position to grab the keyboard
from – as there really is none. The Stowaway is completely covered and
protected; however, it is not in a crushproof case.
The Stowaway Keyboard Pocket is 6" (15.2cm) tall, and 3.5" (9cm)
wide. It will add 1" (2.5cm) to the existing thickness of the Flipout Case,
for a total thickness of 3" (7.5 cm), or thereabouts.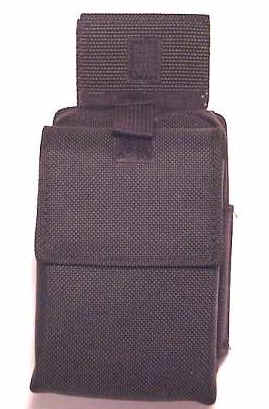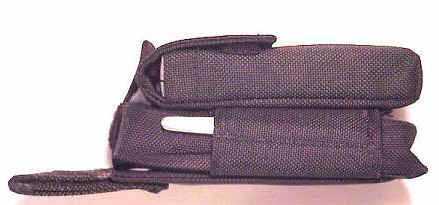 It is interesting to note that if you need an inexpensive keyboard case that
can fit on your belt, this add-on pocket will do the job. The 3.5" (9cm)
sewn in loop on the back can easily accommodate almost any width belt by passing
the belt through the loop. This is just something to keep in mind…
The Wallet Pocket, does exactly the function it is named for, also.
Double zippers meet at the top of this pocket, allowing easy access from either
side or the top. This case will not "flop open" spilling its contents,
but rather will gape open enough for you to dig around and retrieve whatever
necessary. 
Inside are four different pockets of varying sizes, and a zippered
compartment for change or other small valuables you want to keep secure. There
is actually enough room inside that if you need to stow a pager, or other
similarly sized item with all your ID, etc, it will fit. My m100 fit in there
perfectly, just to give you an idea of the amount of available room.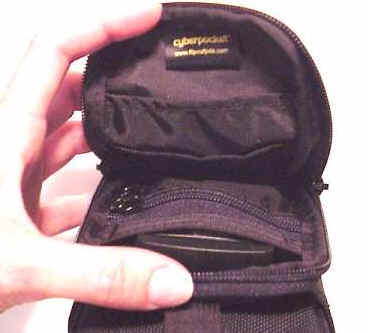 One of the interior pockets is large enough to hold up to a TypeIII PCMCIA
card securely.
When the wallet is stuffed full, it measures 5.5" (14cm) tall, and
3.5" (9cm) wide. It will add up to 1.5" (3.75cm) thickness to the
Flipout, making a total thickness of 3" (7.5cm) , or thereabouts.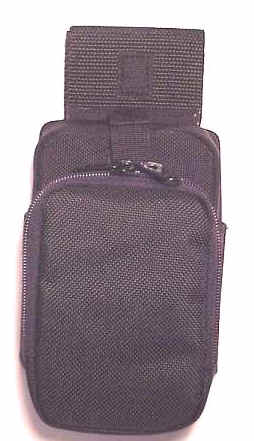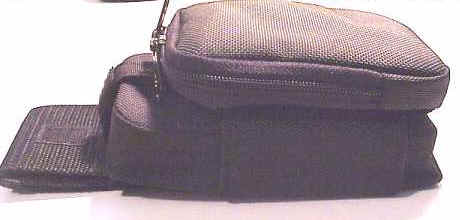 This pocket can also be worn on a belt by itself, should you want to.
I had to ask myself, where would I most likely use a case like this? The
answer for me was obvious: At the ranch, either when working animals, or when
witnessing gas well tests. I could also see using it when I was riding the
pasture on my Polaris 4-wheeler, checking fences and getting livestock counts. 
This is not a case for everyone, and I don't believe that it is trying to be.
But, if you are reading this review, and thinking that it might be handy to have
the Flipout's protection and expandability, as well as the one-handed
convenience for your PDA – then I think that you will appreciate this case. It
is extremely well made, very well thought out, and priced reasonably.
Price: $32.99/small, 
$34.99/medium,
$36.99/large,
$39.99/x-large
$9.99 for the Wallet Pocket
$8.99 for the Keyboard Pocket
30-Day Money Back Guarantee 
Pros:

Incredible protection & versatility
Extremely well-made
Medium size will fit almost all PDAs
Updated 07/01/01 – New Vinyl holster protects more of
every PDA's surfaces
Cons:

Bulky & huge
Lots and lots of Velcro – however, none will actually touch your PDA
Updated 07/01/01 – New vinyl holster covers almost all of
the buttons and jog-dials on every PDA
Product Information
Price:
32.99
Manufacturer:
Flipoutpda
Pros:

Incredible protection & versatility
Extremely well-made
Medium size will fit almost all PDAs
Updated 07/01/01 - New Vinyl holster protects more of
every PDA's surfaces

Cons:

Bulky & huge
Lots and lots of Velcro - however, none will actually touch your PDA
Updated 07/01/01 - New vinyl holster covers almost all of
the buttons and jog-dials on every PDA