We use affiliate links. If you buy something through the links on this page, we may earn a commission at no cost to you. Learn more.
Product Requirements: 
Compaq iPAQ Pocket PC
Compact Flash Card Sleeve or PC Card Sleeve
What do you consider sexy? How about leather and tight curves, fitting
seductively in the palm of your hand? If you are a gadgeteer, then you'll know
that I am not necessarily speaking of leather covering flesh…I am thinking of
leather covering components that have been slimmed down to the bare necessities;
to the point where they fit in the hand like they were meant to be cradled
there. 
Whitney LuBean, an imaginative designer, 
has created a site filled with items that will make an iPAQ owner swoon. Two of
his newest additions are the CF (Compact Flash sleeve) and the PC (PCMCIA
sleeve) Baqpaqs.
For those of you that are not familiar with Whitney and his iPAQ sleeve adaptations,
let me give you a little bit of background. Whitney LuBean has an iPAQ.  He evidently wasn't too thrilled about the size that his iPAQ
became when attached to its bulky expansion sleeves. Like some other PDA owners
out there, he solved his own problem and then posted
his results on a bulletin board, testing what kind of public interest there
might be in his new creation. 
Whitney's first conversion involved slimming down a CF sleeve, and modifying
a Vaja #801 or #804 naked iPAQ case so that the added bulk of the CF
modification was negligible. He soon managed to top himself when he performed
this same feat with an iPAQ and PCMCIA sleeve – still fitting everything, including
the extra battery – in those same Vaja cases. 
Not only did Whitney tell others how he performed his modifications, he also
was available to answer
questions for those inspired enough to attempt them. As you can imagine,
there were those that preferred to pay for Whitney's work, rather than
perform the necessary acts of surgery themselves. 
Although this first modification that Whitney performed caught my eye, it was
his newest creation that really got me excited. 
Instead of using the Vaja case as a part of the new version, Whitney now
slims the CF or PC sleeves down to the bare essentials, and then covers them in
an incredibly soft, grained black leather. With these new designs, you can now
fit the iPAQ with its attached sleeve in the case of your choosing.
Julie and I were thrilled to be able to review these beauties, and we think that
you will agree that they are really something special, and yes…quite sexy. ;0)
Never miss one of our posts again. Sent MON, WED, and FRI with the latest gadget reviews and news!
The CF BaqPaq by Julie Strietelmeier
I want my PDA to be as small and thin as possible. So when I first received
the CF sleeve for the iPAQ, I
was really disappointed in how large it made my formerly svelte PDA. Weight doesn't really
bother me, it's how comfortable an object is when its held that makes the difference to
me. The CF sleeve really made the iPAQ a handful which to me equaled
uncomfortable.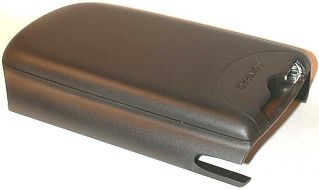 I put up with the bulk of the CF sleeve till I started hearing about a
modification being done by George Mosquera.
George cut down existing CF sleeves, sanded and painted them and then resold
them as Silver Sliders. At the time, they
were the ultimate in a slim profile CF sleeve and I loved mine.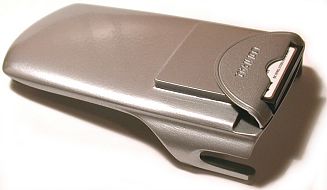 Of course, it wasn't long before people were wanting an even slimmer CF
solution. Whitney LuBean came to the rescue with a CF sleeve incorporated into a
Vaja iPAQ case. Although this looked very interesting, I decided not to buy it
as I sometimes prefer not to even use a case with my iPAQ. The thoughts of
having to ALWAYS use a case with it didn't appeal to me. 
Weeks passed and then I heard about Whitney's CF BaqPaq and I just HAD to have one
that very second. Like George, Whitney also takes an existing CF sleeve and cuts away everything but
what is absolutely needed, but then Whitney goes a step further and then covers what is left in leather. The result
has to be the smallest / thinnest CF solution for the iPAQ available now and I'm
assuming for a long while to come.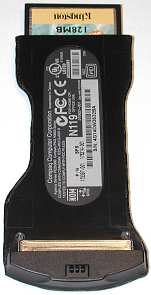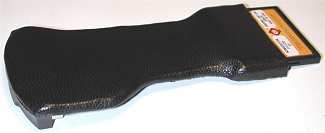 The BaqPaq is very very thin! The thinnest part is only .15in (4mm) thick. It
really doesn't seem to add much at all to the size of the iPAQ. Let's compare
the size and weight of a naked iPAQ, the iPAQ CF Sleeve, the Silver Slider and
the CF BaqPaq:
| | | | | |
| --- | --- | --- | --- | --- |
|   | Height | Width | Thickness* | Weight |
| Naked iPAQ | 5.11" (13.0 cm) | 3.13" (7.95cm) | .63" (1.6cm) | 7.1 oz (202g) |
| iPAQ in Compaq CF Sleeve | 5.11" (13.0cm) | 3.40" (8.6cm) | 1.05" (2.7cm) | 9.36 oz (265g) |
| iPAQ in Silver Slider | 5.11" (13.0m) | 3.28" (8.3cm) | .986" (2.5cm) | 9.12 oz (259g) |
| iPAQ in CF BaqPaq | 5.11" (13.0cm) | 3.13" (7.95cm) | .925" (2.35cm) | 8.64 oz (245g) |
* Measured at thickest part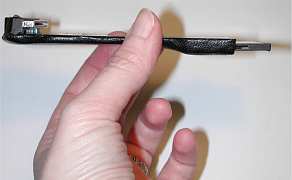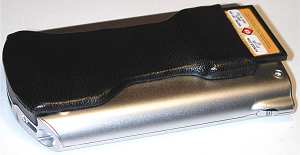 The leather covering the BaqPaq is very soft and I am amazed at the job
Whitney did applying it to the mod. There are no bubbles, ravels, seams etc. It
looks and feels fantastic. I really prefer the feel of the BaqPaq to the feel of
the naked iPAQ. The naked iPAQ is almost slippery. With the BaqPaq, the leather
gives you a very secure hold on the PDA. 
Attaching and removing the BaqPaq is easy. Once it is attached, it feels very
secure. Although it is only attached by the expansion connector, I don't worry
at all about it falling off. The assembly lays flat against the back of the iPAQ
and although Whitney says that you can use double sided tape to hold the mod
on if you don't use a case, I don't find this to be necessary. 
The BaqPaq works just as well as the CF sleeve. I didn't have any problems
accessing the information on CF cards while testing this mod. Also, battery life
is the same with the BaqPaq as it was with the CF sleeve and Silver Slider.
As far as using a case with the iPAQ and the BaqPaq, right now I'm using the Vaja
Silver Slider case as my other cases all fit too snug. The Vaja Silver
Slider case is just a bit too large, but not that bad.
There are only 2 things about the BaqPaq that I can nitpick with. One is that
I wish the CF cards didn't stick out of the top of BaqPaq so far. As you can see
below, cards stick out a little more than .5in (13mm). I would prefer to see the
'sleeve' length to be at least .25in (6mm) longer.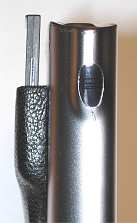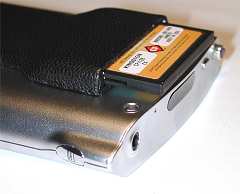 Due to the gap between the top of the CF card and the body of the iPAQ, I get
a little worried that I could somehow snag the card on something causing me to
break the BaqPaq. 
The other nitpick is that I wish the BaqPaq had a more symmetrical shape. I
know that this is just a personal preference type thing, though… 
Other than those 2 things, I think the CF BaqPaq is fantastic. However, it is
also quite expensive. You can either have an existing CF sleeve modified, or
purchase a ready made BaqPaq from Whitney. Either way, it's going to be a whole
lot more expensive than an original CF sleeve. Is it worth it? It really depends
if you feel that the stock CF sleeve is too large for you. Some people might not
mind it at all and for those people, that's great. But for those of us that like
things skinny, the BaqPaq is the ultimate in thin.  
Price: $129 for complete modification, $89
if you send in your own CF sleeve
Pros:
Very thin CF card solution
Soft leather makes the iPAQ less slippery
Cons:

Expensive
CF card sticks out about .5in
The PC BaqPaq by Judie Clark
If you are tired of lugging around a brick when you wish to carry your
AirCard or your DataPak, the PC BaqPaq will be exactly what you have been
looking for. This thing seems tiny when compared to the regular Compaq PC
sleeve, and that is saying a lot.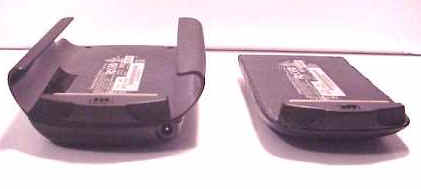 As you can see, Whitney has completely removed the side rails of the PC
sleeve and has left just the bottom serial port plug to hold the BaqPaq sleeve in
place. This might seem a little scary to some of you, and that is
understandable. While this does provide the right amount of tension and grip for
using the combo inside a case, it can be a little bit "wiggly" when it
is used without one. I believe that the reason this happens with the PC
modification and not with the CF BaqPaq is due to the added weight from the
extra battery in the PC sleeve.
If you are not carrying your iPAQ with PC BaqPaq combo in a case,
Whitney advises
that you might want to use a little bit of clear tape or even Velcro to make
sure that your components stay firmly joined together. As much as I hate
Velcro, I think that in this case it would be a good idea to use it.
Here are some views of the regular PC sleeve, and the PC BaqPaq…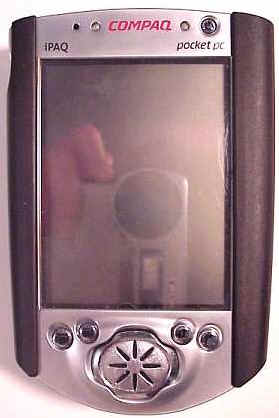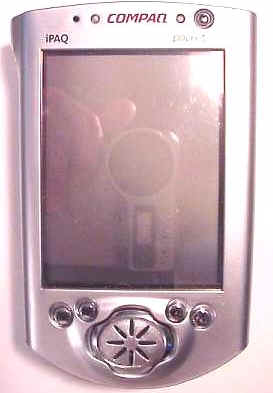 This is the front of the iPAQ as seen with the PC sleeve,
then the PC BaqPaq. The iPAQ looks naked, doesn't it? :0)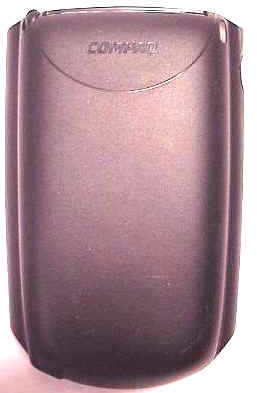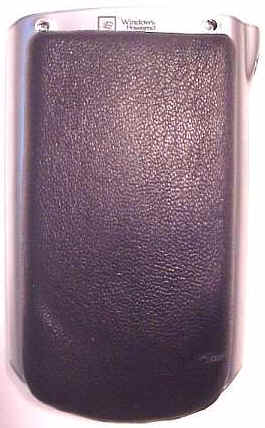 Here is the rear view. It makes the PC sleeve look like it has
been on a successful diet!
This is a side view of the PC BaqPaq when on the iPAQ. As you can see, there
is a small bit of space between the two components; so if you do decide to use
Velcro or tape to secure the two together, it should work just fine.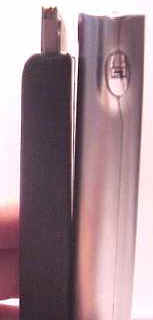 It is almost inconceivable that Whitney was able to shave so much bulk off of
the standard PCMCIA sleeve, and turn it into such a petite package – while still
keeping the PC sleeve's extra battery intact!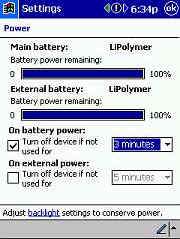 There are a couple major changes to the PC sleeve, other than just the
fact that it is smaller, lighter, and now covered in sumptuous leather.
The LED light that indicates that the battery is charging or is done charging is
now gone, as is the PCMCIA card ejector. 
What you're giving up: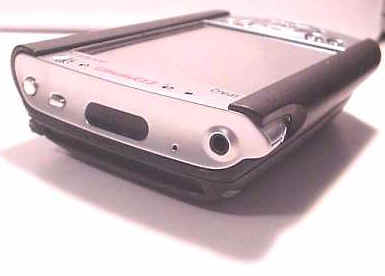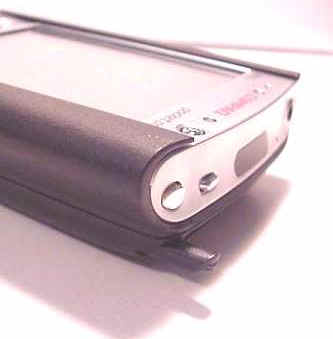 What you get in return: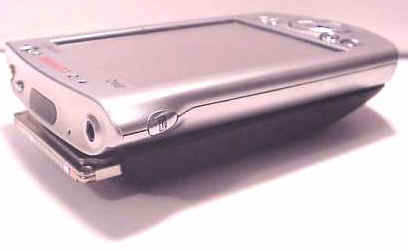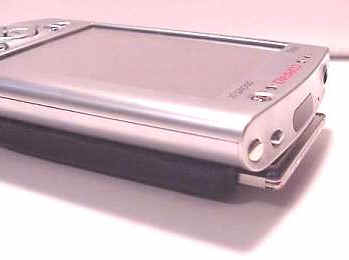 Now, that wasn't so bad, was it??
For the amount of bulk you wind up saving, neither will be sorely missed. You
can always tell exactly how much "juice" is left in your sleeve by
checking out your Power under Settings, so that is no biggie. You
can also remove PC cards by grasping their sides and pulling with a smooth
motion. It is especially important to remove the DataPak in this manner, rather
than squeezing its end when removing. You would never want to crush the
DataPak's internal disk.
As you can see, any inserted PCMCIA card will stick out a minimum of ½"
(12.7mm), facilitating its removal in the manner I mentioned previously. 
The external charger jack has also been done away with, but this is yet
another item that you shouldn't miss. I always charge my iPAQ and sleeve
together either in the cradle, with my wall jack (when traveling), or with my
car charger, so I have never actually even needed the extra jack.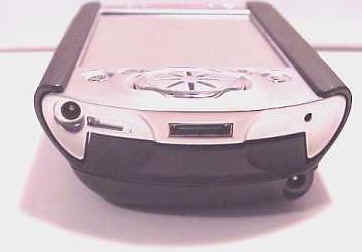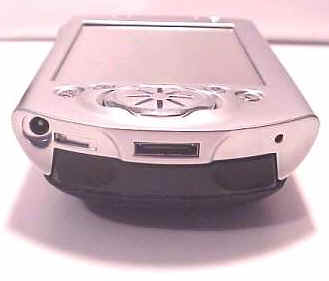 Here are some comparisons to let you see exactly what you will be
"missing", should you decide to get a Whitney PC BaqPaq:
| | | | | |
| --- | --- | --- | --- | --- |
|   | Height | Width | Thickness | Weight |
| Naked iPAQ | 5.1" (13.0cm) | 3.13" (7.95cm) | .63" (1.6cm) | 7.1 oz (202g) |
| iPAQ in Compaq PCMCIA Sleeve | 5.9" (15.0cm) | 3.4" (8.6cm) | 1.33" (3.38cm) | 11.8 oz (334g) |
| iPAQ in PC BaqPaq | 5.1" (13.0cm) | 3.13" (7.95cm) | 1.25" (3.2cm) | 10.6 oz (300g) |
You can easily sync your iPAQ while it is in the PC BaqPaq. As a matter of
fact, the iPAQ seems to sit in the cradle much better than usual, since you can
extend the cradle's "stabilizers", just as you would with the naked
iPAQ.
Because this modification is made by hand, there might a couple spots on the
sleeve where one could tell that a machine did not stamp out the finished
product. On my PC BaqPaq, I found a miniscule spot where the plastic had been
worked away a bit more on one side than on the opposite side. This is the only
imperfection that I found on my modification, and it didn't even photograph
well enough for me to include a photo. Please realize that I am being extremely
picky here, for your benefit. If I hadn't been scouring the BaqPaq looking
for blemishes, I would likely have never even seen this spot. If this is par for
the course with Whitney's work, then I think everyone will be pleased with his
results!
So there are the basics of the Whitney PC BaqPaq modification. The question
that might be in your mind at this point is, "How does it feel either in
a case or out of one?" Well, I can answer that in one word: FAB!!! 
The BaqPaq is soft and fits comfortably in your palm. If you are right
handed, your left thumb will rest to the left side of the BaqPaq, and under the
iPAQ's left back side. Your fingers will curl upward on the right side of the
iPAQ. This feels very natural and secure.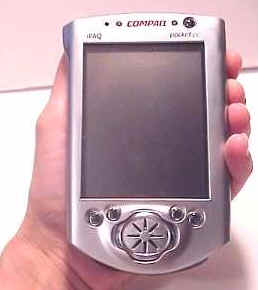 I have an E&B
iPAQ SlipperPAQ (the one with the stretchy sides) and it accepts this combo
beautifully. I should mention that the case's recorder button window doesn't quite
line up, but that is a mere quibble…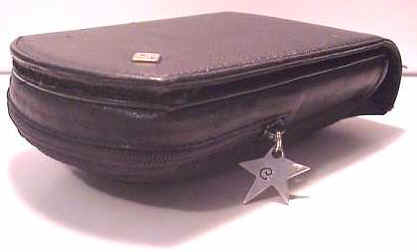 Because of its price, the PC BaqPaq modification is not going to appeal to
everyone, and that is probably a good thing. Whitney does still have a "day
job", and he is in enough demand that I would imagine his free time is
steadily disappearing as people catch on to what he's creating. 
Should you get the modification done? I can't answer that for you, but I will
tell you this: I love mine, and I can't imagine going back to using a
full-size PC sleeve. I like the feel of the BaqPaq in my hand, and I can totally
appreciate the amount of creativity and effort that went into bringing out this
miniature piece of art.
For those of us that are anticipating the Dual Slot Expansion Sleeve, Whitney is
already planning a special design just for it. Hopefully I'll be able to bring you
more details on this, as that sleeve modification becomes available.
Price: $299 for complete modification, $149
if you send in your own PC sleeve
Pros:

Cuts unnecessary bulk and weight from PCMCIA sleeve
Professionally done with superior materials and craftsmanship
Cons:

Expensive
Wiggles a little bit when out of a case – can correct with Velcro or clear tape
Product Information
Price:
299.0
Manufacturer:
Whitney LuBean
Pros:

Cuts unnecessary bulk and weight from PCMCIA sleeve
Professionally done with superior materials and craftsmanship

Cons:

Expensive
Wiggles a little bit when out of a case - can correct with Velcro or clear tape