We use affiliate links. If you buy something through the links on this page, we may earn a commission at no cost to you. Learn more.
Product Requirements:

Desktop:
Windows 98, 2000 (driver included on floppy)
Mac OS 9.x (driver available via download)
USB port
Removable storage options such as the Iomega ZIP and Jazz drives have been
popular for a while now. The ability to carry large chunks of data from computer
to computer without needing a box of floppies is really convenient. The only
trouble with these solutions is the fact that you need an  Iomega ZIP or
Jazz drive on each computer in order to transfer files. Those drives aren't
exactly cheap and take up desk space. Well, now you have another removable
storage option to consider. 
The Q USB Hard Drive from Agate Technologies
and available at Laptop Travel is a
small key chain sized durable solid-state storage module with a USB plug on one
end. The Q which comes in 16MB, 32MB and 64MB configurations, is a Plug and Play
non-volatile flash memory module that doesn't require external power to operate.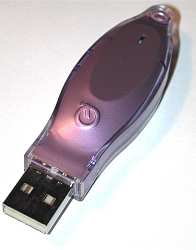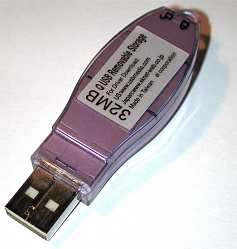 The module itself is plastic. Each model is a different color. The 32MB
version that I reviewed is purple. The whole assembly feels pretty sturdy and
I'm sure it could withstand some pretty rough handling. 
The size of the Q Drive is small enough to put in your pocket or even put on
your key chain using the plastic loop at the top of module.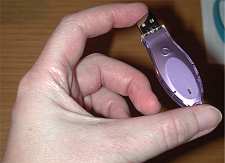 Although the Q Drive is touted (as most USB devices are) as being Plug and
Play, you will need to use the included floppy when using the module for the
first time. As soon as you plug it into an available USB port on a PC or
Notebook computer for the first time, a Found New Hardware popup will come up on
your screen followed by the Looking for Driver requester. Once the driver is
installed, you can immediately start using the Q Drive.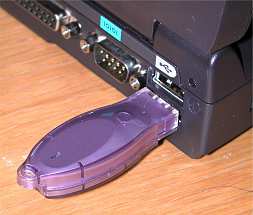 Never miss one of our posts again. Sent MON, WED, and FRI with the latest gadget reviews and news!
How do you use it? Well, if you double click on your My Computer icon, you'll
see a new removable drive in your drives list. You can then double click on that
new drive and copy files to and from it just like you do any other hard drive or
floppy drive. When the Q Drive is plugged into the USB port, a small green LED
near the key chain loop will be lit. This LED will blink during the reading and
writing of data.
Speed-wise, the Q Drive will read files at 700 Kbytes/sec and write files at
350 Kbytes/sec. How does this translate in real world feel? Well, I did a few
file transfer tests copying a 25MB folder full of files and here are the results
that I came up with:
Time Elapsed
Copying Direction
1min 20 sec
25MB to the Q drive from a PC hard drive
2 sec
25MB from my D: drive to my C: drive (2 physical drives) on desktop
PC
1min 50 sec
25MB from Q drive to Notebook PC hard drive
Besides using the Q Drive as a portable way to copy files back and forth
between computers, you can also use the Q Drive to run applications, listen to
MP3 files, and play Video clips etc. I tested each of these tasks and they
worked great. I didn't notice any problems with skipping and pausing.
Regarding the running of applications from the Q Drive, you can install
applications on the module and run them easily as long as the application
doesn't need files to be saved to the \Windows folder or folders other than the
one on the Q Drive. 
The Q USB Hard Drive can be locked so that files can not be copied or deleted
from it. There is a slider switch near the key chain loop that you toggle from
unlocked to locked.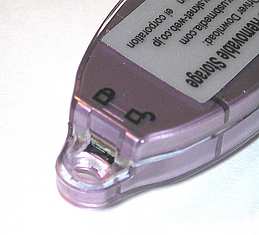 The Q USB Hard Drive works great, it's easy to use, it's sturdy and it's
portable. But, for the amount of memory that you can get, it is a bit pricey. I
think this product is good for someone that needs a VERY portable way to move
files from computer to computer and doesn't mind paying for that convenience. 
Price:  
16MB $69.95
32MB $129.95 
64MB $194.95
Pros:
Portable
Works with a PC or a Mac 
Easy to use
Cons:
Expensive
Need to install drivers for first use on a computer
Doesn't work with Windows NT