The Gadgeteer is supported by readers like you! If you buy something through links on our site, we may earn an affiliate commission at no cost to you. Thank you! Learn more.
Device:
Carries all 5 1/4" x 3 1/4" or smaller
PDAs
Exterior phone pocket holds all 6" x 1 3/4" phones
There are times when you don't want to be burdened by carrying a full size
gear bag or purse. These are the times when you want to grab the necessities, so
you can just "get out and go". One such occasion might be when you are
on vacation, and you want to travel as lightly and efficiently as possible.
Lodis, a leather
company out of Los Angeles, has an all-in-one case for just such occasions. 
The Lodis Zip-Around
Phone & PDA Case, as the name implies, will hold both your standard
sized phone (like most Nokia models) and PDA in the same compact case. It will
also hold all of your ID, credit cards, and cash. In fact, for a case so efficiently
sized, it can hold a surprising amount of "stuff". This case is
crafted of smooth Napa leather, and appears slightly shiny, with a slight grain.
Coordinating black stitching follows all of the edges.
Built like a regular book-style binder, the Lodis happens to have a leather
cell phone holder affixed to the front cover.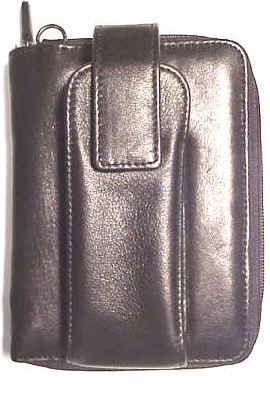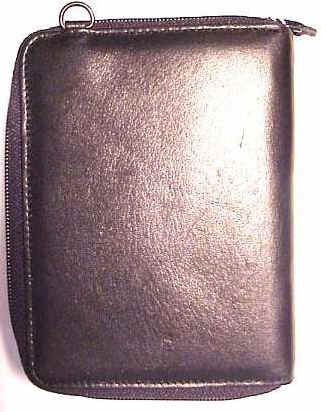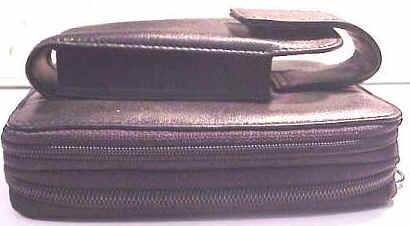 There are two main zippered compartments to the Lodis. 
First, you have the wallet portion. It is opened by a 1" (2.5cm) metal
zipper pull, that features the Lodis logo. There are seven ID or credit card
slots, one has a plastic view-window. A convenient zippered coin or stamp pocket
is located where the eighth slot would have been.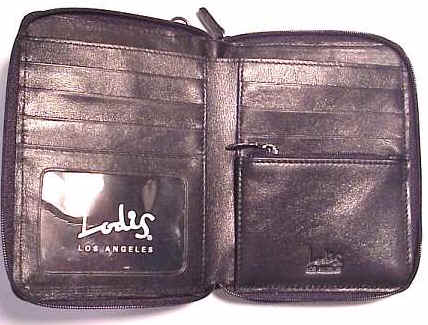 As you can see, there is a small embossed Lodis logo on the coin pocket. This
is the only brand placement anywhere on the case (other than on the metal
zipper). It is discreet and tasteful.
A wide and deep currency pocket runs along the back of the ID section. This
pocket is so deep that it could easily hold receipts as well as some of the
wider foreign currencies out the re. The pocket is also sized so that it can
easily hold a passport.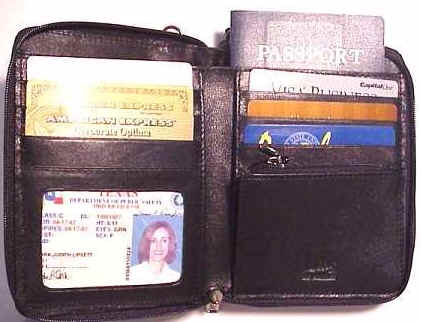 Behind both of the Credit Card and ID slot sections run deep pockets, perfect
for holding receipts or miscellaneous scraps of paper.
The second zippered section opens with a leather tabbed zipper pull to reveal
a deep horizontal slash pocket on the left side, which has an included white
paper tablet inserted.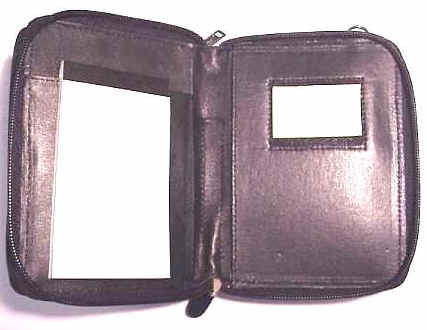 The right side of this section reveals a Velcro attachment to affix to the
back of your PDA. I tested this case with the Palm IIIc, m100, HP 548, Casio
EM-500, Handspring Visor Deluxe, and Compaq iPAQ. Each PDA fit fine – after
removing the pad of paper. I found that the pad actually added just enough bulk
that the case would slightly distort when any PDA was inserted. The pad adds
.18" (4.45mm) to the thickness of the PDA, so that is easily
understandable.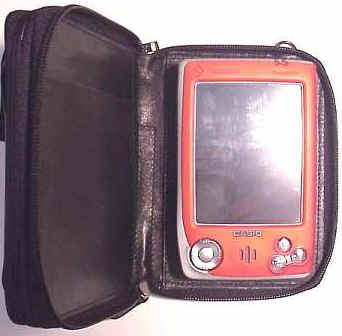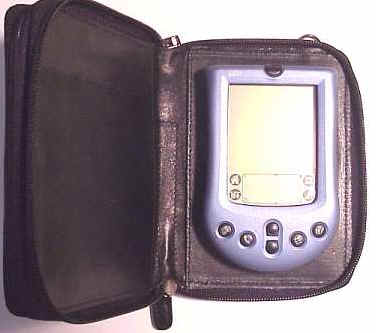 For those of you that don't like affixing Velcro to your PDA, you are out of
luck – unless you happen to own a Visor or an iPAQ. 
The Visor can be attached with the stock detachable screen cover.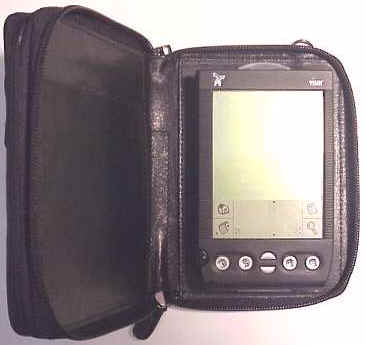 The black style-sleeve that is shipped with most iPAQs can be affixed with
the Velcro that so that your iPAQ can simply slide in and out of the sleeve for
charging or syncing.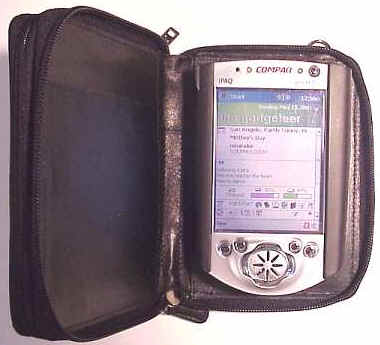 One thing I would like to see added to interior of this case would be a loop
for a shorter pen or extra stylus.
An even deeper vertical pocket runs behind both the notepad and PDA sides of
this second compartment.
The cellular phone holder appears to fit most of
the Nokia type phones. Since it has easily expandable Velcro sides, it should
stretch to accommodate most of the "classic" cell phones available.
They give acceptable phone measurements as up to 6" (15.2cm) x 1/34"
(4.5cm) phones. There is a leather flap that securely fastens over the top of
your cellular phone, using Velcro.
I inserted a Nokia 6120, and found that even with the extended battery
installed, it fit in the slot just fine.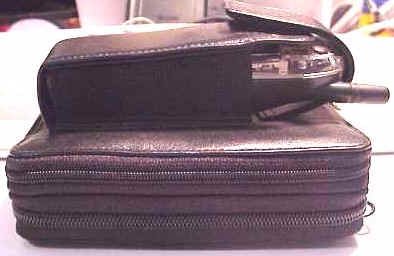 There is a detachable, thin shoulder-strap included with the Lodis. When
attached, it may strike some male users as slightly "purse-like". It
reminds me of something that I have seen European men carry on some of the
vacations that we have been on, so there is a chance that many men will not mind
the strap – and rather embrace the convenience of being able to carry the case
"hands-free". 
Personally, I liked that the strap was long enough, being 51" (129.5cm),
to wear bandolier style across my chest when traveling
When traveling, the Lodis Mobile Organizer puts everything you could possibly
need in one centralized location. I think that with summer coming, and the
vacations that go hand-in-hand with that season, this case could be a lifesaver.
The Lodis is available at Stylus
Central, and other fine retailers.
Price: $68 MSRP
Pros:
Can carry everything in one place – phone, PDA, & wallet
Excellent for traveling – can even hold a passport

Cons:

Uses Velcro to attach PDA to case
Some men might find Lodis slightly purse-like when using the included strap
Product Information
Price:
68.0
Manufacturer:
Lodis
Pros:

Can carry everything in one place - phone, PDA, & wallet
Excellent for traveling - can even hold a passport

Cons:

Uses Velcro to attach PDA to case
Some men might find Lodis slightly purse-like when using the included strap