The Gadgeteer is supported by readers like you! If you buy something through links on our site, we may earn an affiliate commission. Thank you! Learn more.
Product Requirements:

Remind Me v1.1s, requires 41K free space
Device:
Pocket PC

For those of you that have been looking for a "sticky note" type
program for your Pocket PC: the wait is over. Applian
Technologies has created RemindMe,
a simple to use yet feature-rich application that allows you to write or speak a reminder, then set an
alarm to alert you at whatever time or date you have specified.
Since "showing you how" is always better than "telling you
how," let's set up a reminder together:
First, you should know that there are 3 main methods of entry available when
using RemindMe: You can scribble directly on your PDA's screen, use the built in
character recognizer or soft keyboard function, or you can record a voice note.
For this example, I'll write a reminder…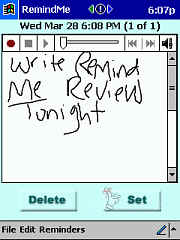 As you can see, my handwriting is pretty much chicken-scratch. It sure is a good
thing that using the built in character recognizer or soft keyboard is an
option!
If the
reminder you are making takes up more room than the available screen, more room
will automatically scroll down for you to use.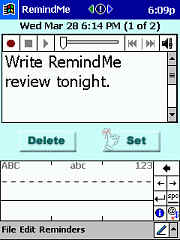 Notice that when you are using the built-in writing applications that the
bottom part of the RemindMe screen moves up – allowing you to hit the "Delete" or
"Set" buttons.
You can also use the record setting to create a vocal reminder. Of course,
your voice isn't going to be the alarm that you hear – that would be a very cool
addition to the program, though – if it's at all possible.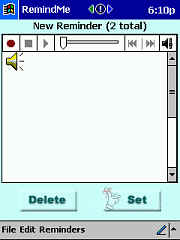 You can even use any combination of the three entry methods. You can type a
note, draw a map, and give verbal directions, all in the same reminder.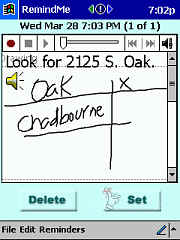 There is also a volume slider, so you can adjust how loud or soft your
reminder plays back – independently of your main Pocket PC settings: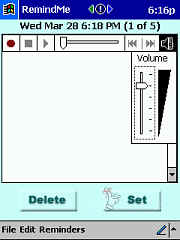 Immediately after writing your reminder, you will hit Set, upon which
this screen will pop up…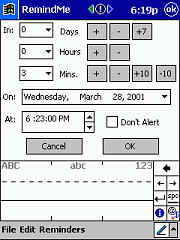 I find it convenient that you can set your reminder alarm for any time in the
future, up to 9999 days (sometime in 2028). How many of you think that you'll
still be using the same Pocket PC model in that year? :0P
I also like the fact that you can set a reminder without an alert. This is
useful for when you are just making a quick note to yourself.
Applian also mentions that if you'd like, you can map the Record button on
your PDA to go directly to RemindMe. That way, when you push the button you will automatically be
routed to the RemindMe program. You would then just hit the Record button
again, to make your voice note.
Applian claims on their web page that while it's true that you can set the
same alarms from your Calendar or To-Do applications, when you use RemindMe, it
is possible to do it in fewer steps. I decided to see if this was true:
To set up a Calendar alarm, you first click on your hot-button, you
hit the proper time-bar, then you hit New, you write in the notation, go
to the Reminder line and enter a time frame, click OK, and you are
done. This takes a total of 6, possibly 7 steps if you have an odd-ball time to
enter.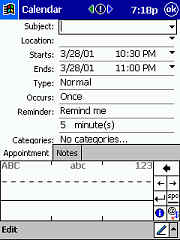 To set up a RemindMe alarm, you would hit the hot key (that you hopefully
have already remapped to go directly to the RemindMe program), scribble your
note, hit Set, and click the time and/or date when you want to be
reminded, and then hit OK. This is a total of 4 to 5 steps.
Applian points out that you can use your Up or Down buttons to
quickly scroll through time or date settings. Personally, I found it just as
easy to do it with my stylus – but to each their own.
So let's move on…
There are several settings that you are in control of with RemindMe: You can
choose your alert sound from a pull down menu of all available .wav files on
your Pocket PC. Personally, I use BLOX3, which is a .wav file from the Free
Applian game, BLOX:
I like it because it sounds like a laser going off. This is also where you can
set the amount of time that your alarm will loop, and then set your snooze
and repeat time preferences.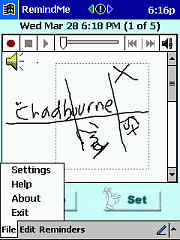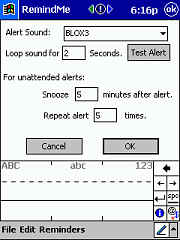 It is also possible to zoom in and out from your reminder: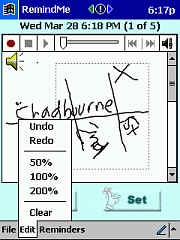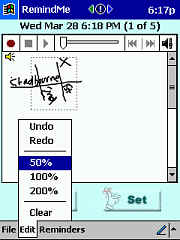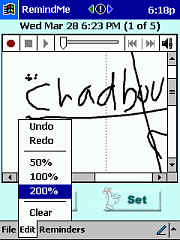 If you make a mistake, you can hit Undo. If you delete something accidentally,
you can hit Redo. If you totally botch up your reminder, you can always
hit the big blue Delete button.
As you can see, there is a line right under the Pocket PC title bar that
tells you which reminder you are looking at, and how many total you have saved.
You can access these by tapping the Reminder button on the menu bar. They
are listed here by time and date.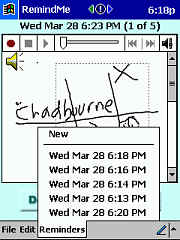 I think it would be cool if you could assign a name to the reminder – I mean,
how many of you can remember what you wrote down at a particular time without
actually seeing the reminder.
By doing a simple tap and hold, a target box pops up that you can use to
encircle items listed in your reminder. Once you have dragged the box until it
is the right size, you can tap and hold again. This will call up a menu allowing
you to Cut, Copy, Paste, or Clear the contents of
the target box.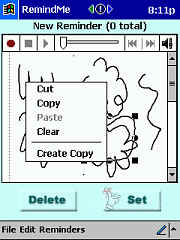 When an alarm actually does goes off, you have a couple of action choices at
that point: You can delete the alarm (by tapping Delete), reset the alarm
(by tapping Set and entering your new preferences), or you can simply
ignore the alarm – which will cause it to go off again at whatever interval you
had set under File/Settings .
One of my favorite things about this program, besides all of its other
conveniences, is that Applian saw fit to add an Exit button to the
menu.
This program is not perfect – I think that the GUI could use a little work,
but I will say that since it only came out at the beginning of March – and as I
write this there have already been two up-dates – it certainly appears that
Applian is really listening to their customers, and trying to add the features
people want.
So here are a couple things I would like to see:
1. Colors – I would like to be able to make the sticky notes yellow, or light
green, or whatever. Being able to color the writing ink would be a
"plus", also.
2. Alarms – I would like to see some unusual (fun) alarms come bundled with the
program.
3. I would like to either be able to see a screen with miniature copies of the
reminders posted, or be able to edit the name of a particular reminder, using
something other than a time or date stamp – however, I would still want the
reminder to stay time and date stamped for my reference.
These are just personal things I would like; that would make RemindMe perfect
in my opinion. This is already a great program, and it may be
exactly what you have been waiting for.
Price: $19.95
Pros:

Simple to use
Possible to add a voice recording to a timed reminder (Something I always wished
my various Palms could do)
Has a built-in Exit key in the menu
Can set alarm for just about any time – on any date, for the next 27 years :0P
Applian seems to be putting out updates regularly – product should become even
more feature rich over time

Cons:


None
Support The Gadgeteer
:
The Gadgeteer is supported by readers like you! If you buy something through the links on our site, we may earn a small affiliate commission. Thank you! Learn more.
Product Information
Price:
$19.95
Manufacturer:
Applian Technologies
Pros:

Simple to use
Possible to add a voice recording to a timed reminder (Something I always wished
my various Palms could do)
Has a built-in Exit key in the menu
Can set alarm for just about any time - on any date, for the next 27 years :0P
Applian seems to be putting out updates regularly - product should become even
more feature rich over time

Cons: