We use affiliate links. If you buy something through the links on this page, we may earn a commission at no cost to you. Learn more.
| | | | |
| --- | --- | --- | --- |
| | Julie's Thoughts | | Judie's Thoughts |
I skipped Spring COMDEX 2000 for various reasons, but decided to attend this
year's conference to see if any new gadgets or gizmos would be announced. I
invited Judie to attend with me so I could finally meet her in person and so I
could have another Gadgeteer with me to help scout out the cool stuff.
Just getting to Chicago turned out to be a little more stressful than I
thought it would be. My flight out of Indianapolis was delayed an hour and then
canceled due to faulty landing gear (guess that was a good thing!). I ended up
making it into O'Hare airport about 2hrs late. I was to meet Judie there at her
gate as both our flights were originally due to arrive only 20-30mins
apart.  Luckily Judie (who arrived on time), didn't give up on me. After
hooking up, we took a cab to our hotel.
The next morning we were ready to attack the exhibition floor in search of
cool hardware.
Passing through the Hyatt lobby to the walkway leading
into McCormick Place, we were stopped by two very friendly men that wanted to
know if we would like to test drive the Mercedes of our choice. Since Mercedes
was one of the corporate sponsors for COMDEX, they were allowing people to pick
whatever vehicle they wanted to try out, and then letting them drive them
through the streets of Chicago. Julie and I both decided that we probably
shouldn't push our luck – as we had both already seen what Chicago traffic was
like first-hand. I really did want one of the Mercedes ball-caps they were
giving out, though. We probably should have gone ahead and at least signed up…
As we were walking into the large open area of the
McCormick Place, we soon realized that we weren't attending the only exposition
going on in that building. The Waste
Expo was going on just across the hall from COMDEX! It took us a minute to
realize that this was some kind of garbage-men's extravaganza! From the looks of
the equipment we could see from the escalator, garbage management is big
business! 
Once actually inside COMDEX, the first thing that Judie and I came across that caught our eye was a product called
Rhythm Touch by American BodyWorks.
This product was a low frequency therapy massager. It used sticky electrode pads
that you could apply to your back, shoulders, or other body locations. Then the
electrodes plugged into a small handheld controller powered by 2 AA batteries.
The Rhythm Touch is supposed to help with everything from poor circulation to
diabetes management…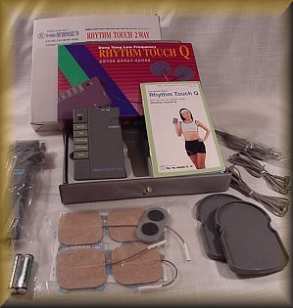 Judie and I both tried the product and thought it was pretty freaky. The
controller allowed you to do Tap, Vibrate and Massage sensations. Tap just felt like
someone was tapping their fingers in the location where the electrodes were
stuck. The other settings increased the sensation. The product sends an electric pulse to your muscles to contract them and then pauses so that the
muscle relaxes. According to the booth droid, you could even use this product to
build muscle tone.
What Julie's not telling you, was that the guy hooked
two of the electrodes to my shoulders, and two to Julie's – both coming off the
same controller, which I was holding! <evil grin> I kept it tame
for a bit, but then decided to crank the knob up just a notch…we both almost
jumped out of our skins at the same time! For a product that uses only two AA
batteries – the Rhythm Touch cranks out the juice!!!
One of the next items that we found was a mini USB web/digital/video cam called QuickPix QP2 from GlobalNSU.
This small handheld device captured what looked like surprisingly sharp webcam
images. I'd really like to get one of these to review in the near future.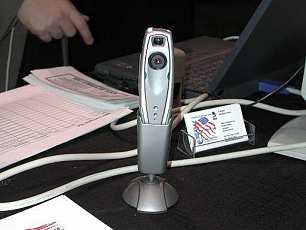 Next we found a booth that was showing a 1GB USB storage device called the
USB Drive from JMTek. This little guy is
a small plastic encased flash memory device that plugs into a free USB port. It
can be used as a hard drive. Their literature says: No cable, battery, software.
But, I notice that on their website, there is a driver to download…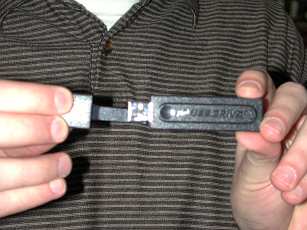 Another interesting product that we came across was the QuDi 225 Smart Backup
System from Comjet. This 5.25in bay
module installs into your desktop PC and provides 2 extra removable drives that
you can use to back up your system. The small drives are small cartridges that
use 2.5in (notebook size) drives. Special software constantly mirrors your
primary drive on to the 2 QuDi drives for total data redundancy in the event of
a primary drive failure.
The lady in this booth refused to show it to us until
we allowed her to swipe our COMDEX cards. I felt like I had just given up my
driver's license for a test drive!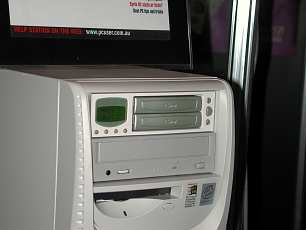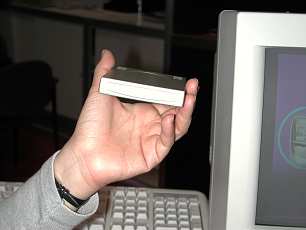 Wandering around some more, we found a booth that had a unique fold up laptop
case that was pretty interesting from a company named Shaun
Jackson Design Inc.  The product was called the Lapdog and was modular.
The first thing that actually caught my eye about this
booth was that there was a large patch of grass growing in the long divider
behind the product! We thought that was original, then we noticed the Lapdog.
The guy working the booth told us we weren't supposed to notice the grass – just
the Lapdog. Well puh-leeeeze, it's not everyday you see grass growing at a tech
show! :0)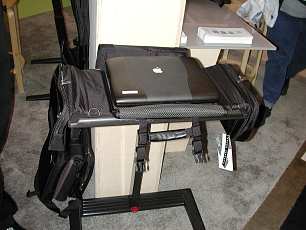 Having problems with something called Computer Vision Syndrome? Don't know
what that is? It is a condition caused by viewing computer screens for extended
periods of time. A company called Web iWear
was marketing specially designed eyewear that helped to solve symptoms such as
eyestrain, blurred or double vision and headaches.
Neither Julie nor I had ever heard of the condition,
which we were assured is a genuine problem. We agreed to give the glasses a try,
but we couldn't help laughing about glasses that were "not for reading or
for outside,"  you are only supposed to wear them while at your
computer. Who knows? Maybe there is something to it. We both agreed we'd have to
actually give them a fair chance – and then we'd decide.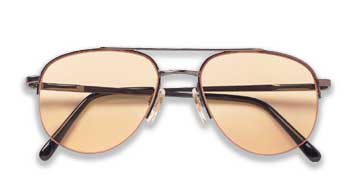 They had regular glasses and clip-ons for people that already wear specs.
But of course, the guy quickly pointed out that his
clip-ons would not fit Julie's glasses! 
How about turning your PC into a big stuffed animal? Oh come on! 🙂 These
cute monitor covers by Nikao
might be fun for your kids.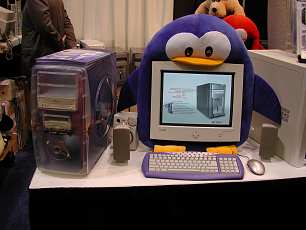 By this time Judie and I were wondering where the heck all the PDA related
hardware was. Then we ran across the Agenda
Computing Booth. We got a chance to talk to their corporate communications
person about their Agenda VR3. The PDA utilizes a 66MHz 32 bit NEC VR4181 MIPS
processor. It will have 8MB of RAM and 16MB of Flash Memory. According to the
press release that we attended, if your Agenda PDA loses all power, you will not
lose the information stored on it, as it is written to flash.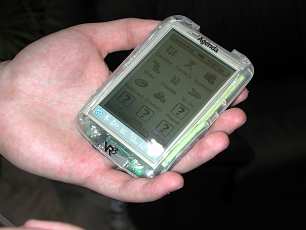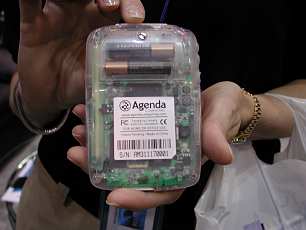 We weren't able to get any hands-on time with this PDA, but it did seem a bit
sluggish opening applications from what I could tell by watching the booth droid
as he gave us a small demo. The units won't be shipping till May or June and we
will give you a full review as soon as we get our evaluation unit.
We actually got to attend the Agenda's Press Release,
which was kind-of  interesting.
We were even invited to an Agenda party at the House of Blues but ended up
not going because we found an excellent Italian restaurant: the Rosebud
Cafe. I tried fried calamari for the first time. It was wonderful! We ate so
much that all we wanted to do was waddle back to the hotel and  swap iPAQ
programs. Actually, Judie ended up getting hungry and called room service at
10:30pm for more calamari! It wasn't as good as the first time around. 🙂
Afterward, we decided we were going to access the
computers set up for Press use, in the back room. We quickly found out that the
"Corporate Buyer" nametag holder for our COMDEX cards was going to get
in the way of that. We had to go through a lengthy process of establishing our
credentials just so we could catch up with our e-mail and the Gadgeteer web
site! 
We had to bring up The Gadgeteer site on a nearby PC and print off an article
that each of us had written. The Gestapo then read them completely and even
asked if the site was a "personal site"….. argh!
After seeing the way Julie handled the security-witch, I have to say that
she is my new HERO. :0) You should have heard Julie go: "Is this going to
be a problem?!!" 
The security-witch said that EVERY media person had to go thru this same
process…. yeah… whatever! 😉
Once we were given the proper press credentials (a
cheesy gray "Media" nametag holder for our COMDEX cards), we were good
to go. We thought about raiding all of the free food and beverage they had laid
out for the Press – but we figured that might be pushing it.