We use affiliate links. If you buy something through the links on this page, we may earn a commission at no cost to you. Learn more.
Product Requirements:
Device:
Any Pocket PC
When my How to Connect Your Pocket
PC to the Internet article was posted, I got requests to write an article
about the usage of Pocket Internet Explorer, or PIE for short. I decided to
write this article, so here it is:
PIE has many good traits and a few bad traits that will be discussed in this
article, as well as the look and feel of using it. The hope for this article is
to show people how easy and fun it is to "surf" the net on your Pocket
PC.
When I got my Pocket PC, I was planning on getting some accessories, but I
didn't want to pay much money for them. I found someone who was willing to
sell a 16 MB CF Card and a Casio modem to me for $100. I agreed to pay this
amount, for I didn't know much about PIE and I didn't want to spend much
money on something I didn't know much about. I received this package about 2
weeks later, and was unable to connect my Pocket PC to the Internet, so I gave
up. Then I tried again a few days later, and again it didn't work. I did this
many times and finally was able to connect- though this was about 2 months after
I had received the modem. This is the reason I wrote the How-To article, so
people won't spend 2 months trying to connect their Pocket PC to the
Internet.
Once I got my E-115 connected, I wanted to see
how different websites looked on it. I was amazed at the clarity of the screen
(this applies to Casio users) and the loading speed. I have a laptop with a 56k
modem, so I thought the connection was going to be a lot slower. The only thing
that would make PIE faster to load would be it doesn't support animated GIFs.
I don't know how this would make loading that much faster (I stress this
because my Pocket PC's modem is about 3 times faster than that of my
laptop).
Another nice feature that amazed me was the ability to go to almost any site
I wanted. Hotmail was the only site that didn't work. This is because Hotmail
uses a very secure connection that PIE doesn't support. Other than that, I was
able to go to any site I wanted, even though some were almost impossible to use
because of frames. Frames make it hard, if not impossible to browse a site on
PIE. For instance, Pocketnow uses frames.
It is impossible to scroll in the main window because there is no scrolling bar.
You can make the frames smaller, but you still can't scroll.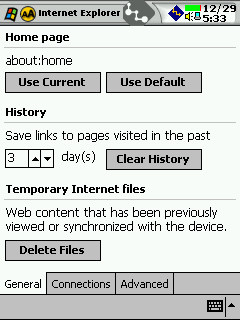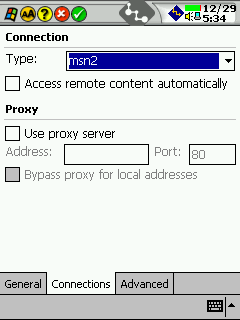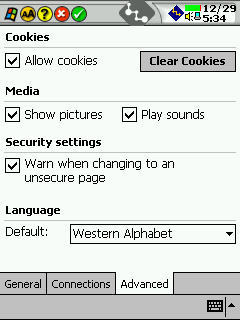 PIE is very similar to Internet Explorer because it allows you to customize
it. There are three tabs on the Tools>Options menu. These are "General,"
"Connections," and "Advanced." In the "General" tab, you can change
the homepage, change the history settings, delete the history, and delete the
Temporary Internet Files. In the "Connections" tab, you can change the
connection and proxy settings. In the last tab, the "Advanced" one, you can
clear and allow cookies, change the settings on pictures and sounds, be warned
"when changing to an unsecure page," and change the language from 2
Universal Alphabets and the Western Alphabet. These are all show above. NOTE:
not showing pictures and not playing sounds makes loading sites even
faster.
Another nice feature is the Address Bar, which you can show or hide. If you
are browsing a site that requires a large viewing area, you can hide the address
bar to create more screen space. This is located in the "View" tab.
"History" is also in this tab. "History" shows all the sites you have
gone to, and if you click on a site, PIE will open that site (if you haven't
deleted the Temporary Internet Files). This is a handy feature, and is very
similar to Internet Explorer on your PC.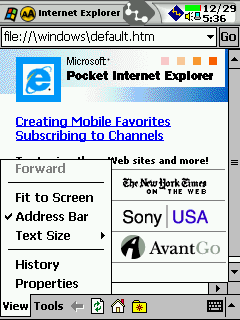 Probably the nicest feature in PIE is the Fit To Screen feature. This changes
the size of the font and pictures to make the page smaller. When you switch Fit
To Screen on, the page usually becomes longer, but not as wide. In other words,
Fit To Screen only stops or decreases the need for scrolling right and left, but
makes the use of scrolling up and down more needed. Some sites (like
The-Gadgeteer) get very long when you put this feature on, so I usually don't
use it. I usually only use this feature when I am trying to read something.
Overall, this feature does come in handy many times and I do like it.
Below are some pictures of different websites. These pictures will hopefully
show you how it is to browse the web. NOTE: To see how different websites look
on your Pocket PC without using a modem, go to Internet Explorer on your PC and
click on the Tools>Create Mobile Favorite. This will synchronize that site on
your Pocket PC. When it is synchronized, click on the "Favorites" button in
PIE (this is the little folder button on the bottom on PIE on the right). You
will see the site you just synchronized to your Pocket PC, so click on it. This
will take you to that site and you can then "mess" around with it.
Note: the banners usually work, but when transferring these pictures to my
PC, the banners disappeared.
| | |
| --- | --- |
| Without Fit to Screen On | With Fit to Screen On |
| | |
| | |
| | |
One annoyance about PIE is no animated GIF support. I would like this, but it
would make it slower. In addition, I have not found a way to copy a picture from
PIE to Pocket Word. This would be helpful because it would allow me to write
this whole article on my Pocket PC! That would be very nice.
Probably the most annoying thing about PIE is the "Refresh" and
"Stop" button share the same button. What this means is the icon changes
when a page is loading to the "Stop" button (as shown in the picture on the
left). When the page is finished loading, the icon changes to the "Refresh"
button (this is shown in the picture on the right). One problem with this is the
icons sometimes get messed-up, and you can't stop the page from loading or
refreshing. I don't know what causes this, but it is VERY annoying.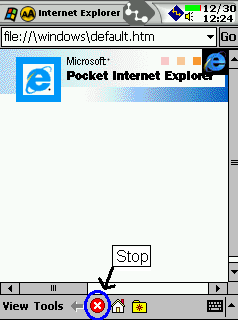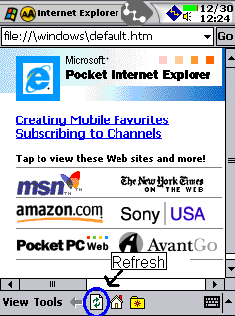 CONCLUSION: Browsing the web on PIE is very simple and enjoyable, but with
some sites, it is almost impossible. Probably the best reason to use PIE is for
AvantGo, but it is still very fun browsing normal sites on a PDA. With my two
articles, you should have enough information to realize the potential PIE has
for the average Joe or the business associate.
Pros:
Loads fast (may only be my modem or ISP)
Very intuitive
Cool
Fit to Screen feature
Includes AvantGo support
Cons:
The frames support
Stop/refresh button
No GIF support
Can't use Hotmail
Built-in landscape mode…anyone?