We use affiliate links. If you buy something through the links on this page, we may earn a commission at no cost to you. Learn more.
Many people have wanted to connect to the Internet with their Pocket PC's, but don't know do not know how to, or they have some questions. Many of these questions are regarding the "extra steps" that are required to connect to a MSN ISP. I use
MSN too, so in the bold words you can find the extra steps that are required for MSN. Well, lets get started!
I have a Casio CF modem (which I highly recommend, by the way) that I connect to my E-115. When I first got the modem, I wasn't able to connect to my ISP. This problem is most likely with MSN, so I went hunting for information. I went to many websites and tried everything written, but I wasn't able to find anything that worked. Well, finally I found what I was looking for, but more on that later.
Here are the steps to "get connected":
1. Insert your modem
2. Go to Start>Settings>Connections>Modem
3. Click on "New Connection…"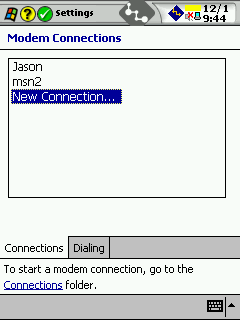 4. Select your modem. If you have a CF modem, it should appear in the drop-down menu.
5. Select your baud rate. I put my baud rate at the fastest setting since the modem will automatically connect as fast as possible.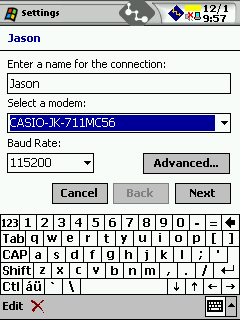 6. Press "Next." (I didn't find any need in clicking "Advanced" and going through all those weird questions. If you want to know what my connection has, here it is:
(this might help MSN users)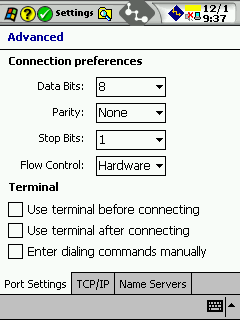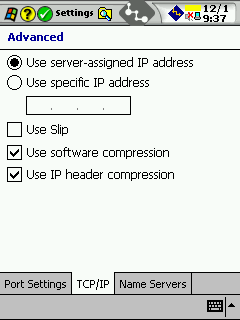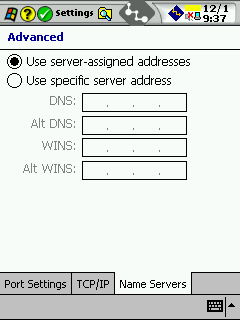 7. Put in your ISP phone number. This is the problem that I didn't find any help for anywhere. This problem was pretty weird. I am using the same ISP that my PC modem uses, so when I had to fill out all this information on the bytes, speed, and number, I just copied what was on my computer. This should have worked, but it didn't. 
I finally found a MSN site that had the phone numbers for its servers. I entered my area code and about 5 servers came up. I found the one I was dialing into (this one wasn't working), so I picked a different server to dial into. I put the new server's phone number into my Pocket PC and pressed "Connect" and it connected! This is
http://supportservices.msn.com/us/phoneaccess.asp.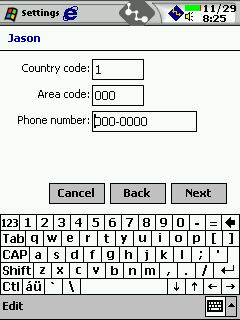 8. Click "Next" I didn't have to change anything in this part, so you shouldn't at first. Just make sure you don't need to change anything, but if your Pocket PC doesn't connect, then it would be smart to fiddle around with these settings.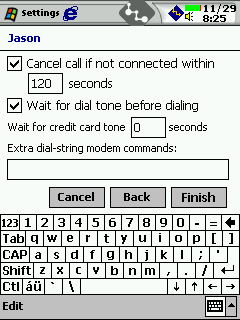 9. Press "Finish" and you are back at the "Modem Connections" page. The next step is to tap-hold on the connection you just made and click "Connect."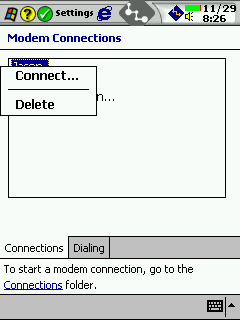 10. A window pops up showing the Status. Eventually it will get to "User Authenticated" and then it says "Device Connected." At that moment, you are ready to surf the net!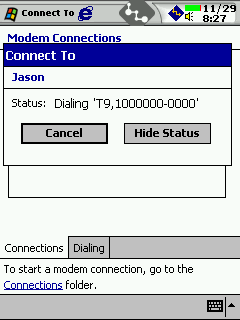 11. Now, go to Pocket Internet Explorer and start browsing the web!
There are two other ways to get connected: one is through the "Connections" folder that is found under Start>Programs. You click on the "Connections" folder and then on the connection you want. You then go to a screen that asks for your username, password, and domain. You don't have to fill out the domain. After you are done with that, press "Connect."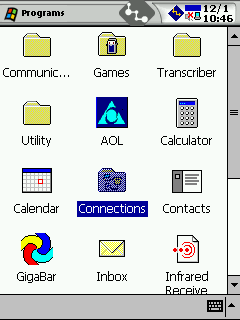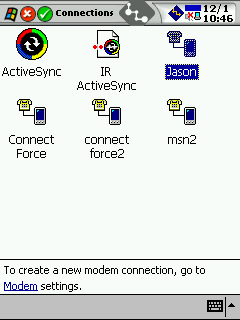 The second way to connect is through Pocket Internet Explorer. Go to Internet Explorer, then Tools. The top button is labeled "Connect." Click it. You then go to a screen that asks for your username, password, and domain. You don't have to fill out the domain. After you are done with that, press "Connect."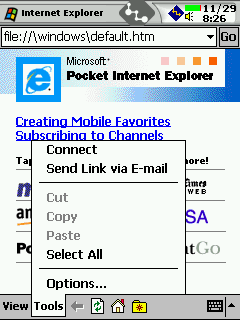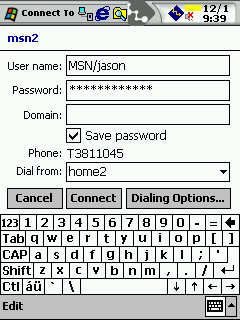 When you press "Connect", you will get a window similar to the first time, so I don't have to go over this again.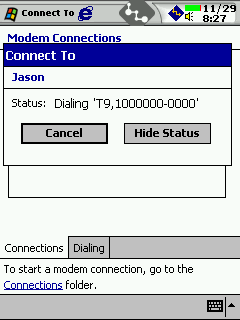 You are now connected to the Internet! Have fun!