We use affiliate links. If you buy something through the links on this page, we may earn a commission at no cost to you. Learn more.
Product Requirements:

Desktop:
Windows 95/98: 16 MB RAM, 486DX or higher processor;
NT 4.0: Service Pack 3 or greater, 32 MB RAM, Pentium processor;
Windows 2000: 64 MB RAM, Pentium 166MHz or higher

The NEC MobilePro is the largest one of only two ½ VGA clamshell PDA's available. It is the HP Jornada 720's only competitor at this time. Its keyboard is 92% full size, making it fully touch-typeable. Here's what you get:
Hardware Specs:
8.1″ diagonal, half-VGA DSTN color touchscreen
Ports: Serial, VGA out, infrared transmitter/receiver, audio jack
168MHz MIPS processor
Microsoft® Windows® CE, Handheld PC Professional Edition operating system
24MB ROM (replaceable), 32MB RAM
Lithium ion battery, AC adapter
1-year limited warranty
Stylus pen for touchscreen, 78-key keyboard
1 Type II PC Card slot, 1 Type II CompactFlash slot
Integrated V.90 modem
9.64″ W x 5.16″ D x 1.13″ H, 1.7 lbs.
The first thing I noticed about the MobilePro 780 when I took it out of its box was its size. It seems as though it is almost the size of a laptop! The unit is predominantly silver plastic on the outside and a dark gray colour on the inside. It doesn't feel as solid as the Jornada 720, and the case creaks a little bit when you squeeze it.
Here is a picture of the MobilePro and a Palm V for comparison.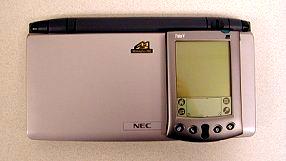 There is a little clasp that holds the unit closed. You have to slide the little switch on the front to open it. The hinge is quite stiff, though, so I don't believe there is any danger of it falling open if the clasp is not closed. Once open, you immediately notice how roomy the device is. The keyboard is quite comfortable; in fact, it is nearly as big as that of a laptop. It is also very similar to one. It is very easy to type on. Of course, the roomy keyboard is a trade-off against portability. Because of its size, you cannot hold the MobilePro in one hand and type on it with the other. I did, however, find that I could use it comfortably while it sat on a table or in my lap. This device will need a carry case to be transported, if you will be bringing it with you! It cannot be easily carried in a purse or briefcase. I found I was carrying it under my arm, like a big book.
The stylus is housed in the side, just below the screen. There is a little scroll dial next to the battery, just above the keyboard. There is also a tiny toggle, so that the display shuts off when the unit's lid is closed and turns on again instantly when opened, just like a fridge light!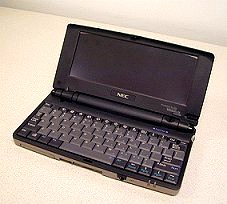 The MobilePro is packed with hardware features. It has a replaceable ROM (this will be useful if NEC decides to support WinCE 3.0, also known as Windows for Handheld PC 2000). The Compact Flash door is right at the front-centre of the device, with its little release button beside it. To the right, there is a headset port, the microphone speaker, and two LED's for the battery and alarms. The battery LED is red when the unit is charging and green when the battery is fully charged. The alarm LED flashes red when an alarm goes off. When you set an alarm, you can control both what the sound is that plays, and in the Control Panel, whether a sound plays at all, and if so, how loud it will be. If you set the sound to repeat, the sound plays twice, then waits. If you don't attend to it quickly enough, the sound will repeat end-to-end rapidly until you open the device and dismiss or snooze the alarm. (This made it sound quite urgent). I don't think that would be an appropriate setting if you are going to be in meetings!

The right hand side of the device has the PCMCIA slot and modem port. NEC has put little doors or covers on most of the slots/ports, and I had quite a tough time opening the modem port. When closed, it snaps into place and it is quite stiff, and I really had to pry it to get it open. At first I was worried I might break it! The stylus silo is in the top half, right above the modem. When the lid is open, it looks rather like a switch of some kind. It is easy to remove and replace the stylus. It is made of lightweight plastic, and while it doesn't feel cheap, I would prefer a little more weight to it. I also think that the stylus is rather short for a device this size.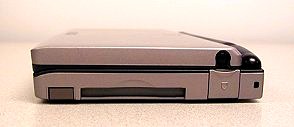 On the back of the unit, from left to right, is the Infrared port, with the jog dial above it on the top of the machine, and the main battery.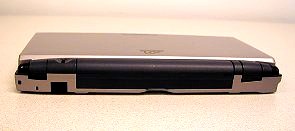 The left side has the AC adapter plug, a VGA-out port, for which NEC provided me with a dongle, and the serial port. At the right you can see a little plastic door; this door comes off but I can't find a practical use for it. It appears to be an additional access to the ROM. I like that the adapter for the device only takes up room for one plug in my power bar, unlike the adapter for most other PDA's which take up two!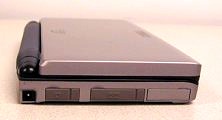 On the bottom of the unit you can see the battery lock switches, what look like pins for a cradle (NEC did not provide me with a cradle), the speaker, access to the memory cards, and the reset button.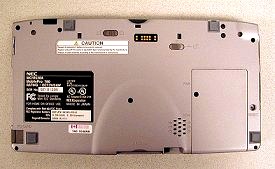 I really wish that NEC had included a hardware dial, or at least a hotkey, for volume control. It is such a pain to have to go into the device's settings to change the volume level all the time.
Each port and LED is labelled with a little picture of what it's for, or its name printed next to it. This takes out all the guesswork from getting to know your MobilePro.
The MobilePro 780's specifications include a 16-bit (65,536 colour) display. Below is a screen shot:

If you look closely, you can see that the gradients are made up of little visible dots, pointillism-style, as a 256-colour display would do. The colours do not blend together well at all. I had expected a crisp, brilliant display such as the one on the Cassiopeia E-115 Pocket PC, or at least the Jornada 720, both of which have 16-bit displays. I checked, and the display on the MobilePro was indeed set to display 65K colours. I have to admit I was disappointed with the colour quality (or lack thereof) on the MobilePro.
Aside from the colour issue, the display is bright, clear, and easy to read. You can adjust the brightness using the keyboard's two hotkeys. Above these hotkeys, Brightness +/- is written in purple (indicating it is activated with the FN+ key). I'm not sure why, as pressing the hotkey by itself or in conjunction with the FN key produces the same results.
During most of the time I tested the device it was quite cloudy, and so I was able to view the device outdoors and in the car with no problem. On a sunny day, I was able to view the device with some difficulty, if I was in the shade or the car. In direct sunlight the display is unviewable. One thing I noticed while viewing the device in a dark room is that the backlight tends to be brighter around the edges of the screen. This may just be a quirk with the device that I had, and you have to be in a room with low light levels to notice, but I found it distracting.
The touchscreen has a slightly papery texture to it, and has good sensitivity. It is not slick or reflective as a screen on a Palm is. I like that is isn't so reflective, so it doesn't shine the ceiling lights into my eyes as I work! The screen can be viewed fairly easily from different angles, unlike the HP Jornada which has to be viewed pretty much straight on.
The battery on the NEC is rated at 10 hours. I had used it intermittently over one weekend; the battery was completely dead by Sunday morning. I venture I had used it for a total of maybe 5 hours, with the brightness turned all the way up, and no PCMCIA or CF cards installed. During normal use at work, I didn't have any issues with battery life.
It also has an internal 56 K modem. I could successfully dial in and access web sites as usual:

(You can't tell the graininess of the image in this shot.) While dialed in, the speaker made strange popping or crackling sounds whenever I tapped something or typed on the keyboard. Very annoying! Not sure if my demo's just an old unit or what. It stopped when I disconnected.
The MobilePro has a 168 MHz processor and has fairly good system speed. I did have to watch the hourglass a few times, though. Surfing the web was rather slow.
Software:
The style of the operating system on the 780 is very similar to Windows 98. This is great news for users who are not very computer literate, as they will already be familiar with its interface. There is a "My Handheld PC" icon on the desktop, which is like the "My Computer" icon in Windows. There is also a Windows Explorer, and the unit comes with all the program icons as shortcuts on the desktop for easy access. It runs Windows for Handheld PC Professional Edition (version 2.11), which is older than the 3.0 version that the Jornada 720 is running. I hope NEC will release an upgrade for the ROM.

The MobilePro ships with Pocket versions of Excel, Access, Word, PowerPoint, and Internet Explorer. These programs are similar to the Office 97 programs you may already have installed on your system.
I created a test document in Pocket Word using colour, bullets, numbering, centreing, different font sizes, and special characters such as £ and €. I saved the file in both Word 97 format and as a Pocket Word Document (.PWD). When I synchronized them to my PC, I had no problems opening and editing either file. (I use Word 2000).

Then I created a document on my PC using features that Pocket Word does not have, like tables, highlighting, and pictures. I saved it as a .doc file as a .pwd file. When I did the latter, a message popped up warning that some features were incompatible. Then I opened them both on the Mobile Pro. The Word file had substituted spacing for the table layout, which got rather messy, and had not included the highlights (although the highlighted text was there). It imported the picture and clipart perfectly. The PWD file was nearly identical to the Word file except the table spacing turned out a little differently, and it preserved the bullets I had used inside the table. Pocket Word and Excel both opened attachments. I liked Pocket Excel and found it very functional. Apparently there are features lacking in Pocket Excel, but if there are, they are not features I use.

Pocket PowerPoint is basically a viewer for a PowerPoint presentation with the ability to sort slides and edit speaker notes. You can also configure it to display an 800×600 presentation on a monitor using the device's VGA-out port and dongle. Although I had to read the owner's manual to figure out how, I found it was very quick and easy to set it up and use, and the presentations, displayed in 256 colours, looked good. Unfortunately, you can't use slide animations or transitions in Pocket PowerPoint.
However, with Office 2000 now in widespread use and Windows CE for Handheld PC 2000 on the market, you may want to put a few dollars aside for a ROM upgrade when/if NEC offers it.
Also included in ROM are:
Calculator
InkWriter, which is like a pad of paper that you can type on or scribble on it with your stylus;
World Clock
Microsoft Voice Recorder
Remote networking software;
Solitaire
ICA CE Client, which allows you to connect to a Citrix MetaFrame or WinFrame server and run applications from your mobile device;
Pocket Outlook, which contains the Outlook Calendar, Contacts, Inbox, and Tasks;
BUSEFUL Backup Plus, to back up your files, and Script, which is a collection of scripts to perform certain tasks;
ASL-Connect, from Advance Systems, which allows you to remotely connect to an Exchange server;
MobilePro FAX, a neat little faxing program
NEC also sent a CD with extras on it, including AudiblePlayer (which would not install on my network computer), Aironet, CEPhoto (an image manager), JetCet, and Connect Force.
Unlike most other Windows CE devices, the NEC MobilePro did not ship with either Microsoft Reader or Windows Media Player. A third party e-book reader, MobiPocket, works well for me, and you can download WMP from Microsoft's web site. Unfortunately this means you have to install them in RAM.
Overall, I am at a draw with the MobilePro 780. I love its roomy keyboard and large screen, but I find it's simply too big to carry with me all the time. If you will be needing a PDA with you at all times, to keep your e-mail and calendar on hand and make an occasional document or spreadsheet, buy a Jornada 720 or a Pocket PC. If you will be using your device to frequently create files, send attachments, give presentations, and need the long battery life and instant-on that only a PDA can offer, and don't mind the extra bulk, then the MobilePro might be the right choice for you.
Price: $899 US
Pros:
Large keyboard and screen
Built-in VGA-out port, modem, and PC card slot
Intuitive user interface
Cons:
Display doesn't seem to have good colour depth
Large and bulky device
No multimedia software included
Product Information
Price:
$899.00
Manufacturer:
NEC
Pros:

Large keyboard and screen
Built-in VGA-out port, modem, and PC card slot
Intuitive user interface

Cons:

Display doesn't seem to have good colour depth
Large and bulky device
No multimedia software included