We use affiliate links. If you buy something through the links on this page, we may earn a commission at no cost to you. Learn more.
Product Requirements:
Any touch screen PDA
The Pilot Pentopia
Dr Grip Duo is an ergonomic pen and stylus combination available from Stylus
Central.
When you first look at at the Dr. Grip Duo, it might remind you in a small way of those
multicolored pens we all used to love when we were kids – you know the type –
they had  4 colors of ink, and a lever system on the top of each tube
of ink, that you would press down to expose each particular color.

Well, this one looks a bit more grown up than the pens we coveted when we
were children.
Like the colorful multi-pen, the Dr. Grip Duo uses a lever system to eject
the stylus or ball-point. Even though the levers are different shades of gray,
the folks at Pilot still saw fit to label each side to eliminate confusion.
Although at first, this seems a bit redundant, it is actually a good thing, as
it eliminates any doubts, when you go to pressing.
I am a little curious as to why they saw fit to label each side with
different sized and styled lettering, though…


To activate the pen, you simply push the lever that you are interested in
down all the way. You retract the ejected point by pushing the other lever
part-way down. This type of action is so simple to operate, even a child will
figure it out intuitively.
There is a fat shirt clip which does not have much clearance. It will
easily go onto a shirt, or other thin piece of material.

There is what appears to be a wide silicone grip at the bottom, that is quite
comfortable to hold, and is supposed to "relieve writing stress and reduce
required gripping power."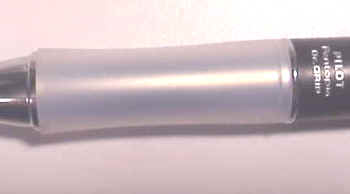 The Dr. Grip comes with a medium black tip ballpoint, and I was pleased to
see that it is a full tube of ink, instead of the usual miniature sized
multi-pen refill.
You can also purchase other colored refills, which are available in Blue,
Red, and Purple.

The red stylus tip is great! It is neither too pointy, nor too round, and it
writes smoothly on your PDAs screen, with or without protection.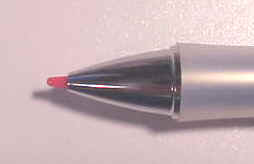 So that's the overview of the Dr. Grip Duo – How did I like it?
Other than the fact that it was a little fatter than the pens I am used to
using – I really did like it! The silicone was comfortable, and I felt that I
didn't have to use the "grip of death" to hold the pen.
The stylus tip seemed to have great recognition on all of the PDA screens
that I tried it with – so obviously the pressure I was exerting was not
misplaced or inadequate, nor overbearing – for that matter. I was also able to
write for extended periods of time without experiencing fatigue, and when you
consider that that is next to impossible to do with any stock-stylus, I was
pretty happy with that result.
The only thing that might be an issue for most people is that the price seems
a bit high. A regular Dr. Grip pen goes for $5.95 MSRP, so for the addition of
the lever mechanism and the stylus tip – $25 MSRP seems a bit pricey.
Price: $25 MSRP
Pros:

Easy to operate
Seems to help relieve grip stress and writing fatigue
Ink refill is full sized, should last quite a while
Commended for ease-of-use by the Arthritis
Foundation


Cons:

Expensive

Product Information
Price:
$25.00
Manufacturer:
Pilot Pentopia
Pros:

Easy to operate
Seems to help relieve grip stress and writing fatigue
Ink refill is full sized, should last quite a while
Commended for ease-of-use by the Arthritis
Foundation

Cons: