We use affiliate links. If you buy something through the links on this page, we may earn a commission at no cost to you. Learn more.
Program Requirements:
Desktop:
Windows 98/95 or NT 4.0, 16MB of RAM, 8MB hard disk
space
The QuickLink Pen by Wizcom Technologies Ltd. is a pen sized text scanner that can scan full lines of printed text (regular, bold, italic, inverted and underlined)  in 6-22 point size with  97% accuracy. The pen can store up to 1,000 pages of text (based on a 8.5″ x 11″ page using a 12point font).

Specs:
Processor: ARM 7 TDMI Processor
Memory: 2MB of ROM, 2MB of Flash RAM, Socket for 4MB Flash memory upgrade chip
available separately
Serial Communications: IrDA and RS232
Optic Head: 128 pixels linear array image sensor, 400 DPI resolution
Screen Dimensions: 61mm x 2mm
Size: 6″ x 1.5″ x 1″
Weight: 3 oz.
Power: 2 AAA's
The pen also comes with a CD that has the QuickLink desktop applications.
Notes: Free form information database with file management features.
Address Book: Scan business cards and synchronize your records with desktop program such as Microsoft Outlook.
Internet Links: Scan URLs and allows you to open them in your browser such as Microsoft Internet Explorer.
Tables and Charts: Captures tables and inputs them into a spreadsheet.
The pen is made of sturdy plastic with seven easy to press rubber buttons. A large non-backlit mono LCD is your interface to the pen functions. The LCD is easy to read in most lighting conditions. The scanning tip of the pen has two little red rubber rollers that you roll across the page.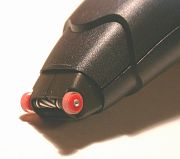 Using the QuickLink pen is pretty easy. You just turn the pen on and choose what type of info you want to scan. Notes (text from books, magazines, etc.), Addresses (business cards, etc.), Internet links (URLs from books, magazines, etc.), or Tables (columns and rows of data). You then hold the scanning tip of the pen pretty much perpendicular (75-90 degrees) to the paper and roll it across the line of information that you want to capture. You scan from left to right by default. But, if you are left handed, you can change the settings so that you can scan from right to left. What's nice is that you don't have to slowly roll the pen across the page. You can do it pretty quickly. Just as long as you hold the pen in the  upright position.
The QuickLink pen only captures/scans one line at a time. After you have scanned a line of text, you can look at the LCD and see if the pen correctly interpreted the info. You can then edit or add text if needed by using the buttons and onscreen keyboard. However, editing text this way is very tedious and time consuming. After that, you can immediately scan another line of text.
Another way you can manually input text is thru the Opticard. This is a sticker on the back of the QuickLink storage case. The sticker has barcode representations of the alphabet, numbers, punctuation characters and symbols. By scanning over a specific barcode, you enter that associated letter. This works quite well and I think it is quicker than using the onscreen keyboard.

Scanning notes is the easiest operation to perform with the QuickLink pen. You just scan a line at a time until you have created your note. Scanning addresses takes more time. You have to scan each part of the address individually. First name, Last name, Title, Company, Address line 1, Business phone, Business fax, Mobile phone, E-mail, Web page, Home phone, Home fax, and Notes line 1. The only trouble I had with scanning addresses was in scanning business cards that didn't have a solid background behind the text. The QuickLink either wouldn't scan the text at all, or would give incorrect information. Scanning URLs was as easy as scanning notes except that quite often you find URLs in magazines where often the URL is printed over a picture which the QuickLink doesn't like. Scanning tables is a little more nvolved. You scan info cell by cell. You can set the pen to auto advance to the next cell or you can use the arrow keys to go to the next cell. Other onscreen controls allow you to insert rows and columns as well as delete them.
Once you have some information stored in the pen, you can then send it to the PC desktop application via the included  serial cable or IR. This works quickly with the desktop application. You can also use the pen in the Scan to PC mode. In this mode, anything you scan with the pen will automatically be inserted into your current application. For example, if you are working in Word, you can scan a line with the QuickLink and it will automatically show up at your current cursor position just as if you would have typed it. I tested this and it worked quite well. It would be a great way to add recipes from magazines into a database, or for copying a quote into an email, etc.
The QuickLink pen can scan a variety of text sizes, fonts and colors. But it can't scan text that is red on white, white on red, blue on black, black on blue. I tested the QuickLink on different media such as books, magazines, and newspapers. The pen scanned everything just fine as long as the background was a consistent color. I found that it would not scan text when it was printed over a picture. All in all, the pen preformed really well. Every once in awhile, I would scan something and the pen seemed to ignore me. I think this was probably because I wasn't holding the pen correctly at the time.
In addition to sending the scanned text to a PC, you can also beam scanned addresses and notes to a Palm OS device and visa versa. Beaming back and forth was very easy and fast. Beamed notes will automatically be stored as a memo in the Memopad application on the Palm. Addresses get beamed into a new address contact. I also tried beaming info to a Casio E-100 and E-115 but was not successful. The E-115 recognized that a QuickLink Pen was trying to talk to it, but it never got beyond that point.
The QuickLink pen is a handy tool for people that need to scan little bits of info into their desktop applications. It works great for scanning lines one at a time. It shouldn't be used as a heavy duty scanner though. If you need to scan whole pages at once, the QuickLink probably isn't the best tool for you.
SDK $399 (standard version), $1999 (enterprise/professional version)
4MB Flash Memory Upgrade $50 (est.)
Price: $179 (30 day money back guarantee, 6 month
limited warranty)
Pros:
Small, easy to use.
Can scan text directly into a desktop application.
Can beam notes and addresses to and from a Palm OS device.
Cons:
Wasn't able to beam to a Pocket PC.
Can only scan one line at a time.
Text has to be on a solid background in order to scan correctly.
Product Information
Price:
$179.00
Manufacturer:
WizCom Technologies Ltd.
Pros:

Small, easy to use.
Can scan text directly into a desktop application.
Can beam notes and addresses to and from a Palm OS device.

Cons:

Wasn't able to beam to a Pocket PC.
Can only scan one line at a time.
Text has to be on a solid background in order to scan correctly.