We use affiliate links. If you buy something through the links on this page, we may earn a commission at no cost to you. Learn more.
So you or a friend has just purchased the Handspring Visor, and now it's time to look into Springboard modules. But, what do you do if you are on a low budget? Well, we at the Gadgeteer have just developed a line of handy and useful Springboard modules that are just for the new PDA user.  Here is our Low Budget Springboard Module roundup! (Editor's note: Place tongue firmly in cheek…)
Let-us Notes- Share Module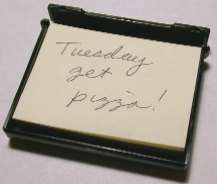 We found this module to be invaluable when you want to transfer data from the Visor to someone that does not have a compatible PDA. The Let-us Notes Share module lets you "share" information with ease. You simply pop the module off to expose a handy 3com sticky note pad. Search for the data in your Visor and write it on the note pad with a pen or pencil, (not included). Then just rip the note off and hand it to the other person. It is currently only available in yellow. More colors for the Share module are promised for later in 2000.
Price: $9.95
Pros: Easy to use, Y2K compliant
Cons: Only comes in yellow
Swiss-Army Module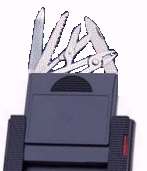 Now I know what you are thinking… but is it a Victorinox? Well no it's not. But it still has 5 features including a knife blade, saw, scissors, pliers, and a nail file. We were a bit disappointed that the toothpick and tweezers, (accessible from the under side), had not been replaced by a reset pin, but the Swiss-Army Module is a versatile unit that will be surely be a crowd pleaser. (Also, I miss the cork screw. But how many of us ever use that feature anyway?)
Price: $39.95
Pros:5 Features, Stainless steel construction, Y2K compliant.
Cons:No cork screw, or reset pin
Hide-A-KeyModule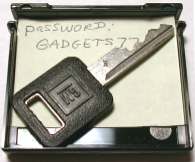 We all use the Visor to keep track of our computer and account passwords, But what if you forget the password to your Visor? And can the Visor help you if you lock yourself out of your car? Now it can! The Hide-A-Key module has a hidden compartment that can stow keys for the home and car. Your key has to be small enough to fit in the compartment, so some car keys with the black plastic surrounding them may not fit. There is also a section where you can write the password to your Visor in case you forget it. The keys are not held down in any way so they also rattle quite a bit. But, if you don't mind the excessive rattling, the Hide-A-Key module is for you.
Price: $9.95
Pros:Holds a few keys, Can hold the Visor password, Y2K compliant
Cons:Rattles quite a bit.
SuperClock Module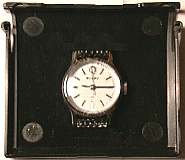 Clock programs are definitely very popular. One sign of this is the sheer number of clock programs out there. The SuperClock module was designed for the user, (like me), who still "thinks" in analog.
When someone asks me what time it is, I don't like to say, "11:47 AM".  I like to respond, "About quarter to noon." There are some drawbacks to this clock module. For one thing, it's a bear to wind up. It's hard to get your fingers around the post. The other problem is that the date function and alarm model won't be
out until next year. SuperClock kind of reminds me of those old style clocks. You know, the kind you used to have laying around in the bottom of the junk drawer. It just gives me the warm fuzzies. And speaking of the junk drawer, see the next module…
Price: $29.95
Pros:Hour hand, Minute hand, Y2K compliant
Cons:Date and alarm not available until next year
JunkDrawer Module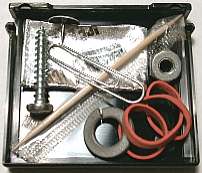 This is one module that every Visor user will want to have in their collection. The JunkDrawer module is so versatile, and yet it can be configured completely different on each Visor that uses it. You simply apply the junk drawer principles to the empty slug and cavity area of the back of the Visor. Don't want to throw away the old rubber band from this morning's newspaper? What about that ball of twine? Hey, just use the JunkDrawer module. You will find hundreds of uses for this module. It may even get you out of a jam some day, if you can think like MacGyver. So don't throw that gum wrapper out! (Junk sold separately.)
Price: $9.95
Pros:A place for your junk, Y2K compliant
Cons:A place for your junk
Medicine Cabinet Module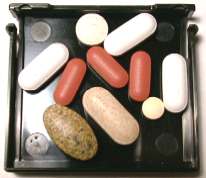 Have a headache? Need Viagra? Now your prescription drugs will never be farther away than your Visor PDA!The Medicine Cabinet module is a handy dandy pill keeper! Keep your vitamins, analgesics and other tablets with you at all times.I did find one problem with this module. For some reason whenever I tried to put my liquid medicine in it, my Visor would start acting flaky. Not sure what the problem is.(Drugs sold separately.)
Price: $11.95
Pros:Keeps your medicine with you at all times, Y2K compliant
Cons:Won't work with liquid medicines
Wallet Module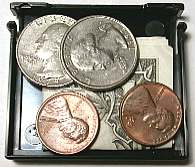 Don't you hate digging around in your pockets for change? I always seem to pull out more lint than change.The Wallet Springboard module solves this annoying problem by keeping your change and small bills in the back of your Visor.The only bad thing about this module is that every time I used it to get some change, I would end up dropping the coins on the floor where they would roll under the vending machine or desk.  I think they need to Velcro the money into the module so it won't fall out. (Money not included.)
Price: $10.95
Pros:Never be without vending machine money again!, Y2K compliant
Cons:Rattles a bit

Product Information
Price:
Pros:

Never be without vending machine money again!
Y2K compliant.

Cons: