We use affiliate links. If you buy something through the links on this page, we may earn a commission at no cost to you. Learn more.
Program Requirements:

Desktop:
Windows 95/98 or NT 4.0
The new thin clam shell EPOC PDA by Psion
is called the Revo.
I've always liked Psion PDAs because they are well made and their built in
software is powerful and full featured. I was really hoping that Psion would
come out with a non keyboard palm size unit. But until that happens, let's look
at the new Revo.
Specs:
Size: 6.18″ x 3.11″ x .43″ in
Weight: 7.05oz.
Processor: ARM 710 core running @ 36MHz
Memory: 8MB
Display: 480 x 160 pixel mono display with a 0.24mm pixel pitch.
Keyboard: 53 key QWERTY keyboard with 12.5mm.
Power: Embedded 2 x 700mAh AAA NiMH rechargeable batteries. 14hrs of use.
6.0V 500mA AC power supply is also included.
The Revo has a two tone plastic body. The majority of the case is a deep blue and the rest is silver. The casing feels sturdy and well made. Squeezing the case didn't produce any creaking or flexing. The case is quite smooth. Almost too smooth. I found it to be a little slippery.
The Revo is smaller than the Psion Series 5 as seen in the pictures below.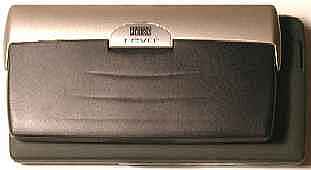 The Revo as with some previous Psion PDA's, has a unique hinge for opening the case. When the Revo is closed, it lays flat. But when it is open, it sort of has an arch (like your foot). This arch puts the Revo in the perfect angle for viewing the screen and typing on the keyboard. The hinge mechanism looks and feels pretty sturdy so I don't think it would break easily. It is easy to open and close the unit.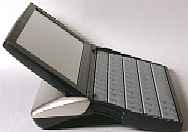 When you open the unit, you notice the keyboard. It looks like a real desktop keyboard and not a chicklet style like some PDAs. This keyboard looks similar to their Series 5 keyboard. There are differences though.
It is smaller overall and will not allow for real touch typing. Also the whole key does not depress when you press
it down. Just the top part of the key moves. From what I can tell, the keys are attached at the bottom. The key layout also isn't
identical to your regular desktop keyboard. Some of the punctuation characters are not in the usual location or
they require using a function key in combination with other
keys to activate them.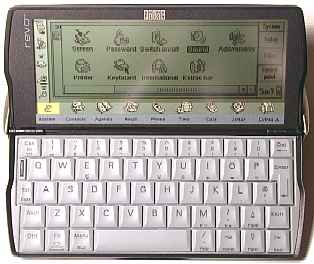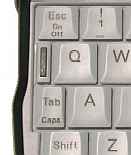 After you turn the unit on by pressing the ESC on/off key, you notice the very nice mono display. This display is much better than the Series 5. It is bright and clear. I would say that the screen compares equally with my Palm V screen. And it is also a touch screen which makes it even better! The touch screen is very sensitive and easy to use. Along the left and bottom edges of the screen are
silk-screened buttons that you can tap with your stylus to start an application. The only bad thing about the display is that there isn't a backlight. So, you can't use it easily in the dark.
This is a REAL disappointment.
The stylus silo is on the bottom of the unit. The actual stylus is a long flat plastic stylus
that isn't all that comfortable to use.
On the right side of the keyboard is the speaker. The speaker on this puppy is LOUD! You'll have no trouble hearing alarms. You have the ability to choose between 11 different alarm sounds. They include Chimes,
Fanfare, Calvary, Church Bell, Crickets, High Phone, Low Phone, Rings, Signal, Soft bells, Trumpets, and Silent. Unfortunately there isn't a voice recorder feature on the Revo.
The Revo is powered by rechargeable NiMH batteries. The batteries are charged when you place the Revo in the docking station or when you plug the AC adapter in directly. I'm not sure why Psion decided to go with NiMH batteries instead of Lithium Ion. Although Lithium Ion batteries are more expensive, they are lighter and tend to last longer. The batteries in the Revo are not user replaceable.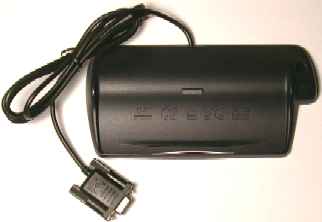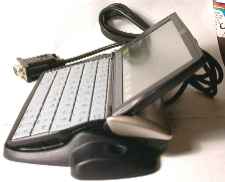 Speaking of the docking station, the Revo has to be open in order to dock it.
When you open the Revo, the serial connector is exposed on the bottom. When the
unit is closed, the connector is not accessible. The Revo is easily docked and
undocked and doesn't require you to hold on to the base in order to take it out
of the dock.
The Revo is being hailed as the Get organized, Get connected device. It does
the first item well because the built in applications are all very good. But, as
far as getting connected, this only works really well for people that have IR
equipped cell phones. If you have one, you'll be able to use it with the Revo to
wirelessly connect to the web for browsing and email. Some of the phones that
you can use are: Motorola Timeport L7089, Ericsson 6xx/7xx/T18/T10 plus DI 27,
Ericsson T28 plus DI28, Siemens S25 and Nokia 8810. You can also visit a special
page at Psion with an up to date list. If you don't have one of these cell phones,
you can purchase the 56K travel modem. This is a pocket sized IR modem that runs
on 2 AA batteries. You plug it into a phone line and then point it at the
IR port on the Revo.
The overall speed of the Revo is great. There is a tiny lag or pause while
opening applications for the first time. But once an app is opened, you can
instantly switch between them. The Revo comes with quite a few nice apps built
in. Most are the same as the apps found on Psion's other PDAs but have been
changed a little to fit the smaller screen. Below you will find a short overview
of the programs.
Agenda:
Date book application with five views — day, week, busy, to-do list and
anniversary. You have the ability to add notes, Word files and Sheet files to
your entries. You can also enter prioritized to-do lists and repeating alarms.
Syncs with your PC scheduler or organizer (Microsoft Outlook, Schedule+, Lotus
Organizer and more).

Contacts:
Address book application that is integrated with the Phone and Email apps. You
can store addresses, phone numbers, email address and lots of other data about
each contact. You can also beam info to other Revos or Series 5mx PDAs.
Phone:
App that keeps your cell phone contacts and Revo contacts in sync.
Email:
Email application that allows you access multiple POP accounts. You can either use
an IR enabled cell phone to instantly send or receive messages, or your can sync
mail with your PC. You can also send and receive message attachments. The email
app has features to use Short
Messaging Service (SMS) to send text messages to other mobile phones.
Web:
A web browser is included on the CD that comes with the Revo. This browser has
features like bookmarks, offline viewing, support for .jpg, .gif, frames and
cookies.

Calc:
Scientific or desk calculator with 26 memories for complex calculations,
including trigonometry and logarithms.

Time:
World time app that lets you choose up to 700 different cities (you can add
more). Information about each city such as dialing codes, maps, distance
statistics, even sunrise/sunset is include. You can also assign up to 8 separate
alarms.
Word:
A powerful word processor that includes features like font sizes, style (bold,
italics, underline), bullets, alignment, indents, paragraph spacing, borders,
shading, tabs, margins, headers, footers and text-flow controls. You can also
create your own templates, add spreadsheets and graphs, and print via IR or PC
to printers. Word files are compatible with Microsoft, Lotus and
Corel/Novell/WordPerfect applications.

Data:
Database application that allows you to create different 'card files' and sort on any field.
Can sync with
Microsoft Outlook/Schedule+ and Lotus Organizer.

Sheet:
PC style spreadsheet program with 2D and 3D graphing and chart features.
Includes 100 statistical, financial and other functions. Is compatible with
Microsoft, Lotus and Corel/Novell/WordPerfect applications.

Cascade:
No PDA would be complete without a game. Cascade is a fun Tetris like game.
I really like the software included on the Revo. All the programs are
powerful and feature rich but are still easy to learn and use. There are a few apps and
features that are on the other Psion devices that were left out of the Revo. For
example, there isn't a Sketcher program for drawing or doodling, OPL editor for writing your own
programs, and Faxing capability is also absent. You can add third party apps to
the Revo however.
Most EPOC programs should work fine.
In summary, the Revo is a nice unit. It is well made and seems sturdy enough
to handle everyday use. I've heard it being compared to the Palm V due to it's
thin size. I really can't see any comparison though as it is no where near as
small as Palm V. It is also being billed as an organizer and
not a handheld computer. If you're looking at the Revo as being a handheld
computer, you probably won't be happy. The Revo has just 8meg of memory that is not upgradeable.
There also aren't any expansion slots in the Revo to add memory or peripherals.
But, if you are looking to use the Revo as it is intended, as an organizer, you
will have plenty of room to keep all your contact and agenda information for
years to come. If I was in the market for a handheld PDA with a keyboard, I
would take a real look at the Revo instead of a Windows CE handheld PC because
the Revo has snappier performance and more full featured built in applications.
Price: $399
Pros:
Great display.
Nice smaller size.
Quality built in applications.
Cons:
Memory not upgradeable.
No expansion slots.
No backlight.

Product Information
Price:
$399.00
Manufacturer:
Psion
Pros:

Great display.
Nice smaller size.
Quality built in applications.

Cons:

Memory not upgradeable.
No expansion slots.
No backlight.