Device:
Gameboy Color
The Shock 'n' Rock by Nyko is a 4 in 1 accessory for
the Gameboy Color. It has a force feedback module, outputs amplified stereo sound, has a
rechargeable battery pack and includes an AC adapter.
The module is made of translucent purple plastic. It easily snaps on and
off of a Gameboy Color unit. To put it on, you just take the battery cover and batteries
out of the Gameboy unit and then snap it onto the Shock 'n' Rock. You then engage the
yellow lock tab. The back of the Shock 'n' Rock has a nice large rubber grip which makes
it easier to hold on to the Gameboy while playing games.The first thing you need to do
before actually using the Shock 'n' Rock is charge its batteries. This requires you to
plug the AC adapter into it and then into the wall outlet. The instructions tell you to
charge it overnight but warns not to charge for more than 16 hrs. I'm assuming from the
warning that the unit doesn't have any type of 'shut off' so that it doesn't overcharge
the batteries. You can use the AC adapter with the Gameboy Color directly too if you
desire.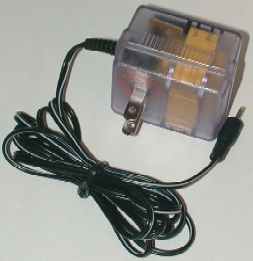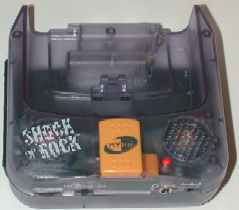 Once the unit is charged, you can use it with the Gameboy Color.  The Shock 'n'
Rock is supposed to vibrate when sound events (such as crashing,
falling, running) happen in a game. The vibration feedback is supposed
to be activated and controlled by the sound generated from the game unit during play.
Games with little or no sound will not produce any vibration feedback.
So, does it work and what does it feel like? Well, I was able to get the Shock 'n' Rock
to work for about 5 mins of total gameplay.  This was out of two separate units that
I received. The first unit would not vibrate or play sounds through the speakers at all.
So, Nyko sent me another unit. The next one appeared to work fine at first. I played with
it for a few minutes and then set it down. A week or so later when I wanted to test it
more for the review, it worked for about 5 mins and then started vibrating continuously
until I turned it off. When I turned it back on, it would not vibrate or play any sounds
through the speakers. I thought maybe the batteries were low so I allowed them to recharge
for a couple hours. Still no luck. The games play fine, they just don't have any sound and
do not have the vibration feedback whatsoever. You can disengage the sound connection
(yellow locking tab) and allow the music/sounds to play through the built in Gameboy Color
speaker though.
During the 5 minutes that I was able to use the features of this product, I found them
to be somewhat fun. The sensation of the force feedback basically just felt like you were
holding a pager set on vibrate. Everytime something on the game would cause a louder than
normal sound, the unit would give a little vibrating buzz. The sound through the stereo
speakers was fuller and louder than the Gameboy Color's built in speaker.
All in all, I can't really recommend this product because I have not been able to get a
unit that works consistently. If you just need a rechargeable battery pack for your
Gameboy Color, I would say that this might be a good choice.
Price: $29.99
Pros:
Incorporates a 10 hr rechargeable battery.
Rubberized grip is easy to hold.
Cons:
Didn't vibrate or play sounds/music through speakers consistently on two
sample units I reviewed.
Support The Gadgeteer
:
We may earn a small affiliate commission from purchases made from buying through links on our site. As an Amazon Associate I earn from qualifying purchases. Learn more.
Product Information
Price:
$29.99
Manufacturer:
Nyco
Pros:

Incorporates a 10 hr rechargeable battery.
Rubberized grip is easy to hold.

Cons:

Didn't vibrate or play sounds/music through speakers consistently on two
sample units I reviewed.