We use affiliate links. If you buy something through the links on this page, we may earn a commission at no cost to you. Learn more.
Program Requirements:
Device:
Palm VII
6 K free RAM
I'm in heaven! Obviously, I'm a gadget nut. Why else would I be reviewing things here?
So, when I picked up my Palm VII a little over a month ago, I was overjoyed to have one of
the hottest new gadgets on the market (for the moment, at least). I immediately signed up
for the extended plan with 150kb of service. The more I used it, though, the more I
realized it was little more than a neat toy. Sure, being able to check stock prices or
sports scores from a bar is neat, but it didn't overshadow my love of my PalmV form
factor.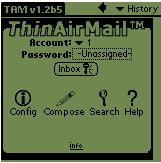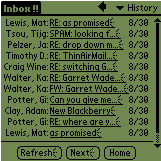 Then, I downloaded a little PQA (Palm Query Application) called ThinAirMail, made by
ThinAirApps (www.thinairapps.com). Ever since, my Palm VII has become a permanent part of
my daily routine. I work in the Internet industry, and I travel quite a bit, so access to
my emails is at least as important to me as access to my voicemails, but booting up my
laptop, or hooking my Jornada up to a phone line can be inconvenient at least. I heard
about a beta of ThinAirMail, which is an internet e-mail program for the VII. Of course,
the iMessenger e-mail service is there, but the only way you can get your corporate
e-mails is by having the messages forwarded to your Palm.net mailbox, which is a huge
pain.
Once I got the beta for TAM, I put my Palm V down for good. This is a very intuitive
program designed to work with POP3 or IMAP internet mail protocols, as well as HotMail.
Now, when I'm in an airport or in a cab, I can just flip uo my antenna and retrieve all my
e-mails. Of course, with the Palm VII's less-than-great pricing plan, that could get
expensive. Luckily, Palm just added a new Volume service plan, which includes 300kb of
service for $39.99. I've been using it since 9/1, and I haven't come close to using it up.
The key, of course, is not relying on the Palm for all e-mail retrieval, just when I'm not
at my computer. To make downloads less costly, TAM downloads just a portion of each
message, leaving it up to you to download the whole thing. I've been able to keep up with
my office e-mail, both retrieving and sending, from all over the country, wherever I
happen to be. Also, since you have the ability to have up to 4 accounts, I have my
corporate e-mail, by HotMail for those private messages, and even my wife's HotMail. Now
this is true wireless communications.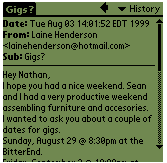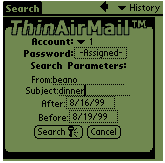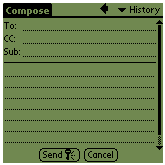 To access your mailbox, you need to go through the TAM server. ThinAirApps also offers an
enterprise version, TAM SecureServer that would be installed on your corporate e-mail
server. In enterprise-wide deployments of Palm devices, this is a no-brainer.
TAM is not perfect, though. You can't delete message off the server. This is good and bad.
It's good because you can't delete messages my accident. Its bad because if I'm flying
around from one airport to another all day, I'd like to delete the useless messages I get
so I don't have to download those headers every time I check my inbox. I know they're
working on this for a future release, though. The ability to manage folders is also an
important feature that is missing. It would also be nice to have signatures when you're
composing a message, but hopefully those features will also be released in future
versions. They do, though, have a nice little helper application coming soon that will
allow you to choose To and CC addresses from your contact list.
Obviously, I really like ThinAirMail. It finally takes the Palm VII to the next level
of functionality, and it's very easy to set up and use. Oh, yeah, and its free.
SecureServer will costs, but it will be worth it for those organizations using lots of
Palm VIIs.
Price: FREE!!
Pros:
Wireless access to POP3 , IMAP & Hotmail accounts.
The ability to send and receive messages.
Multiple mailboxes.
Very easy to set-up and use.
Cons:
Can't delete messages.
No folders.