We use affiliate links. If you buy something through the links on this page, we may earn a commission at no cost to you. Learn more.
The Slimline Throttle by ttools, LLC is a pen/stylus that can actually
fit in the stylus hole in your Palm PDA. This small clever device is designed to fit in
the PalmPilot Pro, Palm III, and also the Palm V. It will also fit some other PDAs, so if
you are interested in it's fit with a particular PDA, click here.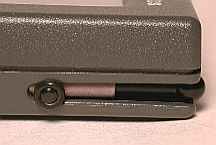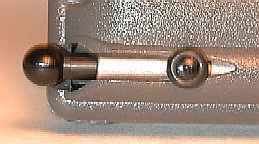 (Palm III has the plunger
pushed all the way in)

I guess if you are like me, the first thing that you look for in a replacement stylus
is a smooth, but usable writing tip. All of the styli that come with the Palm PDAs are a
bit rough to me.  Most third party styli have tips that are great to write with.
(Just check out some of the stylus reviews on this web site to see what I mean.) But I'll
have to say that in my opinion, the tip of the Slimline Throttle is a bit
rough. In fact, I was a quite apprehensive of using it for graffiti on my PalmPilot Pro.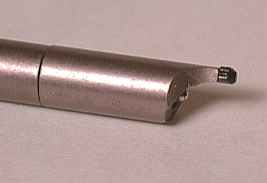 This apprehension increased when I removed the Slimline Throttle from
my Pilot and noticed that the tip had fallen off.  I found it inside the Pilot's
stylus hole, which I found by turning the Pilot up-side-down.  This is a serious
problem. Had I not noticed that the tip had fallen off, and started to use it on the
Pilot's screen, it would have caused some serious damage.  I have no evidence that
the stylus tip will actually damage your screen, and I am not saying that it will. But I
base these observations on my comparison with many other styli that I have reviewed and
tested. And although ttools, LLC gives you three replacement tips, the
problem is serious enough for them to have 2 disclaimers in the product packaging and a
bunch more on their web site. (I have reviewed numerous styli by other manufacturers, and
none of them warn their customers about the stylus tip.)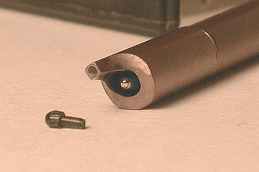 But to be fair, this stylus might be fine for the "point and click" type
person, like a friend of mine who rarely uses graffiti, and uses the "keyboard"
pallet at the bottom of the screen to input all of his data. But heed the warnings to make
sure that there is a black tip on the end of the stylus before you use it.
As for the feel of the pen when writing, it's a bit small. (Well, what would you
expect?) The pen/stylus is less than .25″ wide and only 4.25″ long including the
button to retract the pen.  It's about the same size as the original stylus that
comes with your PDA. If you want to know what it would feel like to write on paper with
something that is this size, just take out your regular stylus, (I know you are pretending
to write with it right now…) and you will get a feel for the size.
Pen tip shown out.

Pen tip shown fully
retracted.
(Still sticks out a bit.)
One thing that concerned me a bit about the pen cartridge, was that when fully
retracted, it still stuck out .040″. (Yes, I measured it with calipers.) You probably
are thinking that I'm being picky, but this can be a problem if the ink starts to glob off
the tip. (Would you buy a pen if the writing tip extended out of the holder?) I don't know
if all units are designed this way or just the one I reviewed. But if globs of ink deposit
in the PDAs stylus hole, they could be transferred to the tip of the stylus and then to
your PDA screen. This has not happened to me in the review/testing of this product, but I
have a coffee mug full of pens without caps that have globs of ink on the ends of them, so
I believe that the possibility for this to occur is valid.
As for the rest of the design of the Slimline Throttle, there is a
knob on the side that helps you get it in and out of the PDA hole or slot. And at the end
of the Slimline Throttle, the button that you use for retracting the ink
cartridge unscrews to expose a small pin that can be used to reset your Palm PDAs. This is
a useful addition, and one that most well designed styli incorporate into their designs.
The only problem is that I have been told that the reset pin is not long enough to reset
the Palm III. I tried it on my Palm Pro and it reset the machine.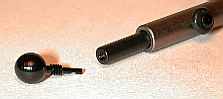 The Slimline Throttle is available in black or warm
silver, and you can specify black or blue ink for the cartridge.
My overall opinion of this product is going to sound like I'm doing a
tap dance around the negatives of this product. But as a whole, and to be fair, the Slimline
Throttledoes what it is designed to do. It is designed to fit inside the stylus
hole of the PDA, and it contains a retractable pen. It should not be compared to other
styli that are not designed as such. That said, I would be uncomfortable using this as my
everyday stylus, due to the negatives I stated above in this review.

Price: $14.98 (+ S
& H)
Pros:
Fit's onto the PDA stylus hole.
Contains a PDA reset pin.(Although it doesn't work with the Palm III.)
Cons:
I'm uncomfortable with the stylus tip as designed.
Ink cartridge doesn't fully retract.
Product Information
Price:
$14.98
Manufacturer:
ttools
Pros:

Fit's onto the PDA stylus hole.
Contains a PDA reset pin.(Although it doesn't work with the Palm III.)

Cons:

I'm uncomfortable with the stylus tip as designed.
Ink cartridge doesn't fully retract.