We use affiliate links. If you buy something through the links on this page, we may earn a commission at no cost to you. Learn more.
Official Gadgeteer Hands On
Review: Visionary 2000 Clear Flip Cover
by Julie Strietelmeier
Last date revised: 03/25/99
Accessories for the PalmPilot seem to be popping up all over the place and one of the
latest is the Visionary 2000 Clear Flip Cover.
This is not a case for the Pilot, but a screen protector. It consists of a flexible
plastic/rubber hinge, clear polycarbonate cover, and a velcro clasp.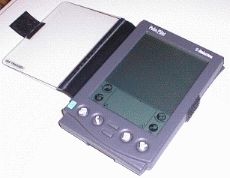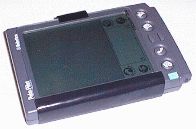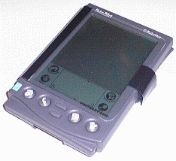 The kit comes with the Clear cover, instructions, lint-free cloth, two screen protector
sheets and software sampler floppy. Attaching the cover is pretty easy. It is just a
matter of lining up the hinge, removing the tape backing and pressing it in place. You
then do the same for the velcro clasp.
I find that the Visionary 2000 Clear Flip Cover makes a good screen protector. It's
simple to attach and serves its intended purpose. The only thing I don't like about it is
that the hinge on the side blocks the contrast wheel. The instructions say that this to
protect it from accidentally being changed. I suppose if it is annoying enough, you could
make a small cut out over the contrast wheel.
One neat thing about using this cover is that when your Pilot's alarm goes off, you
don't have to do anything to see the screen. You can just read the alarm notice and turn
the pilot off. If you use TealGlance (included on
the software sampler floppy), you can turn your Pilot on, see the time, date, and day's
events, and turn the Pilot off all without having to remove it from a case.
I would recommend this cover for someone that doesn't use a regular case and just wants
something to protect the most important part of the PalmPilot – the screen.
Price: $29.95
Construction: B
Usefulness: B
Overall Rating: B
Product Information
| | |
| --- | --- |
| Price: | $29.95 |
| Manufacturer: | N/A |