The C.E.O. (Classic, Elegant, One-of-a-kind) case by MarWare
is a leather play-through type case that comes in black or burgundy. This case earns
instant points from me because it doesn't require you to put Velcro on the body of your
Newton! Your MP2xk is held in place by two elastic bands and by sliding the screen cover
of the MP into a leather sleeve. Because of this sleeve, you really only need to use one
of the elastic bands. It's best to use the band on the bottom so that you won't cover up
the power switch with the one on top. The MP can be put into the case in either
orientation for left handed users. I am left handed, but either way didn't really make a
difference to me. The instructions that come with the C.E.O. say to remove the screen
cover from the MP before inserting or removing the MP to avoid damaging it. I personally
did not do this (children, don't try that at home…).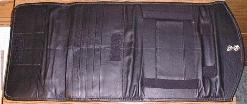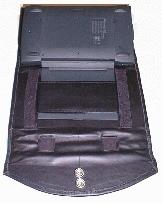 The C.E.O. has lots of room for 'stuff'.  It has 10 separate credit / business
card slots. 3 separate pcmcia card slots,1 large slot for papers or a checkbook and a
holder for your stylus.  The section with the pcmcia slots folds over and lays
against the Newton's screen when the case is closed. You can also fold that part of the
case under the MP so that holding it is more comfortable while using it.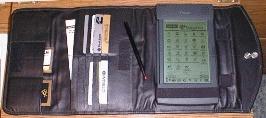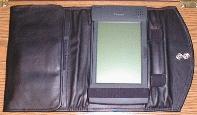 Because of all the storage compartments in the C.E.O., the case can get a little bulky.
Thankfully, the case has two snaps that be used depending on how full the case is. If you
look at the pictures below, the image on the left is of an empty (except for the MP) case.
The other picture is a totally full C.E.O. It's hard to tell from the picture, but when
the case is full, it is more bulky.


The C.E.O. case really reminds me of a Day Timer or Franklin Planner that you see the
suits carrying around. It has a more business like look to it so your average Joe Schmoe
might not appreciate. The case is nicely padded all over and I think it would fully
protect the MP in case of a short fall. The snaps, and stitching were both of very good
quality. The leather is very soft and supple. Because of this, it makes me worry just a
little about the potential for punctures. Other than this, I think that the C.E.O. is a
quality leather case for your MessagePad 2000 or 2100. One other nice feature of this case
is that the pcmcia slots, serial port and ac port are all accessible while the MP is in
the case.
Price: $59.95

Pros:
No Velcro!
Many compartments
Looks great
Cons:
Slightly expensive
More of our stories that you'll enjoy: