We use affiliate links. If you buy something through the links on this page, we may earn a commission at no cost to you. Learn more.
Quicksheet by Cutting Edge Software is a powerful
spreadsheet package for the PalmPilot. The software and manual come on a CD. The Microsoft
Word formatted user manual (which can be viewed or printed) is clearly written and
illustrated. Installing the included software on a PC is quick and easy. Installing the
.prc file on to the Pilot can be a little more difficult because of its large size (150K).
Deleting some existing .prc files, defragging or even a hard reset may be required on
older PalmPilots. Installing it on a Palm III which doesn't have a fragmenting problem is
fine.
Quicksheet has many great features including cell formatting, column sizing, row and
column freezing, copying, cutting and pasting of cells, columns and rows, sheet linking,
function pick list, enhanced undo, backup and restore of workbooks and synchronization
with Microsoft Excel 5.0, Excel 95 and Excel 97 workbooks.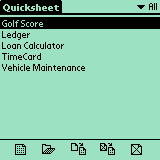 Using this program on your Pilot is very easy. People familiar with spreadsheets should
have virtually no learning curve. It's very easy to enter functions via the function
picker. A pop up list is displayed with the list of functions that can be selected. When
the desired function is selected, it is copied to the edit area with the required
variables highlighted. There are 32 built in scientific, financial, statistical, and
aggregate functions. The interface is quite user friendly; you drag the stylus just as you
would a mouse to select a range of cells. Although the viewable area of the workbook is
small on the Pilot's screen, there are arrows that allow easy navigation.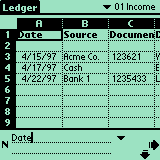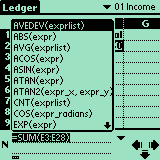 Several example workbooks are provided with Quicksheet when it is first installed on
the Pilot. These examples show what can be accomplished with this software. Included are
golf score, ledger, loan calculator, mortgage, timecard and vehicle maintenance workbooks.
The Cutting Edge website also has a free library of downloadable workbooks.
Another great feature of this program is the ability to synchronize workbooks with
Microsoft Excel. When Quicksheet is installed, it adds a pull down menu to Excel that
allows loading or saving of Quicksheet workbooks. There are settings to synchronize the
spreadsheets so the Pilot and desktop are always the same. For those PC users that do not
have Excel or are not using a desktop spreadsheet, there is a stand-alone Quicksheet
Options application that can be used to control backups. For MAC users, there is limited
desktop connectivity via the MemoPad.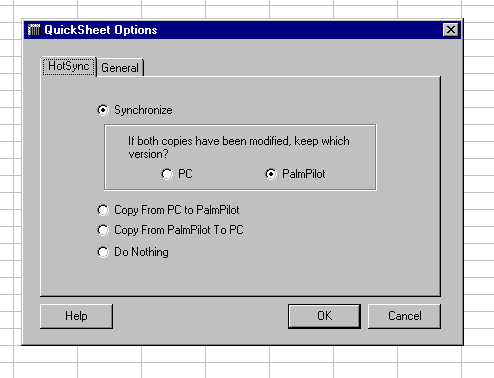 Quicksheet is a valuable tool that gives Pilot users the freedom to take their
spreadsheets with them wherever they go.
Price: $49.95
Pros:
Powerful and full featured.
Cons:
Very large 150k.
More expensive then most Pilot software.

Product Information
Price:
$49.95
Manufacturer:
Cutting Edge Software
Pros:

Powerful and full featured.

Cons:

Very large 150k.
More expensive then most Pilot software.