We use affiliate links. If you buy something through the links on this page, we may earn a commission at no cost to you. Learn more.
Program Requirements:
Device:
PalmPilot Professional, or Palm III with 35K for program and
100K for data free RAM
Desktop:
Windows 95 or Windows NT 4.0 with 16MB of RAM.
Internet connection software. Dialup networking detection requires Microsoft Windows
Dial-up Networking.
Palm Desktop 2.0 or higher.
InfoRover is a subscription based news
retriever/reader and web content retriever/reader.  The package includes  a
desktop and Palm OS program. The desktop program lets you subscribe and unsubscribe to
news channels and/or webpages and even HTML files located on your hard drive.  It
also lets you manually update the channel or webpage content that will be hotsynced to
your pilot. You can turn on/off images, and following of offsite links. You can also set
the size limit. and link depth and whether to use tables. The desktop software also
includes proxy settings so that you can retrieve news and web content through a firewall.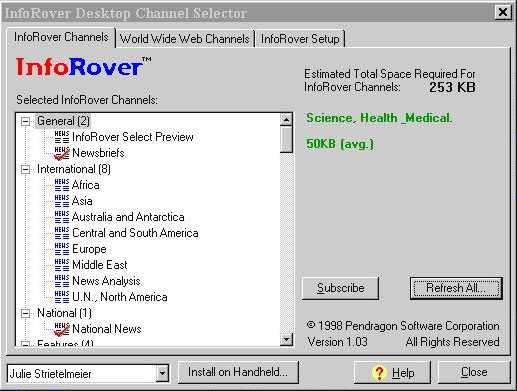 The news channels that you can subscribe to are from the Associated Press Newswire.
This is the same newswire that most newspapers use for news stories. There are quite a few
channels available that you can subscribe to:
General (InfoRover Express)
Newsbriefs Top 10-12 stories of the hour.
InfoRover Select Preview


International


    News Analysis
U.N., North America.
Central and South America
Europe
Asia
Africa
Australia and Antarctica
Middle East


U.S. News




    National News




Features


    Today In History
Opinion
News Analysis
Religion Columns


U.S. Elections


    Elections: General
Elections: Presidential
Elections: Senate – U.S. Senate.
Elections: House – U.S. House of
Representatives.
Elections: Governor
Elections: State & Local
Washington
    President, White House, Advisors
Cabinet, State Department, Pentagon
Congress
Supreme Court
Other U.S. Government


Weather


    U.S. Weather & Temp. Tables
Foreign Temperatures
Severe Weather
Weather: Other


Financial Headlines


    Financial NewsBrief


Finance


    Finance: General
Government Economic Figures
Dollar-Gold
Board of Trade


Wall Street


    Stock Market Reports
Dow Jones
S & P Averages
NASDAQ
Markets at a Glance
Wall Street Stocks


Stock Lists


Most Active Stocks
NYSE
AMEX

Entertainment


    TV
Movies
Records & Recording Artists
Entertainment


Science, Health & Medical




   

Science, Health & Medical


High Tech




   

High Tech


Sports Scoreboard




   

General Sports Scoreboard


Baseball


   Baseball: General
Baseball: Game Summaries
Baseball: Scores/Schedules
Baseball: Standings
Baseball: Statistics
Football
    Football: General
Football: Game Summaries
Football: Scores/Schedules
Football: Standings
Football: Statistics


Basketball


    Basketball: General
Basketball: Game Summaries
Basketball: Scores/Schedules
Basketball: Standings
Standings. Seasonal item.
Basketball: Statistics


Hockey


    Hockey: General
Hockey: Game Summaries
Hockey: Scores/Schedules
Hockey: Standings
Hockey: Statistics


Soccer


    Soccer: General
Soccer: Game Summaries
Soccer: Scores/Schedules
Soccer: Standings


College Sports


    College: General
College: Game Summaries
College: Scores/Schedules
College: AP Polls


Tennis & Golf


    Tennis & Golf
Tennis & Golf: Summaries
Tennis & Golf: Scores/Schedules
Tennis & Golf: Statistics


Other Sports


    Sports: General


Olympics


    Olympics: General
As you can see, the news channels are pretty heavy on the business, political and
sports content and quite light on topics such as humor, computers, travel etc. I'd like to
see the content balance out a bit.
InfoRover can automatically keep the news subscriptions and web content up to date if
you have a full time internet connection. That way, every time you hotsync, the info will
be updated. Or, if you use a dial up connection, you can schedule what time during the day
for InfoRover to update the data.
Additionally, for each web page or HTML file that you select, you can choose the start
date for downloading the Web content, and the frequency with which you want to refresh the
download. For example, if your corporate web site provides weekly product updates, you can
choose to download the corporate Web page once a week.
A nice feature of InfoRover is its ability to read AvantGo channels.  To do this,
you export your channels from AvantGo and then import them into InfoRover as web page
content (requires InfoRover Professional).
As a precaution against selecting more InfoRover channels than can fit on your
handheld, InfoRover limits the total size of all subscribed InfoRover channels to
approximately 500KB. This means that if the total estimated space required by your
subscribed channels exceeds 500KB, InfoRover will not allow you to subscribe to more
InfoRover channels.  It would be nice if this was an option that could be turned on
or off depending on how much RAM your Palm OS device had. My Palm III is an 8meg device,
so I wouldn't want that restriction.
The InfoRover reader for Palm OS has some great features. You have the ability to clip
news articles that you want to keep and save them. You also have the ability to beam
articles and search articles by keywords. InfoRover is also MUCH faster than AvantGo. When
you tap on an article or webpage title, you are instantly shown the content.   With
AvantGo, you almost always are treated to several seconds of a blank page with Loading…
displayed at the top.
If you are wanting to use InfoRover for retrieving a lot of webpage content, there's
one downfall. Image rendering is not as good as AvantGo. See the right most picture below.
It is supposed to be my gears logo for The Gadgeteer site. You can compare it to similar
pic of the same webpage in the AvantGo review.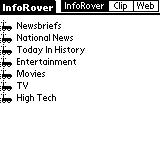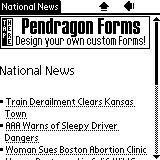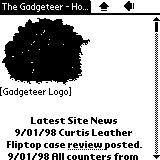 InfoRover comes in 3 flavors. The free version called InfoRover Express which will give
you about 60KB of data each day. You can not chose which channels you want to subscribe to
with this version though and will just get the top 8-10 news stories of the day. You can
also subscribe to one webpage as a trial to see what it would look like in InfoRover
Professional. The link depth for this page is locked at 0.
InfoRover Select will let you receive up to 500KB of InfoRover content per download of
any of the news channels that you choose. It is not possible to subscribe to every
InfoRover channel simultaneously. You can also subscribe to one webpage as a trial to see
what it would look like in InfoRover Professional. The link depth for this page is locked
at 0.
With InfoRover Professional, you can download as much Web content as will fit on your
PalmPilot organizer.  News content is restricted to 500k per download. It is not
possible to subscribe to every InfoRover channel simultaneously.
In summary, I'd have to say that InfoRover has a lot going for it because of the
scheduling features, speed, clipping features of the software, and different subscription
levels. But, I'm not sure I'd want to pay $59.95 a year for the subscription service. It
would be nice if they would let you pay every quarter or at least twice a year. Another
bad thing is the price you have to pay for the InfoRover Professional software if you want
the ability to download webpage content.  $59.95 seems a little pricey to me.
If you think you might like this type of software/service give the Express level a
try.  I also suggest that you try AvantGo and then if you think you'll become an
addict, InfoRover will be a step up with its advanced features. You also won't loose
anything by upgrading since InfoRover can import AvantGo channels.
Price:
InfoRover Express – Free
InfoRover Select – $59.95/yr.
InfoRover Professional Software – $59.95 and includes a complimentary 6mo. InfoRover
Select Subscription.
Pros:
Fast reader software!
Has scheduling abilities for news downloads and webpage downloads.
Ability to clip and save articles.
Cons:
Have to purchase the Professional version to download webpage content.
Yearly subscription charge.
Professional Software price is a bit high.
Image rendering isn't very good.