We use affiliate links. If you buy something through the links on this page, we may earn a commission at no cost to you. Learn more.
Program Requirements:
Device:
Palm device running OS 3.0 or above with at least 2mb of Flash
memory. This includes the:
Palm III, Palm IIIx, Palm V and PalmPilots with the 3com 2mb upgrade card.
57 K free RAM
FlashPro by TRG is a software product that takes
advantage of the unused Flash memory on Palm devices. The Palm III, IIIx, and V all have
2mb of Flash memory that is used for the Palm OS and built in applications. Thankfully for
us, not all of this memory is used by these programs. FlashPro allows you to grab that
memory and store your own programs and databases on it. FlashPro is a newer version of
TRG's first product called FlashBuilder. FlashPro is different in that it is run entirely
on the Palm device itself and not your Windows PC.
The FlashPro software consists of two separate .PRC files. One is the setup program and
the other one is the actual utility that allows you to move software into the extra Flash
ram. The software also comes with a very detailed .PDF file that explains step by step
with screen shots how to take advantage of the extra memory.
The first step you do is install both .PRC files. You then run the setup file which
sets up the Flash and formats it. You can delete the setup .PRC file after you run it for
the first time.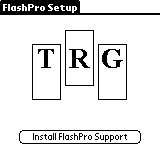 Then you can run the main FlashPro program. There are two different views. Flash and
RAM. The display can be toggled back and forth between a list of all your installed
applications and databases in regular memory or Flash memory. It also shows how much
free space you have for each. You have several sort options that allow you to sort
the listing by file name, size, creator, or type. You can also list by programs, databases
or all files.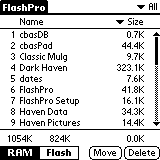 You can then select one file or multiple files to move into Flash or to delete. As you
select the files, the status line at the bottom of the display shows the total kilobytes
you have selected. After you select your files, you can either press the Move button or
the Delete button. The Move button will move the files into your Flash. A screen with an
animated bar appears to show the progress of the transfer. You can also go the opposite
direction and move files from your Flash back into regular RAM memory. Moving files to and
from Flash is fairly quick too. Here are some stats for different size files I tried:
Time to move from Regular Memory
to Flash
Time to move from Flash to
Regular Memory
323k
45 seconds
5 seconds
101k
15 seconds
5 seconds
44k
8 seconds
5 seconds
Another option you have is the ability to copy files into Flash while still retaining a
copy in regular memory. This is a great option to use a backup. If your Palm device ever
crashes or dies due to depleted batteries, you'll still have copies of your backed up
programs or databases in Flash that you can easily restore. Flash memory doesn't require
battery power to retain information.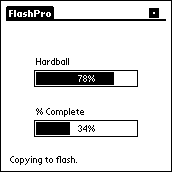 If you press the Delete button, you will delete the file(s). I like using FlashPro
better for deleting files than the built in Memory application. FlashPro is quite a bit
faster and has better listing options.
When you're in the Flash view, you have two extra options. One is to format the Flash
and the other is to defragment Flash. When you format the Flash, it removes all the
programs that have been copied there, but it doesn't effect the OS or built in
applications. Defragging merges all free space together. You need to defrag once in awhile
because copying files back and forth eventually cause the memory to become split into
small pieces. As a result, you might not be able to copy a large program into Flash even
if you have enough free space. Defragging  will squish all the fragments together
allowing the free space to be one big block.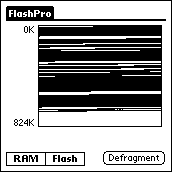 Fragmented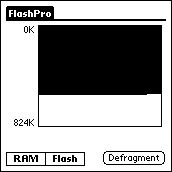 Defragmented
Although most files will work fine when you copy them to Flash, some won't. You can
check out a Flash compatibility list
for up to date info.
FlashPro is just plain great. For $29.95 you get almost an extra meg of storage space.
This program is especially great for Palm V users who have no way to upgrade to more
memory on their devices. This is one of those 'must have' Palm programs.
Price: $29.95
Pros:
Great way to supplement your Palm's memory!
Lets non-upgradeable Palm V's have 824k more memory.
Allows you to backup your databases incase of power failure or crash.
Easy to use.
Cons:
None, this is a terrific program!
Product Information
Price:
$29.95
Manufacturer:
Handera
Pros:

Great way to supplement your Palm's memory!
Lets non-upgradeable Palm V's have 824k more memory.
Allows you to backup your databases incase of power failure or crash.
Easy to use.

Cons:

None, this is a terrific program!