We use affiliate links. If you buy something through the links on this page, we may earn a commission at no cost to you. Learn more.
Program Requirements:
Desktop:
Still Imaging: 486 DX 33 or better, 8meg Ram, parallel
port, Win 95, 98 or NT
Motion Imaging: 133 MHz Pentium or better, 16meg Ram,
parallel port, Win 3.1, 95, 98 or NT
ViCAM by Vista Imaging Inc. is an all in one
PC digital camera. It can take still shots or serve as a webcam. Check out the some of the
stats below:
IEEE-1284 compatible parallel pass through
on parallel port ViCAM molded right into the cable
TrueColor 24bit, RGB555, YUV 9, 12, & 16
Color formats, plus 256 (8bit) gray scale Black & White format
Resolutions from 128×96 to
1280×960

60 frames per second  for USB ViCAM

®

40 frames per second for parallel port ViCAM

®

Light sensitivity of less than 1 lux
The ViCAM comes in two versions. A pass through parallel port version and and a USB
version (both are the same price). I was sent the parallel port version for this
review.  Setting up the ViCAM was very easy as an add in card is not required. It was
just a matter of plugging in the special parallel cable/keyboard power cable (the cable
has a pass through connector so you can still use your printer) into the printer port, and
plugging the keyboard power cable in between your keyboard and the computer. Installing
the software was equally easy. In no time I was using this camera as a webcam and regular
still frame camera.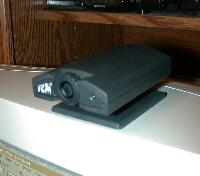 The camera is very small and compact. It has a swivel base that can be removed to
reveal a standard tripod mount.  There's also an optional mount that will let you
attach it to a notebook computer.  An LED on the front of the camera glows green when
the camera is ON (in use).  There's a button on the top of the camera that I never
did see mentioned in the manual. I'm assuming that it will allow you to snap a still image
in certain software.
Focusing the camera is quick and easy. You just turn the manual focus lens clockwise or
counter clockwise till the desired image is in focus. The ViCAM also has optional
interchangeable lenses that can be purchased separately. You can get a wide angle (3.6mm –
F:2.0) , closeup (8.0mm – F:2.5), and a super closeup lens (12.0mm – F:2.0). The lens that
comes with the ViCAM is 6.5mm – F:2.0.
Of the several webcams that I've reviewed so far, I would say that the ViCAM has the
sharpest picture. With the optional lenses, you can even do macro shots.  It is also
VERY good in low light situations. The colors also seem more true to life than other
cameras I've tested. The ViCAM did have a little trouble adjusting to images with both
dark and lighter colored objects or light sources.  As you can see the picture below,
there is a window on the left. With the sun coming in, it looks pretty glared.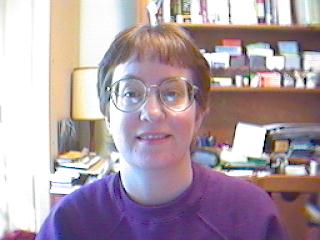 Still image taken with the standard lens.
The great thing about the ViCAM is the huge software bundle that comes with it.
It comes with:
Stefra Video Control – Provides Video Email and complete integration of video into your
Windows applications. This software can be used to send video or images with your Windows
email program.
MGI PhotoSuite SE – Software to edit, organize and be creative with photos. Users can
add special effects, improve photo quality, make greeting cards and calendars, arrange
photos in albums, and share photos over the Internet. Includes special effects and
filters, plus a host of other valuable features including: photo editing tools, a photo
lens kit, image capture, slide show, photo albums, and Internet capabilities.
MGI VideoWave SE – Turns you PC into a personal video studio, capable of combining
video clips, audio, still images, and graphics to create full motion video productions
quickly and easily for home use, business presentations, and the Internet. Includes a
variety of sophisticated transitions, the ability to add animated text and video clips,
special effects, narration, music, and real-time play back to "tell a story" in
video. Also has the ability to produce a video in MPEG-1 format.
White Pine CU-SeeMe Lite – A three (3) user version of White Pine Software's internet
based video-conferencing application. With millions of registered users of CU-SeeMe you
will be able to connect and video-conference with users all around the world. Features of
the CU-SeeMe Lite version which differ from the full version are:· Limit of viewing three
(3) conferencing attendees at a time· Video conferencing quality is fixed at 75%. ViCAM
users can upgrade to the full version of CU-SeeMe and save USD$19 off the White Pine
price.
Visionics FaceIt PC – Software that brings to the PC an innovative use of face
recognition technology to achieve access control, file encryption, surveillance, and
secure visual messaging, with remote communications capabilities through the Internet.
Prescient Systems GOTCHA! – Time lapse photography and motion sensing. This program is
great for security! With the ViCAM constantly watching, this program will start capturing
video when it senses motion. It can even be configured to dial a pager and key in a unique
code, notifying you of an intruder even when you are gone! Then remotely call into the
system to review what it has captured. Being a full featured trial version it will timeout
after 30 minutes of use each time. GOTCHA! is being provided with ViCAM to allow you to
play with and see if it is something you would like to own.
Miros TrueFace PC – Computer intelligence has come to your desktop. TrueFace PC allows
your PC to recognize your face. Use it to keep your PC private. With TrueFace
PC, a person's face is their password, enabling the user to open and
encrypt files. Working in conjunction with the ViCAM,TrueFace PC
has great biometric algorithms that can analyze an individual's unique facial features,
and accurately match them with the stored database of faces that are authorized to use a
particular PC.
Neil Kolban's WebCam32 – Set up your own webcam. This software lets
allows you to automatically ftp webcam snapshots to your webpage.
MicroSoft Netmeeting – Video teleconferencing software that includes audio,
video, file transfer, chat, document/application sharing, and whiteboard features.
If you need a webcam that works well in low light and has the ability to use different
lenses, then you should really check out ViCAM.

Price: $199 (Optional lens pack is $59.95)
Pros:
Terrific software bundle
Brighter / truer colors
Easy to setup
USB version available
Cons:
More expensive than most cameras on the market