We use affiliate links. If you buy something through the links on this page, we may earn a commission at no cost to you. Learn more.
The Satellite case by PDA Concepts is a
play-through case that will fit the following (but is not limited to) PDAs and mini
notebook computers:
Newton MP2000/2100
Libretto 20,30,50,70
HP620, 660LX HPC
LG Phenom Ultra HPC
See PDA Concepts compatibility
page for a more comprehensive list of machines that will fit in this case.
The Satellite case is available in three versions. Black or tan leather and black 1250
denier ballistic nylon with leather trim. Both come with a free shoulder strap. I'll
discuss some other accessories that are available for this case later in the review. The
overall size of the case is 10.75″ by 6.25″ by 4.75″. The case has dual
slider zippers that are smooth to operate and allow you to lock the case by putting a
small lock through the 'eyes' of the zipper pulls. The outside of the case has two
pockets. One has gussets with a fold over leather flap that is held closed with Velcro.
This pocket can expand to hold a variety of items such as the Newton keyboard, Libretto
external floppy, AC adapters, business sized envelopes etc. The other pocket is a flat
zippered pocket on the back side of the case. This pocket could hold papers, a checkbook,
etc.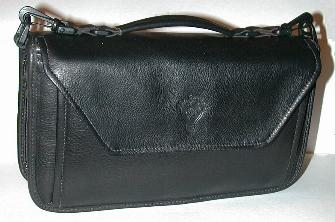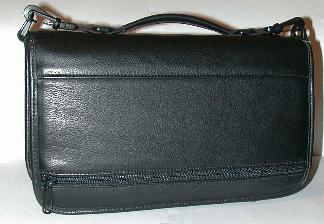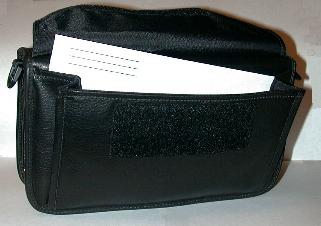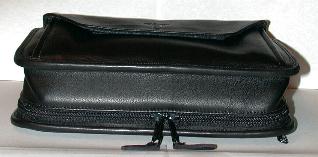 Unzipping and opening the case reveals a very roomy interior. There are
nine credit card / business card slots with one of them having a see through window. These
slots are nice and wide so inserting and removing your cards is easy. Behind these card
slots is a 5 inch wide pocket that can hold papers, money, etc. A stylus/pen holder is
attached to the top of the pocket. There are also two mesh PC Card pockets that have an
elastic stretch top. Inserting and removing PC Cards from these slots is a little
difficult. The zippered wall of the case tends to get in the way.If you pull the entire
card holder panel forward, it reveals another pocket that is wide enough for business
envelopes, floppy disks, CDs, checkbook, etc.

A divider accessory is available from PDA concepts that adds two more large mesh
pockets. This divider attaches to the case with Velcro.  When it is installed, you
wouldn't know that it wasn't
part of the original case. The main use of this divider though is as a screen
protector. One side is made of soft Velcro compatible material that won't scratch a PDA
screen (like the Newton) when it touches it. It also is great for use with the Newton
holster. This leather accessory fits around the MP2000/2100 and allows it to stick (with
Velcro) to the fuzzy side of the divider. When your MP2000 is attached this way, you can
then put the Newton Keyboard on the other half of the case and type like you were using a
laptop since the Newton will be at a good viewing angle. This holster also allows all
ports to be easily accessible. Another special accessory is available that will allow you
to attach your HP620/660LX HPC to the inside of the case.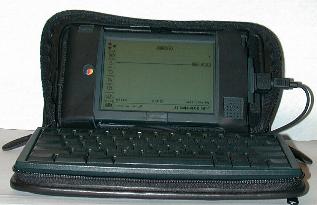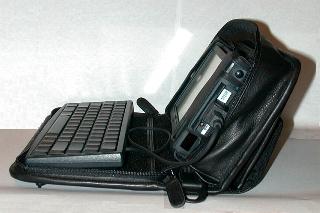 The Satellite also works great with the Toshiba Libretto mini notebook computers. It is
just the right size to hold the Libretto (with or without the port replicator attached),
external floppy drive, and AC adapter. This makes a really compact way to carry all your
gear with you.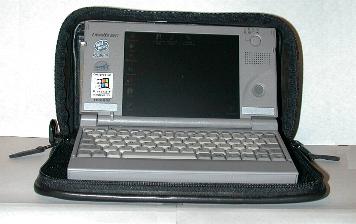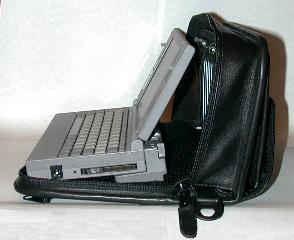 Carrying the Satellite can be done one of two ways. You can use the shoulder strap that
comes with it, or you can buy the smaller handle. I really like the small handle as it
makes the case feel like a mini briefcase. But, either way, both methods are a comfortable
way to transport the case. You can even put both handles on at once if you wish.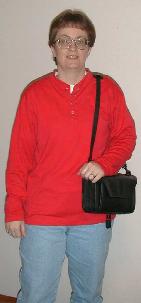 What makes the Satellite great is all the different accessories that are available for
it.  Here is a list:
Small handle
Divider/Screen Protector – Adds two additional pockets and screen safe panel
Slip pocket – a small case
Battery pocket – small case to hold extra batteries. Has Velcro to attach to the inside of
the Satellite
HPC elastic harness – For the HP620/660LX
Newton holster – For the MP2000/2100
(Check their website for descriptions, pictures and prices)
The Satellite is a terrific case. The quality of the leather and workmanship are
excellent. I could not find a thing wrong with it. It is now my favorite larger format
gear bag. If you are looking for a professional quality case to hold your expensive PDA or
mini notebook, you should really consider this case. And, you really have nothing to loose
because PDA Concepts cases are satisfaction guaranteed.
Price: $109.95 Leather with shoulder strap
$89.95 Ballistic Nylon with shoulder strap
Pros:
Excellent quality
Works with many PDAs and mini notebooks
Expandable with optional accessories
Cons:
Expensive (but worth it)


Product Information
Price:
$109.95
Manufacturer:
PDA Concepts
Pros:

Excellent quality
Works with many PDAs and mini notebooks
Expandable with optional accessories

Cons: