E&B Company have released yet another fine
quality leather case exclusively for the Palm III. This new case is called the Slipper III
and comes in a belt clip and non-belt clip version. This play through, form fitting case
is unique in that it will allow you to hotsync with a standard Palm III cradle without
removing it from the case.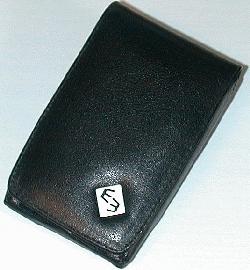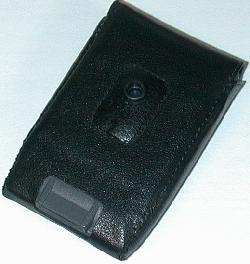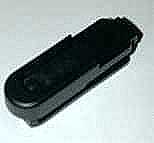 The Slipper is made of good quality black leather. The screen cover flips
up and back like a reporter's note pad.  The cover has 2 slots in it for business
cards or papers.  It is held in place with 2 Velcro strips. The cover is padded and
has a stiff insert to help protect the screen. I think the cover is just a bit too padded
and prefer the type of cover that is on E&B's slipit type cases instead.The Palm
III slides into the case from the top opening. It is held in place by friction. No Velcro
is needed. When the Palm III is in the case, I didn't feel worried that it could fall out.

Cutouts for the application buttons and power button line up very well. Thankfully
E&B decided not to use their infamous green rubber power button with this case. These
cutouts let you have easy access to the buttons. The only button that is just a bit hard
to press while in the case is the down scroll button. This is due to the edge of the
leather cutout and the Velcro.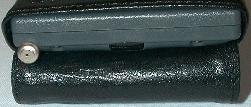 There isn't a cutout for the contrast wheel. It is also difficult to remove the
original stylus that came with your Palm III. If you pull the screen cover back, you can
use your fingernail to grab one of the ridges in order to pull it out. You can use
E&B's Point! stylus though.
What really sets the Slipper III apart from other Palm III cases is the ability to
hotsync with a standard Palm III cradle while the PDA is in the case. It will not fit in
an original PalmPilot cradle though…unless you use the Bridge.
The only downside to this great feature is that in order to allow the Palm III/Slipper III
fit in the cradle, they had to make the case leather very thin around the exposed hotsync
port.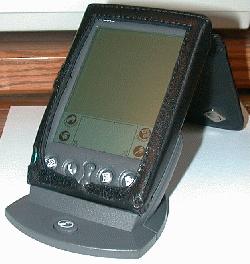 The quality of this case is very good.  I really like the Slipper III. It is the
best fitting, smallest sized case available so far for the Palm III. Being able to hotsync
without a cable or removing it from its case is also a big plus.
Price: $29.95
Pros:
Can hotsync without removing the Palm III from the case.
Play through.
Form fitting.
Cons:
Hard to remove original stylus with this case.
No opening for the contrast wheel.
Leather is thin around the hotsync port opening.
More of our stories that you'll enjoy: