We use affiliate links. If you buy something through the links on this page, we may earn a commission at no cost to you. Learn more.
The FlightSuit case by PilotGear H.Q. is a black leather play through case. This case holds the Pilot in place via a leather yoke. The case opens book style and is held closed with a brass snap.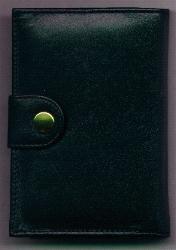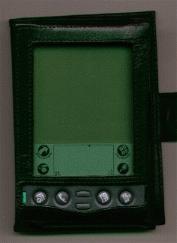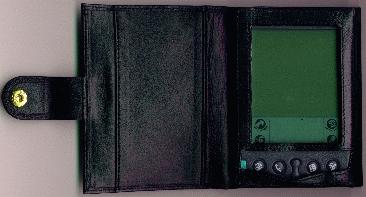 The FlightSuit has one slot in the cover portion of the case. It's a long slot that could be used to hold money, business cards or other small papers. The screen cover has a stiffener in it to protect the screen. The snap closes on the underside of the Pilot instead of right over the screen. The snap is pretty easy to close so not a lot of pressure is required.
This case is different than most cases with yokes in that the PDA slides into the side of this yoke instead of from the top or bottom. This is a good idea because the contrast wheel isn't obstructed. But, there isn't a leather tab to secure the Pilot in the yoke. The Pilot won't fall out of the case while the case is closed, but once it is open, there is that possibility.

The FlightSuit can accommodate both a PalmPilot or a Palm III.. The button cutouts in the yoke work well with both PDAs although the edge of the yoke partially obstructs the power button on both a Pilot and a Palm III. The only parts of this case that don't work 100% with the Palm III are that the top of the leather yoke obstructs the IR port and the regular stylus is impossible to remove when it is in the case. This isn't a big deal though if you never use the IR port and if you use one of the third party styli that stick up above the top of the PDA.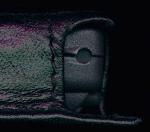 Stylus opening
The leather is nice, as is the stitching and snap. The FlightSuit makes a nice slim case that I would recommend for a PalmPilot user. Palm III might want to look elsewhere.
Product Information
Price:
$22.95
Manufacturer:
PalmGear
Pros:

Can accomodate both a Pilot to Palm III.
Slim size.

Cons:

Nothing to secure the PDA in place while it's in the yoke.
Must remove Pilot to hotsync.
Covers up the IR port on a Palm III.
Can't use regular stylus on a Palm III.