We use affiliate links. If you buy something through the links on this page, we may earn a commission at no cost to you. Learn more.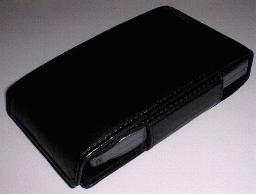 The DVP9 case by Devian is a play-through black leather snap case. It uses a leather yoke to hold the Pilot in place and doesn't require that evil Velcro to be attached to your PDA :-). It does use a Velcro tab to hold the Pilot in the yoke… which is acceptable. The case is also nicely padded and feels comfortable to hold.
The DV9 doesn't add much to the width of the Pilot, but it does add to the length and thickness. The approximate dimensions are 5 1/4″x3 1/2″ x 1 1/4″ The case can still fit in a man's shirt pocket, but it is just a bit snug and sticks out about 1/2″.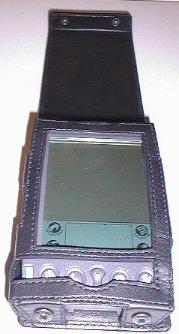 The case looks like it was designed for both a PalmPilot and a Palm III. I found that even though a Palm III would fit in the yoke, the app buttons cutout and contrast wheel cutout didn't quite match up correctly. It was also a bit harder to snap the cover closed when using the case with a Palm III. The cover which has a stiffener in it to protect your screen, is held closed with 2 metal snaps. There is also one card slot in the cover that you can use to hold a few business cards. This card slot is pretty tight so getting cards into and out of it can be a little difficult.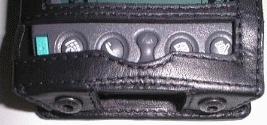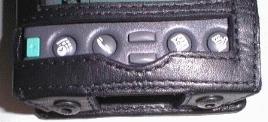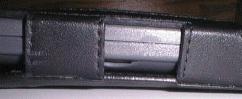 Stylus cutout on a Palm III.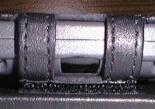 A nice feature of this case is the cutout for the hotsync port. This allows you to sync with your PC using a hotsync cable or The Bridge without taking the Pilot out of the case. The DVP9 also has an opening in the velcroed holder that allows you to use your IR port on a Palm III or PalmPilot with the 2mb upgrade board. Access to the stylus holder is fine on a PalmPilot but slightly difficult on a Palm III.
The leather and stitching are of very high quality. One thing that I didn't like is that the snap cover is a tight fit. It does snap shut, but takes a bit of work. I found no difference using a PalmPilot or Palm III with regards to the ease of snapping the case closed. Both were equally difficult.
If you're looking for a quality leather case that will fit in your shirt pocket, then the Devian DVP9 case is for you.
Product Information
Price:
$27.95
Manufacturer:
Devian
Pros:

No Velcro.
Hotsync without removing Pilot from case by using a hotsync cable.

Cons:

Palm III not quite compatible.
Cover is a tight fit to snap closed.