We use affiliate links. If you buy something through the links on this page, we may earn a commission at no cost to you. Learn more.
The Velo 500 by Philips is their 2nd generation Windows CE HPC. It comes in a 75mhz MIPS 16meg or 24 meg version. The screen is a backlit 16 shade gray scale LCD (640×240, .23 dpi). The Velo also has a 28.8k built in modem, microphone, and NiMH rechargeable battery pack. An AC adapter and a docking station is included in the package.
Lets start out with the hardware.  The Velo 500 feels sturdy and well made. It's 6.75″ x 3.75″ and 1″ thick.  I'm not sure how much it weighs, but it doesn't feel more than 1lbs or so.  I wouldn't want to have it hanging from a belt pack.  The case is made of plastic with a rubberized type coating.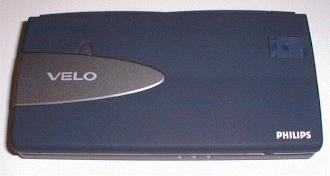 The top of the unit has a flip up RJ11 phone jack connector for the built-in modem and a push button to activate the voice recorder. The front of the unit has a small pin hole type microphone, 3 indicator lights and a slide catch for opening the screen.  The three indicator lights are for AC power/charging, serial i/o, and alarms.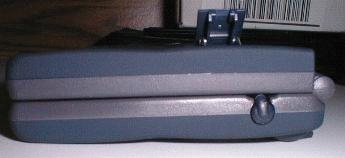 From the side, you can see where the stylus holder is, the AC adapter connector and the connector for the docking station.

From the back view you can see the IR port below the screen hinge on the right.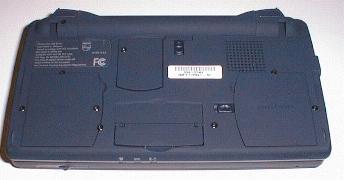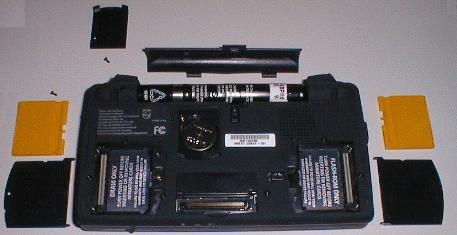 The bottom view shows you the various access doors. The NiMH battery pack is located in the hinge area of the unit. I thought this was a neat idea. The two larger doors on each side are for Dram and Flash Rom upgrades. The narrow door at the bottom is where the optional Type II PC Card V-module plugs in.
To open the unit, you slide the front catch to the right and pull up on the screen portion of the Velo. I noticed that the hinge is pretty stiff. The first time I opened it up, it made a horrible snap or pop noise that made me worried that I'd broken something. This is probably something that will loosen with more use. One nice thing about the Velo is that it can open up so that it's completely flat. I liked opening it up like this to use while I was sitting in my recliner with my knees up.

The QWERTY keyboard on the Velo 500 is nice. The keys are nicely spaced apart and provide a some feedback when you push them. There is also a keyclick sound that plays when you press a key. Touch typists should note that you can not touch type on this keyboard though. It's way too small for that. Being a touch typist myself, I tried but found it impossible. All the keys that you are used to having on your regular desktop keyboard on on the Velo keyboard. There is even a Windows key that when pushed brings up the startbar menu. There are also quick launch keys to launch all the main applications.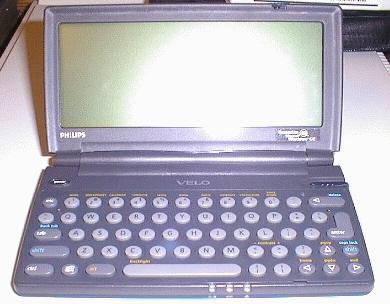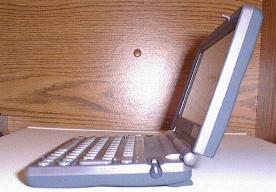 The stylus that comes with the Velo 500 is a regular plastic 'stick'. The shape of it reminds me of the one that came with my Newton MP2k. I didn't have any problems using the stylus until it broke!  As you can see below, the tip is a separate piece of plastic. It's held in place by a plastic 'cuff'… this cuff split in three different places causing the writing tip to fall out. I don't think I did anything unusual to cause this so I'm guessing it was just a bad stylus.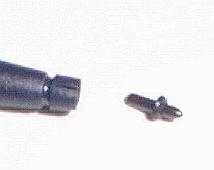 The display on the Velo 500 is a 16 shade grayscale touchscreen LCD. It's supposed to be non-glare… Before I start complaining about the display, I'll admit that I have not tested/used any other HPCs. I've only played around with a Casio A10 for about 5mins at an Office Depot one time. So, I really don't have any other HPCs to compare this screen to…
I do use a Palm III and a Newton MP2k though. That said, I found the Velo 500 display quite hard to read. Even with the backlight on, I was usually squinting to read it. I was constantly adjusting the contrast but never could get it 'just right'. It also seemed like this screen had a lot of ghosting images. For example: If a box was shown in the middle of the display, it's edges might seem to continue to the edges of the screen.  The Velo gives you an option of switching from 16 grayscale to 4 grayscale. This didn't seem to make any difference. I liked the backlight, I found it to be almost as bright as my MP2k… but it didn't seem to help with the visibility. I think the whole problem is that the grayscale isn't dark enough. To me, this is the main problem of the Velo 500…. I got a headache reading the screen.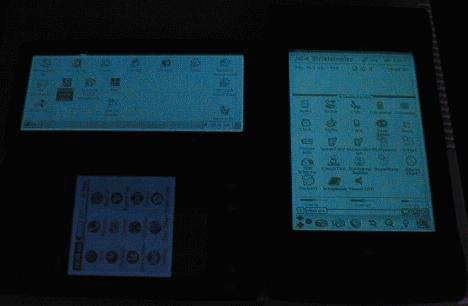 Clockwise from top left: Velo 500, MP2k, Palm III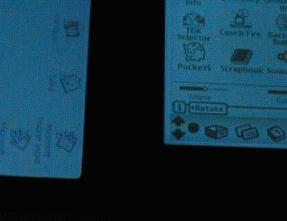 See how much darker the MP2k's icons/text are compared to the Velo on the left? The LCD is a touchscreen. I found that the sensitivity of the screen while using a stylus was excellent. I installed a shareware drawing application and was able to make detailed doodles.  Tapping on the icons with the stylus was easy. Unfortunately you have to double tap icons to start an application. I would have liked a way to set this so I would only have to tap once.
The speaker quality on the Velo 500 is really nice. It's loud and clear. Just like Win95, you can associate sounds with events. The alarm sounds are loud enough to wake you up if you want to use the Velo as an alarm clock.
Another feature of the Velo is being able to quickly record a thought or idea. To do this you just hold down the button on top of the Velo and start talking. When you let go of the button, the sound memo is saved as a .WAV file. When playing back the sound memos, you can hear a whiny motor type noise in the background. I tried playing around with the different settings but that didn't seem to make a difference. Playing the samples back on a PC sound almost perfectly clear.
Syncing and transferring files back and forth to the Velo is done through the Velo dock. The dock is a large metal and plastic base that the Velo slides into. There is a cable that runs from the dock to the serial port of your PC. There is also an AC adapter plug on the doc. I personal feel that the dock is too big and clunky. It does its intending job, but it's just too big. An optional cable is available that can be used instead of the dock.
The built in 28.8k modem is yet another feature of the Velo 500.  Since Philips included the modem, they left out a PC Card slot. The Velo 500's modem is accessed through a flip up RJ11 jack on the top of the unit. A terminal program and tcp/ip software is included with the Velo. Setting both up is pretty simple. In no time at all, I was surfing the net with Pocket IE (more about the apps later).  Using the terminal, I was able to connect to my shell account easily. The connect message that I got from my ISP was 31.2k.
Battery life on the Velo 500 isn't too bad really. The included NiMH rechargeable battery pack can be fully charged in 1.5hrs. The Velo can even be in  use while it's charging. I was able to use the Velo for 2 weeks of light use on one charge of the batteries.  So, I'll guess that a person that will be using this HPC as their main PDA might get up to 1 week of use per charge.  <- this is just a guess though. I don't see a problem with just plugging the Velo in at night before you go to bed and waking up to a fully charged Velo.
Overall speed of the unit was pretty snappy as well. It wasn't as fast as my Palm III, but then it's not in the same catagory as the Pilot. I hear alot of people complaining that they spend more time staring at the hourglass on WindowsCE machines than their application.  I didn't find this to be true at all.  The only place where I felt the machine was lagging was while I was surfing the web using Pocket IE.
Now for the software part of the review.  I've not had any experience with WindowsCE, so I won't be commenting on the differences between version 1.0 and 2.0. I will also only be commenting on the applications that come with the Velo and not any 3rd party apps that might be available for it. The Velo 500 comes with WindowsCE v2.0. WinCE has several built in apps. These include: Pocket Word, Pocket Excel, Pocket PowerPoint, Pocket Outlook (Calendar, Contacts, Tasks, and Inbox), and Pocket Internet Explorer. The Velo also comes with several other apps including AllPen Mobile Forms Database, Pocket Streets, bFax Pro, bView, Voice memo and a unit conversion tool.
Pocket Word is a cutdown version of Microsoft Word. It has 5 fonts. Arial, Courier New, Symbol, Tahoma and Times New Roman. You can have normal, bold, italic and underlined text. It will let you create bullet lists, and numbered lists. You can also set tab stops. It gives you the ability to change the color of text. Of course you can't see the different colors on the Velo's screen, but you can see the different shades.  If you move a Pocket Word file to your PC and load that file into Microsoft Word, you will see the colors.  I tried a few tests. I made a Pocket Word document on the Velo that had numbered lists, bullet lists, different font sizes, colors etc. and moved it to the Microsoft Word. Everything converted over perfectly. I then created a Microsoft Word file with a table, picture, different fonts other than the ones included in Pocket Word, lists etc. I then moved it to the Velo.  The only things that didn't convert over were the picture and the table. The table data was there in tabbed format, but the table wasn't there. The text that I had written in different fonts were there and Pocket Word showed the correct fonts when you clicked on a word, but the actual fonts weren't used. I like Pocket Word. I wish the PalmPilot had a text editor like this that allowed you to mix the fonts, with bold, italics, and underline in one document.
Pocket Excel is a cutdown version of Microsoft Excel. It has quite a few features that make it a very useful spreadsheet app. Just as in the full version of Excel, you can size, autofit, hide, and freeze the cells, and rows. You can format the cells by category (number, currency, date, etc.), set the alignment, font, border and fill. There are 110 (if I counted correctly) different functions that you can use. You can also sort and autofilter data to see the subset that you want. And like Pocket Word, you can trade spreadsheets with your PC and the full version of Excel. Pocket Excel is a very useful tool. I think I would use it frequently.
Pocket PowerPoint is a cutdown version of Microsoft PowerPoint. This is really just a viewer application. You have to create the actual presentation on your desktop PC with PowerPoint. Once you transfer it over to the Velo, you can sort the slide order. Text, graphics and notes are all transferred to the Velo. Pocket PowerPoint will also let you show the presentation on a VGA monitor if you have a VGA PC Card for your VELO. I doubt if I would personally ever use this application as I don't give presentations.
Pocket Outlook is probably the real meat of the Velo 500 HPC. This application has the Calendar, Contacts, Tasks, and Inbox tools. The calendar tool allows you to schedule meetings, appointments and other events with alarms that go off to remind you of them. It has a daily, weekly and agenda view. Unfortunately, it does not have a yearly view. A nice features is the ability to assign a category for an event, or meeting that you have entered. You can then do a sort based on a category. You can also edit the category list to add/delete entries. Another useful feature is that you can email a group of people to invite them to a meeting that you've scheduled in your Velo.  There seems to be several good points to the Calendar, but it still didn't make me jump up and down in delight. I actually prefer the Dates app on my Palm III  :-). It almost seemed to cluttery.
The Contacts tool of Pocket Outlook is nice. It has a rolodex tabbed view with alphabetic tabs on the side of the screen to let you navigate quickly to a specific contact. You can configure how you which columns of information you want in the rolodex view. You can keep all kinds of info about a person in each contact record. It has separate home and work pages for each contact. You can also associate a category with each contact and then sort based on that category.  Another neat feature is that if a person has an email address in their record, you can just tap on a small mail icon at the top the screen and a new email message with their address inserted will pop up ready for you to write and send.  The contact app is nicely done. I would use it quite often.
The Tasks tool lets you set up to-do lists. I've never been a person to set up to-do lists… This applications allows you to input tasks with start date, end date, priority, and category associated with them.  You can then check off items as you do them or be reminded via alarms when you're over due. There's not much more to say about the Tasks tool… it is simple to use and could be very useful to people that like to-do lists.
The Inbox tool is used to read and write email from your Velo. You can create folders to save your mail. If you are familiar with Outlook Express on the PC, then you'll have no trouble using the inbox. Just like most mail tools, you can reply, forward, and delete messages. An address book can be used to keep email addresses. This address book is really just a list of all the people in the contacts tool that you have email addresses associated with. There seemed to be a few features missing from this app that I'd like to see… There isn't a way to search for a specific message and there's no inbox assistant to allow you to filter incoming mail into different folders.
Pocket Internet Explorer is a mini version of Microsoft IE. It's compatible with forms, tables, .gif, and .jpg files. Animated .gif files will be displayed, but they aren't animated. Most pages that I viewed looked just fine…. loading them was pretty slow though. There's an option to turn of picture loading. This speeds up things considerably. Surfing on a Velo 500 is a neat novelty, but I wouldn't want to do it all the time. It's great if you're on the road and need to access a couple pages.  Heavy duty surfing is best left for the desktop. With Pocket IE, you can keep your favorite bookmarks. I also noticed that using pgdn/pgup caused Pocket IE to do a refresh instead of an actual page up or down.
One of the software apps included with the Velo is Allpen's Mobile Forms Database program. This application creates very simple forms for displaying or adding information to a database. You can't actually layout the forms yourself though. You can add fields, edit the fields, and sort on the fields. It's a pretty basic database. You could actually just use Pocket Excel to do the same thing.
The Velo 500 also came with Pocket Streets. This is a map viewing program. You can load maps from your desktop (Microsoft Expedia Streets) into the HPC to view. You can zoom in and out to the street level of the map. The application will also let you find a specific street address. You can turn on symbols that show places like hospitals, golf courses, theaters etc. There's a neat option that allows you to add a push pin to an area and attach a note to it. You have the ability to choose what type of symbol the push pin is (car, pin, building, arrows etc).  This is a great application… too bad you need to buy another piece of software (Microsoft Expedia Streets) to import different maps.
The other special Velo apps are bFaxPro, bView, Voice memo and a unit conversion tool. The bFaxPro and bView are fax software to let you send, receive and view faxes on your Velo. The Voice memo app is the app that you use to record or playback voice memos on your HPC. The unit conversion tool lets you convert from miles to feet, Fahrenheit to Celsius, Japanese Yen to US dollars, etc. All these tools are nice additions to the Velo 500. I would have liked to have had a built in drawing app though.
Once you have all your data put into your HPC, you have to have a way to back it up and sync it to the data on your PC. The Velo comes with Microsoft Schedule+ that you can use to sync your calendar, tasks, and contacts information. I really liked Microsoft Schedule+. What I liked most is that if you had an alarm set for a meeting, it would actually pop up a reminder if it was running. PalmPilot's Desktop software doesn't do this.  To sync your information, it's just a matter of plugging the Velo into the docking station, double click on the Mobile Devices folder on your desktop and syncing takes place pretty quickly and automatically. The Mobile Devices folder also lets you treat your HPC just like another hard drive. You can drag and drop files onto it just like you would another folder.
So, is the Velo 500 the HPC for you?  Well, that depends. Do you have good eyes? 🙂  Do you want a PDA or a replacement for your laptop?  I personally think that the current clamshell type HPCs are more of a notebook replacement than a PDA. I think this is true mostly because they are really too big and heavy to carry around with you all day. They are more suited for checking your email, short amounts of web surfing, and mobile editing of Excel and Word documents.  If you want a PDA that you can comfortably carry with you all the time, whip out quickly to catch an idea, look up some info, or log an upcoming appt, buy a Pilot or a Palm Size PC.
Product Information
Price:
$599.00
Manufacturer:
Philips
Pros:

Built in modem.
Good set of tools.
Easy syncing between Velo and PC.

Cons:

Display hard to read.
Docking station large and bulky.