The RhinoPak 2000 is a 'Sports-Ute' case made by Rhinoskin. These are the same people that brought you the Titanium hard case for the PalmPilot (see my review). The RhinoPak 2000 is not a metal case though, it is a zippered Cordura case.  This case comes in either black or black and tan. The RhinoPak 2000 will accommodate the following PDAs: PalmPilot with the 3Com Modem, PalmPilot with the Novatel Wireless Minstrel Modem, Psion Series 3a, 3c and 5, Casio z-7000, Casio Casiopeia A-10 / A-11, Compaq PC Companion C120 / C140,Hitachi Handheld PC, HP Palmtop PC 300 / 320 / 340 / 360 LX, HP OmniGo 100 / 120, Lucky Goldstar Handheld PC GP20M / GP40M, NEC MobilePro 200 / 400, Phillips Velo 1, Sharp Zaurus ZR-3000 / ZR-3500 / ZR-5800 / ZR5800FX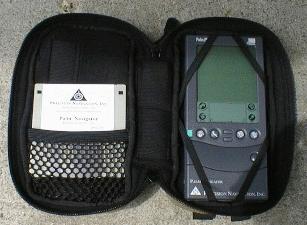 During my review period, I used this case with my PalmPilot Professional (without modem). The case is really made for the Pilot with the modem but using it with the Pilot by itself it gave me room to tote other small items.
What's great about this case is that it has so many compartments and pockets. The outside of the case has a flap with a zippered compartment that is the size of the flap. This flap is held  in place by a plastic squeeze type latch. This latch is a bit hard to use but it might get easier with use/practice. When the flap is open, it reveals a deep mesh pocket. This pocket runs the length of the case… the mesh part only takes up the top 2/3rds of the length of the pocket.  There is also a handle on the spine of the case so that you can carry it like a mini briefcase or satchel.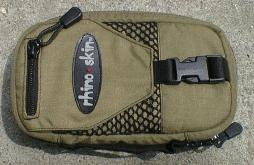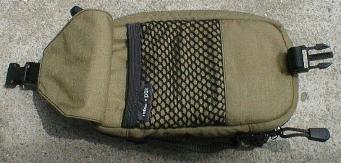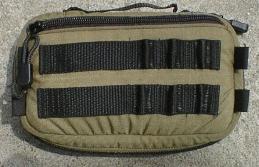 The back of the case has a zippered compartment as well. The zipper runs the length of the case. The back also has two heavy belt loops.
The interior of the case is made of a soft knit material. The material adds an adequate amount of padding to the sides. There are 4 elastic straps on the corners to hold in the PDA. I personal don't use them as they just take too long to get the PDA in or out of. Besides the straps, there is one mess pocket, 2 elastic battery holders in the middle of the case and an elastic pen/stylus holder.
The case is opened with twin pull zippers. All the zippers on this case are high quality and the action is smooth. The whole case is made really well and I do like it. The only downside to the RhinoPak 2000 is the price. $50 is quite a lot to pay for this non-leather case. If you don't mind the price, then this is a very versatile case that will protect many different PDAs.
The Gadgeteer may receive a commission on purchases made from affiliate links on our posts.
Product Information
Price:
$49.95
Manufacturer:
Rhinoskin
Pros:

Pockets, pockets, it's got pockets.
Can be worn on your belt or carried.

Cons:

Price is steep.
Julie Strietelmeier
julie@the-gadgeteer.com
Let me know your comments on the RhinoPak 2000.
Owners Comment Page