We use affiliate links. If you buy something through the links on this page, we may earn a commission at no cost to you. Learn more.
The Palm Navigator by Precision Navigation Inc. is the coolest thing since…um… the last coolest gizmo I found! 🙂 Seriously though, this is a really nifty sensor module that attaches to your Pilot or Palm III like a modem and turns it into an electronic compass and map navigation system. Don't confuse this with a GPS which it is not.
The sensor module is contained the same type of housing as the familiar Pilot Modem. It even comes with two AAA batteries. This module is compatible with both the Pilot and Palm III. The only problem with the Palm III is that the fliptop screen cover won't close completely. This isn't that big a deal though (see picture below).



The module comes with a floppy disk that has the navigator.prc file, readme instruction file and a mapsync program (more on MapSync later). The navigator.prc file requires about 55k of space on your Pilot. Maps that you can load in with the mapsync program will require extra space depending on their size.
Once you install the .prc file, and attach the module, you just have to turn the Pilot on, and tap the Navigator icon. The software will automatically detect if you have the module attached to the Pilot. If you don't have a module, you can still try the software in demo mode. The first time you use the module, you must calibrate it. To do this, you sit the unit on a flat surface and rotate it 720 degrees (2 full turns). Once that is done, your Palm Navigator is ready to use.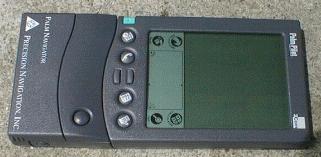 Using the software is easy. In compass mode it displays a large compass rose as well as "cardinal points" (N, NE, E, etc.) and numeric digits (e.g., 324º). The North-pointing compass-arrow shows you which direction you are going in relation to North. The cardinal points give you the basic 8 directions, and the numeric digits provide your exact direction down to the nearest 2º.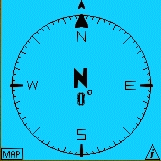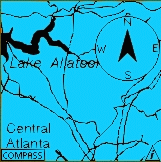 In map mode, it displays a scrollable (with your stylus) map that you can place your compass on. The compass can be changed from large to small to just an arrow. Maps are very easy to import via the MapSync software. You can get maps from several online map sites like www.mapquest.com, you can scan maps with a flatbed or hand scanner, or you can even draw your own maps with any type of paint program. The MapSync software will then translate any .bmp or .gif file by dragging your map file onto the MapSync icon. The software translates it into a Pilot readable .pdb file that is transferred to your Pilot on your next HotSync.
Some nice things about the Palm Navigator are that it doesn't have to be held completely flat to work. Another feature is that it will display a magnetic distortion flag when external magnetic interference is compromising compass heading accuracy. All in all, this is a great little gizmo and the price is terrific! If you are a camper, traveler or just want to know which direction that you are heading, buy this module.

Product Information
Price:
$39.95
Manufacturer:
PNI
Pros:

Great tool
Ease of use
Low price

Cons:

There really isn't any worth mentioning (fliptop on PalmIII doesn't close all the way)