We use affiliate links. If you buy something through the links on this page, we may earn a commission at no cost to you. Learn more.
The Hard Cover by 3com is a plastic slide on cover made of the same material and color as the Pilot case. This cover slides on to the front (or back) of the Pilot and protects the screen and buttons.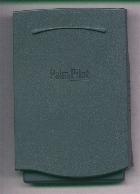 The cover uses the seam between the front and back case halves as a track for the case rails to slide on. The cover slides on with a solid click. Once it is on, there aren't any worries that it will slide off.  Removing the cover takes a little bit of practice. I remove it by hooking my fingers over the top of the cover and pressing up with the palm of my hand. At first it felt awkward, but now it is second nature.

When you want to use the Pilot, you can remove the cover and slide it on to the back of the case. When I did this, it would rub the contrast wheel and turn the contrast all off so that the screen was too light to read. I tried various ways of putting it on the back the Pilot and the only way that worked was to just put it on half way. When you slide it on half way, it doesn't interfere with the contrast wheel.  I personally never slide it on the back of the Pilot though. I just take the cover off and set it aside when I'm using the Pilot.

There are several things I like about this screen cover. I like that it is hard plastic and is made out of the same material as the Pilot itself. I also like that it doesn't add anything to the overall size of the Pilot. With the hard cover, I can just slip it in my jacket pocket and not worry about it not fitting. Another good thing about this case is that you always have access to the stylus even when the cover is on. The HotSync port is also not obstructed by this case.
There is really only one thing that I don't like about the case though. The hard cover wears a groove above the contrast wheel. This happens because the seam between the two halves of the Pilot stop above the contrast wheel for the length of the wheel.
If you want a protective screen cover for your Pilot, this is the best one available right now. It's made well and has a terrific price.
Price: $7 – $13 (Check computeresp for lowest prices)
Product Information
| | |
| --- | --- |
| Price: | $7.00 |
| Manufacturer: | Palm |