The people at One For All were nice enough to send me one of their great new remotes to review: the a/v Producer 8. This is a quality remote that almost has it all.  This is a universal remote that will control up to 8 different components including but not limited to: TV, VCR, CABLE, SAT, TUNER, AMP, CD, DVD, LASER DISC, Home Automation, and AUX.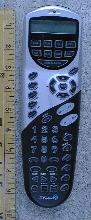 The a/v Producer 8 is a large remote. It's about 10 inches long and 3 inches wide. Its also got quite a 'heft' to it. Some of the great features of this remote are its LCD display and backlit keypad.  The LCD display shows you the current time and mode that you are in. The backlighting is really nice.  The whole keypad and LCD light up in blue. The only bad thing is that you have to touch a key to get the backlight to turn on… So, you have to know where at least one key is on the remote if you are in the dark.  The keys are sufficiently large, and have a slight tactile feedback.  I don't particularly like the number shaped channel buttons, though.
Because the remote is so large, I did find that some buttons weren't easy to reach with my thumb while holding the remote with one hand.  I also found that the location of the VCR control buttons (Play, Rew, FF, Stop, and Pause) where inconveniently located at the very bottom of the remote. It was quite difficult to control the VCR while using the remote with just one hand.
The initial setup and programming were easy. It was just a matter of locating the brand of the component in the manual and then keying in the listed 3 digit codes till one operated the component (if none of the codes will operate the component, the a/v Producer can 'search' for the correct code until it finds it). This had to be done for each component that you want to use with the remote. After all the codes are entered, there is an option to allow the a/v Producer to save it's memory. This is necessary for when the 4 AAA batteries that power the remote need to be changed.
The a/v Producer has several special features. One of them is the ability to set up a timed sequence of keystrokes that can be played back at a specified time up to seven days in advance. Some uses for this would be to set up a sequence that would turn on your DSS and VCR to record a show. Or to turn on your infrared home automation lighting system when you're away from home. You can store up to a total of 10 sequences in the memory of the remote with each sequence having up to 15 keystrokes.  Another nice feature is the Home Theater button. You can program this button to bring up all your home theater components at the touch of one button.  There is also a sleep timer that you can set up to 60mins that will turn off all your components at the end of that time.
All in all, this is a great remote that has enough features to make almost anyone happy. The only real disadvantage is its large size.
Price: $79.99
Construction: A
Ease of Use: B+
Overall Rating: B+
Shop for One For All remotes on Amazon.
Some of our links in posts like this one are affiliate links, which means that we may receive a small commission on purchases at no cost to you.