We use affiliate links. If you buy something through the links on this page, we may earn a commission at no cost to you. Learn more.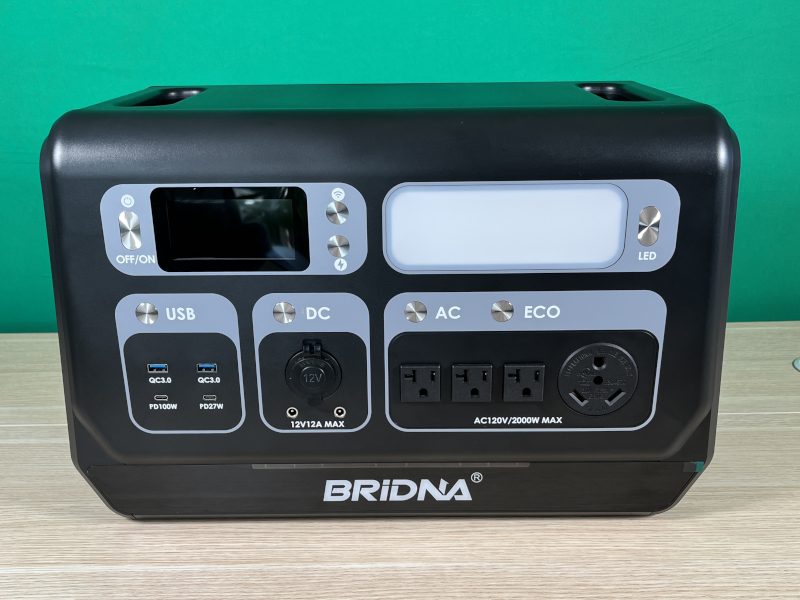 REVIEW – We don't get too many natural disasters where I live, but occasionally we do get a small tornado or the remnants of a hurricane.  The extra wind and rain has been known to knock out the power for a couple days, which could ruin the meat stored in our freezer and maybe leave us too hot or too cold, depending upon the season.  I could buy a whole house generator, like a Generac, which would automatically cut on (even if we're not home), but they are very expensive and seem overkill for me; a gas-powered generator would also work but they are noisy and messy.  I think a portable power station is much better solution for my family; it should be able to prevent the loss of power to a few critical appliances for several days, more than enough to get by.  I am testing the Bridna PPS2000-3 power station to see if this gadget will work for my house.
What is it?
The Bridna PPS2000-3 is a 2000-watt portable power station (PPS) that can be charged from a variety of sources, including solar, and provide power to multiple outputs, including AC and USB.  The Bridna brand provides consumers with cutting-edge energy solutions.
What's in the box?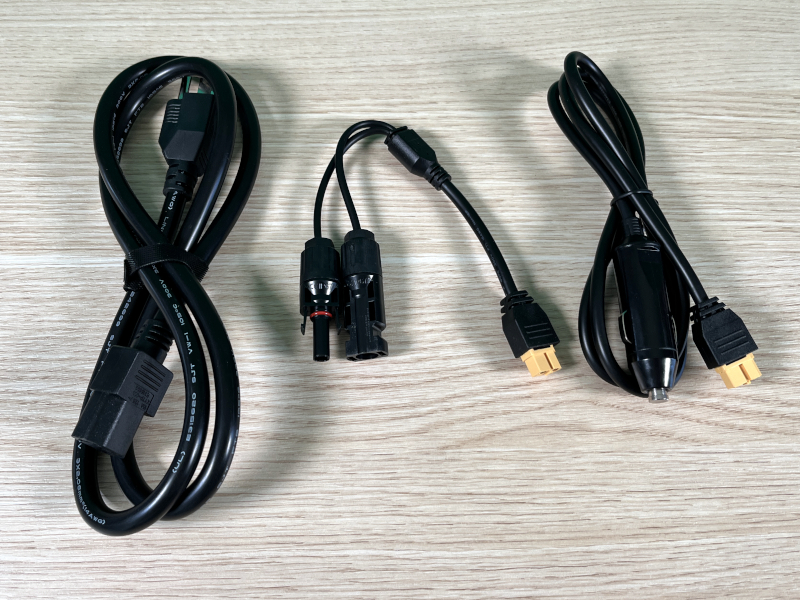 The first box contained:
Bridna PPS2000-3 power station
AC power cable
DC power cable
MC4 power cable
User manual
The second box contained:
The solar panel with attached cable
User manual
Specifications
The specifications for the power stations are as follows:
Battery capacity:  1720 Wh
Input charging:  AC, car, and solar
Outputs:  3 AC (120 v), 1 TT-30R AC (for RVs), 2 USB-A, 2 USB-C (PD 100 W and PD 27 W), cigarette lighter, 2 DC 5521 (for DC devices)
LED Light:  low, medium, and high
Weight: 47 lbs
Dimensions:  18.3 x 10.2 x 11.6 inches
The specifications for the solar panel are as follows:
Power:  120 W
Cell efficiency:  22.6%
Weight:  9.5 lbs
Dimensions:  65.7 x 20 inches (unfolded), 17.7 x 20 inches (folded)
IP Rating:  IP68
The 8 in the IP68 means that the solar panel is "protected against being continuously immersed in water for a longer period."  Yet their website says, "In order to maximize the lifespan of the solar panel, please try not to get it wet or soak the solar panels to water."  If Bridna feels compelled to offer this caveat, that makes me think that the panels have not actually earned an IP68 rating.  To be safe, I'll keep the solar panel out of the rain, which probably makes sense anyway, as there's not much sun for recharging when it's raining.
Design and features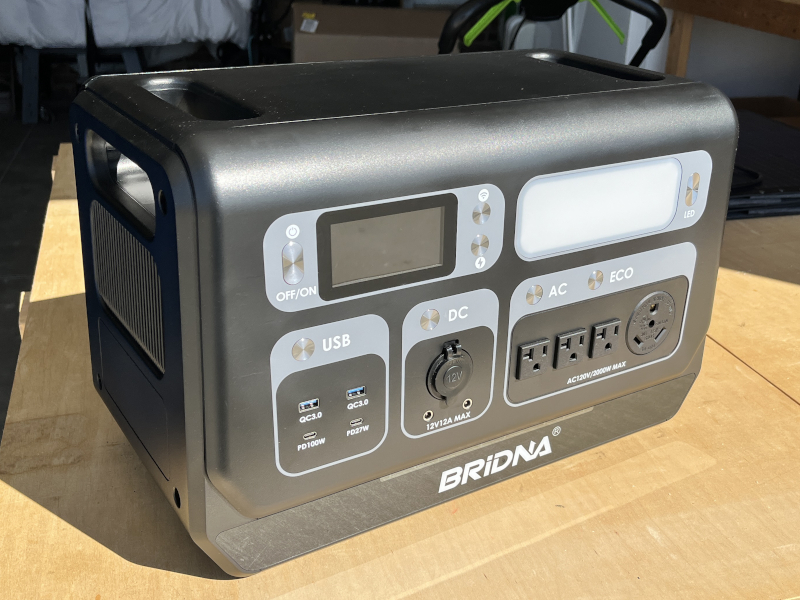 All power stations, including the Bridna PPS2000-3, are essentially batteries in a box with various inputs and outputs.  The PPS2000-3 has a big battery and weighs a lot, nearly 50 lbs.  Bridna's design starts with matt black plastic, adds some gentle rounding of the corners, and then puts two big handles on the top, one on either side.  The front has a digital display, five clearly marked sections, and bright silver buttons.  There are large vents on both ends for the fans and three inputs on the right side protected with a rubbery cover.  It's a look that is practical and straightforward, and it works for me.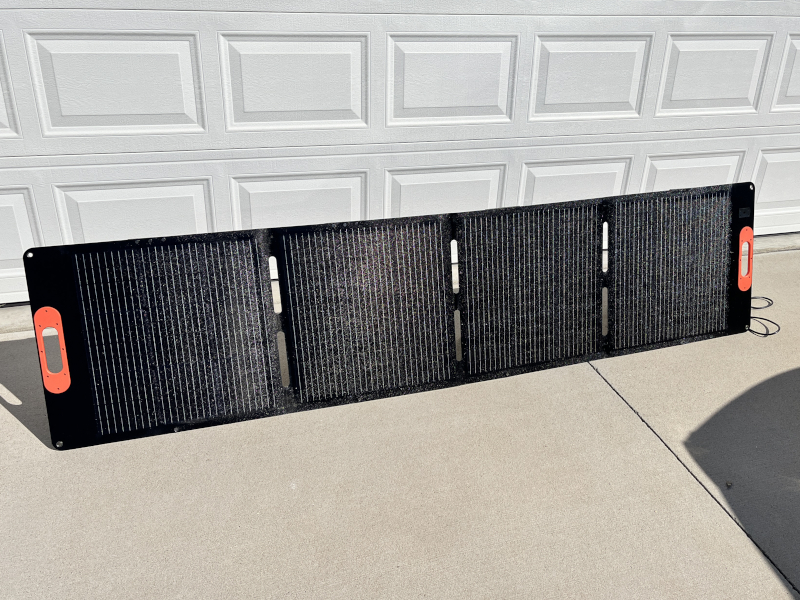 The panels are surprisingly heavy and surprisingly flexible; they don't look at all like the panels mounted on houses.  The handles on each end are a bright orange that looks like it belongs with a Jackery power station rather than the Bridna.
Installation and setup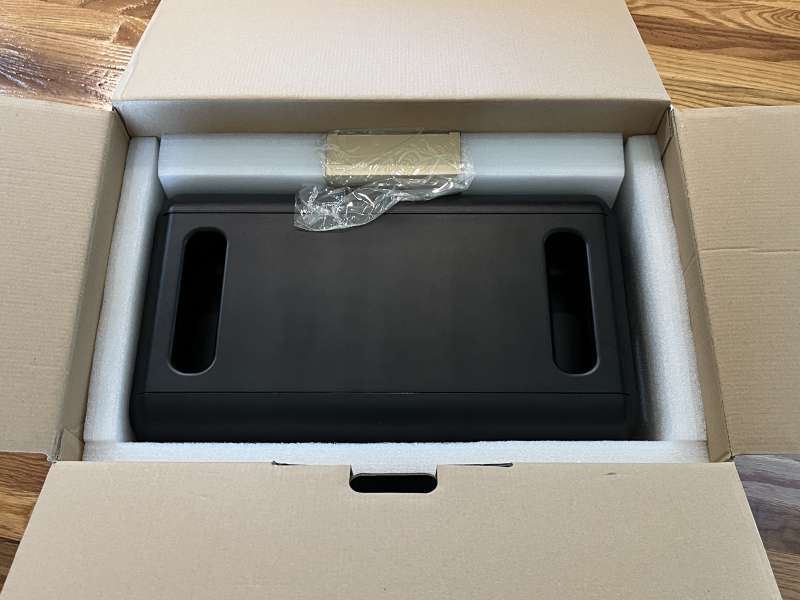 Both parts of this gadget arrived in sturdy boxes well-protected with foam inserts.  I took everything out and then begin to read through the manuals.  For the most part, these are good manuals.  The explanations are clear and understandable, and the illustrations are helpful.  Unfortunately, the manuals are incomplete, leaving me with several unanswered questions:
The cable on the solar panel splits into three plugs that are labeled as M20, Anderson, and XT60, though it's unclear which is which.  One of these plugs is for charging the battery, as it matches the input on the side of the power station.  What are the other two plugs for?  Their purpose is not described at all in the manual.
There are three cables included with the battery.  One is for AC power, and one is for charging from a car.  What is the purpose of the one labeled MC4?  A quick search online reveals that MC4 cables are commonly used for connecting solar panels, but they don't work with the included panel, so why is it here?  The manual fails to explain why Bridna included it or what I might do with it.  (Update Nov 18, 2023:  After the review, Bridna provided some additional information about this cable:  "The MC4 power cable serves as an extension for solar charging. It supports connecting two 200W solar panels to PPS2000-3 for solar charging.")
There are three inputs on right side of battery.  The first has instructions for charging the battery using the AC power cable.  The second has instructions charging it using either the DC power cable from a car or using the solar panel.  The third is labeled "Battery EXT," but the manual doesn't have explanation for what I should connect here.   I wonder if it's for daisy-chaining this battery with another one.  (Update Nov 18, 2023:  After the review, Bridna provided some additional information on this input:  "The 'Battery EXT' interface is designed for adding additional 1720Wh battery packs to expand the power station's capacity. PPS2000-3 supports connecting up to four additional battery packs, allowing for a maximum capacity expansion of 8.6 kWh. However, due to development and production timelines, the additional battery packs for PPS2000-3 are not yet available. The 'Battery EXT' interface is a provision for future expansion, and these additional battery packs may be introduced after June 2024."
The strangest omission is the WiFi.  One of the silver buttons on the front is labeled in the manual as the "WiFi Button."  When pressed, the WiFi icon is shown on the display.  But there's nothing in the manual about this.  What does it do?  Is this gadget also a WiFi router?  Does it use WiFi to communicate with an app on my iPhone?  I don't know.
Bridna needs to work on its manual and its website and ensure that every feature, every port, and every included item is explained clearly.  Thankfully, none of these omissions prevent me from testing and using the power station.
The Gadgeteer later received an email from Bridna with a mobile app user's manual that explained how the PPS can be connected to and controlled by a mobile application; the iOS version can be downloaded here for free.
As I looked over the details that Bridna provided, I decided not to use the app for four reasons:
It requires me to create an account and provided my email.  C'mon, Bridna, this gadget does not need an account to work.
The app connects to my home network only using 2.4 GHz.  My Wi-Fi router automatically selects which frequency devices use, so I cannot force the app to only use 2.4 GHz.
The app demands to know my location, and Bridna has no business knowing that.
The features offered by the app are already available on the PPS itself.  Honestly, there's no reason for me to use the app.
Again, Bridna needs to improve their documentation, as this information about the mobile app is not available in the manual or on their website.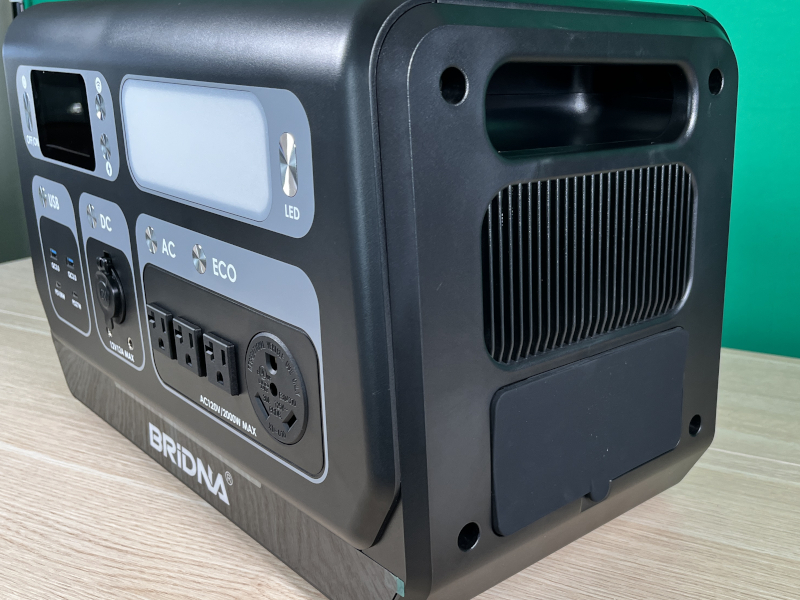 I turned on the Bridna PPS2000-3 power station by pressing the clearly marked on/off button and was immediately greeted by the fan system.  There are vents on either side, and air is pulled through the battery from left to right.  It's surprisingly noisy, though it does lower in a couple of minutes if there's no load.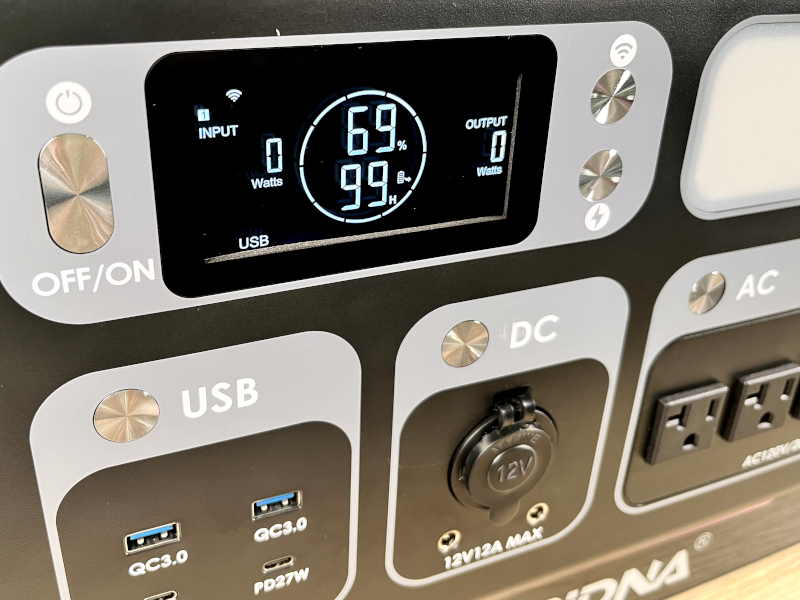 I like the digital display on this gadget.  It makes it easy to understand what's going on, including how much power remains, how much is coming in and going out, and what features are currently activated.  The organization of the front of the PPS is clear.  I can turn on the light by pressing the LED button, which could be handy when the power's out and I'm trying to see where to plug in something in the dark; I still think it's a good idea to keep a good flashlight handy, but this is a good idea.
I can use the plugs in any of the output sections (USB, DC, AC) by pressing the corresponding button and then plugging something in.  It couldn't be easier to understand.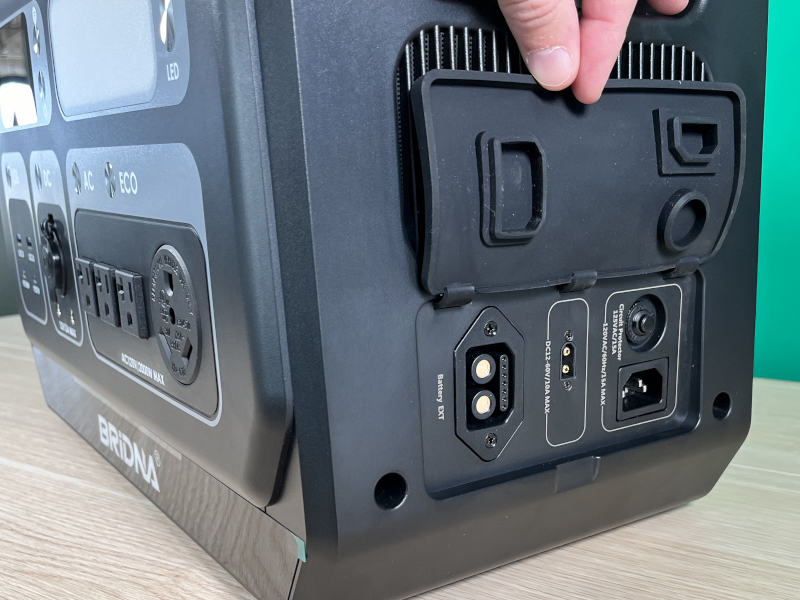 The battery in the Bridna PPS2000-3 power station was already partially charged.  I used the included AC power cable to charge it more.  It could also be charged using a car adapter, especially if I were on a road trip and driving from camping one camping site to the next.
Performance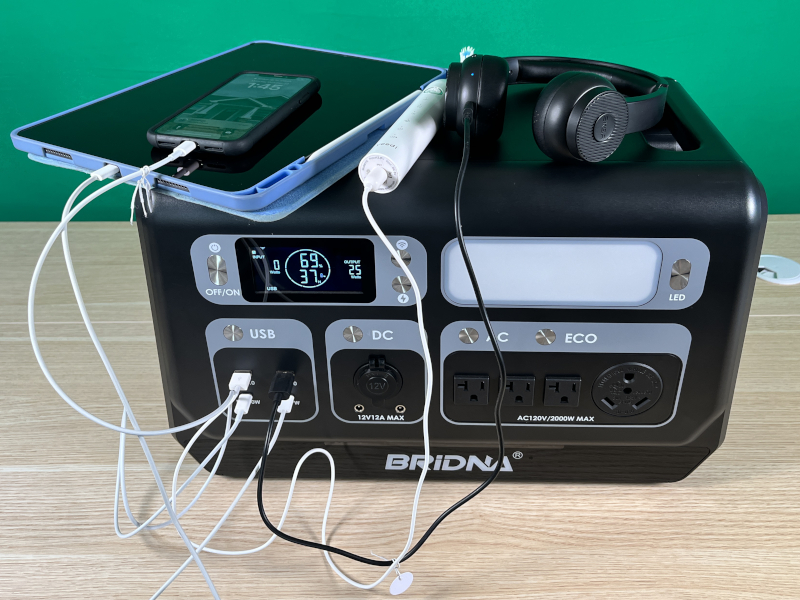 For a simple test, I loaded the power station down with a set of four USB devices; the power station barely registered that they were there.  Clearly, it's designed for heavier use.
I took the Bridna PPS2000-3 out into the garage for some testing one afternoon, and I must say that I'm very happy with the results.  It handled everything that I threw at it without any problems, including a miter saw, a space heater, an electric kettle, a leaf blower, and a refrigerator.  The heater and the kettle were interesting because they drew so much power, 1500W each, much more than a smaller PPS could handle.  While testing the fridge, I was also simultaneously charging the PPS with the solar panel, which it could do easily.
I created the following video to show this gadget in action.
The PPS200 comes with a single solar panel that provides 120 W of power.  The PPS can charge from the panel while simultaneously providing power to my refrigerator.  Because the fridge takes nearly 500 W of power, three times that of the solar panel, PPS won't be able to keep up; plus, there's no sun at night.  I'll need to unplug the fridge from time to time, but I think that I should be ok, as refrigerators don't need to run constantly.  I just need to be careful to keep the door closed as much as possible.  Bridna also sells additional solar panels for $400, so I could daisy chain a couple of them together to provide even more power for charging.
(Update Nov 18, 2023:  In the paragraph above, I had provided a link to an additional solar panel, but I had inadvertently linked to the wrong one.  Bridna was kind enough to correct my mistake and provide the correct link.)
One concern that I have is the included cables are short.  The AC power cable for the power station, for example, is only four feet long; at least I can extend this with an extension cable or swap out a long AC power cable.  The cable for the solar panel, however, is built-in; it can't be replaced.  It's possible that I could purchase and extender for it, but Bridna doesn't include any information on doing this—the FAQ page on their website is empty—and they don't sell any extra cables.  This built-in cable is just over six feet long, which sounds sufficient, but the battery is supposed to stay out of the heat and the sun, which means if I want to keep the battery indoors while charging it, I'm not going to have very many options for placing the solar panel.  It's basically going to have to sit right outside of my front door or my garage door, which may or may not have good, direct sun, depending upon the time of day.  I would like for Bridna to provide options for extending the length of this cable.
Bridna recommends that the battery be charged periodically, once every three months, just to make sure it's ready to handle any emergencies.  I set a reoccurring calendar event to help remind me to do this.
What I like
Plenty of power
Included solar panel
Straightforward, easy-to-use design
Strong, integrated handles
What I'd change
Write comprehensive documentation for both manual and website
Include a longer cable (or an extender) for the solar panel
Final thoughts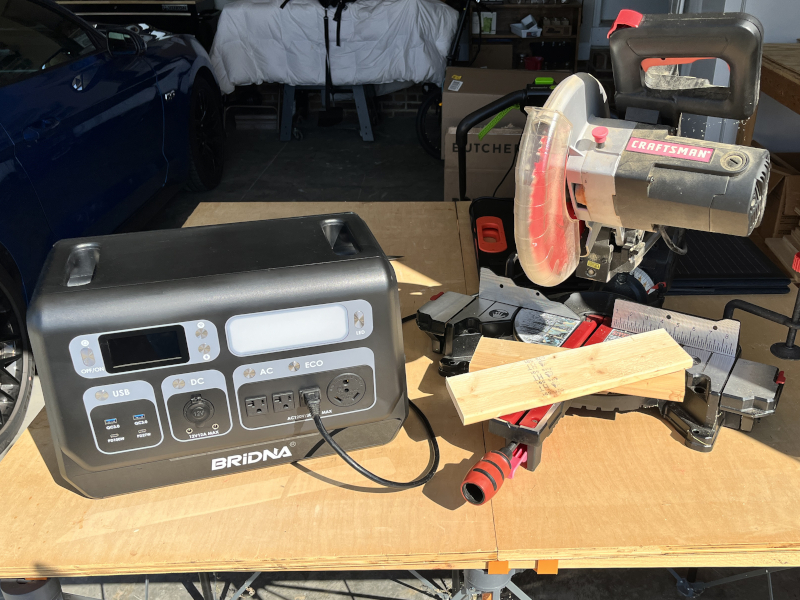 I hope that we never experience a big storm that causes us to lose power at our house for several days, but if we do, I have some peace of mind knowing that I have the Bridna PPS2000-3 power station ready to go.  I am confident that it will be able to keep our refrigerator going, power fans or small heaters, and even make coffee in the morning.  With the included solar panel and the judicial use of the power, we should be able to hold out for several days, which be more than enough time for the power company to get everything running again.  The included manuals are lacking some information, but nothing that has stopped me from using this gadget.  I am very happy to have this power station in my home, and if you're looking for some extra, portable power to help you during your next emergency, I recommend that you take a look at the PPS2000-3 from Bridna.
Price: $1699.20
Where to buy:  Bridna's online store
Source: The sample for this review was provided by Bridna.