We use affiliate links. If you buy something through the links on this page, we may earn a commission at no cost to you. Learn more.

REVIEW – I was initially skeptical about the Outdoor Edge Razor VX2 Knife but in no time I became impressed with it. A knife with a replaceable blade? How safe is that? How secure can the blade be? Based on no facts at all, I was concerned the knife would be a hardware-store-grade, kitschy knife with a rattly blade. I quickly did a 180.

When I got the Razor VX in hand and checked out its action, then removed, replaced, and changed different blade styles, and used it as my EDC knife for one day, I discovered only good things about this knife's design, engineering and function. The good impressions continued throughout my weeks of testing the VX2.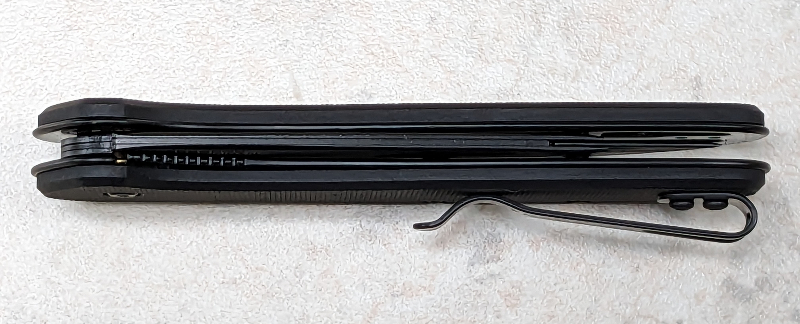 What is it?
The Outdoor Edge Razor VX2 Knife is a spring opener-assisted, replaceable folding blade, pocket knife.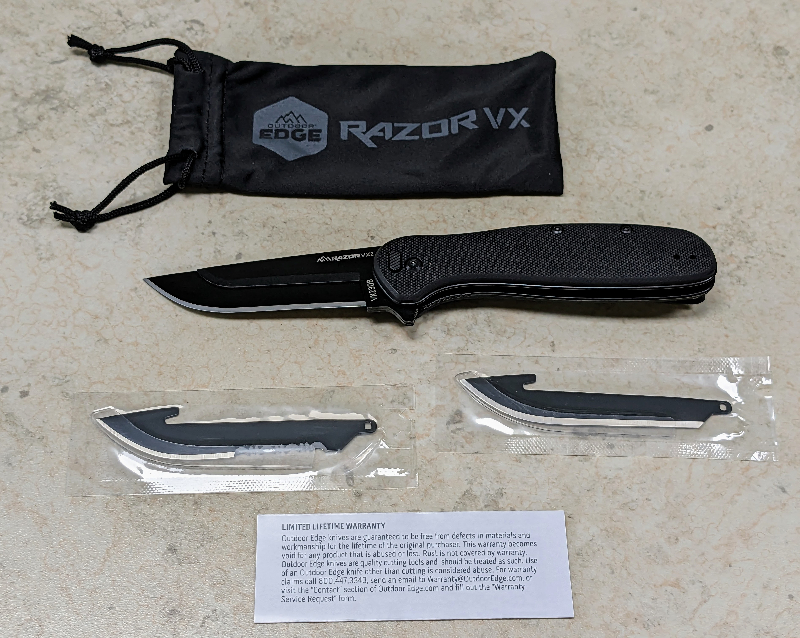 What's in the box?
Outdoor Edge Razor VX2 knife (3" drop point blade attached)
2 drop point replacement blades (one is half serrated)
Fabric pouch
Instruction and warranty sheet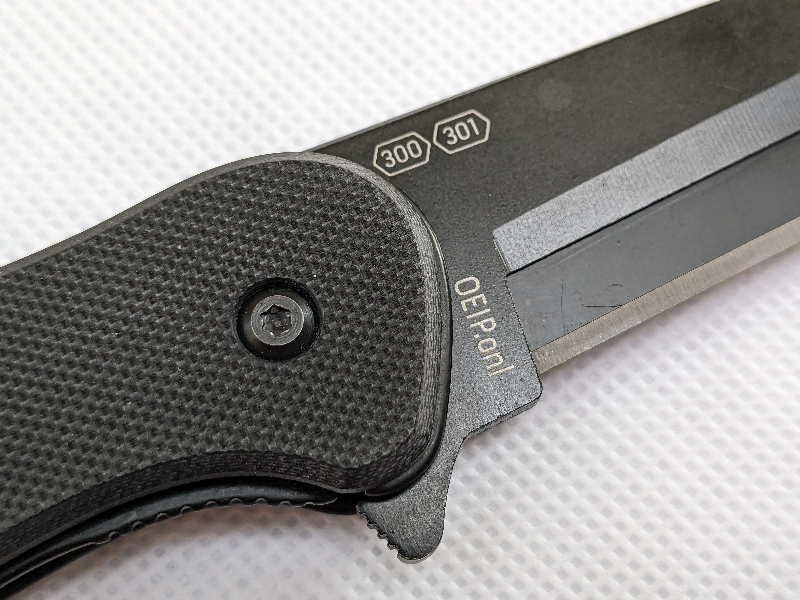 Hardware specs
G10 scales (handle material)
All steel vented liner
Spring assisted pivot opener
Reversible clip
Frame: Vented stainless steel liners
Lock: liner
Blade length: 3"
Blade material: Japanese 420J2 stainless steel
Blade compatibility: Size 300, 301
Overall length: 7.3"
Weight: 3.5 oz
Lifetime warranty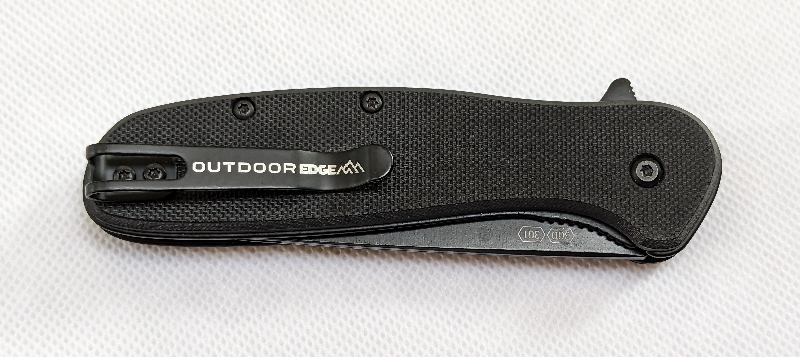 Design and features
The G10 handle material is a fiberglass and epoxy resin composite that has excellent grip and feel in the hand.
The spring assisted opening mechanism of the VX2 is flawless. I didn't have to wrist-flick the knife to get the blade open as I do with some of my spring assist models. With a slight but intentional pull on the blade's thumb flipper the blade deploys to the open and locked position. The VX2 never opened when it was loose in my pocket or when clipped to a pocket.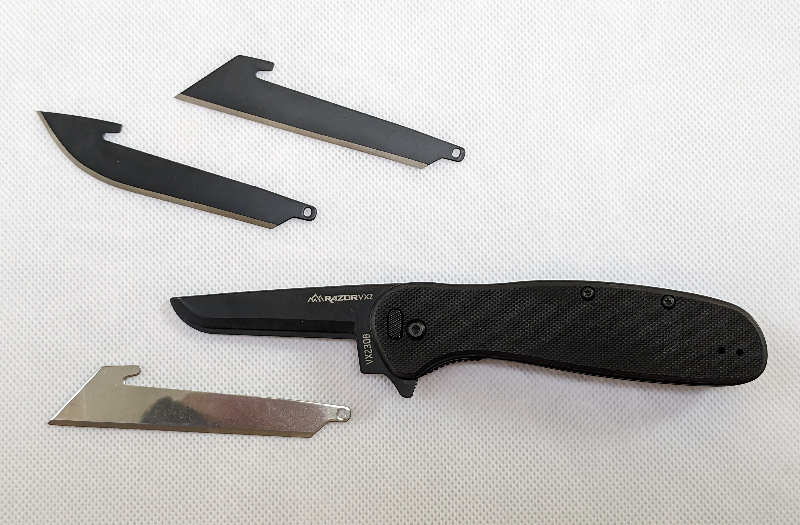 If you never want to sharpen a knife blade, the VX2 is for you. Just change the blade when it gets dull. But the blades certainly can be sharpened, and I'm not tossing mine when it gets its first edge ding.
Setup
The VX2 comes clean and ready to use. There was no visible oil or debris anywhere on the knife. Deploy blade. Cut stuff.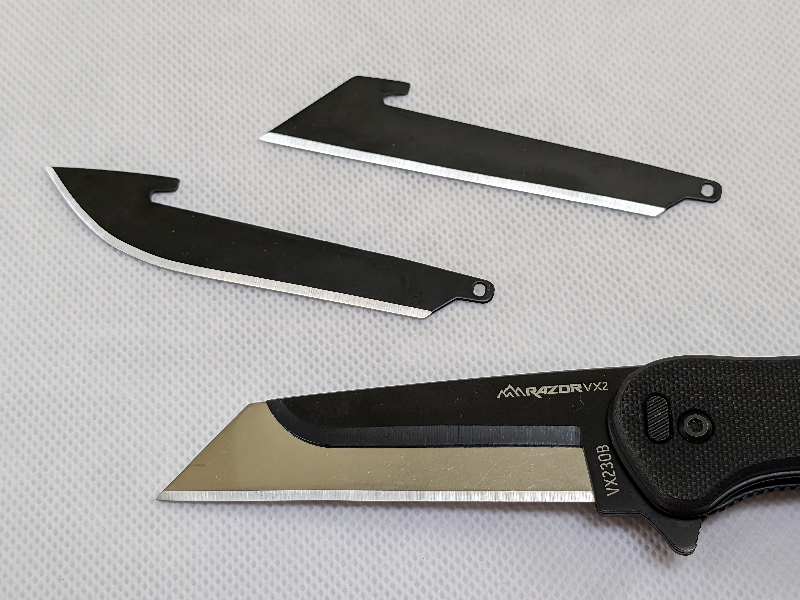 Outdoor Edge sent their size 301 Utility style blades with the Razor VX2. I like that style too. Now which should I keep on the Razor VX2 for daily carry? I probably prefer the look of the drop point blade style, but both are cool looking and functional. The Utility blade style has obvious advantages for tasks that might call for pointed slicing work, such as one would do with a standard utility knife.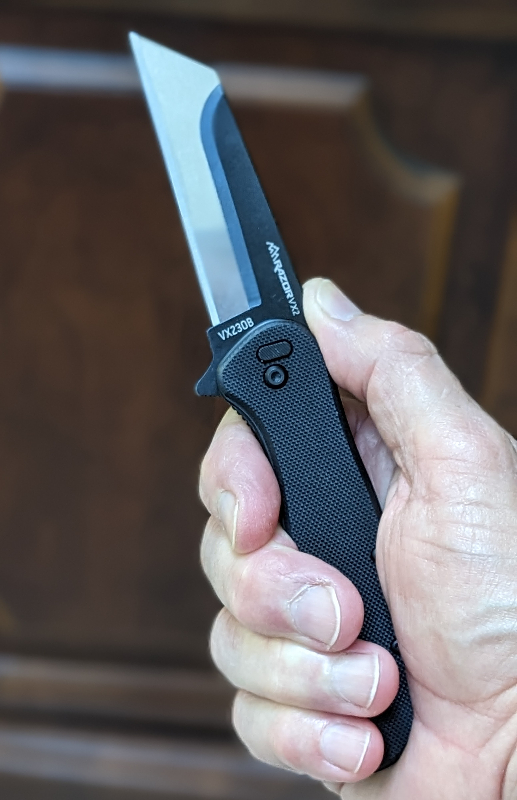 Performance
I've had knives that needed touch-up sharpening right out of the box. The Outdoor Edge Razor VX2 comes with a blade that smoothly slices the edge of printer paper. The blades are called 'Razorsafe' after all. Emphasis on the front of that term.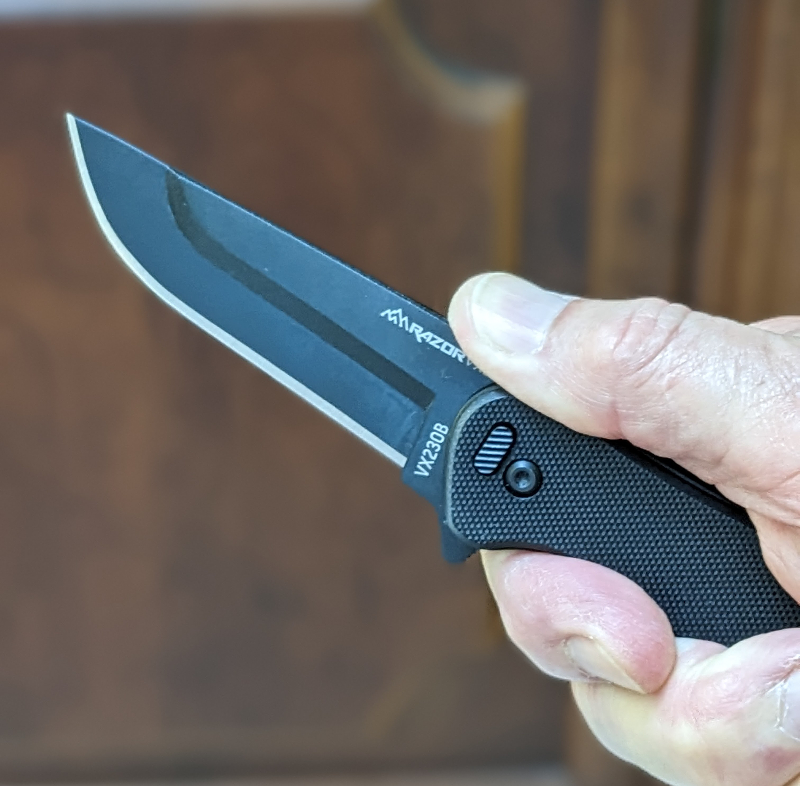 The blade is secure in the Razor VX2. Nothing during my testing caused the blade to shimmy, rattle, shift or come unlocked during use. The blade only came off when I pressed the button to change blades. If you grip the blade you can make it move a little back and forth, but I felt no blade movement or instability during use nor with handling, with the knife open or closed.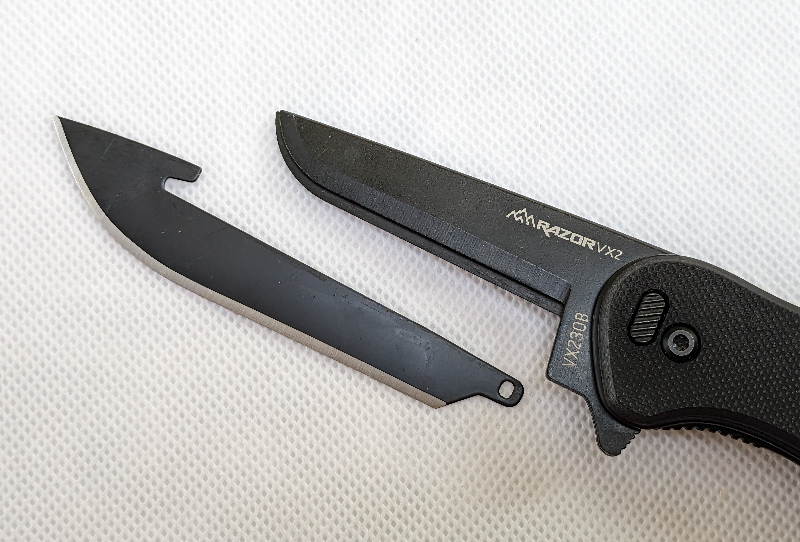 I never cut myself when changing blades on the Razor VX2. I intentionally slowed down, only gripped the back of the blade, and was careful. We all see the word 'Razor' before 'VX2', right?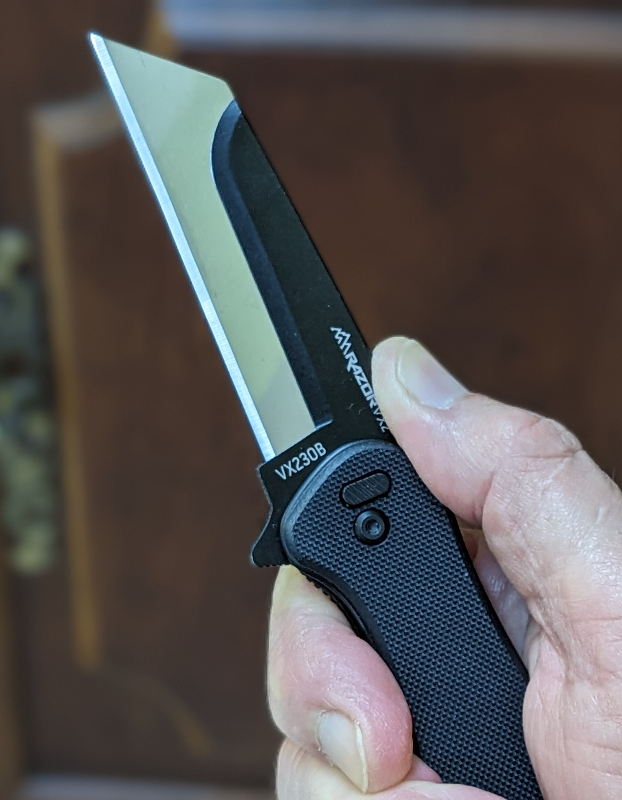 What I like
Replaceable blades
Nice grip and feel from the handle material
Smooth opening action
Clip doesn't poke the hand
Clip is set for the deepest possible pocket carry
Nice weight, design and function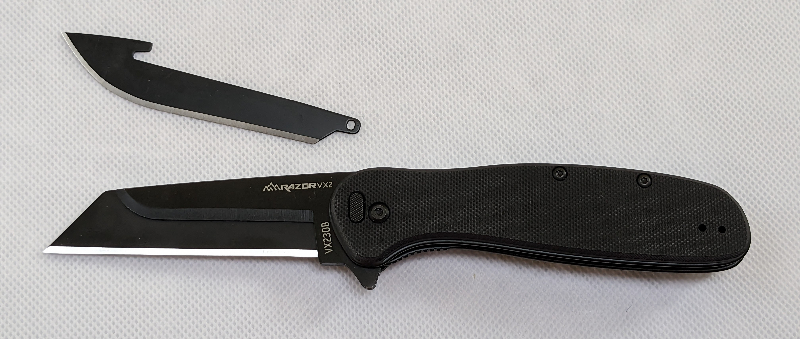 What I'd change
Zero complaints or recommendations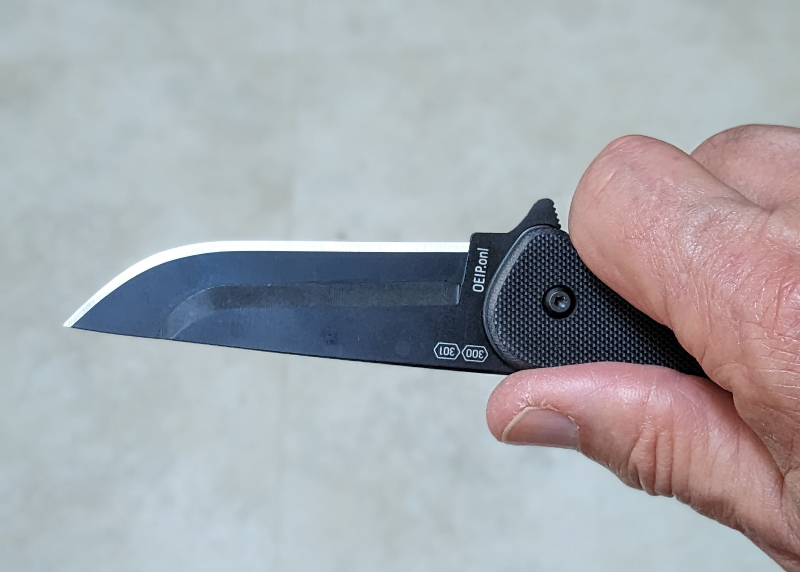 Final thoughts
The Outdoor Edge Razor VX2 Knife delivers excellent performance along with very nice looks. With its unique replaceable blade feature, it seems like a great value for the price.
Price: $44.99
Where to buy: Amazon and Outdoor Edge
Source: The sample of this product was provided by Outdoor Edge.