We use affiliate links. If you buy something through the links on this page, we may earn a commission at no cost to you. Learn more.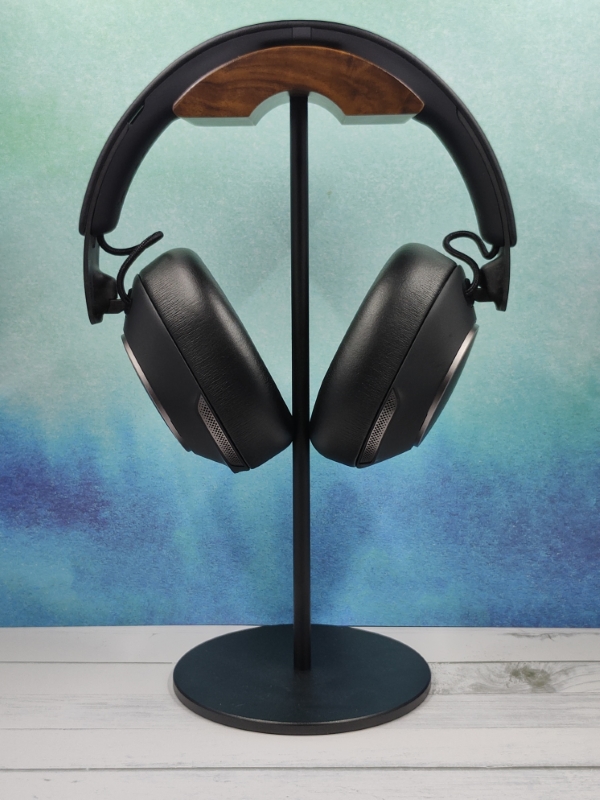 REVIEW – If you find most of your workday consists of being on calls, a quality headset is just as important as a quality mouse and keyboard.  While many headphones have mics for taking calls on the go, their quality isn't always great.  We're checking out the Poly Voyager Surround 80 UC to see if it can deliver the most important feature of all for a work headset – a quality call experience.
What is it?
The Poly Voyager Surround 80 UC is an active noise cancelling headset designed for all day comfort in the office.  Poly may sound familiar, as it is the surviving brand of the Polycom x Plantronics merger, and is now a part of the HP portfolio of products.  As a business-class product, it has several features purpose built for common meeting platforms, and also includes management features through the Poly Lens app.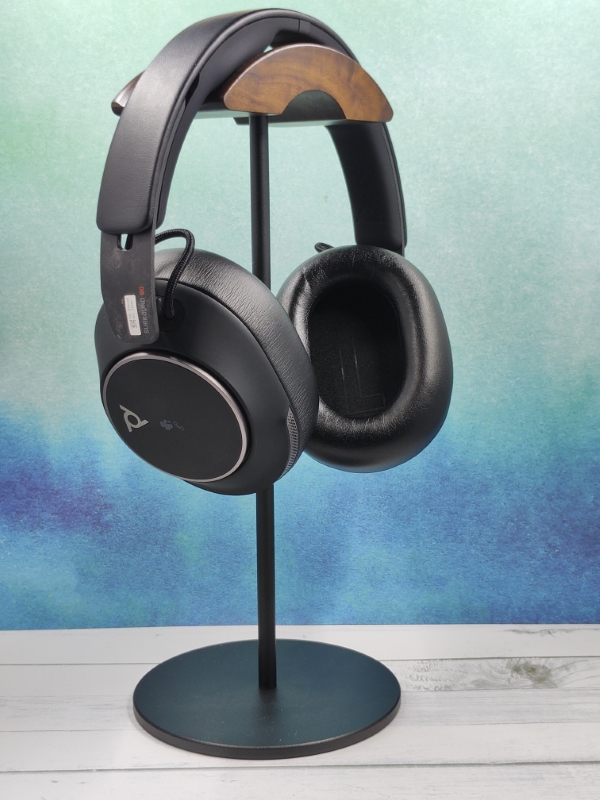 What's in the box?
Headset
Carrying Case
USB-C to C charging cable
USB-C to 3.5mm cable
BT700 (USB-C dongle)
USB-C to USB-A adapter
User guide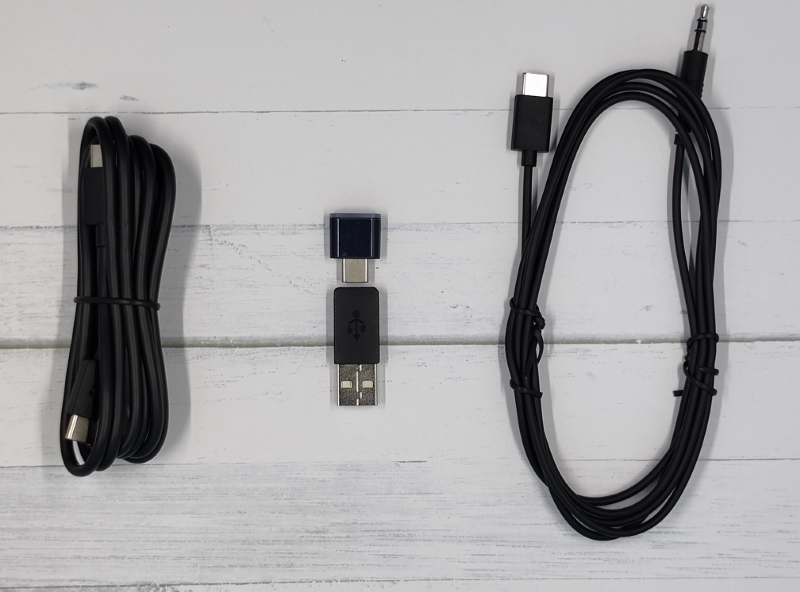 Hardware specs
| | |
| --- | --- |
| Headset type | Over-ear |
| Weight | 9.7 oz |
| Dimensions | 7.52 in x 3.03 in x 7.13 in |
| Speaker size | 40mm |
| Speaker bandwidth | 20hz to 20kHz |
| Mic type | Boomless |
| ANC mics | 4 |
| Voice mics | 6 |
| Mic sensitivity | -37dBFS/V, 1kHz |
| Mic frequency response | 100 Hz to 6.8 kHz |
| Bluetooth | 5.3; A2DP, AVRCP, HSP, HFP, AVDTP |
| Battery | 1,100mAH / Lithium Ion |
| Battery life | 21 hours talk, 24 hours listen |
| Charge time | 1 hour |

Design and features
The Voyager Surround 80 UC has a typical closed back headset design, with ample and plush leatherette padding in the earcups and headband.  At a glance, it does not have a typical 'corporate' vibe.  A close look however at the outside of the right earcup reveals muted Teams and Phone icons, which give away it's intention as a product meant for the workplace.  While marketed as certified for Teams, this headset also supports other meeting platforms such as Zoom.
While the earcups will pivot flat, there is no ability to fold them into the headband, a bane for those looking to travel with the headset as it has a large footprint in the case.  The case is suitable, with obvious effort taken to minimize the size as much as possible.  A felt exterior adorns the exterior, with a zippered clamshell design and poly logo accent.  A mesh pouch spans the width of the interior for cable/dongle storage.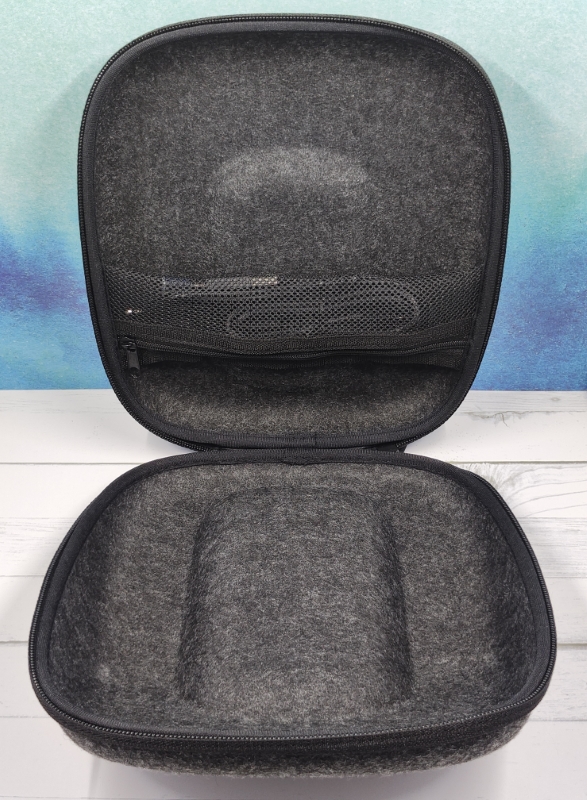 On the right earcup are the physical buttons – a power/Bluetooth toggle, and the dedicated mute button in red flank the USB-C charging port.  A touch interface is also found on the right earcup, where you can adjust volume, scroll music tracks, or answer calls.  There is a way to configure a custom action in the Poly Lens app for the touch controls as well.
One of my favorite features of the headset is the active call signal.  If you're in a call (and connected through the BT700 dongle), the headset will pulse red around the perimeter of the earcups.  Depending on your co-workers, this could help stop the awkward "are you on a call?" hand signals when they're approaching your desk.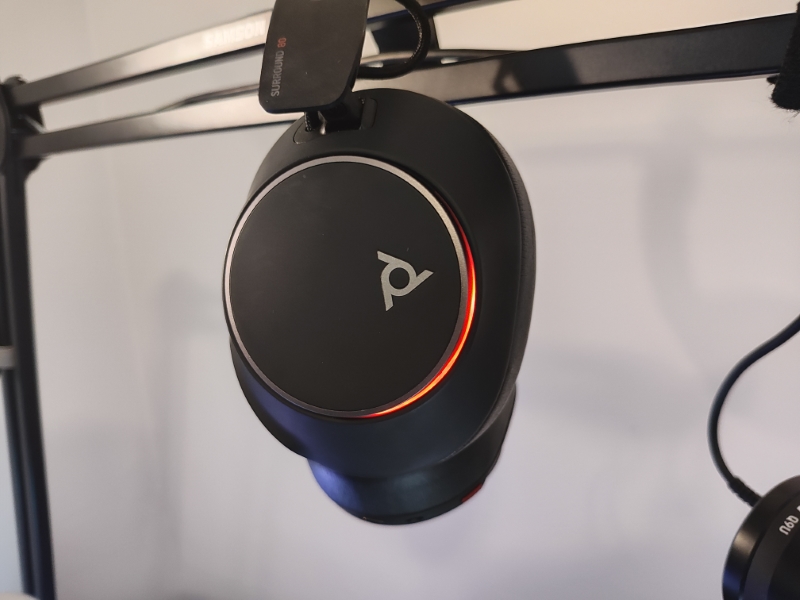 Setup
Setting up the Voyager Surround 80 UC is intuitive, and hassle free.  In order to get the most out of the headset, you'll want to download the Poly Lens app.  I was pleased to see this came in an .msi format on the Windows front, given the emphasis from Poly on its ability to be deployed easily in the enterprise.  It is also available for macOS, iOS, and Android.
The Poly Lens app offers a wealth of customization that can be applied to the headset.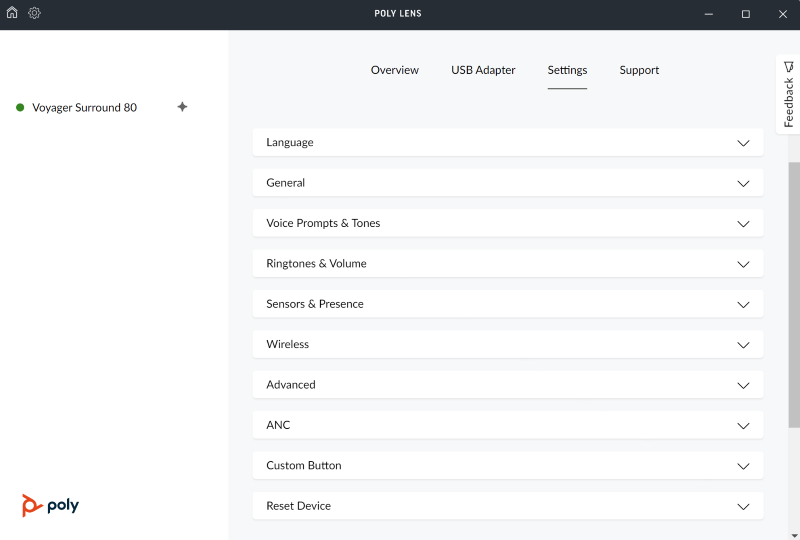 While you can pair up to two devices via Bluetooth 5.3 connection, in order to get the most out of the headset, you'll want to use the BT700 dongle whenever possible.  This dongle is USB-C, but includes a USB-A adapter.  I found that some of the quality of life features aren't supported over the vanilla Bluetooth connection.  The BT700 dongle is, thankfully, replaceable if lost.
Performance
The Voyager Surround 80 UC is excellent for its purpose, which is handling phone calls and online meetings.  Powering on the headphones, you're given an audible status of the device battery, and what it's connected to.  These details are also available at a glance from the Poly Lens app.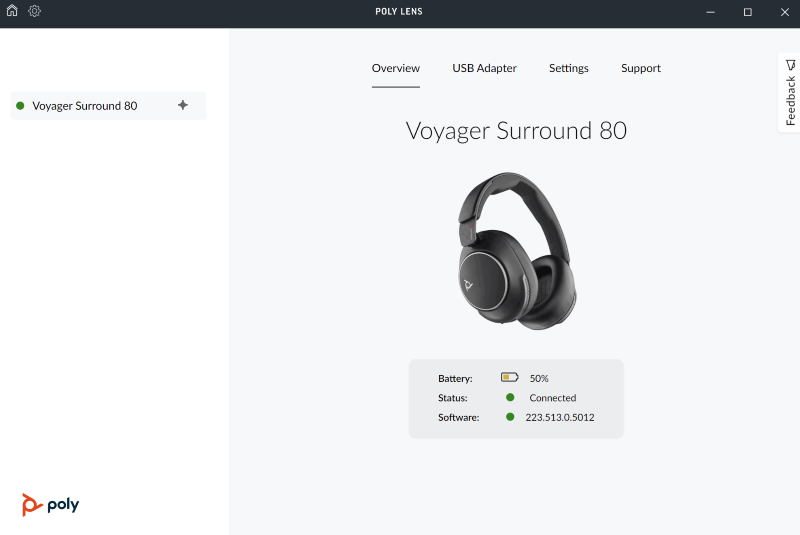 At home, I have a Samson Q9U for audio input, but at the office (open layout) I have been relying on my Sony XM5 headphones.  Day one with the Poly Voyager Surround 80 UCs in the office, and one of my colleagues asked if I was working from home that day.  The mic quality is excellent, and the noise filtering does a great job of isolating your voice over whatever chaos is unfolding in the background.
Here is a mic sample:
I really like my Sony XM5 headphones, but the other knock against them as a dedicated office headset was the inability to charge while using them wirelessly.  There were a few times where I forgot to plug them in the day before, and had to start the morning with a different headset while the Sony's charged up.  I was absolutely elated to find that the Voyager Surround 80 UC does not have this limitation, and it can be used normally while connected to a power source for charging.  On the topic of batteries, I found the claimed 21 hours of talk time to be pretty close to real world numbers.  I was typically charging them about twice per week.
What had me most hesitant to leave the XM5 headphones was their phenomenal comfort.  Fortunately, the Voyagers are right on par.  It's not uncommon for me to be in four plus hours of meetings on a given day, and even after a marathon session I was no worse for wear.  The leatherette earcups aren't breathable, so if you're someplace warm or take these along for a walk you may build up some sweat.  Fit wise though, they're good, and I didn't find any excessive pressure points.

At one point in my career, I worked in a call center.  We had what I imagine was a typical call center headset which delivered excellent mic quality.  Where these fell short was that the listening experience wasn't great, and it was really easy to get distracted by other conversations happening around you.  Poly nailed the ANC on the Voyager 80 UC, and especially with the ability to set transparency modes.  Some noise will still bleed through, like if someone is having a particularly loud conversation nearby.  By and large these are very effective at helping deliver focus by cutting out most of the background noise when you want them to.  The transparency mode is equally useful at times where you do want situational awareness, such as walking down the sidewalk.
From a general audio quality perspective, these headphones sound a bit flat, with a slight preference to the high end.  Even with the EQ dialed in for bass, there just isn't much punch in the low end.  This is understandable as a call-focused headset, but I did find myself wishing I could get a little more energy out of them when I wanted to listen to music between calls.  It's a generally unoffensive listening experience on the music front, but not a particularly exciting one.
I'm going to give this feature its own paragraph since I had such a fun experience discovering it.  While connected through the BT700 dongle, if you start talking while you're muted, the headset will tell you you're muted through an audio cue.  This blew my mind.  You can turn this off if you'd prefer, but having this handled on the headset end is a really nice feature and can catch you before you get too far in your statement that nobody else can hear.
What I like
Thoughtful features like mute notifications, and on-call indicator
Robust customization through the Poly Lens app
Dedicated mute button, helpful status callouts, and simple interface from the headset
What I'd change
Sound signature is a bit flat, would love to get some more low end for music
Some quality of life features require Bluetooth dongle
Final thoughts
The Poly Voyager 80 UC is, in a word, excellent.  It has genuinely useful features designed for handling calls, and has easily replaced my Sony XM5 headset for my daily office needs.  If you're after an audiophile grade listening experience with music, this isn't it.  If you're after a comfortable listening experience with excellent call quality delivery, and some really thoughtful features baked in, then the Poly Voyager 80 UC is absolutely worth a look.
Price: $349.99
Where to buy: Poly and HP.com
Source: The sample of this product was provided by Poly.