We use affiliate links. If you buy something through the links on this page, we may earn a commission at no cost to you. Learn more.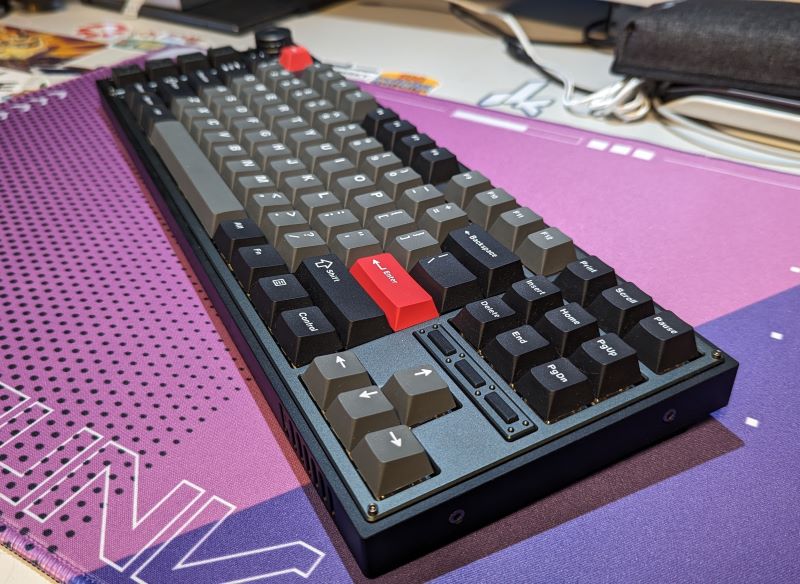 REVIEW – If you've seen any of my other keyboard reviews, you'll know I LOVE mechanical keyboards. Since becoming a Gadgeteer, I have had the chance to review several different brands from budget to boutique samples. One of my favorite brands is Keychron. I now own three of their excellent builds so when I learned that Keychron was now developing a line of keyboards geared towards gaming under a different name, Lemokey, I knew I wanted to get my hands on it. Their usual fare has always exceeded my expectations and I was sure the Lemokey L3 would not disappoint me. But what makes this one different from the Keychron line? I guess you'll have to read the rest of the article to find out.
What is it?
The Lemokey L3 is a Windows or Mac and QMK/VIA compatible mechanical keyboard geared toward gamers that offers customization, wireless connectivity, and RGB LEDs galore.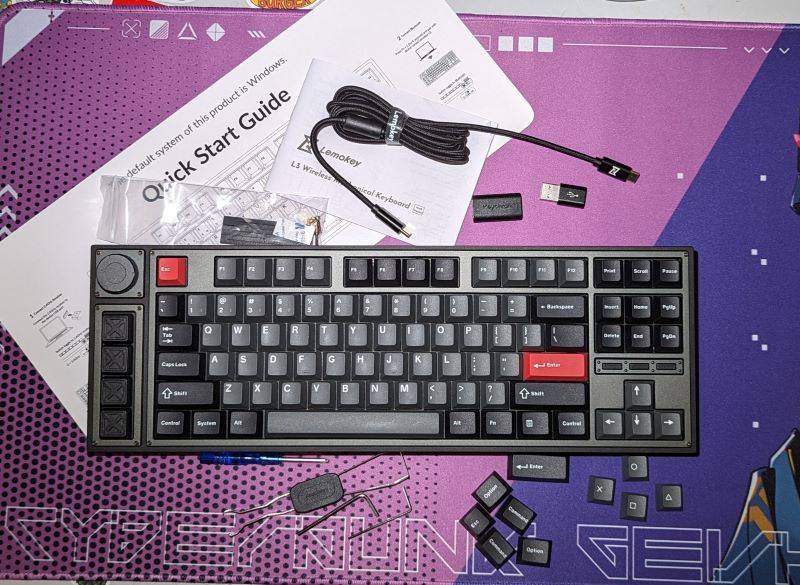 What's in the box?
Lemokey L3 keyboard
USB C to USB C cable
Female USB A to USB C adapter
Male USB A to USB C adapter
Extra keycaps
Keycap/switch puller
Phillips screwdriver
2 – hex Allen wrenches
Quick start guide
Manual
Extra screws, foam gaskets, and rubber feet
Hardware specs
Dimension 401 x 137 mm (15.78 x 5.39 inches)
Number of Keys 91 (Unique tenkeyless layout)
Layout ANSI (US) Fully Assembled and Barebone/ISO (EU) Barebone
Back Height without keycaps 29.84 mm (1.17 inches)
Front Height 19.8 mm (without keycaps)
Back Height 29.84 mm (without keycaps)
Weight About 1976 g (Fully Assembled version)
Frame Material Full CNC machined aluminum
Plate Material PC
Keycap Cherry double-shot PBT keycaps (Non-backlight shine through)
Switch Gateron Jupiter (Fully Assembled version)
Stabilizer Screw-in PCB stabilizer
Switch Face South-facing RGB
Backlight 22 types of RGB backlight options plus endless possibilities
Hot-swappable Yes. Compatible with most of the 3 pin & 5 pin MX mechanical switches such as Gateron, Cherry MX and Kailh, etc.
MCU ARM Cortex-M4 32-bit STM32F402 (256KB Flash)
Cable Length 1.8 m
Polling Rate 1000 Hz (2.4 GHz and wired) / 90 Hz (Bluetooth mode)
N-Key Rollover (NKRO) Yes for both wireless and wired modes
Operating Environment -10 to 50℃
Battery 4000 mAh Rechargeable li-polymer battery
BT Working Time (Backlit off) Up to 200 hours (Lab test result may vary by actual use)
BT Working Time (RGB) Up to 100 hours (Lowest brightness)
Charging Time Around 5 hours
Charging Port USB type-C
Bluetooth Version 5.1
Compatible System Windows/ macOS/ Linux
Connectivity 2.4 GHz/ Bluetooth/ Type-C wired
Bluetooth Device Name Lemokey L3
Bluetooth Operating Distance Within 10 meters (Open space)
Design and features
The Lemokey L3 mechanical keyboard has a very industrial, rugged design. It's built like a tank. The hex screws stand proud of the various plates that adorn the top of the aluminum frame.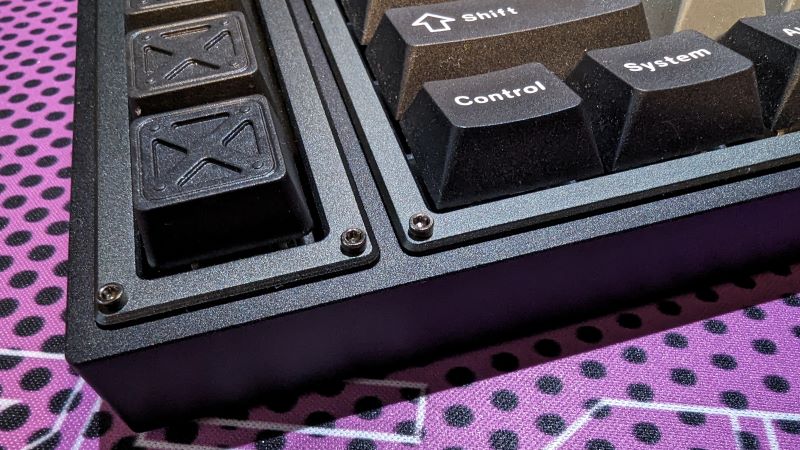 To me, it looks like it belongs aboard the Nebuchadnezzar from the Matrix films.  I mean, can't you just see Tank or Dozer typing away at this while helping Neo to avoid the Agents?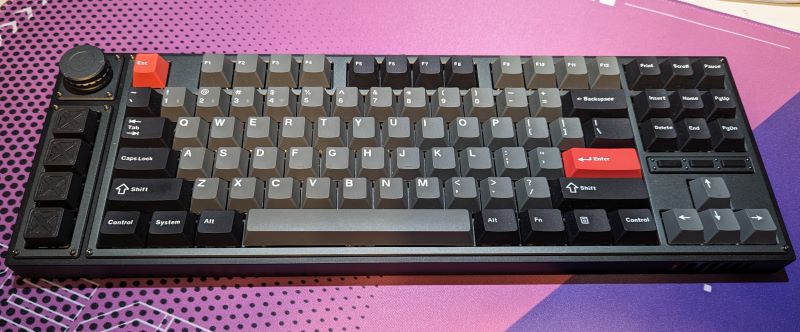 The industrial motif is carried all the way around the chassis as well. Look at the back side of the Lemokey L3. Heavy-duty machinery here!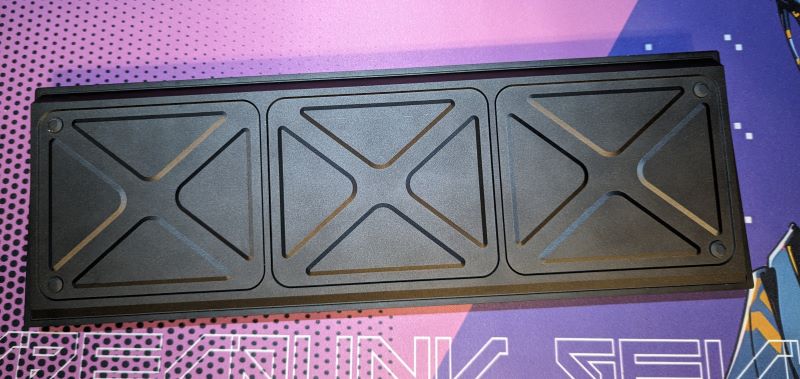 It has a CNC aluminum body, so it's got some heft to it, weighing in at just over 4 lbs. Set this sucker down on your desktop and it's not going anywhere. The only plastic I can find on this thing is the keycaps. With so many boutique keyboards having an all-metal chassis, it's pretty much a prerequisite nowadays. The machining on the Lemokey L3 is perfect. No flaws that I can find.
For connectivity, you have the option to go wired or wireless via either the use of the 2.4 GHz wireless dongle or Bluetooth 5.1. I would assume most gamers would go wired to avoid any lag but going with the 2.4 GHz dongle, you get a 1000 Hz polling rate.  With that, any gamer should be able to get the drop on an opponent just fine. Switching modes is really simple with the switch next to the USB C port on the rear upper edge of the L3. The switch on my review model has a positive click unlike some other keyboards I've reviewed. But just so you know, OFF is for wired mode.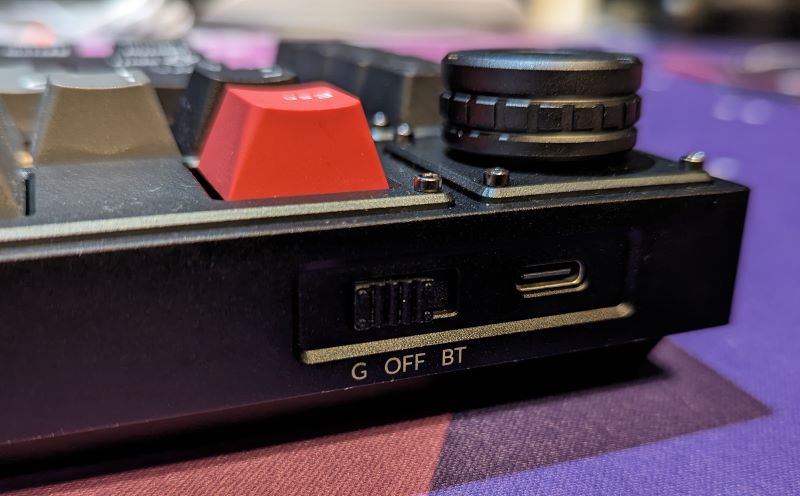 And look at that knob. I love knobs. This one is big and chunky and is in the perfect location. I like the fact that it's located on the left side. It's just more convenient. I know it sounds weird, but it really is for me at least.
There are three different colorways to choose from. I have the carbon black, but there's also Space Silver and Navy Blue. So you have the typical Keychron options there. However, for the Lemokey L3, they decided to go with Cherry profile keycaps instead of the usual KSA profile. Personally, I prefer the KSA profile but this does help to set the Lemokey L3 apart from Keychron's other offerings.  They even include some arrow keycap replacements that remind me of the buttons on a Playstation controller. The keycaps themselves are double-shot PBT so no shiny caps and no legends wearing away. On top of all that, the stabilizers used are the screw-in type so rattles are minimized.  Actually, I didn't notice any rattling at all.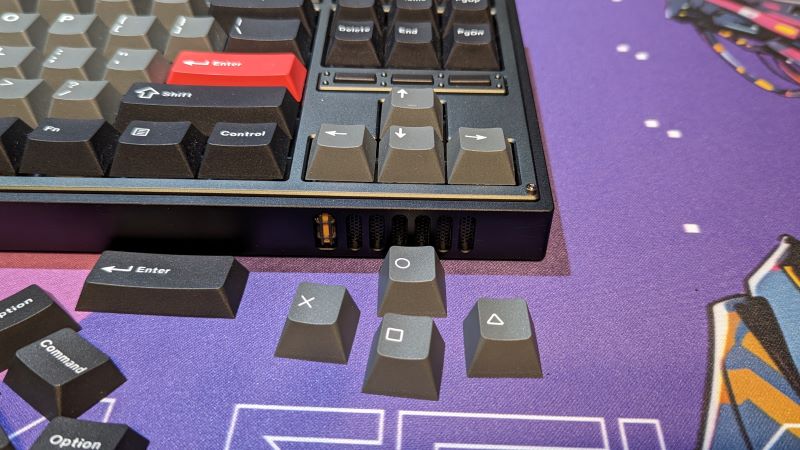 What about gaskets and foam for a great typing feel and sound? Does the Lemokey L3 have any? Yep.  Just like most of Keychron's other keyboards, the Lemokey L3 has multiple layers of foam gaskets, silicone gaskets, case foam, and plate foam. This makes for an extremely comfortable typing experience. Trust me, coming from a heavy-handed user like me, it's nice to have that flex when you bottom out.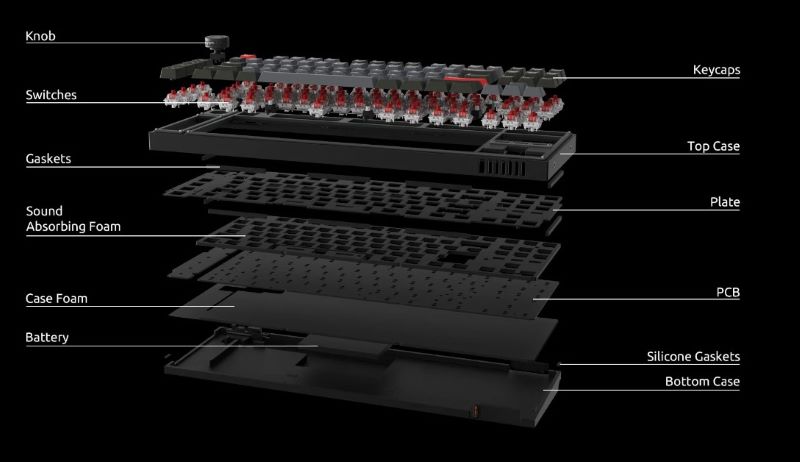 Now here's something I thought I would never say but I actually like the included Gateron Jupiter red switches. I don't like linear switches and I especially don't like red switches. I'm a tactile switch guy, but Gateron did something different with the Jupiter reds. They feel stiffer than normal which makes me like them much better than any other red switch I've tried. For the uninitiated, red switches are typically considered to be good for gaming due to the quickness of their actuation and less force needed to get there. But let's say you were to buy this keyboard and decide you don't like the included switches. Well, just find some you like and swap them out. The Lemokey L3 is hot-swappable, which is another prerequisite these days, so you're covered.
Another feature of the Lemokey L3 I really appreciate is the Macro row below the knob. You can configure them any way you want using the VIA software so I set them up to aid me in my workflow. I now have dedicated keys for CTRL A, C, V, and Z. Very nice.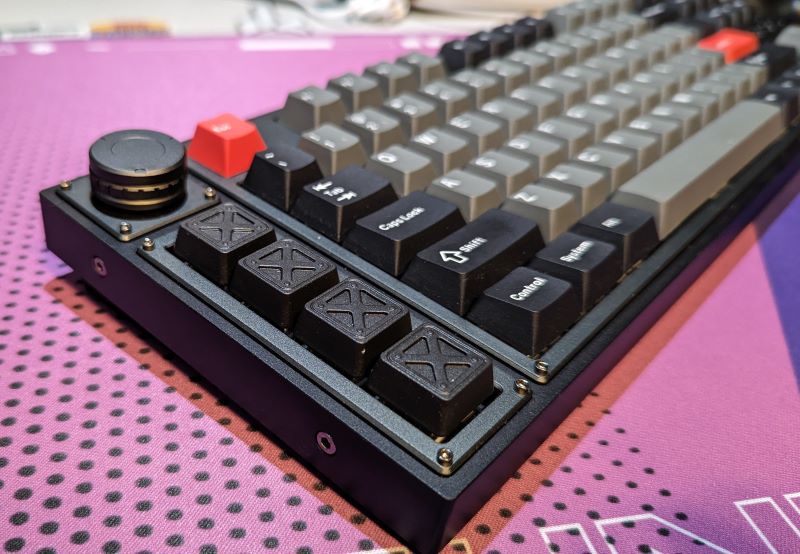 In case you were wondering what the Lemokey L3 sounds like, here's a little video so you can hear for yourself.
Setup
Setup is very simple. Plug it in. That's it.  Ok, maybe that's not all, but to use it wired that's all you have to do. To use it wirelessly, plug the 2.4 GHz dongle into an open USB port and flip the switch to G. Of course, with Bluetooth there's the whole pairing process, but my PC recognized it immediately with no issues whatsoever. You can even pair the L3 with up to three different devices should you so choose.
What if you want to change the RGB LED lighting? Well, the Quickstart guide will walk you through the preset modes, but you can also use VIA to customize it to your liking. Now I've had issues with the PC version of VIA in the past, but using the app online has worked flawlessly for me. I've got mine with a nice Matrix green glow that reacts to each keypress I make. Nerd alert! In case you were wondering the LEDs are south-facing so backlighting is much nicer. One word to the modders out there though. If you want to use a tape mod, you'll have to remove no less than 20 screws to get to the PCB. You have to remove the three decorative top plates and then the top case. It's not a huge deal, but it's not as simple as other keyboards out there.
What I like
Keychron quality
Industrial design
Macro key row
KNOB!
Solid build
QMK/VIA compatible
What I'd change
Final thoughts
The Lemokey L3 mechanical keyboard is excellent.  Its looks may not be for everyone, but the performance makes up for it. I really like the L3 and I think it's worth the asking price. There are a whole lot of premium features without getting into those boutique prices. Do yourself a favor and check out the Lemokey L3 if you're looking for a gaming keyboard. It's totally worth it.
Price: $214.00
Where to buy: Lemokey
Source: The sample of this product was provided by Lemokey.