We use affiliate links. If you buy something through the links on this page, we may earn a commission at no cost to you. Learn more.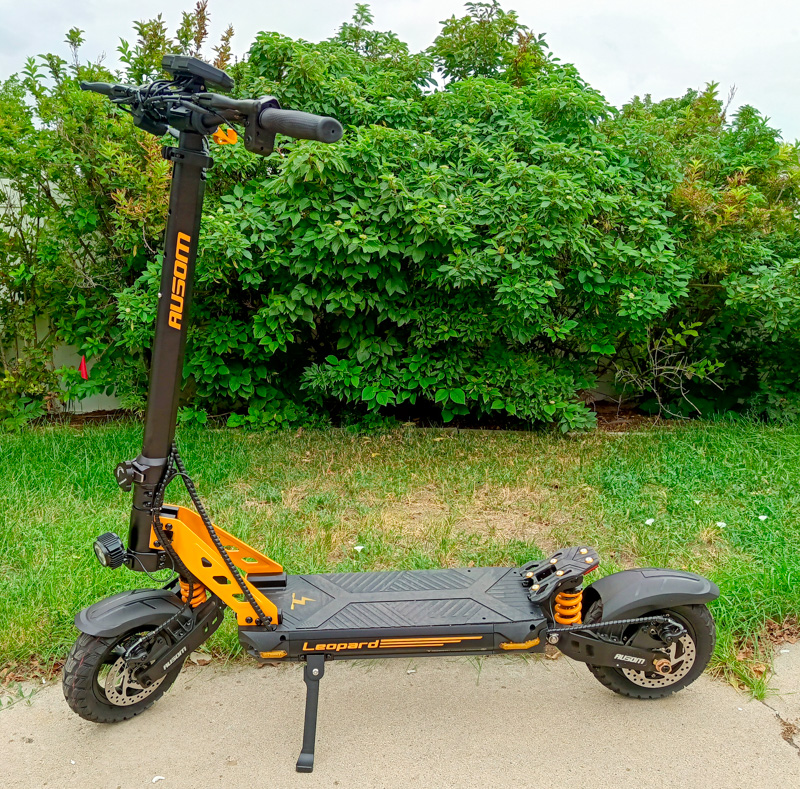 REVIEW – Having purchased or reviewed quite a few electric scooters now, I'm getting a pretty good idea of what I want in a good scooter. I definitely want enough power and speed to not feel slow and take forever to get to my destination. My most frequent routes cover hills and are usually 10-20 miles roundtrip, but many scooters rated for 30 or more miles are out of battery by the time I'm done with my most common destinations. I prefer good handling and suspension, though it's not a requirement. Finally, the ability to fold the scooter up to take in a car or stow on a train is another nice-to-have. The AUSOM Leopard electric scooter seems like it will meet or exceed all of my wants and needs, so I agreed to take it for a spin!
What is it?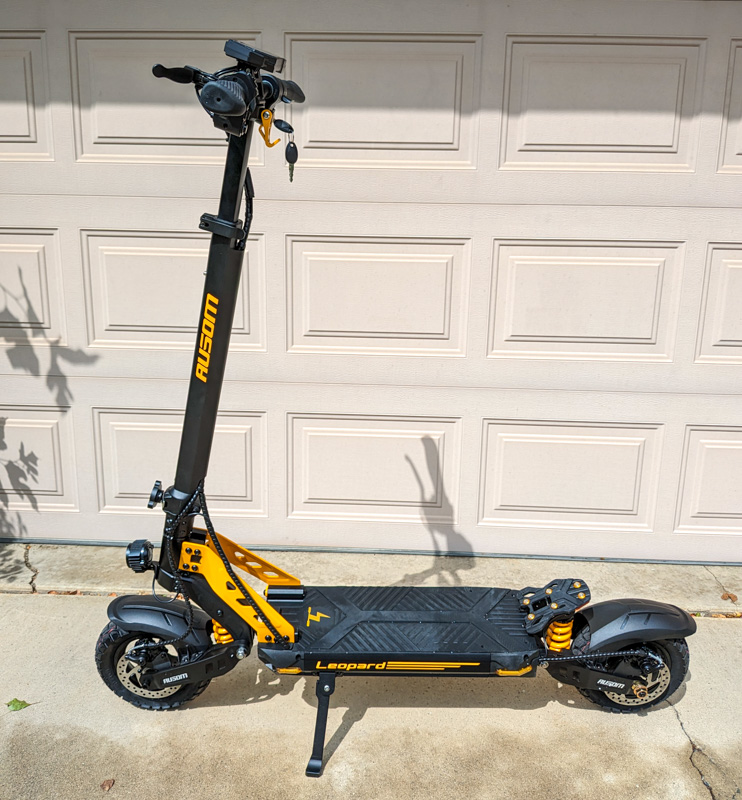 The AUSOM Leopard electric scooter is a motorized standing (or sitting) scooter that boasts a long range, large tires, dual suspension, and a high top speed of up to 34 mph (at least high for this price range – you can get insanely fast scooters for magnitudes more).
What's in the box?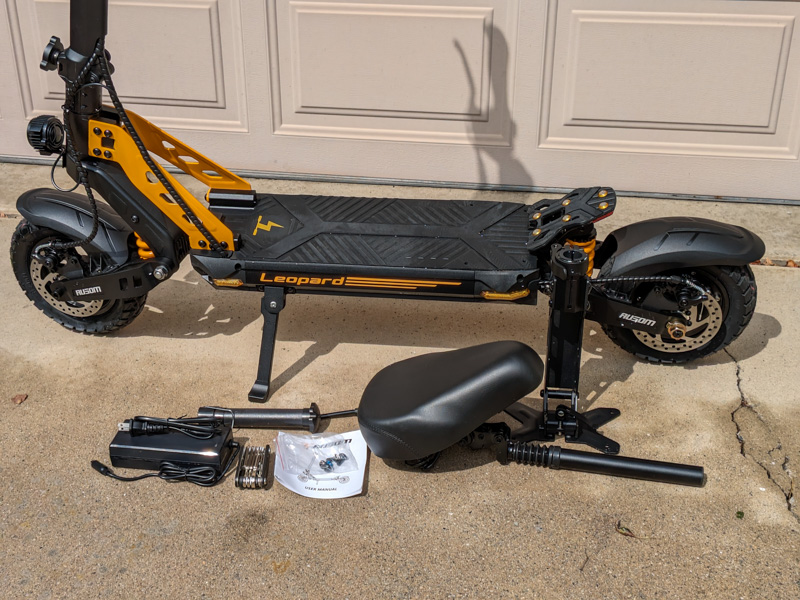 AUSOM Leopard electric scooter
AC wall charger
Multitool for installation and repairs
Screws for installation
Small hand pump for tire inflation
Seat mount, seat post, and padded seat
Manual
Hardware specs
Size (unfolded): 49.2 x 23.2 x 51.2 in
Size (folded): 49.2 x 23.2 x 22.5 in
Handlebar to ground height: 43.7-49.2 in adjustable
Max load: 265 lbs
Max range: 52 miles
Motor power: 1000W, 48V
Footboard height from ground: 9.4 in
Footboard width: 8.3 in
Water resistance: IP54
Speed levels (3): 9/22/34 mph
Weight: 69.6 lbs
Uphill capability: 25%
Frame material: Aluminum alloy
Recommended rider heights: 4'8″ to 6'7″
Tire size: 10″ x 3.15″ pneumatic
Brakes: Electric regenerative + mechanical disc brakes
Suspension: dual front and rear swingarm
Battery Capacity: 998.4 Wh, 48V 20.8Ah battery
Design and features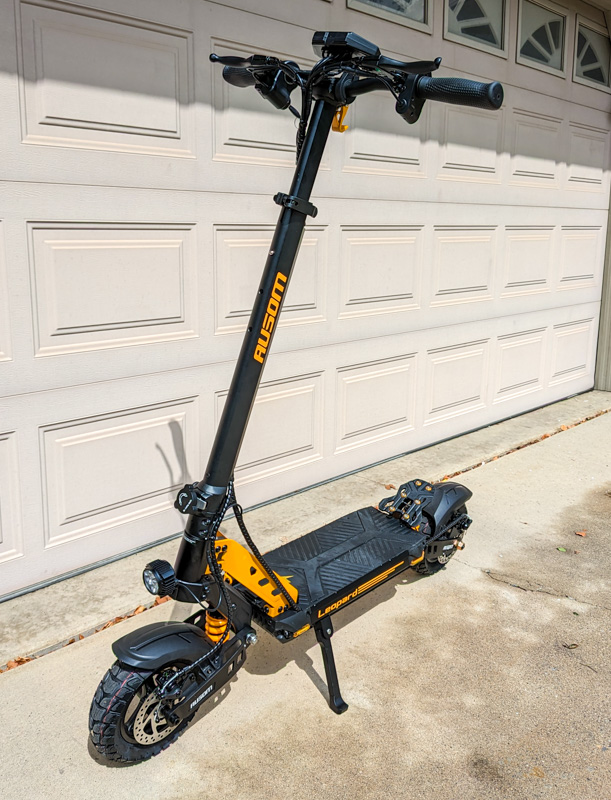 The AUSOM Leopard electric scooter is a yellow and black scooter, with styling and tires that give it a rugged aggressive look. High visibility colors, LED lights all around the footboard, and headlights and taillights/brake lights help with safety visibility. It follows the tried-and-tested basic design of most electric standing scooters, with some elements that are rare in the segment.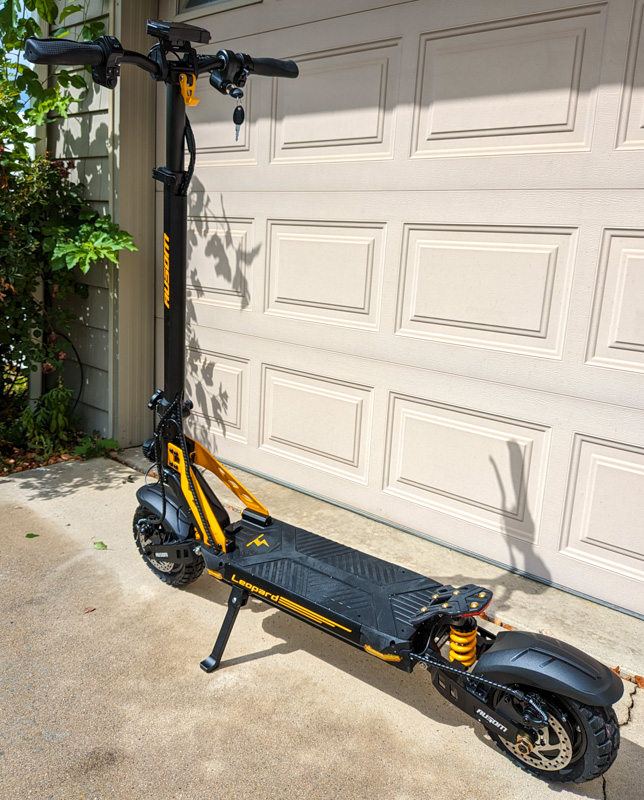 The deck is wide, but not quite wide enough for my size 13s (US) to fit side by side. I have to ride one foot forward and one foot on the raised piece near the back over the back spring. While more comfortable than most scooters, I still like it if I can place my feet side by side, if nothing else just to shift to different positions more on longer rides.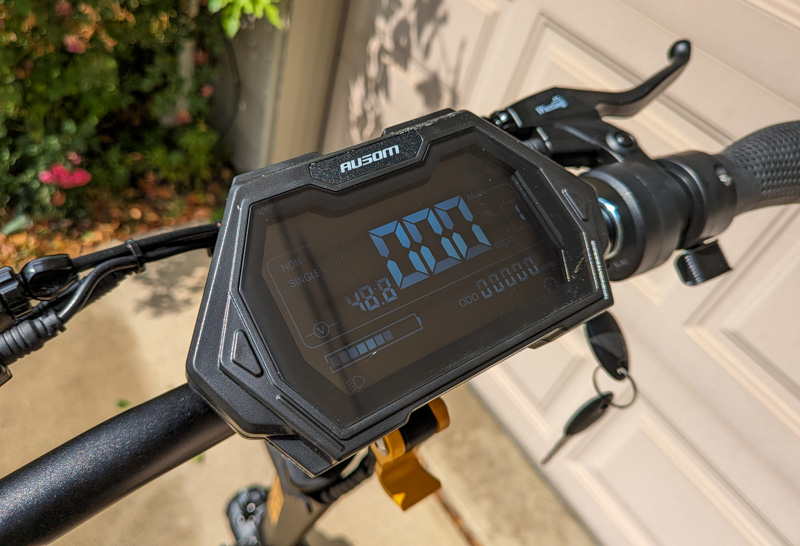 The LCD screen was quite difficult to capture, the combination of it's refresh rate and my camera shutter didn't play very well together, but it's easy to see even in bright sunlight, and shows a lot of information like exact battery voltage (and more granular battery bars than most scooters), as well as other info. The whole screen is easily tiltable to be pointed right at your face while riding – a nice touch. It kept its position perfectly once adjusted, never sliding up or down. The manual contains detailed instructions on changing settings – such as "no-push-start", which is essential if you install the seat (normally on scooters like this a safety feature prevents the throttle from engaging until the rider pushes forward to exceed a few miles per hour so you don't lose control by accidentally pressing the throttle while stopped). If you install the seat, that no-push-start option lets you just take off when you push the throttle.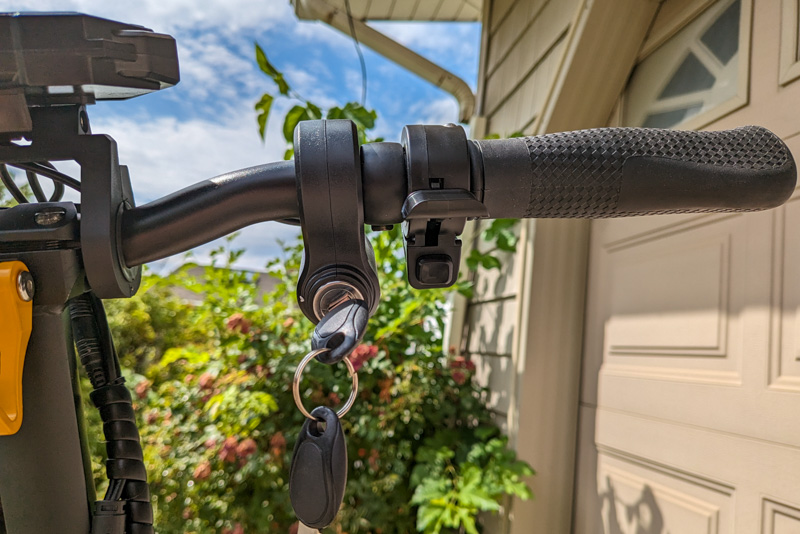 On the right handlebar is the lock (the entire scooter is disabled if the key is turned off and removed – though you'll also want to use a decent bike or motorcycle lock in public as nothing's stopping a thief from walking away with it. The thumb throttle and power switch live to the right of the key (so to turn it on you have to insert and turn the key, and then push the power button).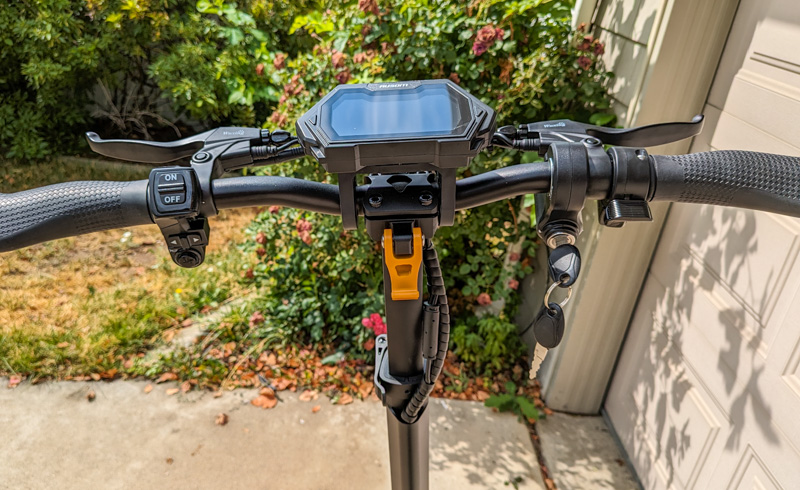 Under the screen is an orange hook that's used to secure the handlebars to the base when folded up. This would also double nicely as a bag hook.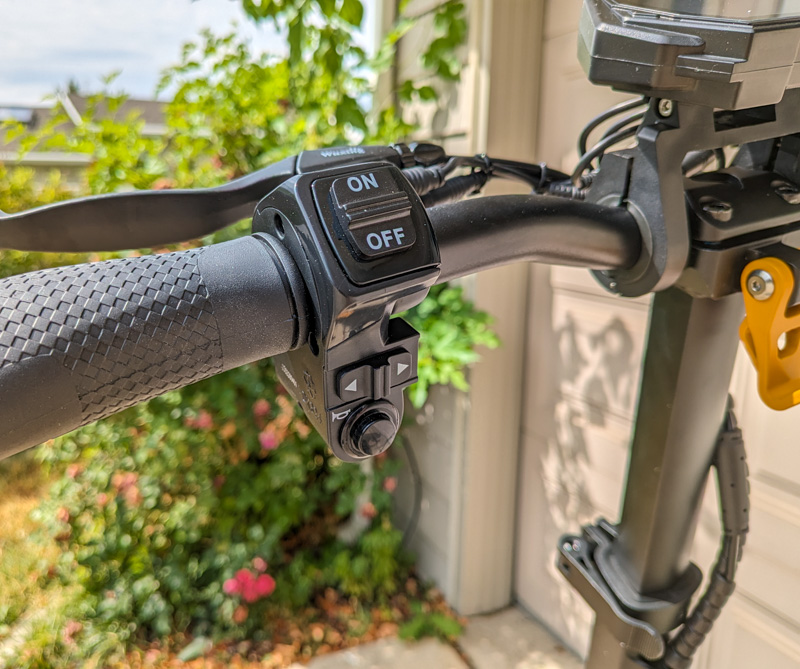 Over on the left handlebars is the on/off switch for the headlight, turn signals, and an electronic horn button (which is quite loud).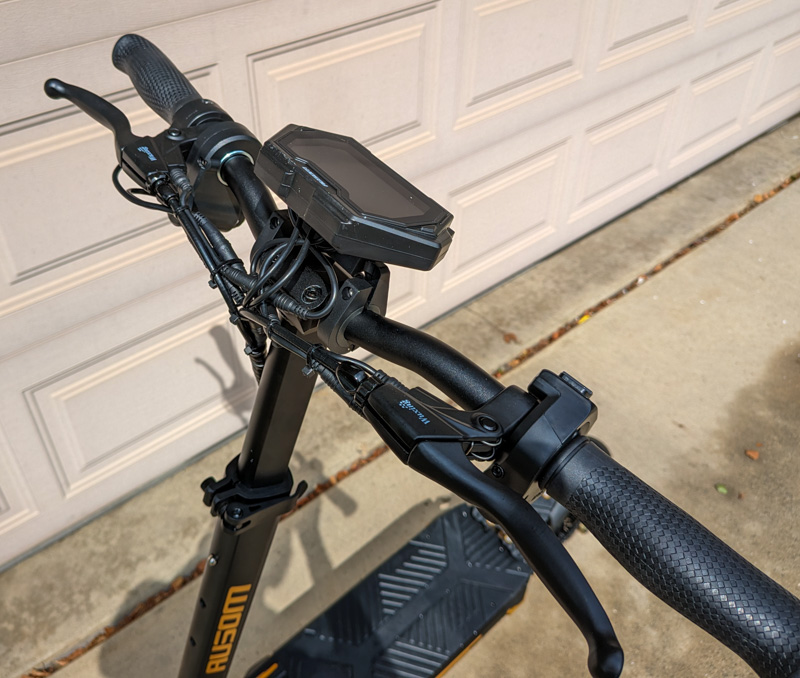 Like many other scooters, the brake levers are standard bike brake levers. They were well adjusted out of the box and worked great.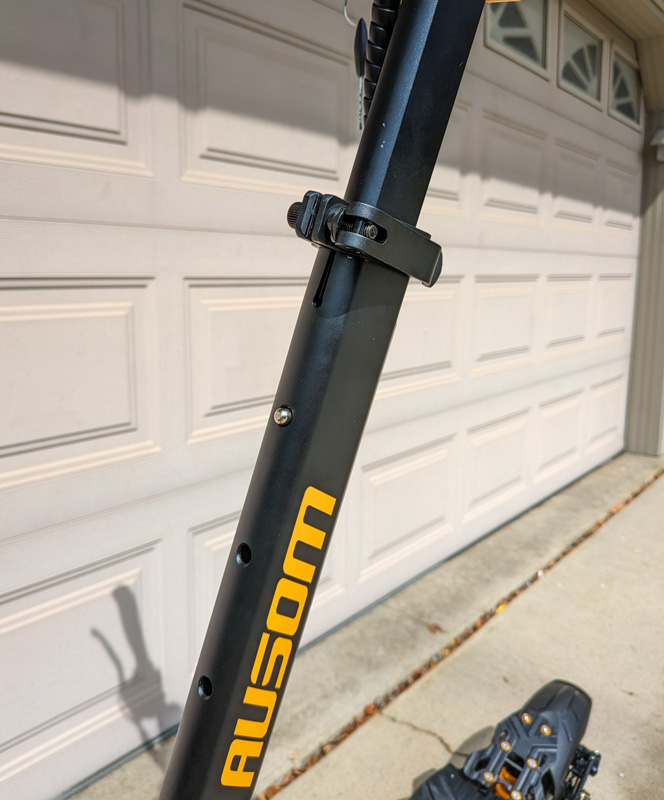 The height-adjustable handlebars are quite nice, some scooters feel short for this 6'4″ rider, while others are bafflingly tall, even for me. A clamping lever and pin keep the handlebars in one of three positions.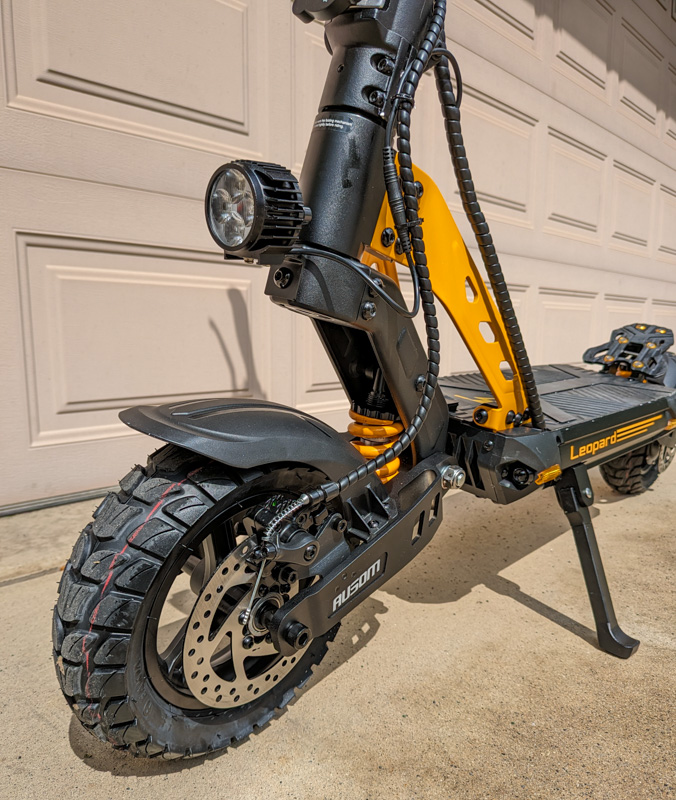 The front end of the scooter sports a swingarm suspension, large tires, and the headlight. The headlight was pretty bright, but I like to add one up at the handlebars when a scooter only has a low one like this. Since they're standard bike sized handlebars it was easy to add an extra light for more visibility while out riding.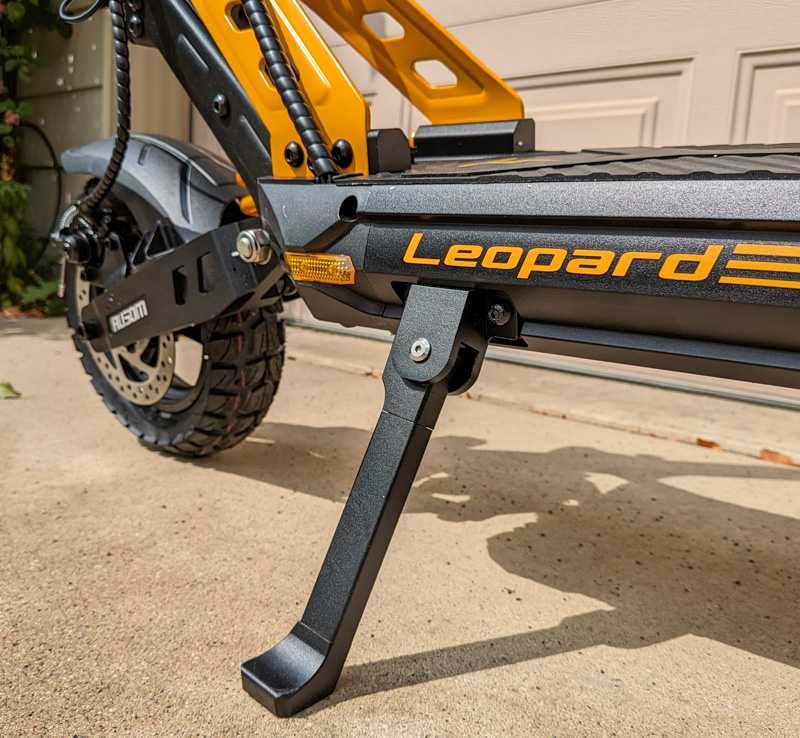 The kickstand holds the scooter securely when engaged.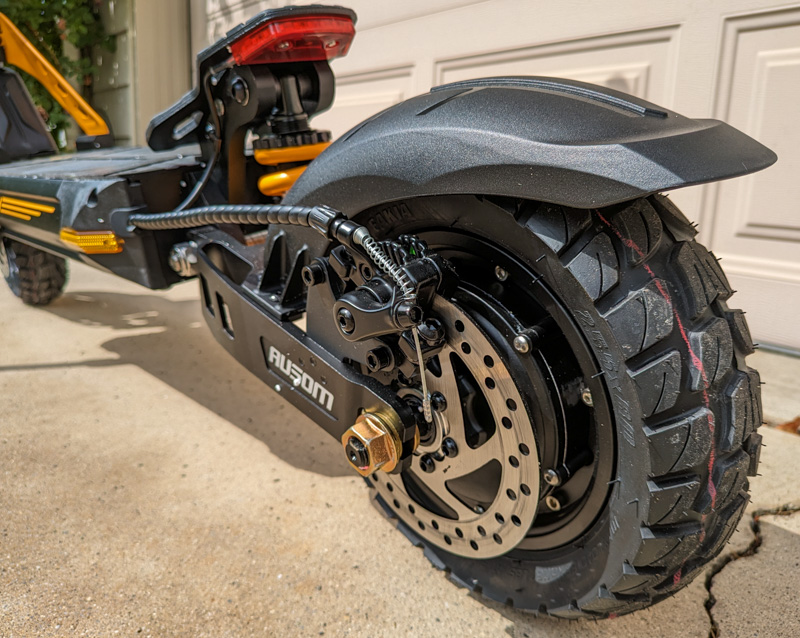 Both front and rear wheels have decent mechanical disc breaks. Hydraulics would have been better, but they stopped quickly enough to feel safe to me. As an added bonus, the rear red tail light blinks when the brakes are engaged. The 1000 watt rear motor is inside the rear wheel hub itself.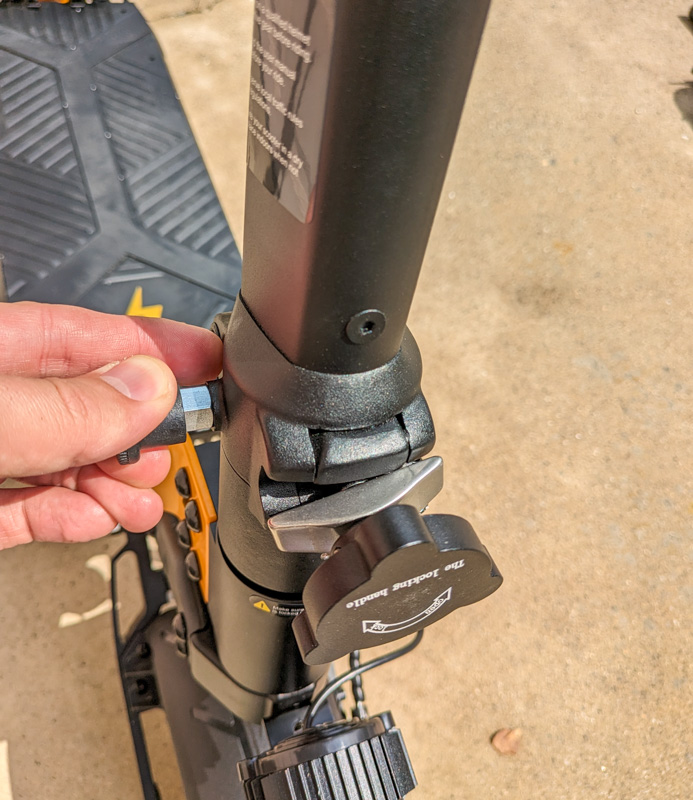 To fold/unfold the scooter, there's a knob that secures or removes a locking bar, and also a secondary knob to pull, then the whole handlebar and stem fold down. While this take a bit longer than some other scooters I've ridden, I like that it seems more sturdy and secure than most when locked into place.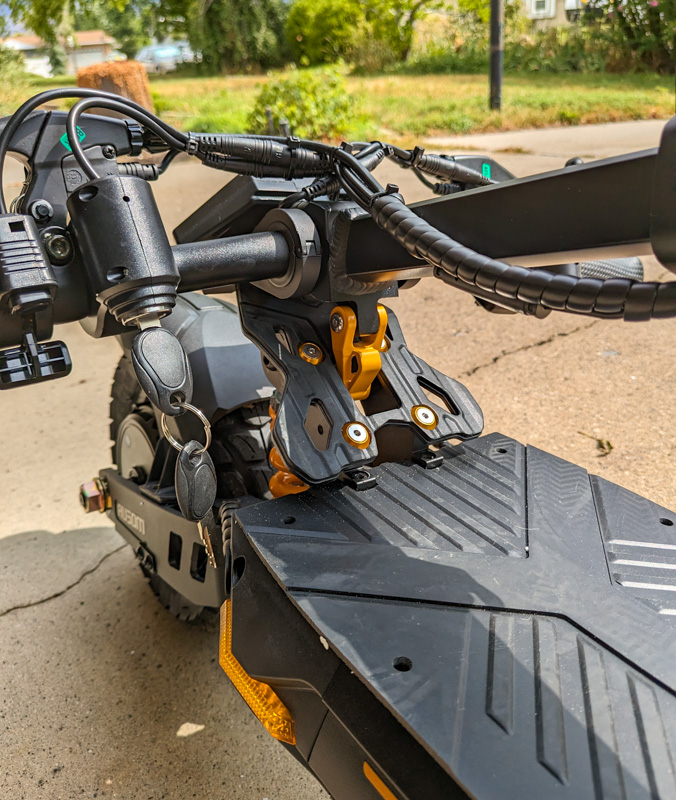 The handlebars clip onto the raised footrest at the back of the scooter with the small orange hook. While this is secure while carrying it around, there are no springs or other mechanisms that secure the hook to its mount, so I could see it losing grip if jostled while not being carried. You'll find out quickly if you go to lift it and it's not hooked, you'll just lift up the handlebars.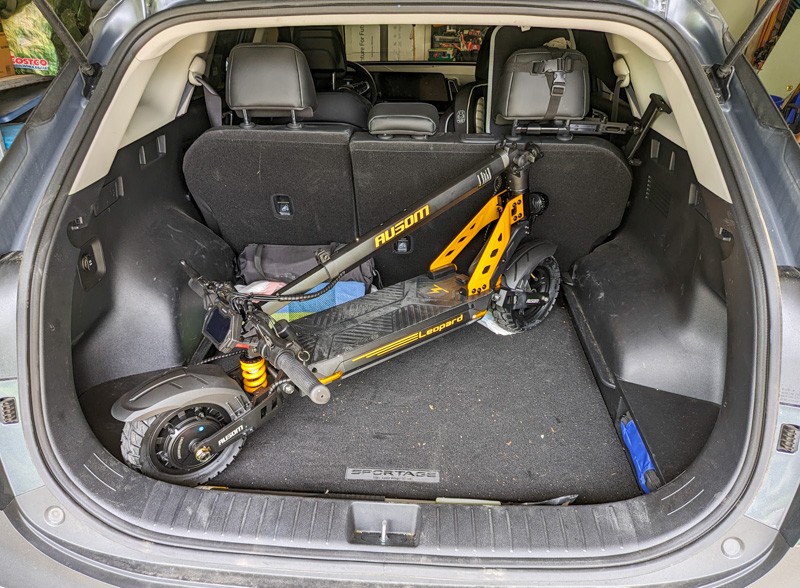 When folded up, the AUSOM Leopard electric scooter fits nicely in our trunk, but our "compact" SUV trunk is one of the largest in its class so you might have to drop a seat in most other vehicles.
Setup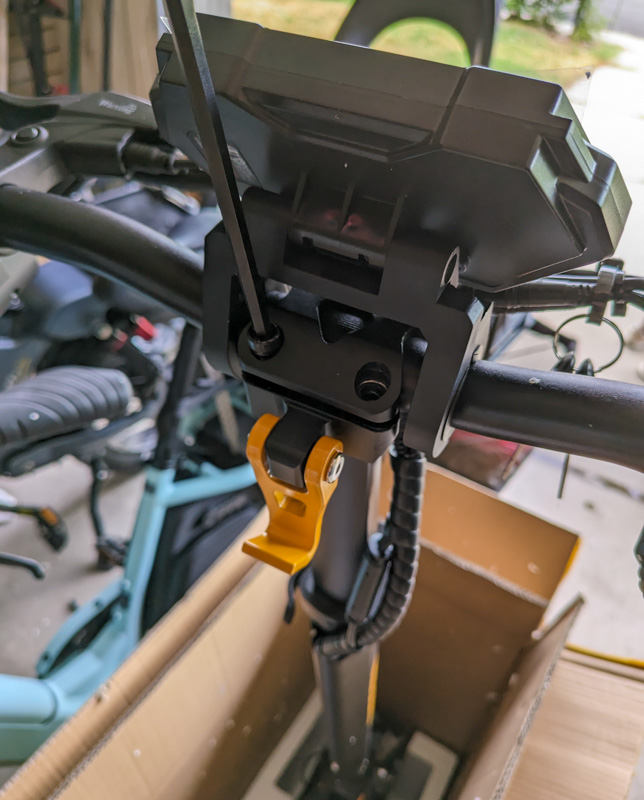 The setup is similar to most scooters like this – simply a couple of screws to secure the handlebars onto the rest of the scooter.
If you want to use the seat, there are a few more screws to secure the seat post to the scooter, then a few to secure the seat to the seat post.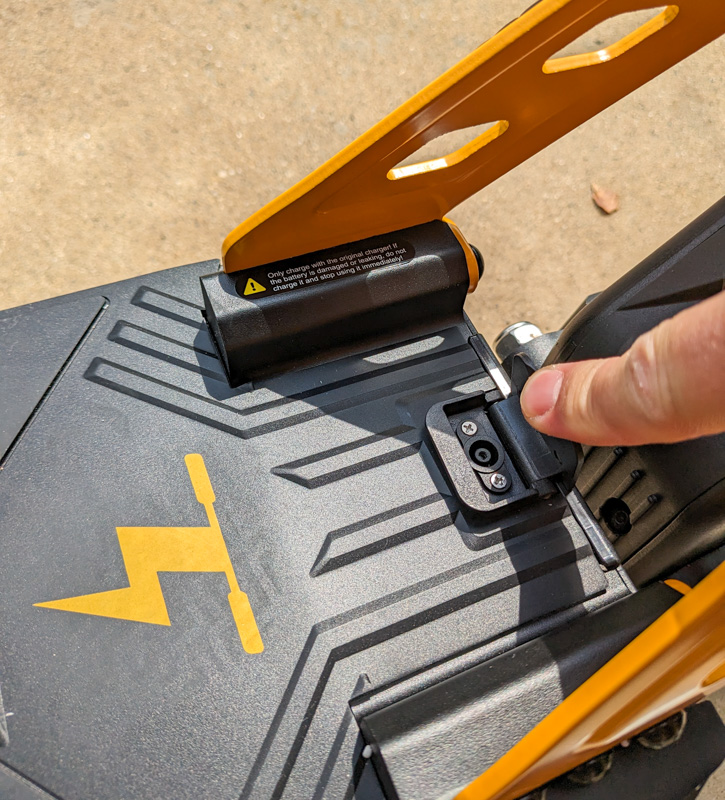 Next up, you'll charge it with the included wall charger. The charging port has a spring-loaded cover, and is a typical DC barrel plug style.
Performance
I tested the AUSOM Leopard electric scooter first with the seat installed since I was pretty sure I wouldn't be using it much after getting that test out of the way, and I was right. While it is totally functional and works fine, it's not the way I'd prefer to ride something like this. I like that they include the seat and hardware though, if I started commuting longer distances every day I'd reconsider and possibly use it.
The softer-than-usual seat combined with dual shocks on the scooter and a third shock in the seatpost itself makes for a very soft (if slightly bouncy at times) ride. It feels a bit less natural than a bike or Vespa-style motor scooter, but I could see it being a fairly economical longer range form of transportation.
As to the scooter's performance as a standing electric scooter, I was able to hit 33 miles per hour maximum on a flat (or possibly gently downhill) road. It's noticeably faster (both in acceleration and in top speed) than the rental scooters strewn around most major cities, and the high top speed meant that on roads where bike lanes end and traffic is tighter, I could just merge with cars traveling at 25-30 and not slow them down as I would in a bike or slower scooter. While this may not be legal in your area (check your local laws before riding!), it is a lot safer where I ride to do this (and it's illegal to ride on some sidewalks).
For range testing, I did my 10-miles-with-decent-hills circuit and was pleasantly surprised to have 60% battery remaining when I pulled back into my garage. Every other scooter I've tested has been under 25% on the same route, so Ausom really has put in a large enough battery to get some decent range.
Suspension was good, taking pretty large bumps and holes with ease. I wouldn't want to tackle rocky offroad trails, but for urban rough patches the dual swingarm suspension works wonderfully. The large air filled tires also shrug off small rocks and sticks that would have been really jarring on small hard rubber wheeled scooters. However, having had a flat tire on an air-filled-tire scooter in the past, I hope this doesn't happen on the Ausom Leopard (no flats in the month long testing period, fingers crossed).
What I like
High top speed and decent acceleration
Sturdy build with high visibility lights and colors
Included soft cushioned seat option
What I'd change
Would like it if the hook to secure the handlebars to the base when folded clipped into place securely and required a bit of force to get it off (or a button release)
Low headlight placement is less visible to other cars, prefer headlight to be up on the handlebars by the screen (or a second one just for visibility)
Final thoughts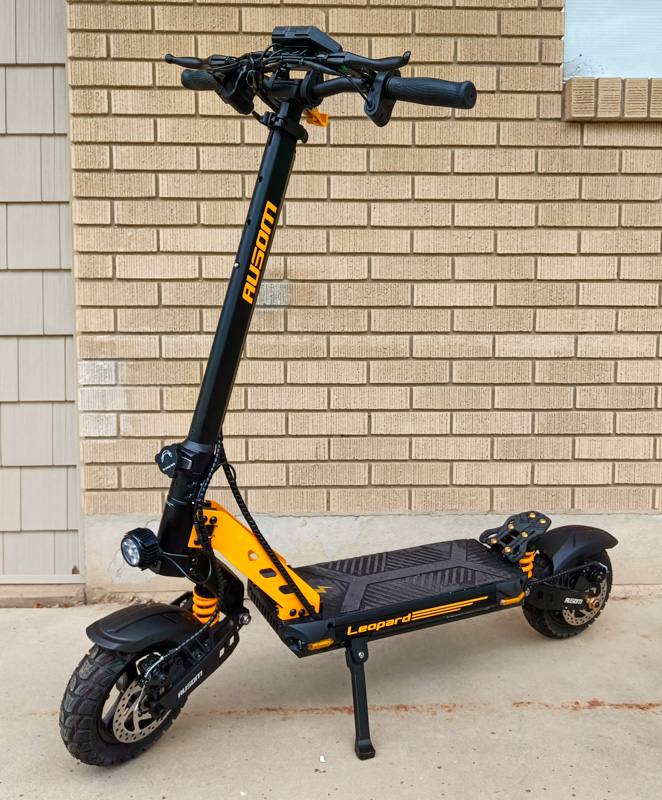 The AUSOM Leopard electric scooter was a lot of fun to test, and is now my go-to scooter option for both pleasure rides and quick errands (or getting to/from an event separate from my partner). AUSOM calls this model "SUV-like", and I can tell why after riding, it feels big and capable of rolling over terrain that slimmer smaller scooters wouldn't dream of being able to tackle. While I still wouldn't want to ride it on the rocky washboarded mountain roads above our valley, it makes for a great suburban commuter and errand-runner, as well as just a blast to zip around on (my version of a mental health walk).
Price: $949.99
Where to buy: AUSOM (Save $50 with code: GEAR50) and Geekbuying (Save $50 with code: GADGETEER expires 10/31/2023)
Source: The sample of this product was provided by AUSOM