We use affiliate links. If you buy something through the links on this page, we may earn a commission at no cost to you. Learn more.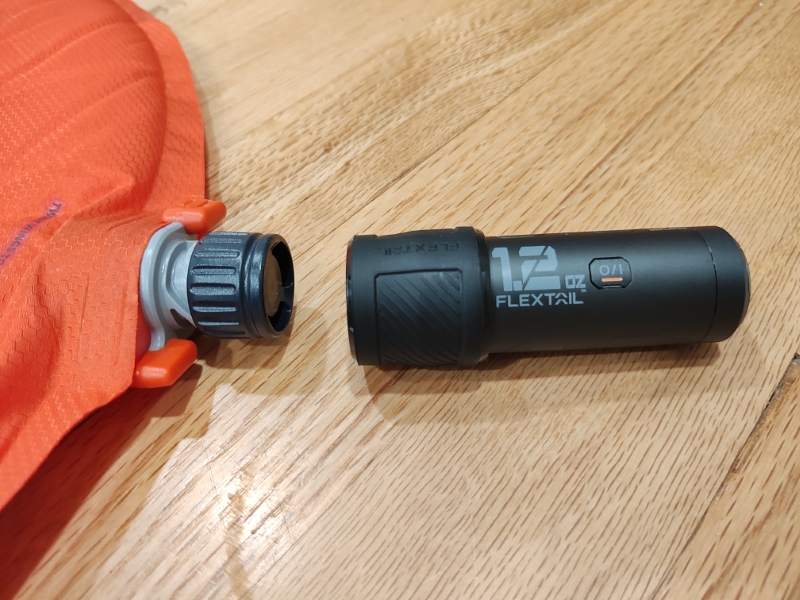 REVIEW – Getting camp ready after a day of hiking or biking can be a peaceful experience, and a perfect way to cap off a day in nature – until it's time to blow up the sleeping pad with lung power and hope you don't pass out in the process.  I'm being only slightly dramatic, but if that's the part of setting up camp you least look forward to, pump systems could be the answer to achieving campsite nirvana.  Adding extra gear to your kit isn't always great though due to the weight penalty, but what if there was a way to get a sleep system pump in your bag at under 2oz?  Flextail's newest Zero Pump which is currently on Indiegogo does just that.
What is it?
The Flextail Zero Pump is an ultralight air pump, designed for inflation of a camping sleep system – such as a sleeping pad, or camping pillow.  It is the smaller, lighter successor to the aptly named Flextail Tiny Pump 2x, and is the newest camping gadget in the Flextail lineup.  Check out my review of the Flextail Tiny Pump 2x!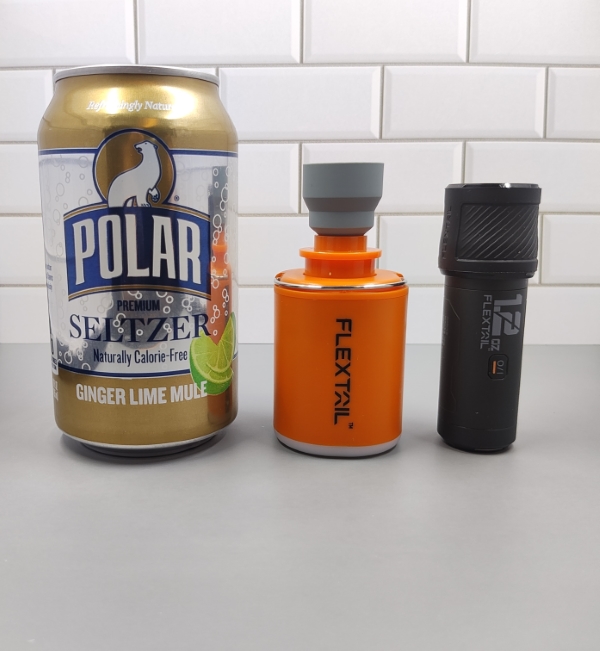 What's in the box?
Flextail Zero Pump
Sleep system adapter
Lanyard
Product insert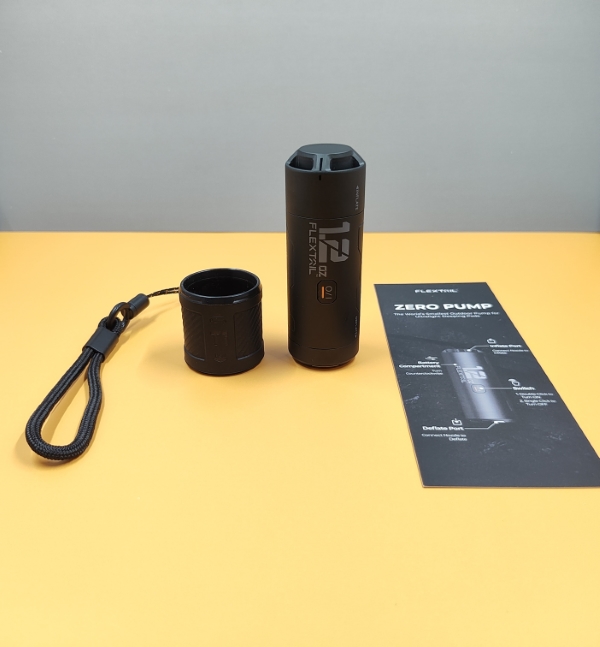 Hardware specs
| | |
| --- | --- |
| Weight | 1.2 oz (no battery) / 1.8 oz (w/battery) |
| Weight (all accessories) | 2.2 oz |
| Dimensions | 2-7/8″ x 1″ x 1″ |
| Air flow | 180L/min |
| Pressure | 2.5 kpa |
| Battery | Replaceable; Rechargeable CR123A included |
Design and features
The Flextail Zero Pump is – tiny.  With a height of just under three inches, and just an inch deep/wide, it easily fits in the palm.  Despite it's metal body construction, it is definitely light – but without feeling frail.  The single button interface design is clean, and the Zero Pump has a premium feel.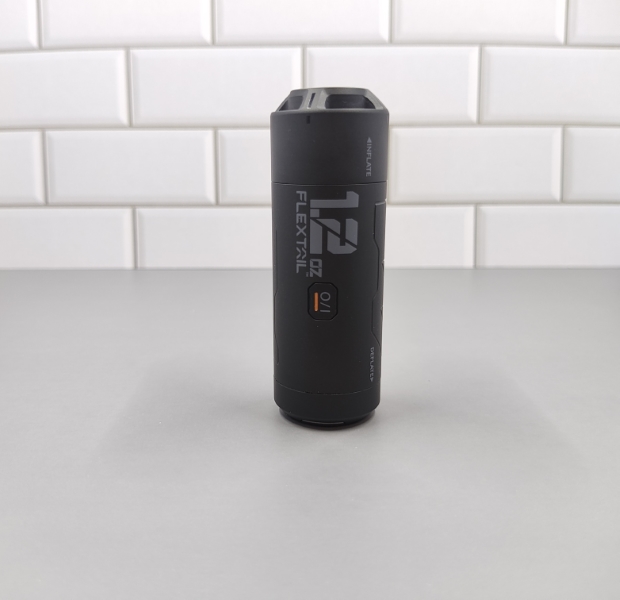 Flextail is clearly proud of the weight on the unit, opting to stylize that on the Zero Pump body in larger font than their own brand.  It is worth calling out though, that 1.2oz feels a bit disingenuous.  While yes – the pump does weigh that without a battery, in practical terms you need a battery in order to use it.  The battery adds an extra .06oz, which still keeps it under 2oz.  Even with the battery, this is almost 2oz lighter than its bigger brother the Tiny Pump 2x.
The single button interface is simple enough – double tap the button to turn on, tap again to turn off.  Helpfully there are indicators on the pump to notate which end is for inflating, and which is for deflating.  In order to connect the pump to your sleep system, Flextail provides a rubber piece that interfaces between the pump, and the valve on your pad or pillow.  This is worth a call out as depending on what brands your kit consists of, you may need to carry multiple adapters.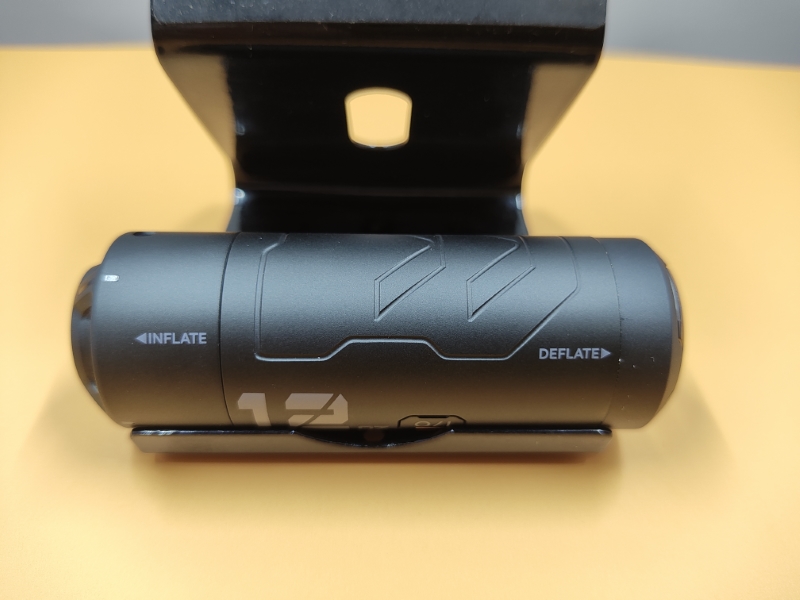 Perhaps the most surprising design decision on the Zero Pump is the lack of a charging interface.  I've gone back and forth on this, as I can see it both ways.  To the ultralight hiking enthusiast it could be preferable to carry an extra single battery than an entire battery pack.  If you already have a battery pack though, now you need to find a spare battery to add on to your kit.  This isn't a AA or C battery either that you can pick up at a gas station in a pinch.  I think the better design choice here would have been to provide both.  The interface to charge the battery if so desired, but still allowing the battery to be removable if not.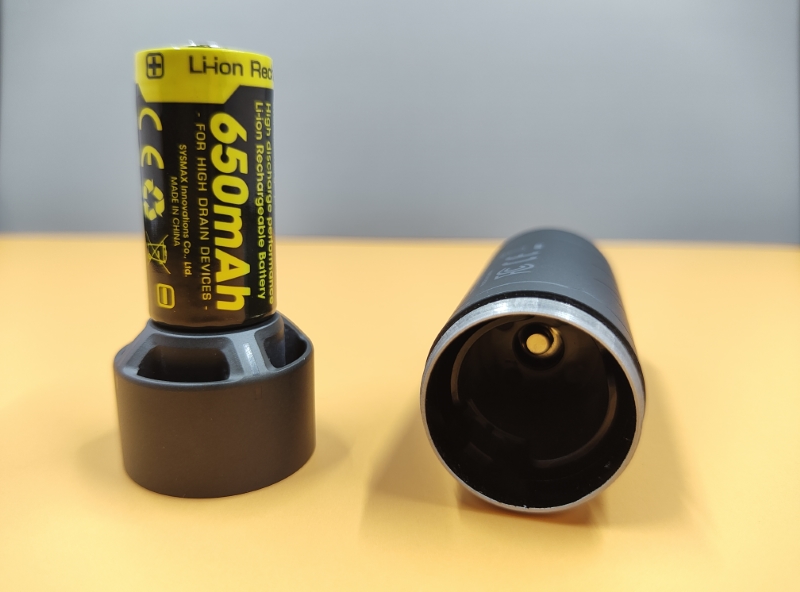 Lastly of note and along the lines of the battery, is the lack of a seal between the body and the lid to the battery compartment.  The product insert mentions not to allow the Zero Pump to be submerged in water, but I get the sense that this is generally not water resistant either.  Flextail has not published an IPX or IP rating at the time of this review, and I'm not about to throw this in the drink to test that hypothesis.
Performance
It feels important to mention again that this pump is designed for ultralight sleeping pads and camp pillows, which are comparatively far less air volume than something like an air mattress.  So don't expect it to handle an air mattress or inflatable kayak.
I use a Thermarest ProLite pad, and Sea to Summit Aeros pillow.  Despite my sleeping pad being 'self inflating' – it takes forever and still needs some lung power to top off.  The Zero Pump easily attached with the provided adapter and made quick work of filling it up, in about 30 seconds.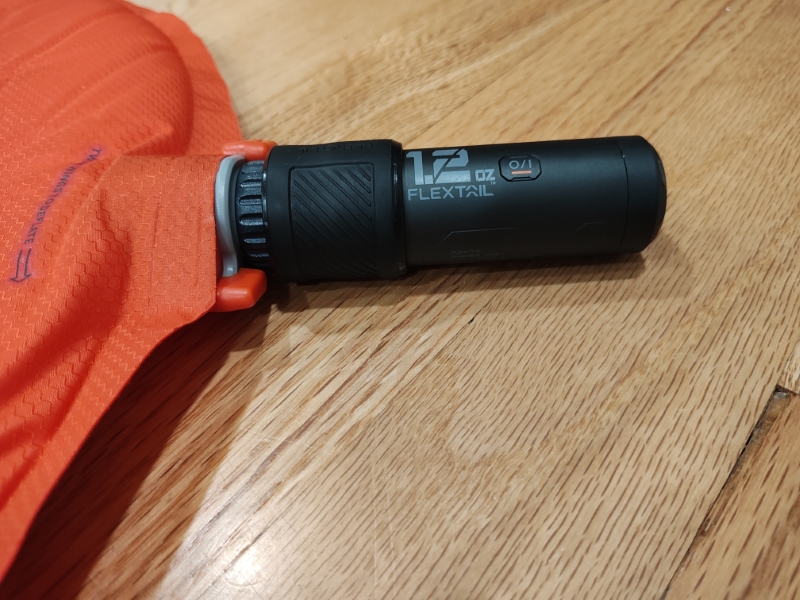 Filling the Aeros pillow was equally easy, and despite my reservations of how the adapter would interface with this wildly different valve system, it worked!  It didn't have the same secure connection and did require me to hold it in place, but it quickly filled up without much fuss.
While it's great to have help filling up your sleep system, getting camp broken down can be equally annoying.  Getting every last molecule of air out of the sleeping pad in order to get it into its stuff sack is awful, and the self-inflating pad I have likely makes this worse.  Having the deflation feature available really makes this a fast and much more tolerable experience first thing in the morning.
The Zero Pump is a pump, and only a pump – and at that it works very well.
What I like
All metal body, lightweight design
Ability to inflate and deflate
What I'd change
Onboard battery charging capability
Lack of IPX or IP rating
Sleep system interface reliance on rubber connectors can limit utility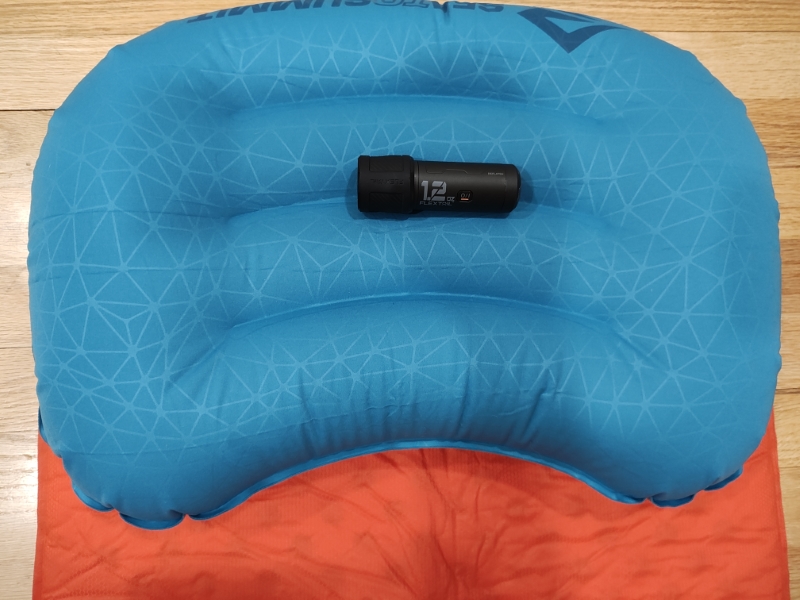 Final thoughts
The Zero Pump by Flextail is certainly an effective pump, and it fits in amongst Flextail's other camp utility offerings.  I think it's best to consider it an option alongside the Tiny Pump 2x, rather than as a replacement to the Tiny Pump 2x.  Whether or not the Zero Pump makes the most sense for you depends on what you already have in your kit, and what utility value you're looking for.  If you already have a camp light, and are OK with carrying an extra battery, the Zero Pump is probably the better choice.  If you're already carrying around a battery pack, and also need a camp light, then the Tiny Pump 2x would be my recommendation there.  Either way, you're getting a solid pump that will make camp setup and breakdown a breeze.
Price: $36.00
Where to buy: Indiegogo
Source: The sample of this product was provided by Flextail.