We use affiliate links. If you buy something through the links on this page, we may earn a commission at no cost to you. Learn more.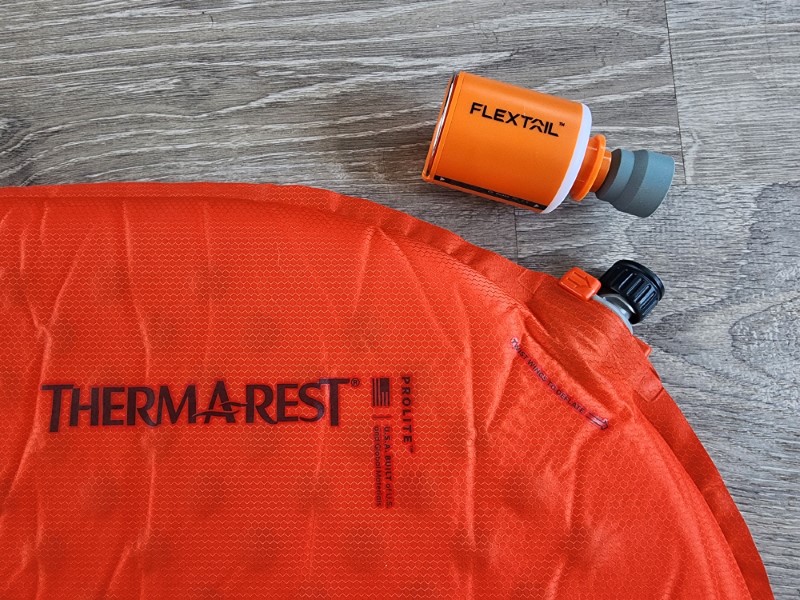 REVIEW – Getting a good night's rest after a day of hiking or biking to your campsite is critical to recovering for the next day.  Sleeping pads and air mattresses help keep us comfortable, but inflating and deflating them can be a chore.  The Tiny Pump 2x by Flextail is purpose-built to be a small, lightweight air pump for camping applications, and it makes setting up your sleep system a breeze.
What is it?
The Flextail Tiny Pump 2x is a multifunction pump, marketed for outdoor and storage applications.  As a battery-powered, small volume air pump, its usage is generally limited to light-duty needs – such as air mattresses, pool accessories, kid's toys, etc.  For larger volume needs such as an inflatable kayak, consider the larger Flextail Max Boat Pump.
Flextail has been developing products focused on quality-of-life improvements in the outdoor space for over ten years.  In addition to air pumps, Flextail also produces soft goods such as air mattresses, tents, tarps, and other camping hardware such as lanterns and storage solutions.
Based in China, Flextail is also branded as FLEXTAILGEAR.
What's in the box?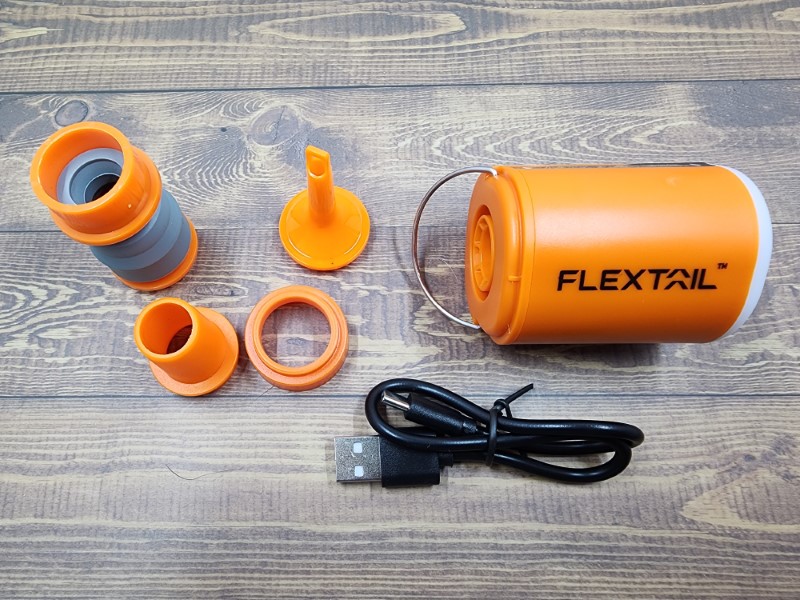 1x Flextail Tiny Pump 2X
5x Nozzles (various)
1x USB-C to USB-A cable
Manual
Storage Bag
Included in this review, but sold separately, are the mushroom lampshade and the size medium storage bags.
Hardware specs
| | |
| --- | --- |
| Size | 1.8 x 1.7 x 2.3 in |
| Weight | 3.38 oz |
| Air Pressure | 4KPa (0.58 PSI) |
| Battery Capacity | 1300 mAh |
| Water Resistance | IP44 |
| Lumens | 40 (10h), 160 (2.5h), 400 (1h) |
| Attachment points | Closed loop, magnet |
| Charging interface | USB-C |

Design and features
As a camping-focused product, weight and size are paramount.  At less than 4oz and just over 2″ at the largest dimension, the Tiny Pump 2x strikes a good balance between form and function.  In addition to the air pump capability, the built-in light is a thoughtful, useful addition.  The magnetic base is also a nice touch to provide more mounting options for the Tiny Pump 2x while in light mode.
The hanging loop can easily detach on either side for attaching over a rope, or could otherwise be secured with a carabiner.
A detail I really appreciated, is the addition of air flow indicators.  Just like the fuel gauge indicator on your car pointing to which side of the vehicle the fuel door is on, the arrows on the Tiny Pump 2x product sticker indicate which direction air is moving.  Helpful, as the pump is equally useful in deflating items for packing.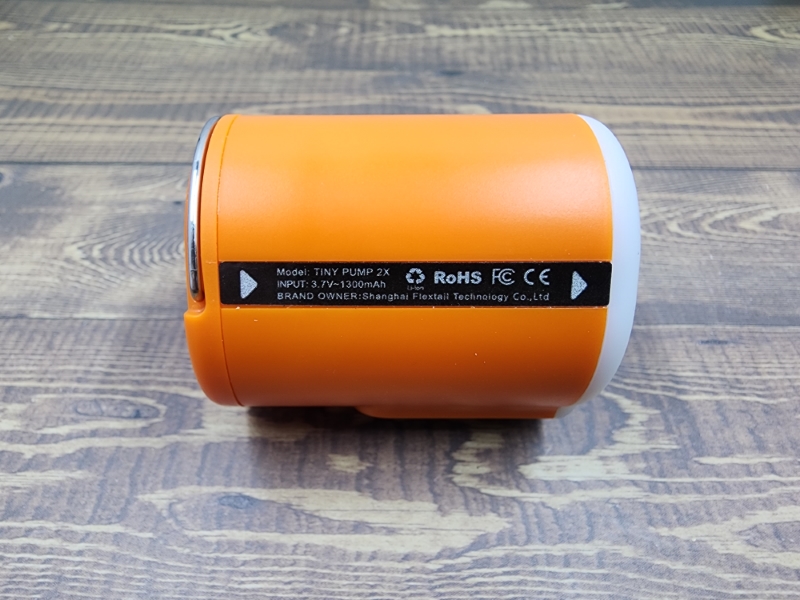 Lastly, the Tiny Pump 2x includes a variety of attachments to offer a broad range of compatibility for air pump applications.  I couldn't find anything in my gear that it didn't fit properly on, but some Amazon reviews call out issues with specific brands of air mattresses.  The manual offers some sizing details for each nozzle and suggested application, so it's worth double-checking that there's a nozzle for your product.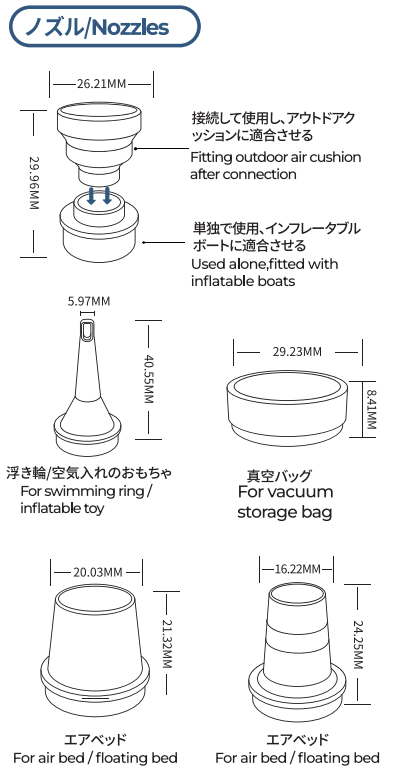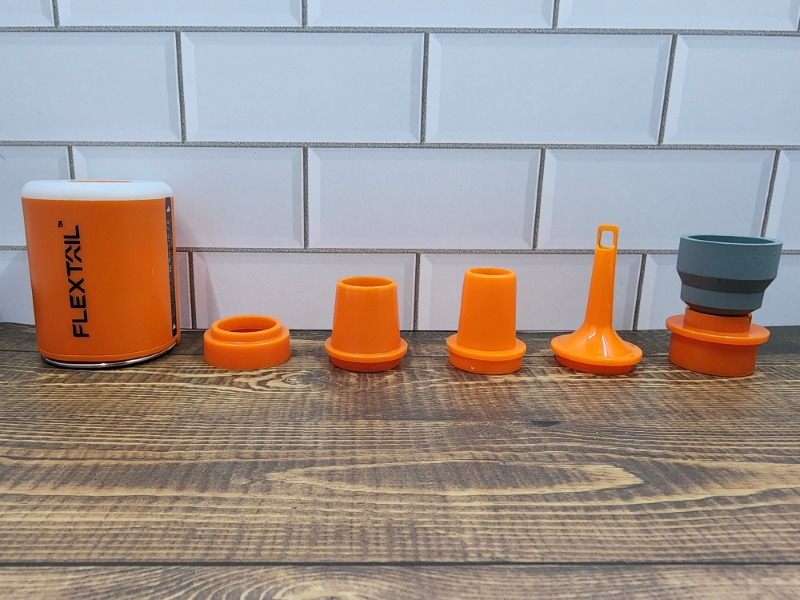 Performance
After charging the Tiny Pump 2x (LEDs by the charger indicate charge status), the interface is rather simple to navigate:
Double press the power button for the air pump
Press and hold the power button for the light

Press the power button again to cycle the lumen options
We'll break out the performance based on the two primary functions as an air pump, and light.
Pump
My primary use case for the Flextail pump is in support of my sleeping system.  While my sleeping mat is a self-inflating model, it still needs to be 'topped off'.  Also, deflating and packing this thing has always been a major annoyance when breaking down camp.  Imagine my absolute glee to watch the Flextail Tiny Pump 2x pull all of the air out in about ten seconds, allowing it to easily pack into the stuff sack with minimal effort.  The Tiny Pump 2x also made short work of my inflatable pillow.
While these claims will vary by mattress type, the Flextail Tiny Pump 2x is capable of inflating an air mattress up to 40x on a battery charge.  Consider you will likely use it to deflate as well which would halve that number, even at 20x it's an item that should require minimum attention to needing a recharge unless you're on a long trip.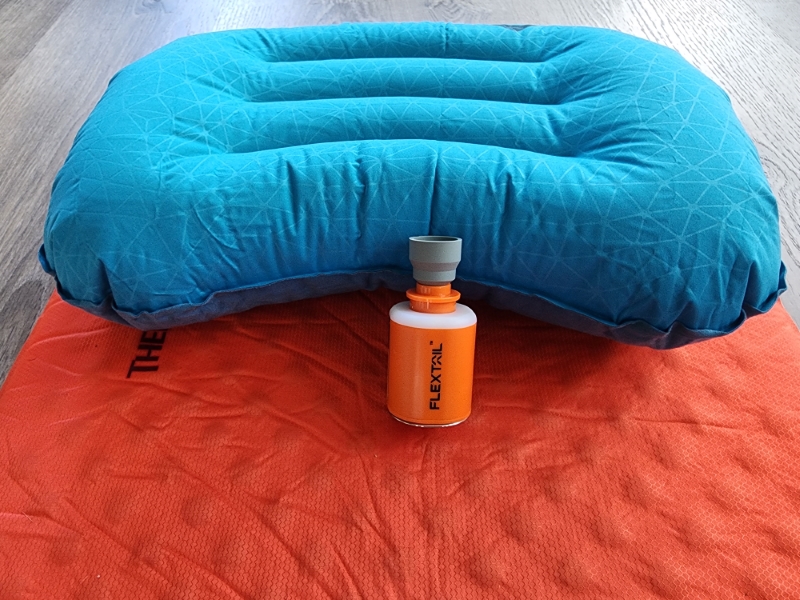 Flextail offers vacuum storage bags, to reduce volume and protect items from moisture, insects, and the elements.  This isn't something I would generally use as part of my camping load out, but I can appreciate the value of having this as an option designed to work with the Tiny Pump 2x.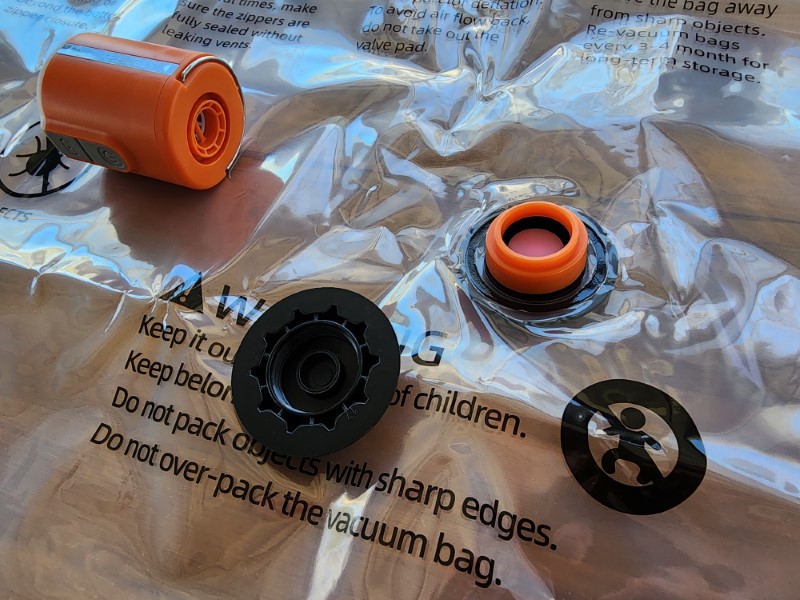 The material of the vacuum bags seems robust enough, with a dual zip-top and a one-way valve system.  The slider for the zip top seems rather cheap and it easily slides off the ends.  This observation is made perhaps in ignorance as, again, I don't normally use vacuum bags… but compared to the Ziploc bags in my kitchen which this closure design seems to mimic, it falls short.  I found it was much easier to just put the bags on a hard surface and run my hand over the top to seal them up, rather than use the slider.
I sealed up a pack of clothes as a test and found it to be a pretty straightforward process.  The bags themselves helpfully include instructions (albeit, with some typos), but I don't see the 80% reduction in volume advertised on the bags themselves.  Perhaps with a down feather pillow or other specific material, this could be achieved.  Additionally, the instructions suggest that the process should be repeated every 3 mos while in storage.
All in all, the vacuum bags are a nice option to have available if it's something that fits your needs.
Light
The LED light feature has an easy-to-use interface, and a long run time at the 40-lumen setting.  The mushroom lampshade does help with light diffusion, and at its highest setting can light up a room.  While functional, the run time at higher settings doesn't make this a 1:1 replacement for me as a dedicated camp light, and I expect I'll continue to pack my LuminAID Titan.  As a backup or situational light option, the Tiny Pump 2x is perfect.
What I like
Size and weight are just right
Very effective at light-duty applications
Versatility as a lighting solution
What I'd change
Closure system on the vacuum bags
Final thoughts
I almost made it the entire winter without adding something to my bike packing gear, and the Flextail Tiny Pump 2x has earned a place in my kit.  It solves a major annoyance with my sleep system, and its lighting options also add value.  The low weight makes this an easy decision, and I'm looking forward to bringing it along for the ride.
Price: $39.99
Where to buy: Flextail (save 15% with the code: TheGadgeteer15 ) and also available on Amazon
Source: The sample of this product was provided by Flextail