We use affiliate links. If you buy something through the links on this page, we may earn a commission at no cost to you. Learn more.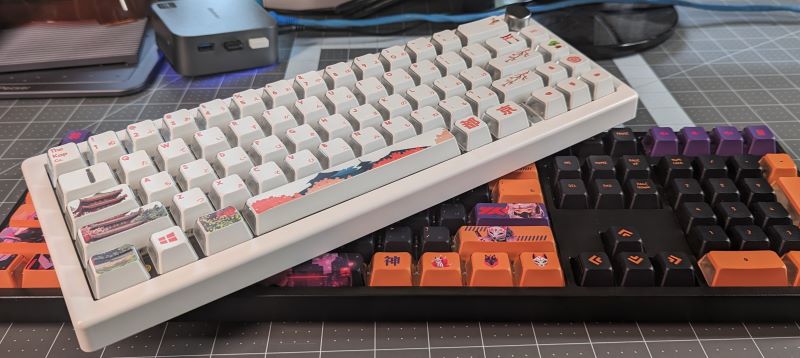 REVIEW – A while back I reviewed a set of Kyoto-themed keycaps from The KapCo and I really liked them. They were made of PBT plastic and the artwork and legends were printed using dye-sublimation which should add up to a lifetime of use.  Now I'm back with not one but two sets of their keycaps and a barebones mechanical keyboard kit. One keycap set is a Kyoto-themed variant, the other is an anime-inspired set called Kitsune 2.0. The barebones keyboard kit is the GMK 67 from Zuoya. Being that I'm always excited to play around with any mechanical keyboards or accessories, I was all in to give each of these a look.
What is it?
The KapCo Kyoto and Kitsune 2.0 keycaps are keycaps made of PBT plastic and translucent PC plastic that look like a spin on the pudding-style keycaps that many other companies make. The Zuoya GMK barebones kit is an inexpensive kit with a lot of features that would allow anyone just getting into the hobby a great first customized keyboard.
What's in the box?
Kyoto and Kitsune 2.0 keycaps:
Zuoya GMK 67 barebones keyboard kit:
Mechanical keyboard with no switches or keycaps
2.4 Ghz wireless dongle
Braided USB A to USB C cable
Keycap and switch puller
Hardware specs
Keycaps:
PBT plastic and PC plastic
Dye-sublimation print
Cherry profile
Zuoya Barebones kit:
A knob
Adjustable non-slip rubber feet
Compatible with Windows & MAC OS
Factory case foam
Full RGB backlit with audio-sync function
Hot-swappable PCB (5-pins slot)
Plug & play mechanical keyboard
Poron gasket structure
Poron plate foam
Prelubed stabilizers
South-facing RGB LED
Trimode connection (USB Type-C / Bluetooth / 2.4Ghz Wireless)
3000 Mah rechargeable battery
Design and features
Let's start with the keycaps. The first thing I noticed about them is the interesting spin of pudding keycaps. Instead of all four sides of the keycap being translucent, the Kyoto and Kitsune 2.0 have a sort of waterfall of PBT plastic on the top and down the front of the cap. The remaining three sides are made of translucent PC plastic.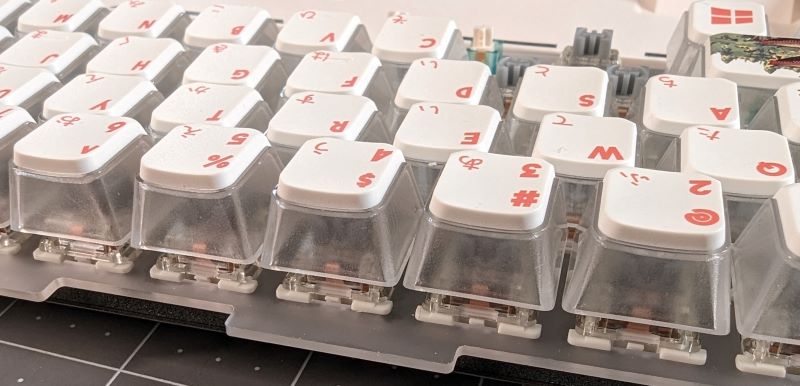 So what's the big deal about that? Well, lots of folks like RGB LEDs in their keyboards, but might not necessarily like them shining in their face while typing or gaming. These keycaps allow the user to still use them without being blinded. I'd love to know how these are made. I assume the process would be similar to a set of double-shot keycaps.
The Kyoto keycaps have the exact same theme as the previous set I reviewed and I still love it. The KapCo's dye-sub printing looks very crisp.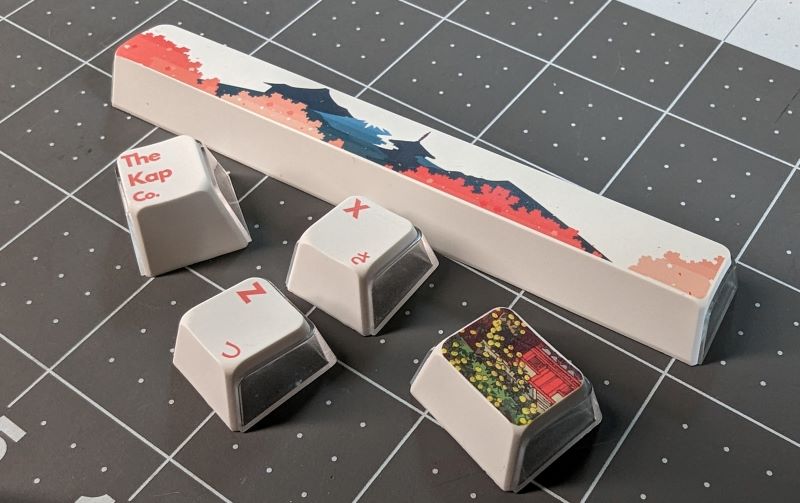 I haven't noticed any fuzziness in the legends or artwork that can sometimes happen. This colorway also looks very nice on the Zuoya GMK 67 kit.  The whites of the keycaps and keyboard frame may not be exactly the same, but they're so close it didn't my attention to it.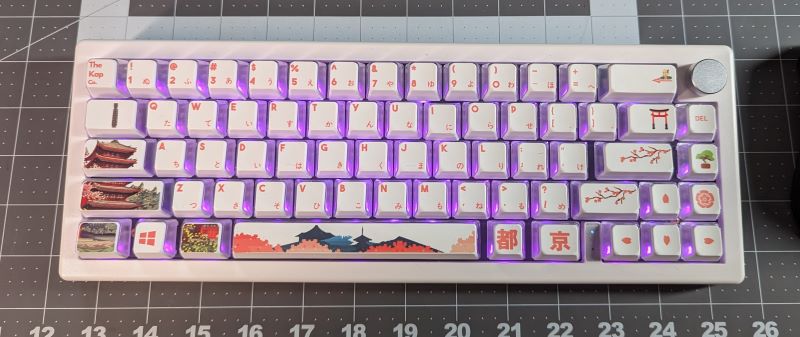 And since both sets use PBT plastic for the top and front of the caps, they shouldn't develop the dreaded shine like ABS caps do. Here's a shot of some keycaps from one of my old keyboards.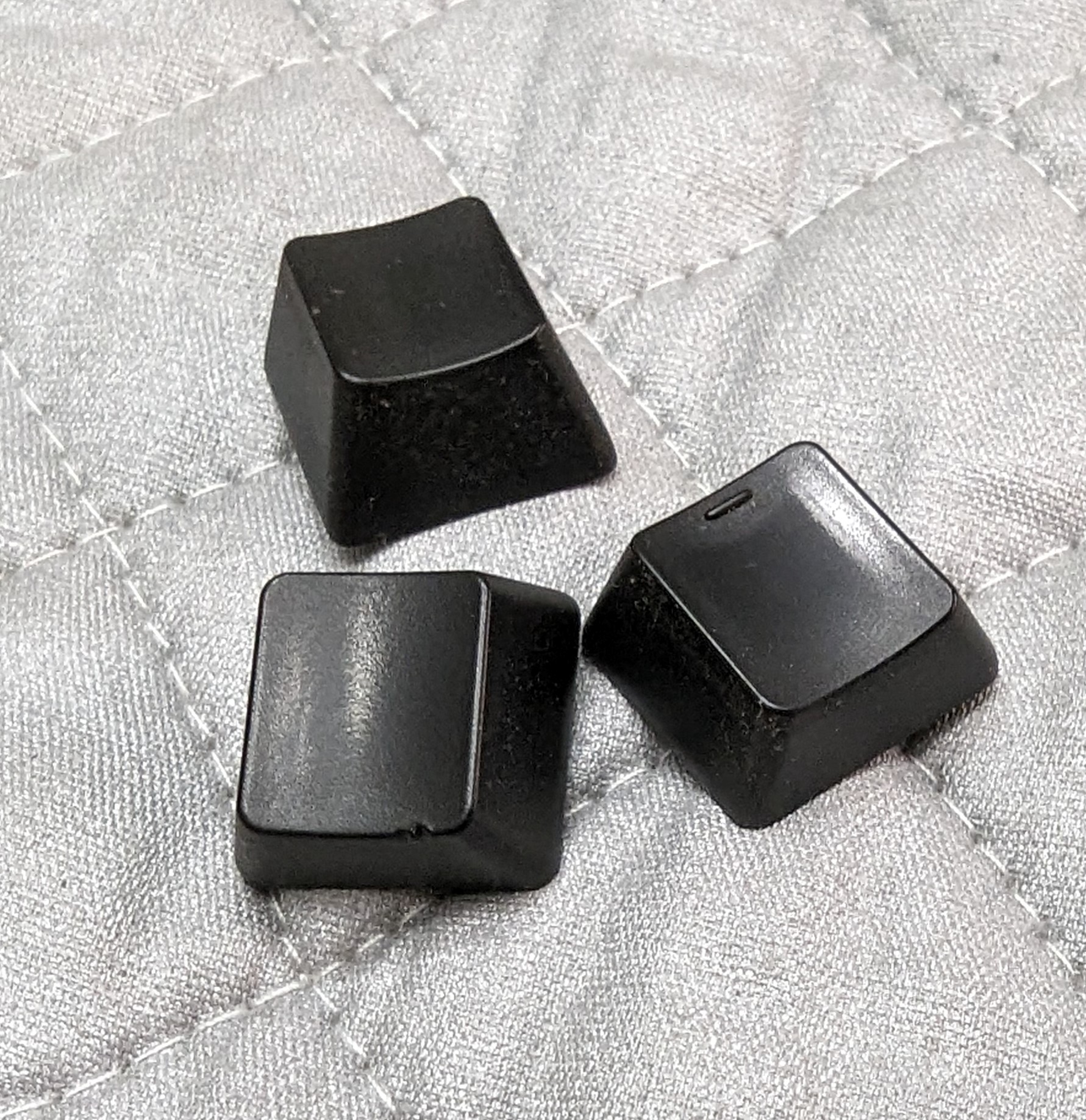 They are ABS and there's the shine. I think I speak for the majority of keyboard nerds when I say we don't like seeing that. Both sets also feel great with just the slightest bit of texture.
Now, let's say you don't need a little extra serenity in your life. You like anime, action, and a certain flair to your keyboard.  The KapCo has you covered The Kitsune 2.0 has you covered.

I think the purple and orange colorway is striking and I love the KapCo branded spacebar. And for those of you like me who don't know what Kitsune means, it's Japanese for fox. I don't know if the female Kitsune character here is from a specific anime or manga, but she looks great and so do the fox caps.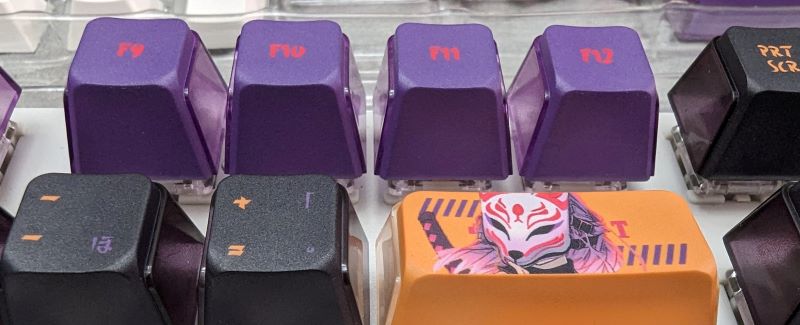 I'm not crazy about the font used for the legends but that's just a personal preference of mine. I could certainly see someone wanting this for their gaming setup.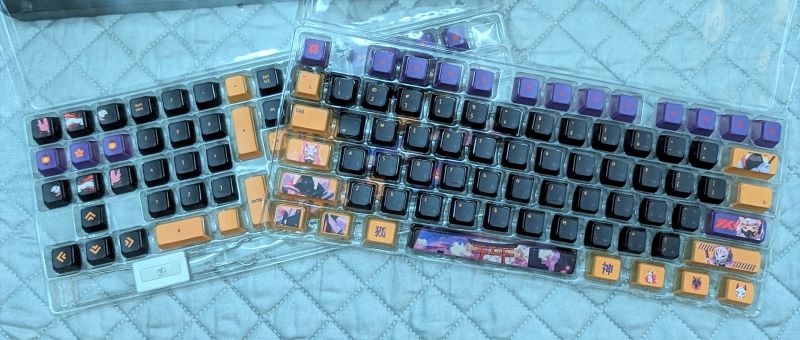 To see them in "action", I've made a video so you can see just how they look with the LEDs.
Finally, there's the Zuoya GMK 67 barebones keyboard. Barebones is just what it sounds like. As is, it comes with no switches or keycaps. So what do you get? Take a look at the picture below.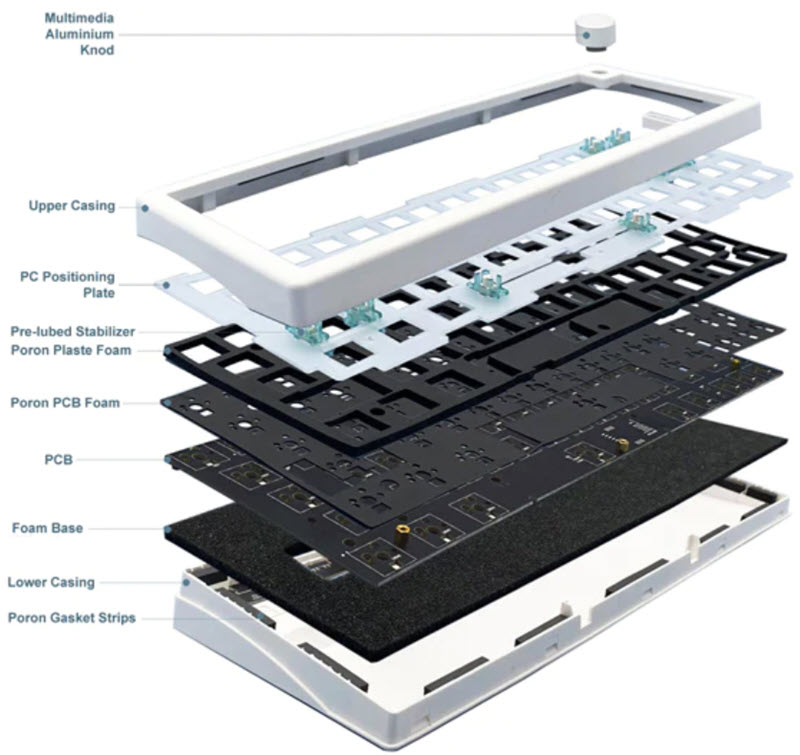 There's a laundry list of features here that enthusiasts look for like Poron foam separating the plate from the PCB. There's foam in the bottom separating the PCB from the plastic.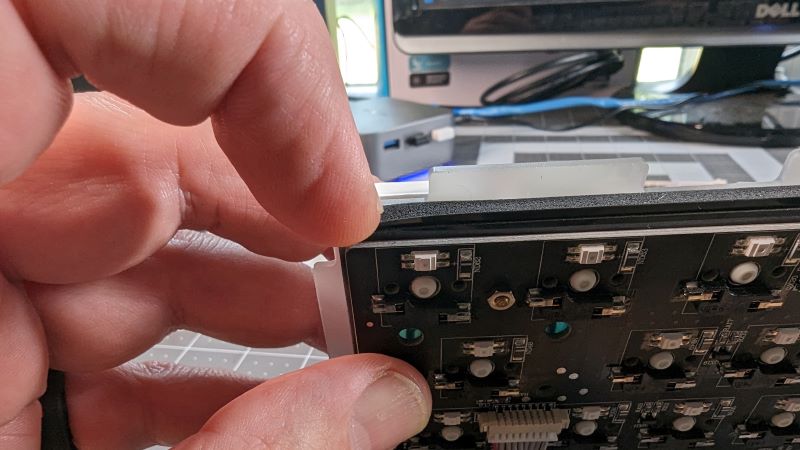 The positioning plate is made of plastic, granted not some high-end material, but it does help with giving the board a bit of flex and helps eliminate any ping. There's also gasket foam around the edges of the upper and lower case.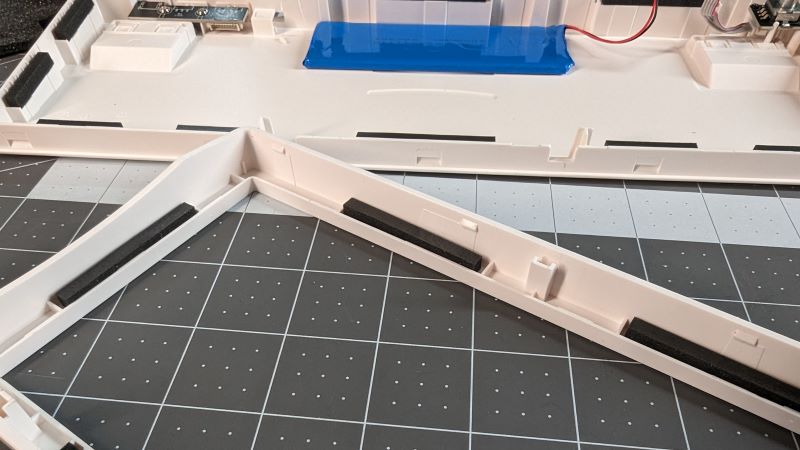 The case is also plastic but just remember, this isn't meant to be some bespoke beast costing hundreds of bucks. This is an inexpensive board that allows many more people the ability to build and make their own. It comes with snap-in, pre-lubed stabilizers.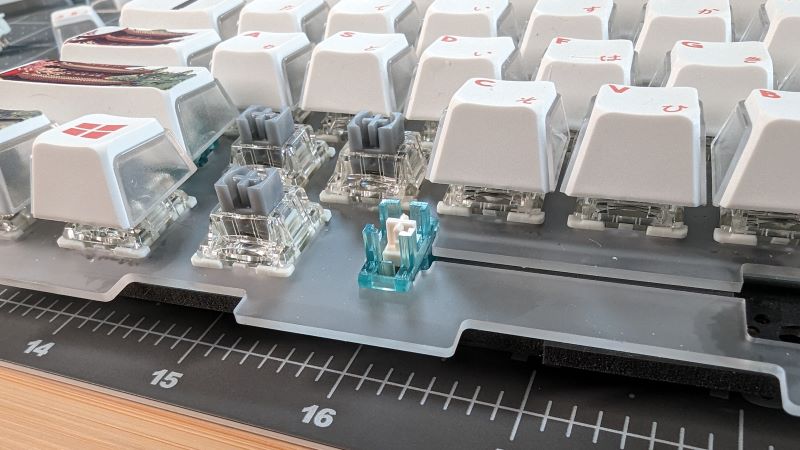 I'm sure of the manufacturer here, but I didn't notice any rattle so they work well. The Zuoya GMK 67 also has south-facing LEDs which RGB lovers tend to want since they are more visible to the user while typing.
The Zuoya GMK 67 has three connection methods. You've got wired with its included USB cable, 2.4 GHz wireless connection with the included dongle, and Bluetooth connections to up to three devices.  The battery is a 3000 MAh unit that they claim lasts 15 – 20 hours.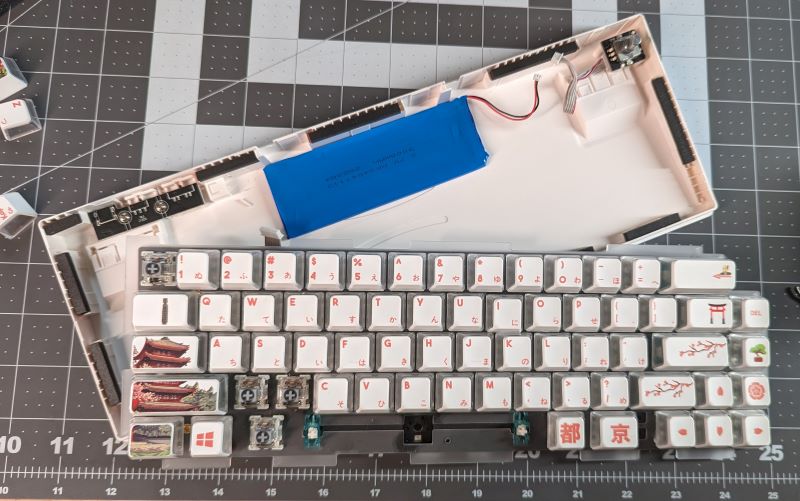 I never ran the keyboard down to flat but while using it wirelessly, I would say that's fairly accurate. It's also Windows and Mac compatible. All it takes is a flip of a switch on the rear of the top edge of the keyboard.
The KapCo does offer the addition of switches should you choose to place an order for the GMK 67. For reviewing purposes, they supplied me with Gateron G Pro Silver 2.0.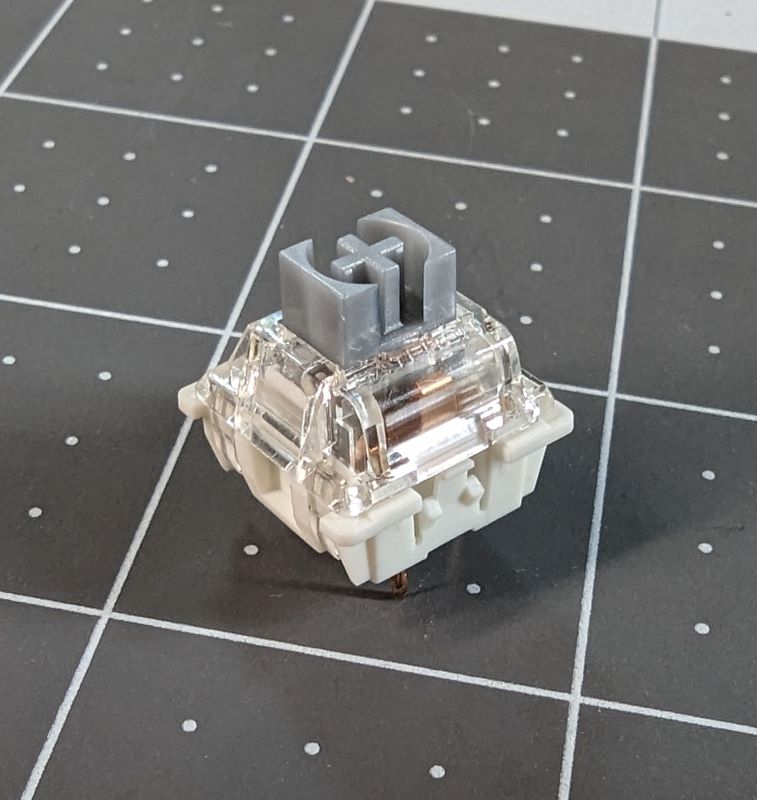 They're okay if you like a soft, linear key switch. I prefer tactile, so these feel a bit too squishy to me. Again, that's just personal preference. Another great feature of the Zuoya GMK is the hot-swappable PCB so I'm not stuck with them. I can simply pop them out and pop in something else.
One final thing I think I should mention is the case. Yes, it's plastic but I have no issues with that. The issue I have with the case is the difficulty I had getting it apart. There are no screws holding it together. It snaps together which again is fine, but it's really tight. Due to all the foam, it's hard to get a tool in there to pop it apart. So if you do decide to get one, just know that ahead of time. I didn't break anything, but I was worried a bit the first time I cracked it open.
Performance
There's not much I can add about the performance of the keycaps. They do exactly what they are meant to while feeling, sounding, and looking great. As for the Zuoya GMK 67, it performs admirably for its price point.  There's a lot of flex with all the gaskets, foam, and PC plate. That probably contributed to the squishiness along with the Gateron switches, but I think if I throw some tactile switches in there, it'll be just fine. Here's a short clip showing its flex
All three connection methods worked just fine. I had no issues with my laptop recognizing it regardless of which method I chose. The sound of the keyboard is actually pretty good too. I would prefer a deeper thocky sound but that's another preference. I've made another video so you can hear what it sounds like. Finally, here's what it sounds like.
What I like
I don't know what to call it other than the waterfall look of the keycaps
Keycap materials
Keycap dye-sub printing
Keycap colorways
Keyboard features at the price point.
Keyboard customizability
What I'd change
Final thoughts
I think the KapCo is killing it with its offerings. I mean, you're getting awesome looking keycaps, made of good materials, at a really good price. They should last a lifetime and still look great with the sharp dye-sub printed designs and NO SHINE! Meanwhile, the Zuoya GMK 67 keyboard is a good option for anyone wanting to build their own keyboard and not have to take out a loan to do so. Check them out. The KapCo is fairly new to the game. Let's show them a little love.
Price: Kyoto keycaps $69.98, Kitsune 2.0 keycaps $99.98, Zuoya GMK 67 barebones keyboard $70
Where to buy: The KapCo
Source: The sample of this product was provided by The KapCo.