We use affiliate links. If you buy something through the links on this page, we may earn a commission at no cost to you. Learn more.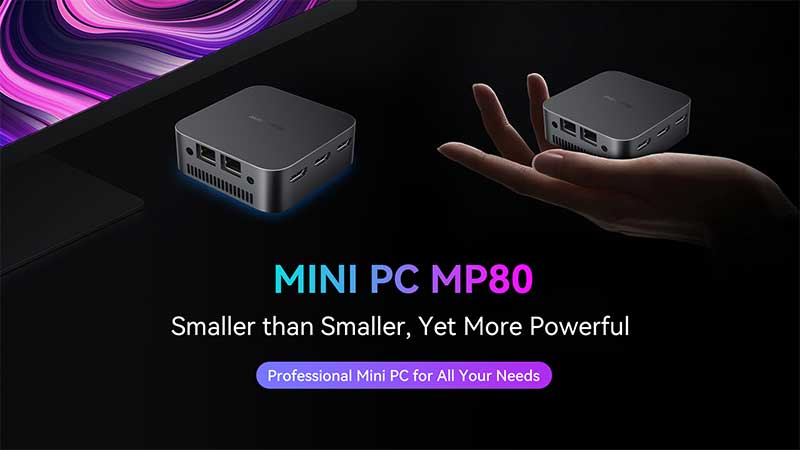 SPONSORED NEWS – In today's fast-paced world, whether for office tasks, post-work entertainment, or college studies, people usually prioritize convenience, efficiency, and portability over top-tier performance when using a PC. Traditional desktops are bulky and impractical to carry, while laptops, though portable, can be costly and have limited expandability. Therefore, in order to address these user concerns and with a customer-oriented approach, the well-known tech brand Blackview has launched Mini PC MP80, which features a lightweight, portable, and versatile design.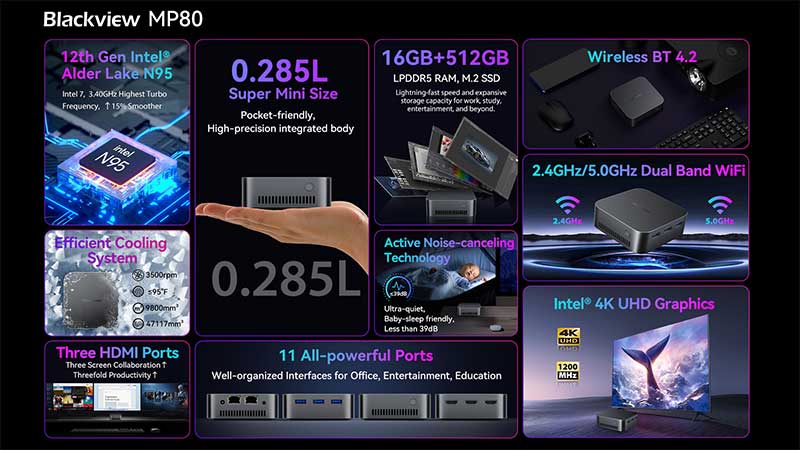 Powered by the 12th Gen Intel® Alder Lake N95 & Efficient Cooling System and equipped with 16GB LPDDR5 RAM & 512GB M.2 SSD, Blackview MP80 is meticulously crafted for entertainment, work, and study needs.
Blackview MP80 features a compact and exquisite design, with overall dimensions of only 87.8*87.8*37mm & a weight of ultra-light 214g, which is 45% smaller than mainstream Mini PCs on the market. Whether placed on a desktop or behind a monitor, it takes up minimal space and can be carried in one hand with ease, making it much easier to move around compared to bulky desktop computers. Additionally, MP80 supports VESA Back Hanging. With the included VESA mount, it can be effortlessly mounted behind a monitor, creating a cleaner and more organized desktop setup for a more efficient on-the-go life.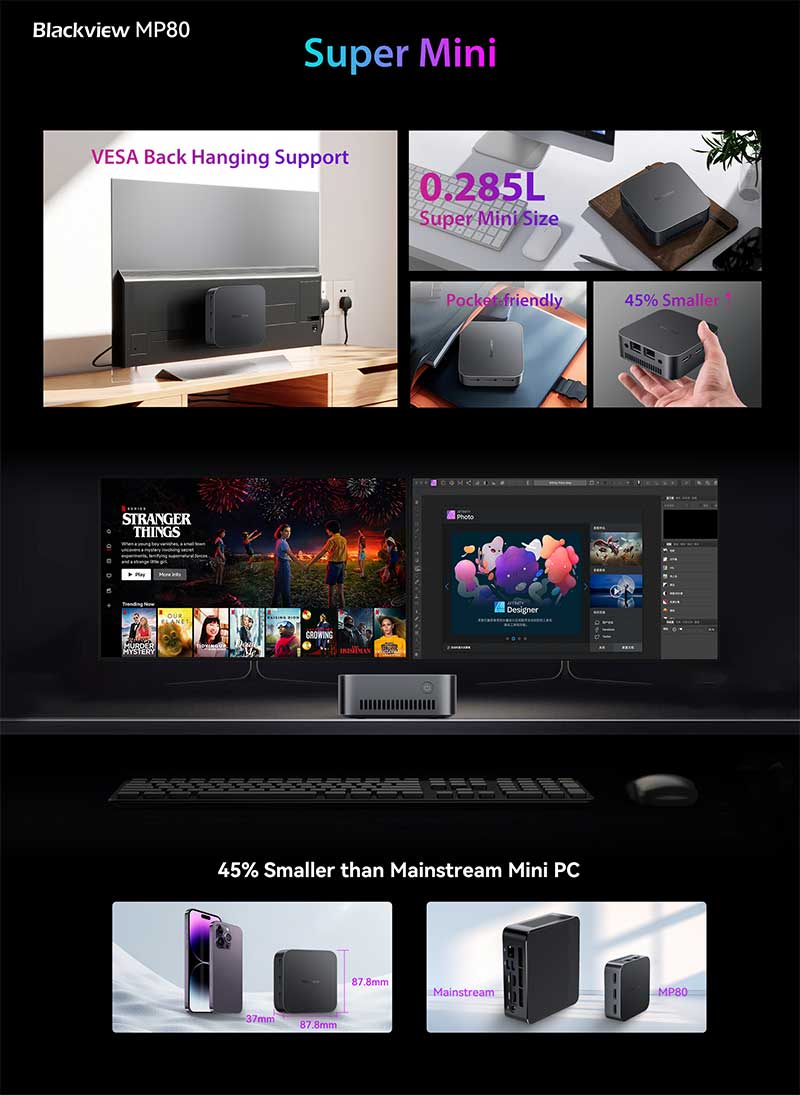 No.1  12th Gen Intel® Supercharged Performance
– 12th Gen Intel® Alder Lake N95,  3.40GHz Turbo Frequency,Intel 7 Enhanced SuperFin,6M High-speed Smart Cache, 16GB LPDDR5 RAM & 512GB M.2 SSD, Effortlessly for Daily Tasks of Work, Study, and Entertainment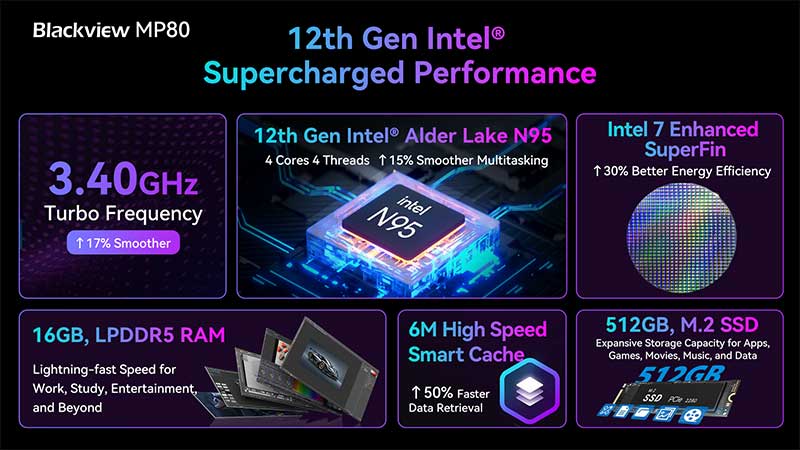 Blackview MP80 is powered by the latest 12th generation Intel® Alder Lake N95 processor with 4 cores 4 threads, utilizing Intel 7 SuperFin technology to enhance performance and energy efficiency; With a maximum turbo frequency of up to 3.40 GHz, it achieves low power consumption and long battery life during idle times (running lightweight applications) while boosting frequency to ensure fluency during heavy usage (large applications, gaming); 6M high-speed cache enables faster data reading and writing. Therefore, MP80 perfectly meets the needs of daily entertainment and work, such as document processing, online learning, and multimedia playback, and even performs well in certain high-load office scenarios including video editing and rendering, and more.
Backed by 16GB of LPDDR5 memory with a maximum running speed of 3200MHz, MP80 ensures powerful performance and smooth multitasking. It also provides 512GB solid-state drive (SSD), allowing users to easily store a large number of files, favorite TV shows, movies, games, and download applications without worrying about insufficient storage.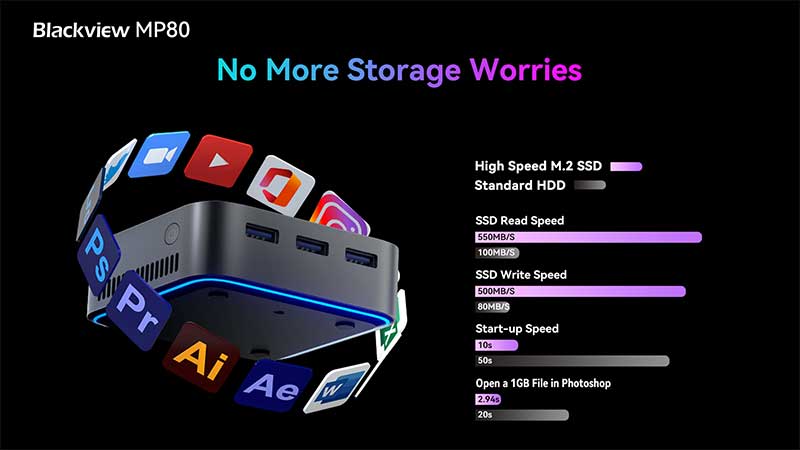 No.2  Four-in-one Cooling & Noise-canceling System
– Efficient Cooling System,  3500 rpm Blazing-fast Speed,  ≤95°F Cool Operating Temperature,  Active Noise-canceling Technology,  Less than 39dB, Ensuring Outstanding Performance with Efficient Cooling System and Active Noise-canceling Technology.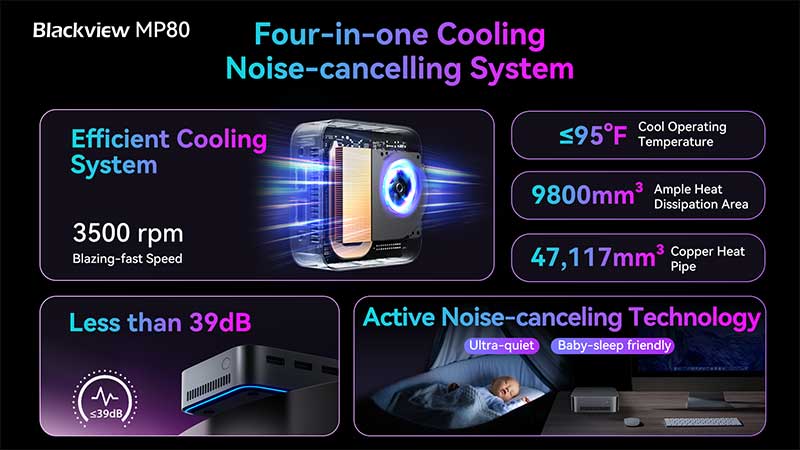 To maintain normal operation and prevent sudden crashes, screen freezing or black and blue screens caused by overheating, MP80 boasts an outstanding cooling system within its lightweight body. With 47,117mm³ copper heat pipe & cooling fan measured at 9800mm³ with a speed of 3500rpm, it effectively dissipates the heat generated inside the device, keeping the temperature below 95°F, ensuring smooth performance even when multitasking or playing large-scale games. Meanwhile, MP80 utilizes excellent active noise-canceling technology to make noise less than 39dB for a more comfortable user experience. No matter if the user wants to immerse themselves in a fully engaging movie at home after work, focus on their work in a late-night study room, or sleep confidently next to the computer, none of it will be disturbed in the slightest.
No.3  Exceptional Graphics
– Intel® 4K UHD Graphics,  1200MHz Dynamic Frequency,  Three HDMI 2.0 Ports, Threefold Productivity↑ , Meet Win 11 Pro, Empower Business, Learning and Entertainment.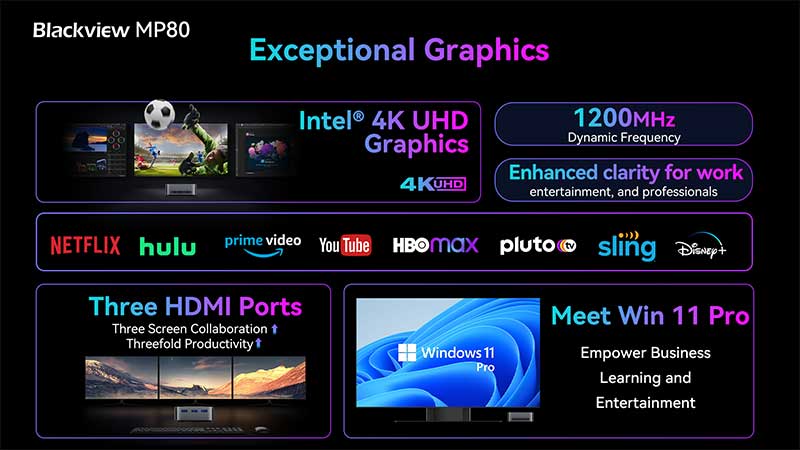 Intending to meet the demand for high-quality, high-definition image output, Blackview MP80 supports Intel® 4K UHD Graphics with 1200MHz Dynamic Frequency, which makes text and images sharper, provides more vivid and lifelike colors, and presents more realistic and stunning movies and videos on platforms like Hulu, Prime Video, and YouTube.
Furthermore, MP80 is equipped with three HDMI ports for simultaneous connection to three monitors, allowing for seamless multi-screen operation in a breeze. Whether it's a data analyst who needs multiple screens to help improve efficiency or an entertainment enthusiast who wants to play games or watch movies while keeping music or chatting, MP80 can triple the productivity and pleasure for your work and life. With the power of Windows 11 Pro included on the MP80, users will experience premium business applications, advanced privacy features, sleek aesthetics, and vivid visuals.
No.4  Well-organized Functional Ports
– Well-function Organized Ports: USB 3.0*3, HDMI 2.0*3, Gigabit Ethernet Ports*2 for Higher flexibility,  3.5mm Phone Jack*1,   2.4GHz/5.0GHz Dual Band WiFi, More Stable & Faster, Wireless BT 4.2,  Up to 1 Mbps Transmission Speed, and Up to 10 Meters  Transmission Distance.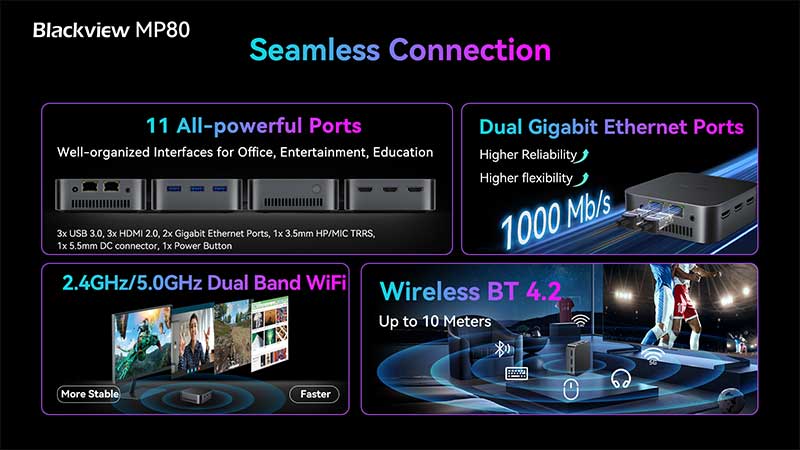 MP80 is loaded with 11 well-organized functional Ports, six of which are evenly distributed on the left and right sides. On the left are three HDMI 2.0 ports to easily connect three screens, whether a projector, display, or TV, reveling in a triple productivity boost. The three USB 3.0 ports on the right allow users to freely hook up external storage devices, keyboards, and mice. Enjoy the efficiency and convenience that each accessory brings. In addition, it boasts not one, but two Gigabit Ethernet ports, providing lightning-fast internet speeds. Say goodbye to buffering and lagging during online gaming or high-definition streaming – MP80 ensures a smooth and uninterrupted connection; A 3.5mm phone jack supporting headphone and microphone audio input and output for an immersive audio experience and one DC power input port. The commonly used external expansion interfaces for office, leisure, and education are all available, ensuring that users can achieve higher efficiency and convenience in any scenario.
More than that, Blackview MP80 enables faster downloads of brilliant movies or quicker uploads of work files by 2.4 GHz and 5.0 GHz dual-band WiFi and adopts Bluetooth 4.2 technology, making it easy to connect to a variety of devices. Whether users want to connect wireless headphones, speakers, keyboards, mice, or transfer files from smartphones, all of these can be satisfied by Blackview MP80. With a transmission speed of up to 1Mbps and a connection range of within 10 meters, multitasking can be completed faster, smoother, and more seamlessly.
Price & Availability
Blackview MP80 is scheduled to make its global debut on Amazon, starting from September 4th to September 17th, 2023 PDT, priced at $259.99 with discounts of up to 40%. What's more, users may get an extra $20 coupon, and with 40%OFF code: NEWSMP80, bringing the final price down to just $135.99!The code expiration date is 2023-9-17 23:59 PDT! Click here to seize the opportunity to own this incredible Mini PC.