We use affiliate links. If you buy something through the links on this page, we may earn a commission at no cost to you. Learn more.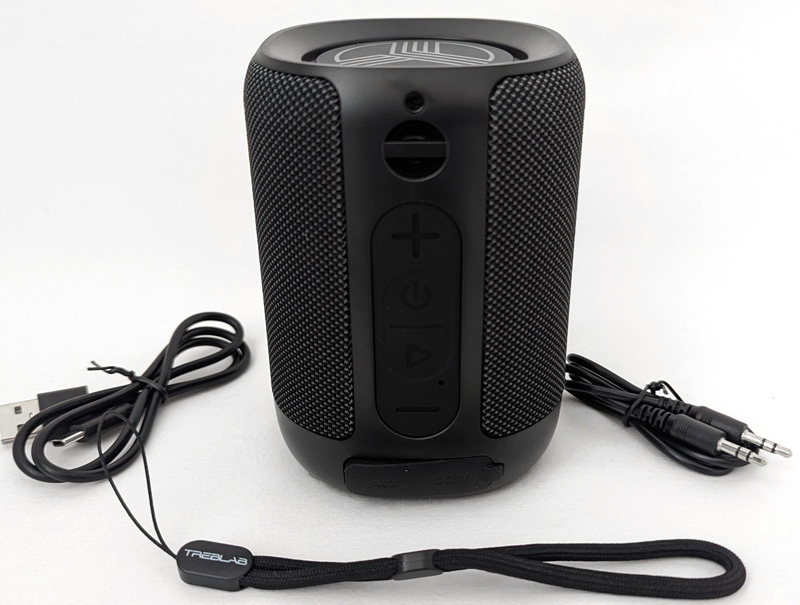 REVIEW – I have reviewed lots of Bluetooth speakers here at the Gadgeteer.  Some have been better than others.  But I have reviewed some Treblab products over the years and generally had good success with their products.  So the Treblab HD-Mini Bluetooth speaker at $39.97 seemed like a steal.  Let's check it out!
What is it?
The Treblab HD-Mini is a small, round Bluetooth speaker with a multi-color LED feature.
What's in the box?
The Treblab HD-Mini Bluetooth speaker
User's manual
USB-C charging cable
5mm aux cable
Product specs
Playtime:  25 hours
Chargetime:  2 hours
Speaker output:  10W
Frequency:  30Hz-18kHz
Size: 3.5 in * 3.5 in * 4.9 in
True Wireless Stereo (TWS)
Bluetooth 5.0
Water resistance:  IPX5
Battery:  Rechargeable Li-ion, 1,800mAh 3.7V, 5.0V / 0.5-2A
Micro SD/TF, USB stick storage playback
Built-in mic for taking calls on your phone
Design & performance
The Treblab HD-Mini is truly a portable speaker.  It is meant to be used outdoors, so taking it along to the pool/campsite is a piece of cake since you can easily put it in your bag. It's round in shape, but the sound comes out of the front of the speaker and not 360-degrees. As you can see in the pic below it's about the height of a can of Coke, but a bit thicker.  Still, it's small and portable and comes with a lanyard you can use to carry it by hand if you want.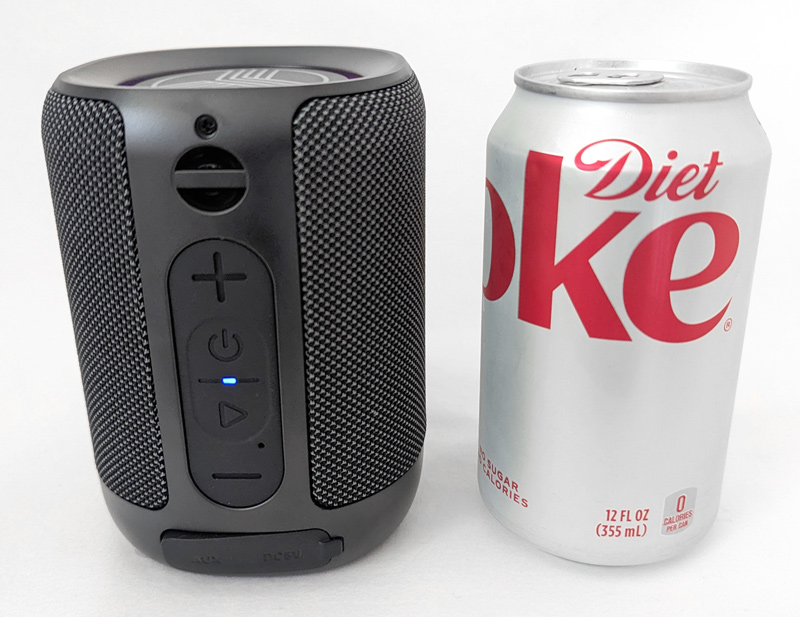 On the front are the buttons, which are the power button, the play button, up and down volume, and the LED indicator for power. Below those buttons is the flap that you can open to reveal the card slot, USB-A port, USB-C charging port, and the AUX port.  When you close the flap it will seal the ports off from water splashes, and the HD-Mini has an IPX rating of IPX5.  So you won't be floating this speaker in the pool but it will withstand splashes, rain, and sweat. But if you are using any of the ports and the flap is open, then of course there's a danger of getting it wet and harming the internals.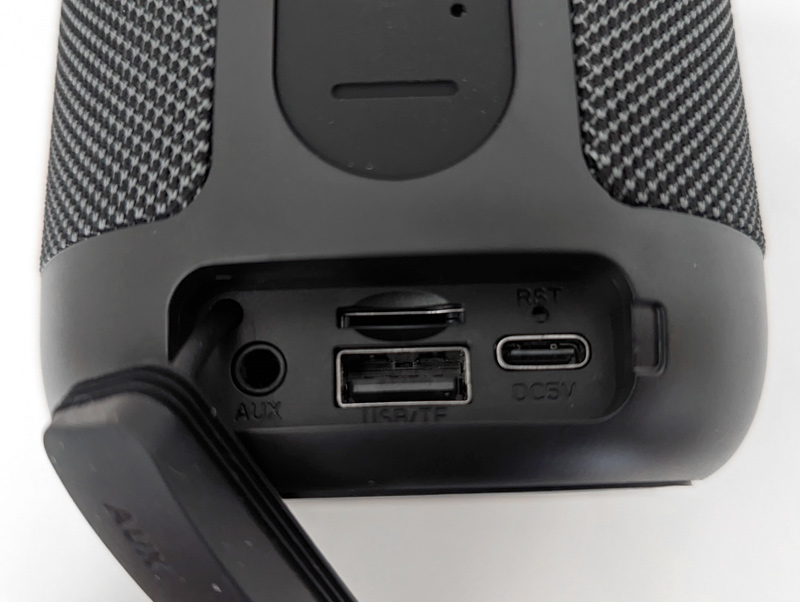 The Treblab HD-Mini is rated at 10W, and honestly, that isn't very loud. I mean, it's fine if you are using it inside a room in your house.  But I found that outside in the open you won't be able to stray too far from the speaker to enjoy it.  10W isn't that much. The sound is pretty full, with not too many highs or lows, but the sound isn't going to blow you away. But that's not the point of this speaker.  It's meant to be used outdoors when you just want some tunes while you are doing your outdoor activity. So the TWS feature is where you'll really get the most from this speaker.  TWS technology allows you to pair multiple HD-Minis together to provide stereo sound, and I think that is where this speaker will fit best for most folks.  The price is so cheap, I think you really need to buy 2 of them to provide you bigger sound and be able to place them around the room or wherever you are.  That way, you can get true wireless, stereo sound.
I used the Treblab HD-Mini speaker numerous days in a row before needing to recharge it. Treblab says you should get 25 hours of playtime before needing to recharge the 1,800 Li-ion battery, and that seems pretty accurate. The HD-Mini also has a mic built-in so that you can answer calls if somebody calls you while the speaker is playing.  I actually use a Bluetooth headset pretty consistently throughout the day, so I didn't really use the HD-Mini for phone calls, but that feature is there.  I connected to the speaker by Bluetooth, but it does have an AUX port next to the ports, if you would rather use a cord to connect instead.
Finally, the HD-Mini has a unique feature (as do many of the Treblab speakers actually) of an LED light ring around the top of the speaker that pulses and changes color as the music is playing.  After using it a couple of times I found it distracting, so I turned it off.  But I can see where it might be interesting to use if the situation is right.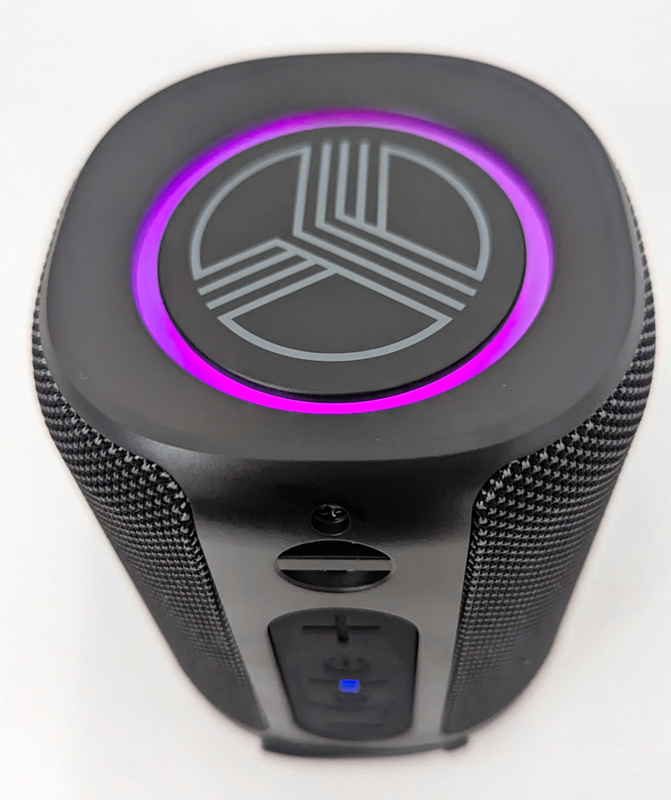 My only complaint I suppose would be the same complaint I have with just about every other gadget, so it's not unique to the Treblab HD-Mini speaker… I am so tired of blacked-out buttons on black plastic that require me to use my glasses, a magnifying glass, and just the right angle from the light just to see them because the 'raised' symbols on those black buttons just aren't raised enough for me to feel anything. These gadgets are designed by young people, for young people, so it's no wonder my old eyes can't see them. Did I mention that I want everyone to get off my lawn!?
What I like
Great portable size
Very affordable
Nice, full sound
TWS feature to pair multiple HD-Mini speakers together
What I'd change
The output isn't that strong, so you really need 2 H- Minis paired together to get high enough output and stereo sound
Can a guy not get some legible, useable buttons without having to see my eye doctor??
Final thoughts
If you want a nice sounding speaker at an affordable price to sit in the corner of the room in your house, Treblab HD-Mini Bluetooth speaker is a good choice.  But if you want a decently loud speaker to use outdoors while you are being active, then I would suggest getting 2 of them and using TWS to pair them together. The price is so cheap, that makes the most sense to me anyway!
Price: $39.97
Where to buy: Treblab or Amazon
Source: The sample of this product was provided by Treblab.