We use affiliate links. If you buy something through the links on this page, we may earn a commission at no cost to you. Learn more.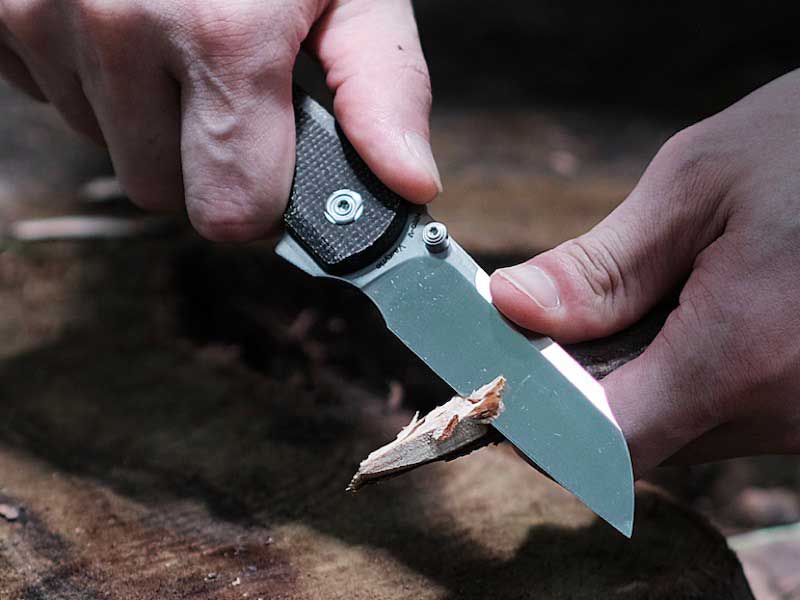 ARTICLE – If you're a regular here on The Gadgeteer, you've no doubt seen some of the reviews that we've posted of Vosteed knives. They've become so popular with my writers that 3 of them pretty much fight (not with knives…) over who gets to review the next one. This article will introduce Vosteed and its newest knife which we'll be reviewing very soon.
A brief story of Vosteed
Vosteed is committed to being the bridge between designers, makers, and enthusiasts. Vosteed was founded on the core belief of "Stay Sharp, Stay Wild". With their unshakable dedication and unwavering passion, they are determined to make the best knives and EDC products on the market.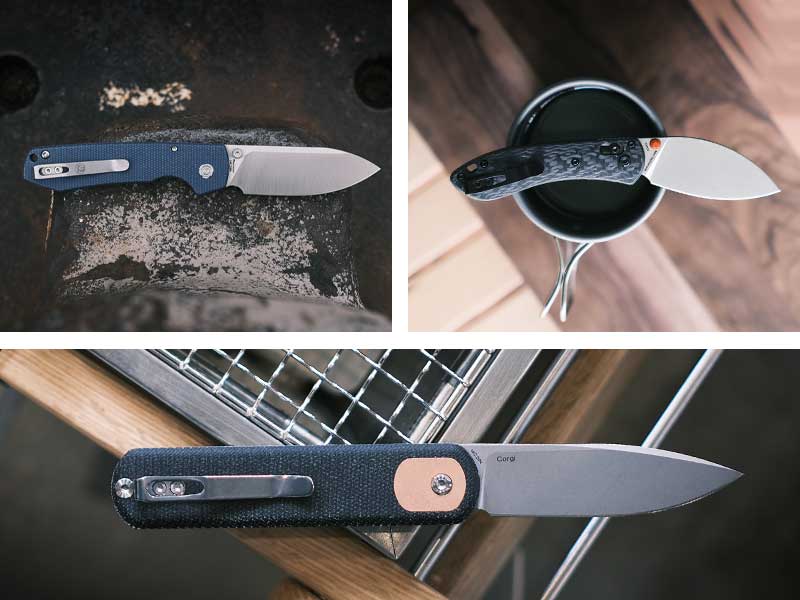 Vosteed has carved its niche in the realm of pocket knives and EDC outdoor gear, driven by a remarkable journey that started within the knife enthusiast community. Far from being a conventional brand, Vosteed treats its members not merely as customers but as an extended family, rooted in shared passion. What truly distinguishes Vosteed is their unwavering dedication to listening to their community's voice, thoughts, and opinions. This collective input forms the foundation of their outdoor gear creations, resulting in products that resonate with authenticity and collaboration. Guided by this ethos, Vosteed collaborates with knife designers to spark innovation and craft products that transcend functionality. Their mission is clear: to deliver not just gear, but experiences that are a testament to their deep-seated commitment to their community.
What makes Vosteed's knives sell out overnight?
Vosteed knives embody a range of crucial elements, notably functionality, durability, maintainability, versatility, and affordability. Infused with innovative designs, their knives feature engaging blades that resonate with EDC enthusiasts. Beyond the product, Vosteed thrives in engagement within knife communities, fostering connections with their valued customers and fans. To guarantee impeccable quality, each knife undergoes rigorous inspection before it's shipped out, a testament to their commitment to excellence.
Connect with Vosteed on Facebook: https://www.facebook.com/groups/vosteed/
Check out more on Vosteed's website.
You can also find a selection of their knives on Amazon.
Let's check out some of their most popular knives and their newest!
Nightshade – Shilin Cutter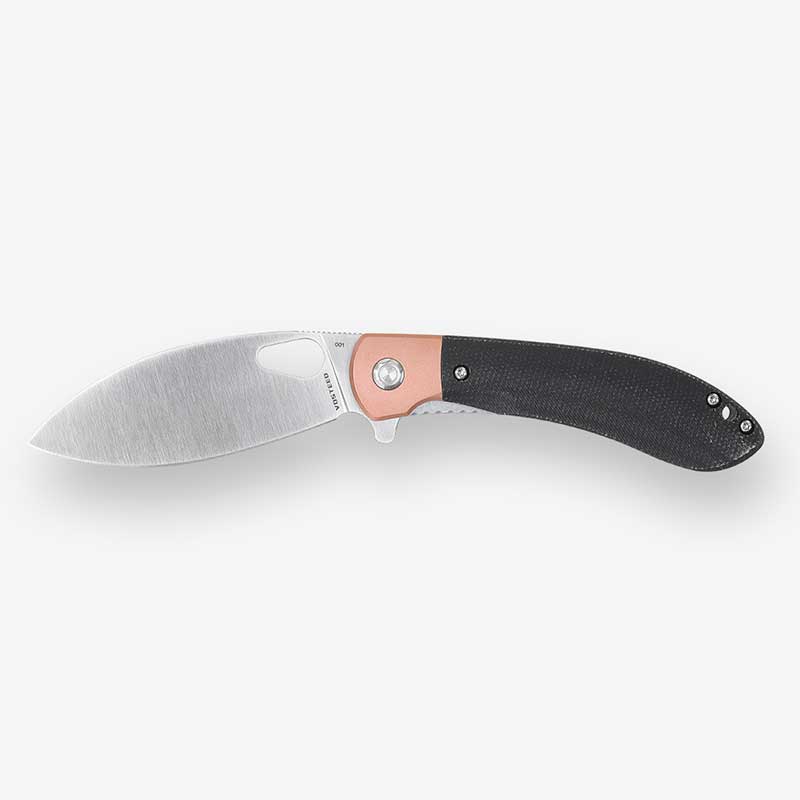 Vosteed Nightshade Elmax – $139
Crafted from Bohler Elmax steel, a high-end stainless steel known for its excellent edge retention, toughness, and corrosion resistance. This steel is perfect for outdoor activities like camping and hunting. Titanium deep-carry pocket clip is not only durable, rust-free, and lightweight, but also it provides a sleek and low-profile look.
Specifications:
Overall Length: 7.48″ | 190.00 mm
Blade Length: 3.26″ | 82.70 mm
Blade Material: Elmax
Handle Material: Micarta
Grind: Flat
Weight: 3.89 oz | 110.20 g
Where to buy: https://www.vosteed.com/collections/nightshade-series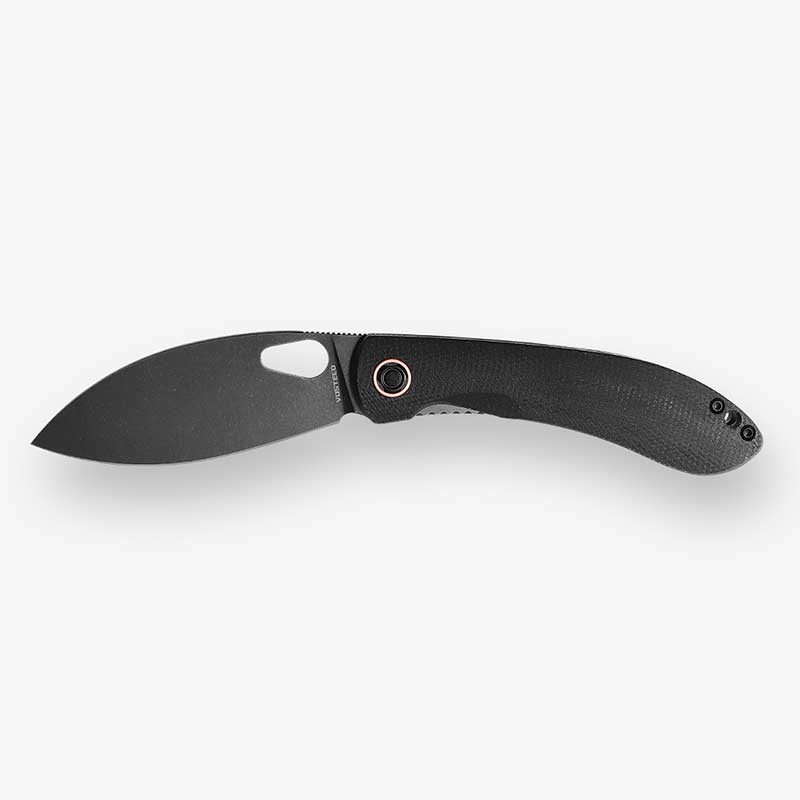 Vosteed Nightshade TH – $69
The Nightshade is a modern interpretation of the time-honored Shilin Cutter. Combined with its leaf-shaped blade and eggplant-shaped handle, the Nightshade is a work-oriented knife for everyday tasks. Its crowned spine adds to its aesthetic appeal, while the negative blade angle reduces fatigue during prolonged use, ensuring a comfortable experience.
Specifications:
Overall Length: 7.48″ | 190.00 mm
Blade Length: 3.26″ | 82.70 mm
Blade Material: Nitro-V
Handle Material: Micarta
Grind: Flat
Weight: 3.23 oz | 91.60 g
Our review: Vosteed Nightshade TH knife review
Where to buy: https://www.vosteed.com/collections/nightshade-series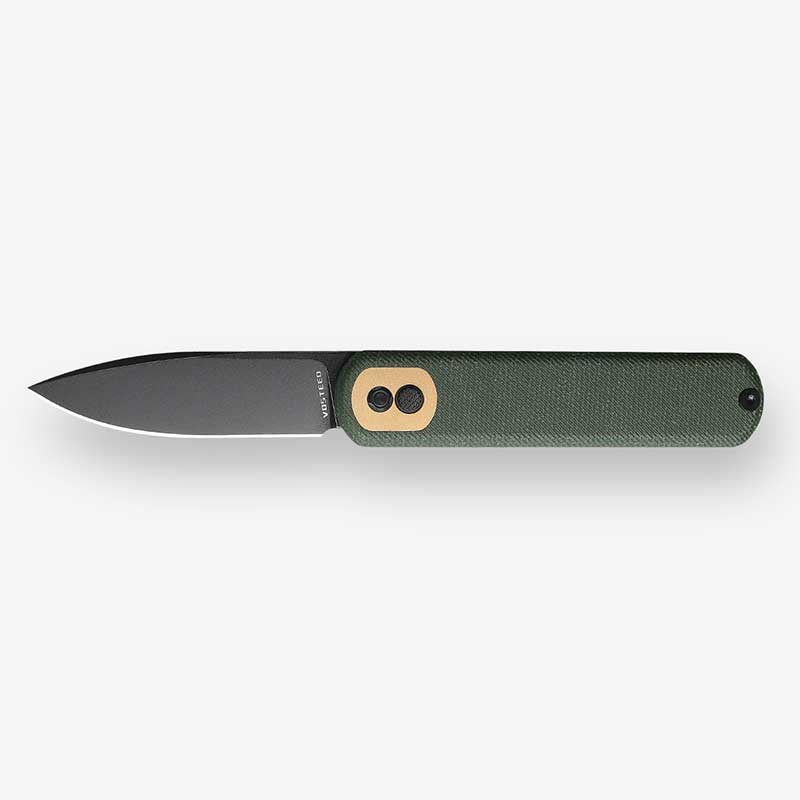 Vosteed Corgi Gentleman Knife – $59
The Vosteed Corgi is a gentleman's knife with a simple and mirror-like symmetrical design. It features a 2.99" 14C28N modified drop point blade with a flat grind. With the 180 rotation angle, the blade will magically disappear from the handle. The sleek and rounded profile not only feels great in hand but also makes it a great office knife.
Specifications:
Overall Length: 7.17″ | 182.12 mm
Blade Length: 2.99″ | 75.98 mm
Blade Material: 14C28N
Handle Material: Micarta
Grind: Flat
Weight: 3.32 oz | 94.00 g
Our review: Vosteed Corgi Folding Knife review
Where to buy: https://www.vosteed.com/collections/corgi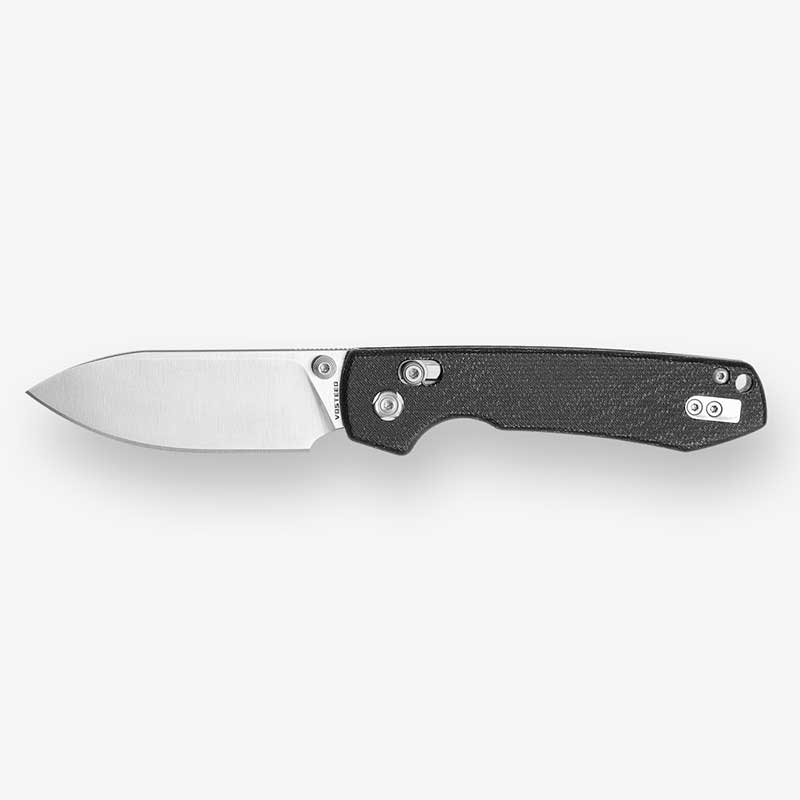 Vosteed Raccoon – The Budget King – $59
The Vosteed Raccoon features a 3.25" drop point blade with simple geometry. A 3-to-1 blade length and width ratio, a nice belly, and a comfortable choil make the Raccoon an excellent choice for everyday carry use. This is your excellent bang for your buck. The Raccoon will be an awesome team member for your EDC adventure and galaxy-guarding tasks.
Specifications:
Overall Length: 7.60″ | 193.12 mm
Blade Length: 3.25″ | 82.55 mm
Blade Material: 14C28N
Grind: Flat
Handle Material: Micarta
Weight: 3.06 oz | 86.8 g
Our review: Vosteed Raccoon Cross-Bar Lock Knife review
Where to buy one: https://www.vosteed.com/collections/raccoon-cross-bar-lock
Vosteed's newest knife is the RSKAOS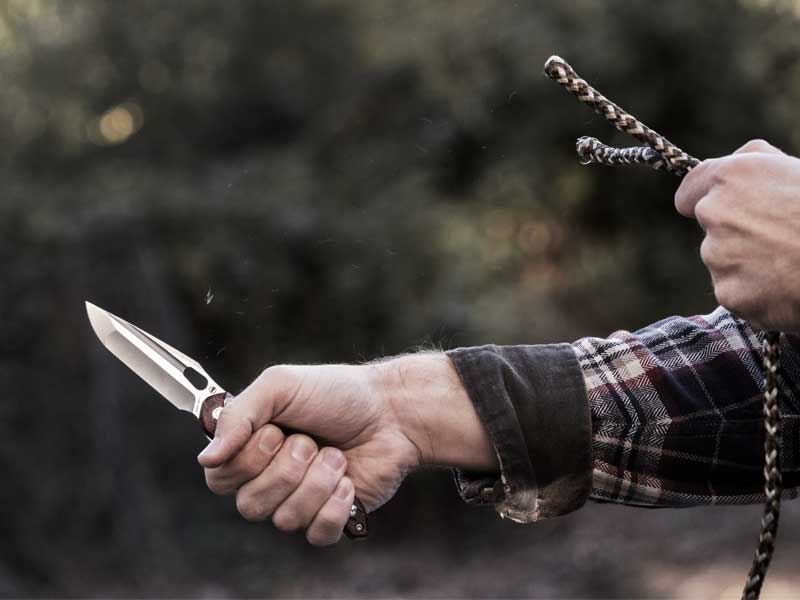 The RSKAOS is the flagship collaboration between Vosteed and R.S. Knifeworks (Rob Saniscalchi). It features an M390 blade and titanium handles, and also comes with a re-innovated locking mechanism – Top Liner Lock. This Vosteed RSKAOS combines the best of both worlds- tons of fidget factors and a high level of lock strength.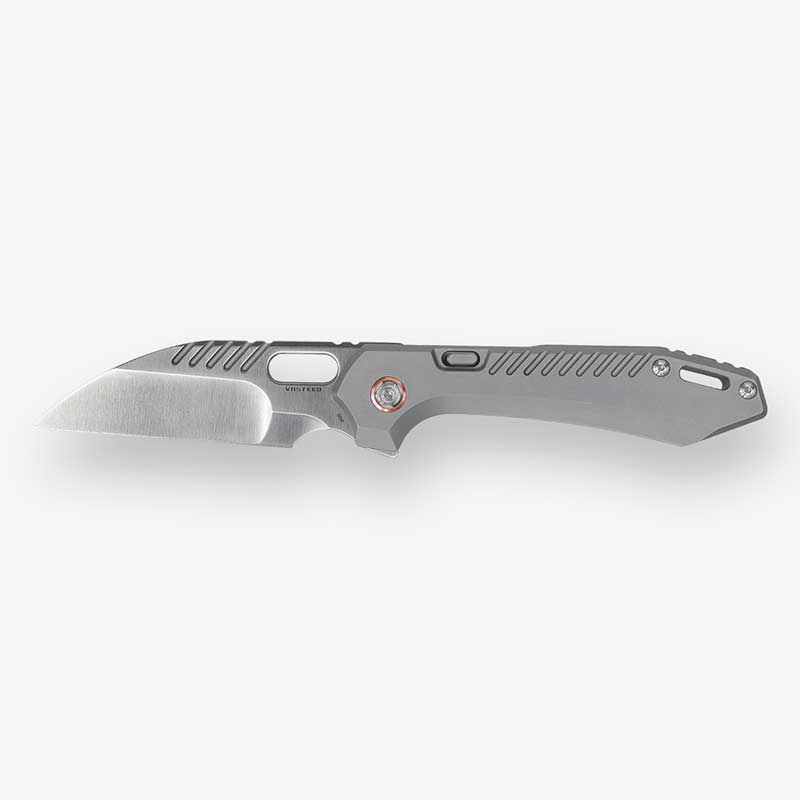 Vosteed x R.S. Knifeworks – $249
Specification:
Overall Length: 8.39″ | 213.22 mm
Blade Length: 3.46″ | 87.89 mm
Blade Material: M390
Handle Material: Titanium
Grind: Compound
Weight: 5.4 oz | 154.4 g
Top Liner Lock
Different from Rob's frame lock custom version, the Vosteed RSKAOS utilized its own Top Liner Lock (patent pending), which is similar to a hybrid of an insert-liner lock and a compression lock. The Top Liner Lock is intentionally designed to be strong and secure.
When the Vosteed RSKAOS is in the closed position, the lock bar is almost completely hidden from view. The standalone stainless-steel plate is firmly secured in a milled pocket inside of the TC4 titanium handle, and it is further reinforced by a solid TC4 titanium backspacer.
When the knife is in the open position, the lock bar will keep the blade in place and prevent the blade from any further rotational motion.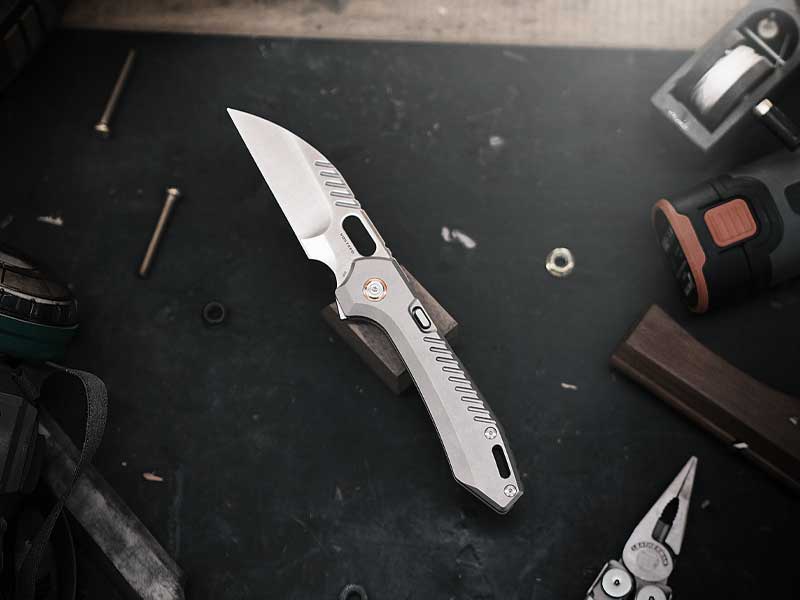 Multiple Deployment
Similar to other Vosteed knives, the RSKAOS is also equipped with multiple deployment options. The chamfered thumbhole and the low-profile flipper tab work well together, and the combo offers both great convenience and fun fidgetablity. The finger choil (also provides clearance for the Top Liner lock) and the jimpings further increase the functionality and safety when more control over the knife is needed.
Premium M390 Blade
This Vosteed knife is based on Rob's highly sought-after custom RSKAOS. The blade is made from Böhler M390. Both the Wharncliffe (3.46") and Sheepsfoot (3.30") versions feature Rob's bold signature compound grind.
Two Fantastic Finishes 
a.The dark version has stonewashed PVD black titanium coating both on the blade and on the handle, and it will be paired with golden aluminum pivot collar and matching hardware (screws and pocket clips).
b.The bright version has a satin finished blade; its handle, button, and pocket clip are stonewashed and then sandblasted; this version has a copper-colored aluminum pivot collar.
Delve into the Details
To enhance the ease of operation and user experience, the Vosteed RSKAOS features a CNC-milled TC4 titanium button. The height and travel distance of the unlock button are designed to reduce accidental unlock.
Furthermore, the 3D milled titanium pocket clip offers both secured carry and sleek aesthetics.
If this knife sounds interesting, be sure to subscribe to our newsletter so you won't miss the review when we post it soon and for more info about Vosteed knives and gear. Be sure to visit their site! You can also find a selection of their knives on Amazon.