We use affiliate links. If you buy something through the links on this page, we may earn a commission at no cost to you. Learn more.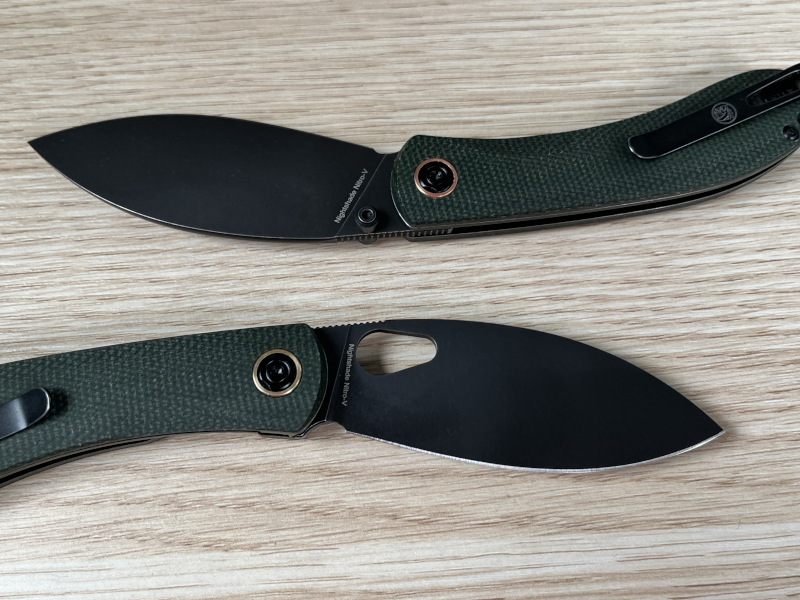 REVIEW – Last year I reviewed Vosteed Nightshade knife, an everyday carry pocketknife, and it instantly became my favorite EDC.  Since that time, Vosteed has released three variations of this knife, so I'm back to provide an update.
What is it?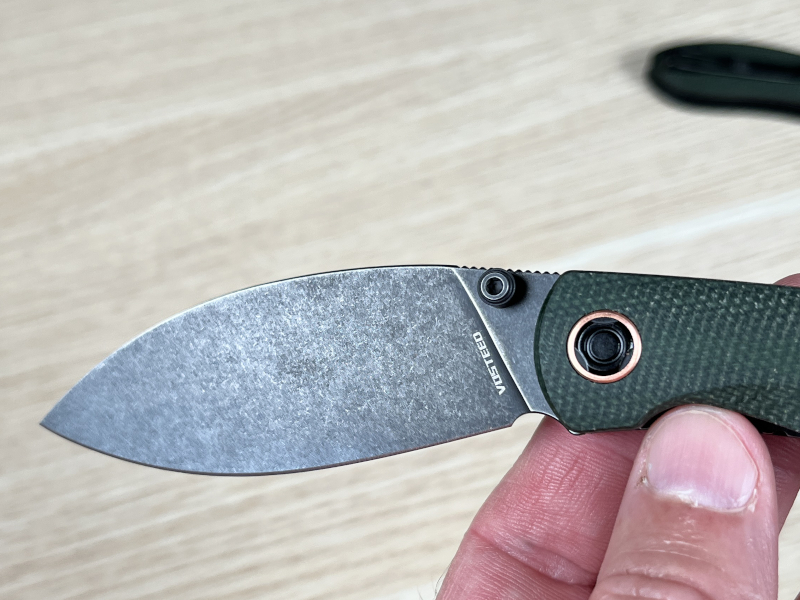 The Vosteed Nightshade is an everyday carry pocketknife with a distinctive leaf-shaped blade.  It now comes in a multiplicity of lock types, openers, handle materials and colors, and blade materials and finishes.  Vosteed's motto is "stay sharp, stay wild."
What's in the box?
One pocketknife
One cloth for cleaning the blade
One Vosteed patch
One Nightshade sticker
One support card
Specifications
Nightshade TH
Liner lock
Thumb hole opener
Micarta handle (black or dark green)
Nitro-V steel
Black or gray stain or stonewashed finished
Nightshade TS
Liner lock
Thumb stud opener
Micarta or G10 handle (gray, black, or dark green)
Nitro-V steel
Gray or black stonewashed finish
Mini Nightshade
Cross-bar lock
Thumb stud opener (black or red)
G10 handle (black)
Sandvik 14C28N steel
Gray stonewashed finish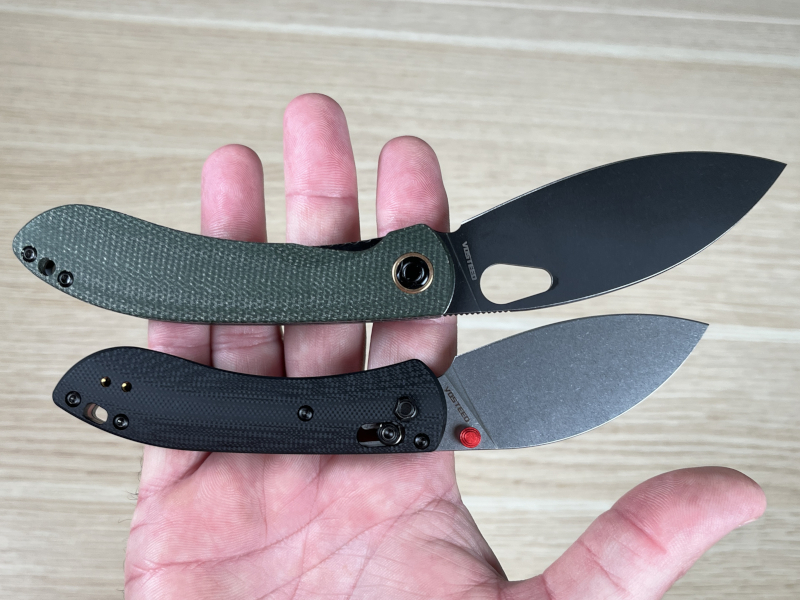 The Vosteed Nightshade TS and TH knives have an overall length of 7.48 inches and a blade length of 3.26 inches, which is identical to the version that I reviewed previously; the Mini is only 6.31 inches long and has a 2.6-inch blade.  The TS weighs 3.58 oz, the TH 3.19 oz, and the Mini 1.78 oz.
Design and features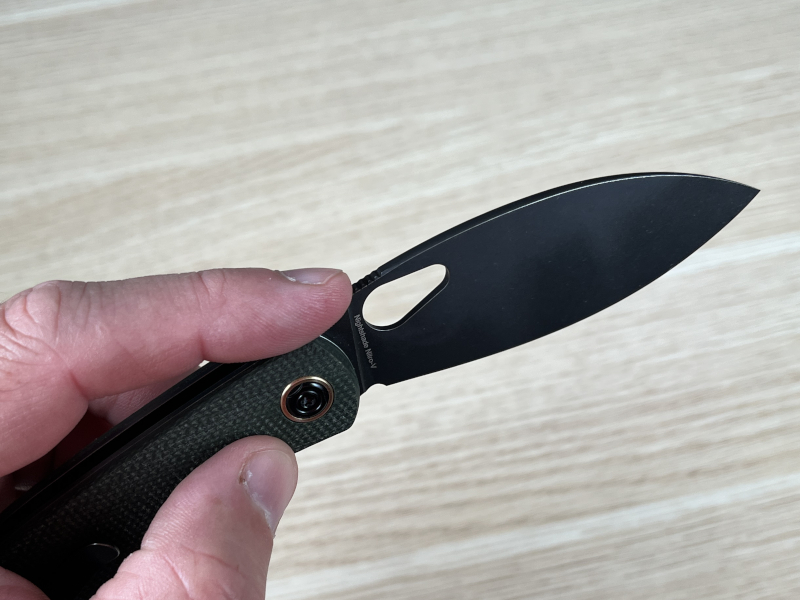 In my previous review, I discussed the design origins of the Vosteed Nightshade in depth.  In short, it's a remake of older Taiwanese knife known as a Shilin Cutter.  It has a distinctive leaf-shaped blade with a fat, curved belly and was known for being a multipurpose work-oriented knife that was often found in the kitchen for meal prep.  Vosteed's version uses modern steels for the blade and newer materials for the handle.
Installation and setup
There's nothing to set up.  Once I removed the knife from the box and gave it a gentle wipe down with the included cloth, it was ready to go.  These knives are all super sharp out of the box.
Performance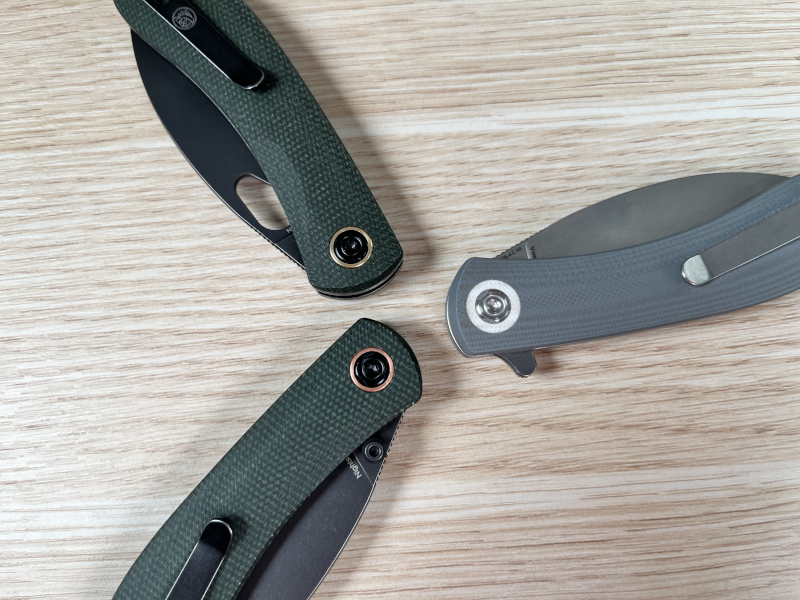 Last fall I tested the LT version of the Nightshade that featured a flipper opener; since then, Vosteed has released the TH and TS versions.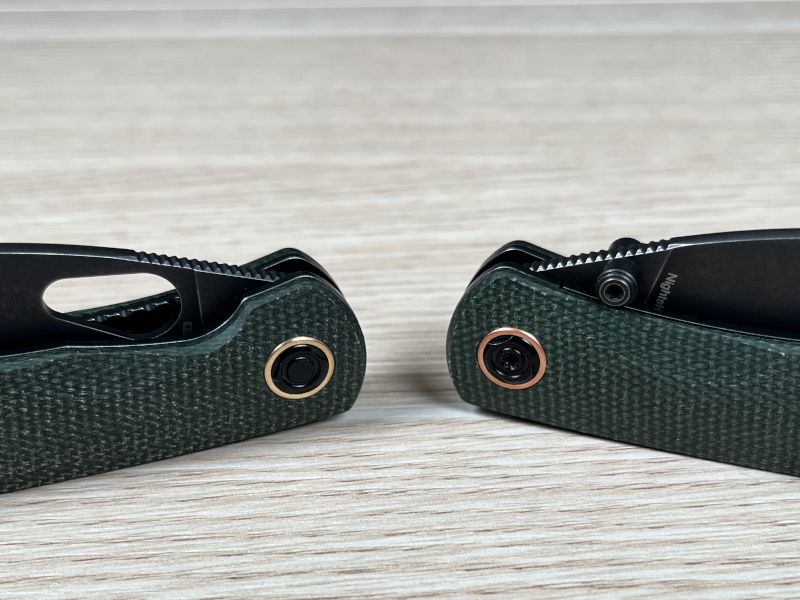 The primary difference between these knives is that the TH has a thumb hole opener, and the TS has a thumb stud opener.  There are other differences, as noted in the Specification section above.  For example, the LT is made from 154CM steel while TH, and TS are made from Nitro-V, and there are some different colors and finishes.  For most buyers, however, the biggest decision will be selecting the type of opener, and I think it's great to have choices.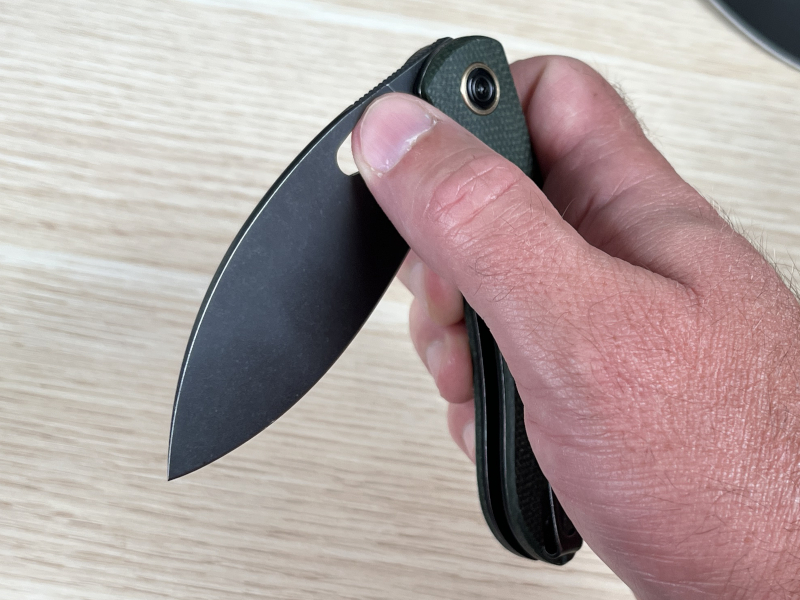 The thumb hole is versatile, as it can be opened on one side with the thumb and on the other side with a flick of the middle finger.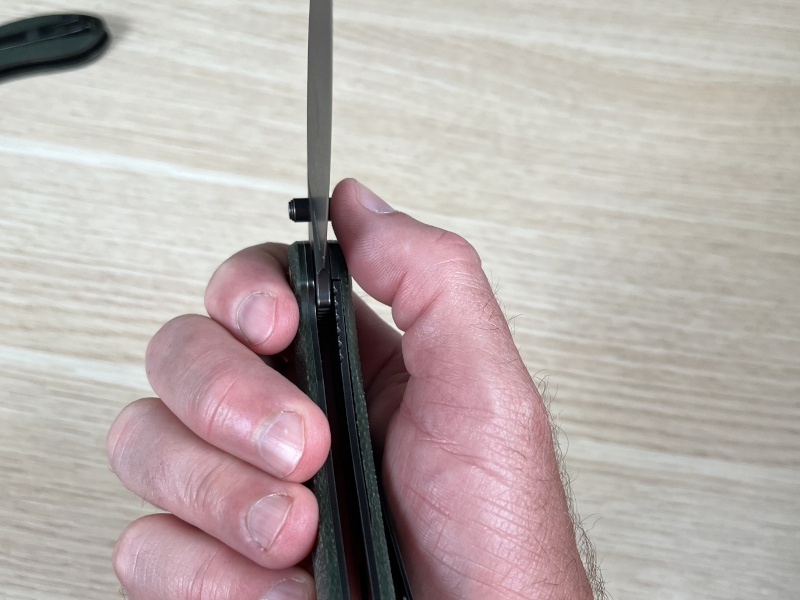 The thumb stud is more common and opens the knife with a simple pushing motion.  Both of these work really well, and which knife you purchase is really a matter of personal preference.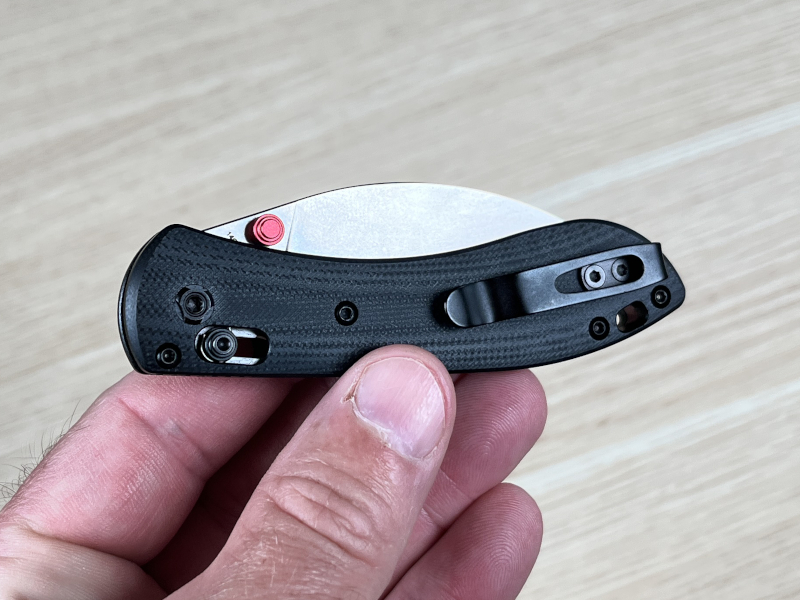 Vosteed has also created a slightly miniaturized version of the Knightshade known as the Mini.  This pocket knife has the same basic shape and features as its older brothers but is shorter in length.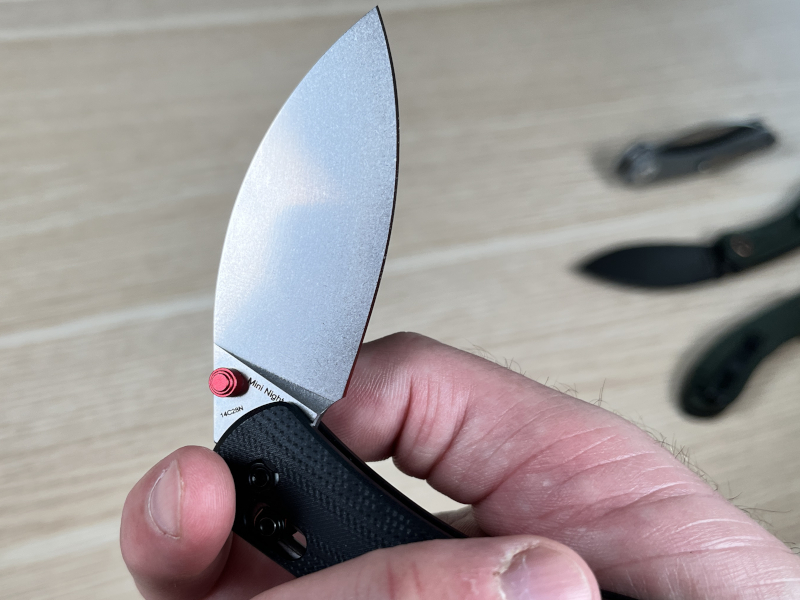 It has a thumb stud for the opener that would probably be perfect for smaller hands.  Unlike the other Nightshades, it has a cross-bar lock.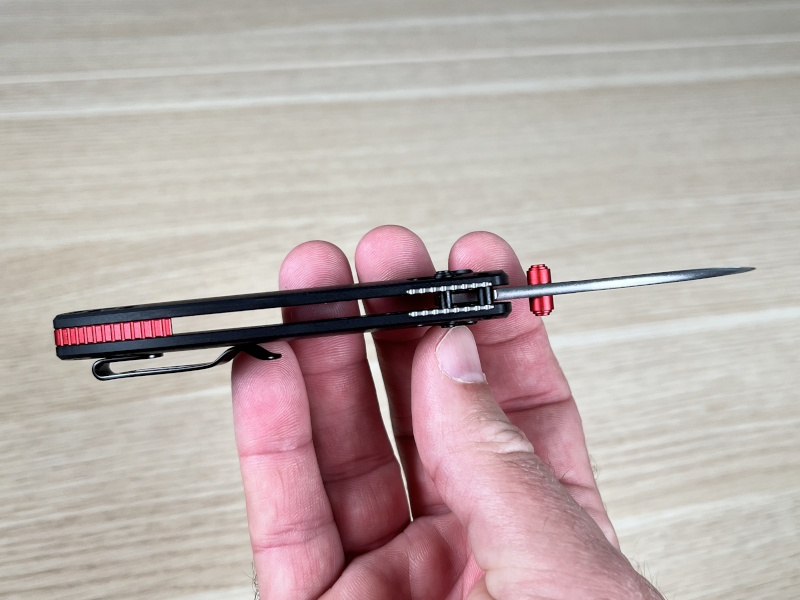 Some versions of the Mini, including this one, have some colored highlighting that gives it a unique look.  I like the bright red stud and jimping.
Here's a video that I created showing the different openers in action as well as a look at the Mini.
What I like
More choices!
Same great pocketknife!
What I'd change
Final thoughts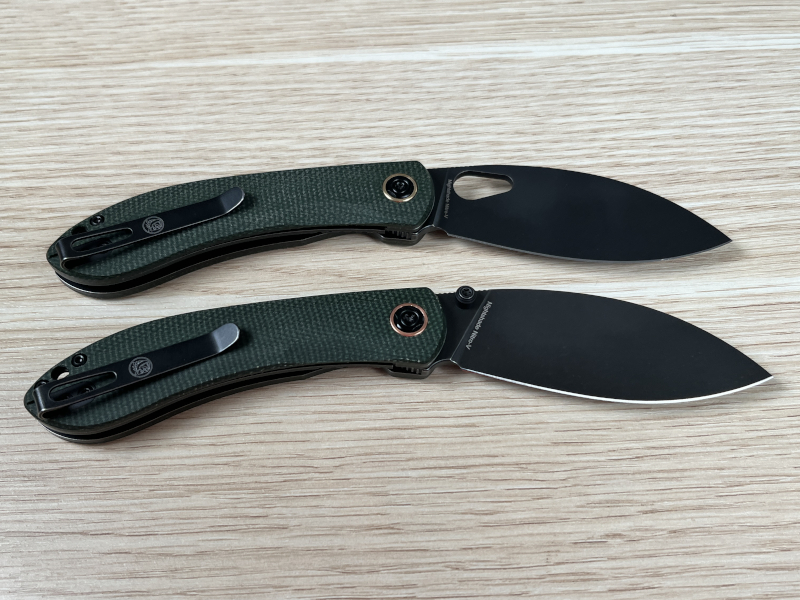 Vosteed has been very busy lately creating new knives, and I'm glad to see that they are also updating their existing knives.  The TH and TS versions of the Nightshade are a pair of excellent releases, allowing knife buyers to get a great knife with their personal preference of openers.  The Mini is also a welcome addition to the Nightshade family, making the knife accessible to other hand sizes.  While the LT version with the flipper is still my favorite version, I'm also a big fan of the black stonewashed finish of the TH and TS.  Whatever style you're looking for, I recommend that you pick up a Vosteed Nightshade.
Price:  Prices vary, but most versions are $69.
Where to buy:  Vosteed.com or Amazon
Source: The sample for this review was provided by Vosteed.