We use affiliate links. If you buy something through the links on this page, we may earn a commission at no cost to you. Learn more.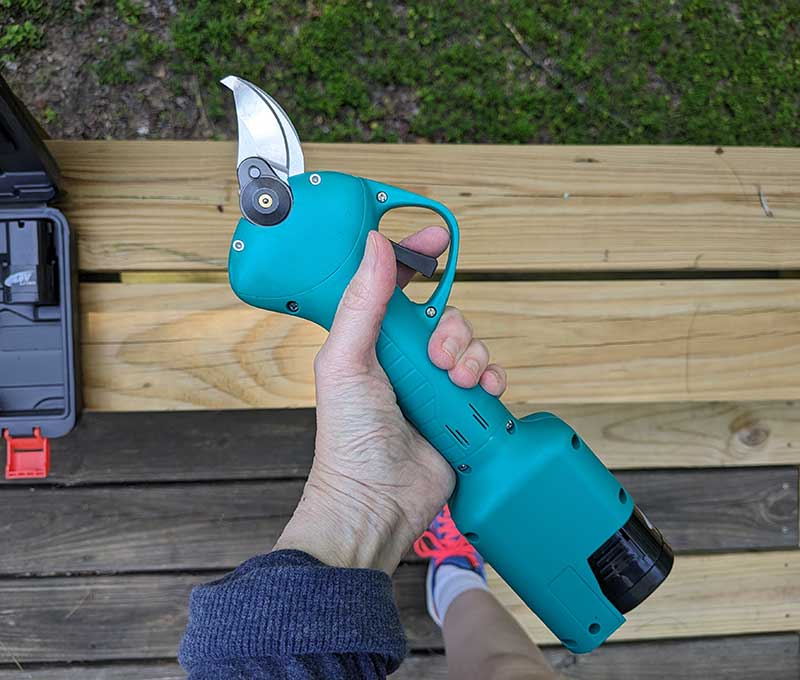 REVIEW – I live on 12 acres of property that is mostly wooded and that means that I have a lot of limbs and brush that need to be trimmed and kept tidy. Usually, once a year or so, I get out my long-handled shears and go around lopping limbs. The next day I'll be noticeably sore from using those manual shears to cut through branch after branch. When I was offered the opportunity to review the Anbull rechargeable electric pruning shears, I said "Heck yeah" because I thought it could make my work easier and faster. Let's see if I was right.
What is it?
The Anbull rechargeable electric pruning shears are cordless handheld shears that are designed for outdoor use cutting tree limbs and other small brush.
What's in the box?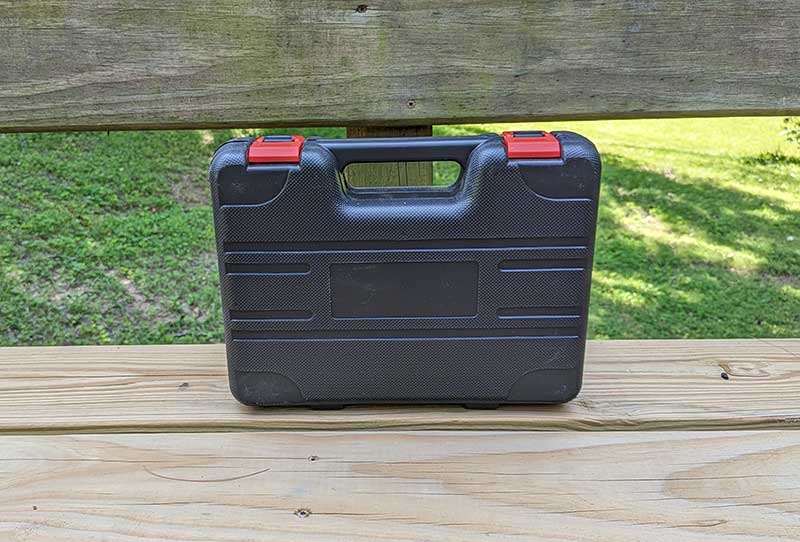 Everything comes packed in a nice plastic storage case.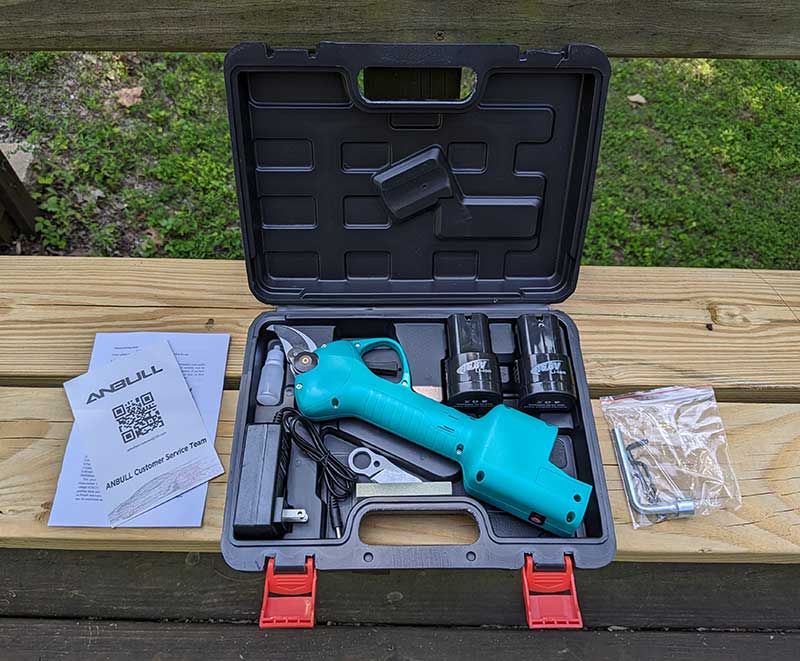 Anbull rechargeable electric pruning shears
Storage case
2 rechargeable batteries
AC charger
Hex wrench
Allen wrenches
Sharpening stone
Extra blade
Lubricant oil
User manual
Design and features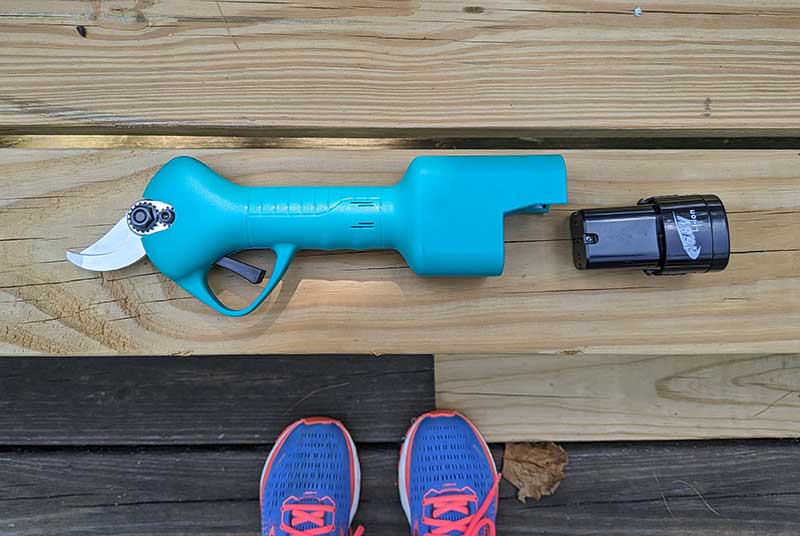 The Anbull rechargeable electric pruning shears is a compact tool that has an aqua blue plastic housing. It features a trigger and a geared blade on the business end and a battery slot on the back end.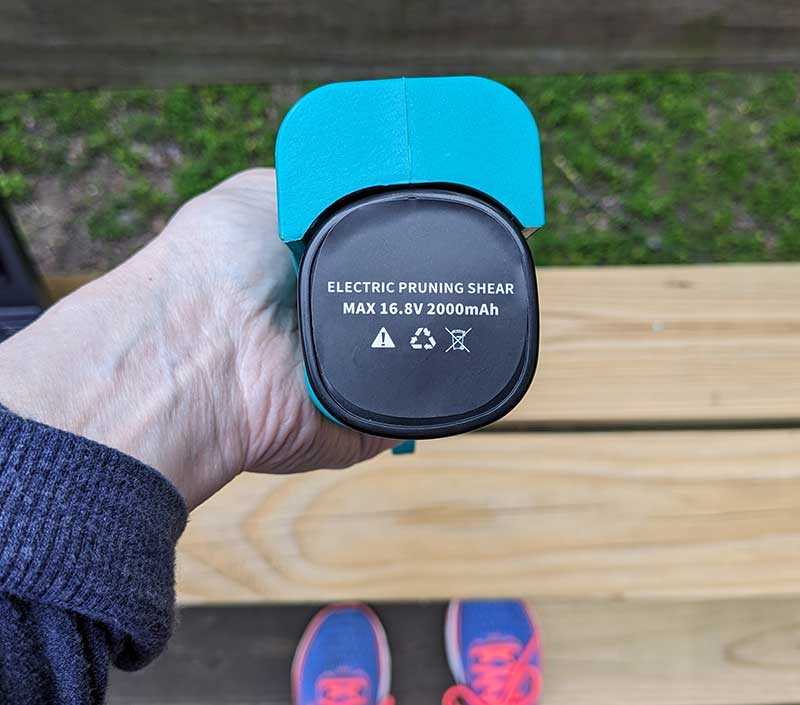 I was happy to see that two batteries were included with the shears. The battery snaps easily into the battery compartment and charges easily (although not super quickly) using the included AC adapter.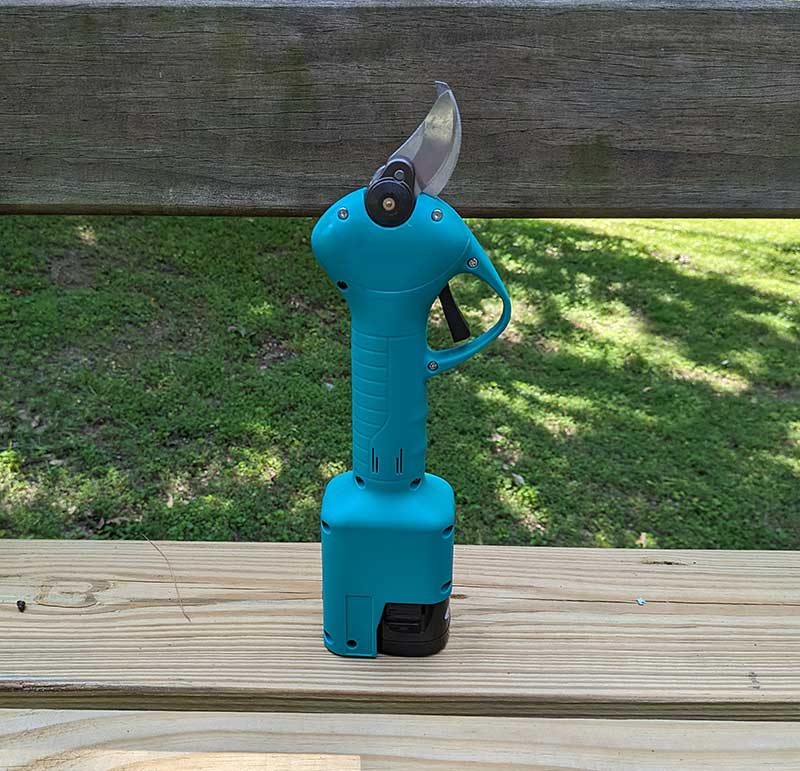 With the battery installed, the tool can stand straight up on a flat surface.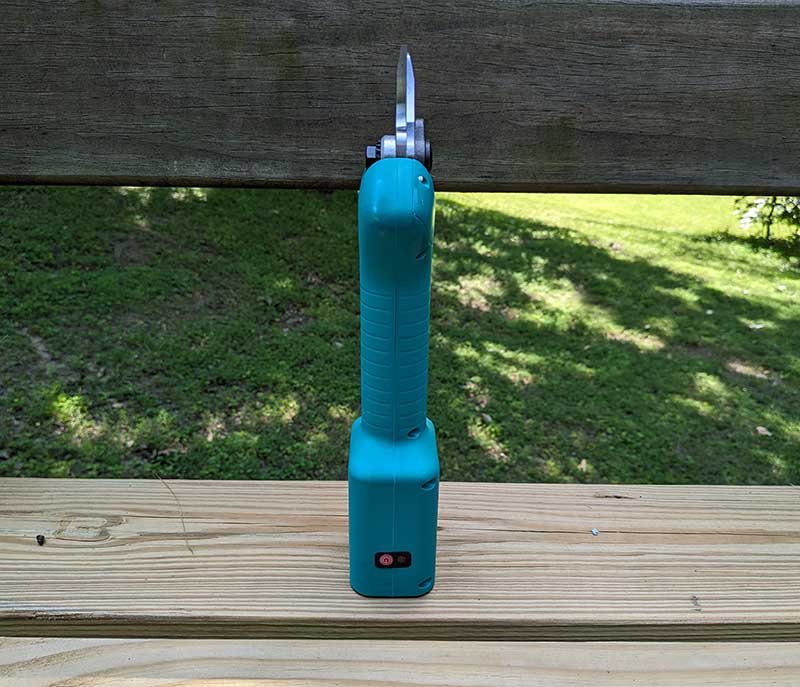 The power button is located on the "butt" of the tool.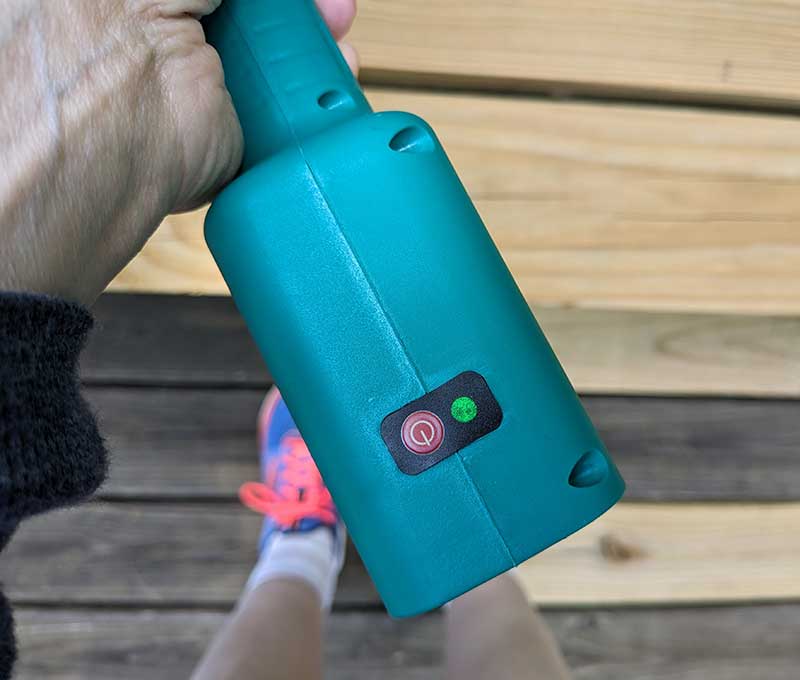 When you hold the button, it will power on the Anbull shears, and a small tone and the green LED will let you know that it's ready to use.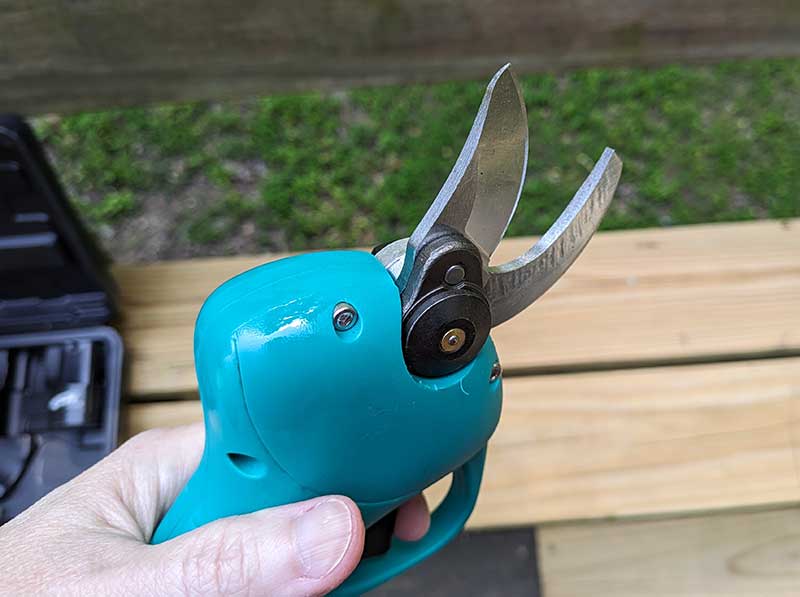 To unlock the blades, you have to quickly press the trigger 2 times in a row.
The blades are thick and sturdy and are made of SK5 high-carbon steel. Actually, there's only one real sharpened blade which is located on top. The bottom "blade" is a thick non-moving base.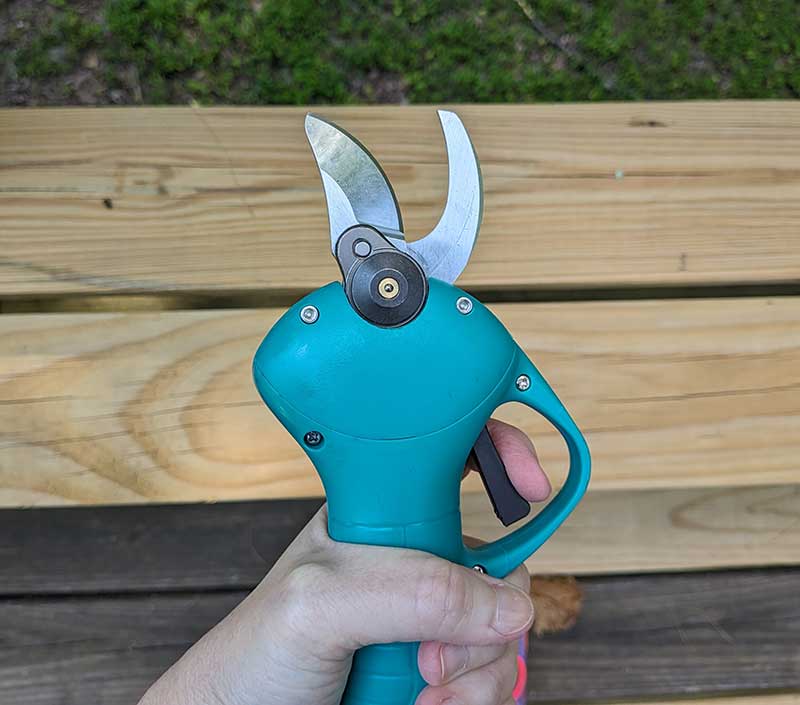 The Anbull rechargeable electric pruning shears aren't heavy or awkward to hold. I used them for about an hour one day and my hand never got sore or tired.
Let's cut some stuff!
Other than charging the batteries, there isn't any setup required before using the Anbull rechargeable electric pruning shears for the first time. After the charged battery is inserted into the bottom of the handle, the power is turned on by holding down the power button for a few seconds.
For safety, the blades are locked when the shears are first powered on. To unlock them, you just double-press the trigger. You can lock them again by holding the trigger for 3 seconds.
With the blades unlocked, you can start cutting branches and stems up to 1.26 inches (32mm) in diameter and a fully charged battery will last from 2.5 to 3.5 hours.
See it in action
It should go without saying (but I'm saying it anyway) that you should not have your other hand and fingers anywhere near the moving blades when you're using these shears. The Anbull rechargeable electric pruning shears do not know the difference between cutting limbs and your fingers, so pay attention to what you're doing when you are using tools like this one!
What I like
Easy to use
Included storage case
All the extras: blade, battery, sharpening stone
Good battery life
What I'd change
Final thoughts
The Anbull rechargeable electric pruning shears work great for me! I spent an hour going around my property cutting low-hanging limbs that I've been ducking under all season during my daily walks around the perimeter of my yard. The cutting job was quick and easy… almost too quick and easy because I kept wanting to cut and clear more and more brush and was left with several piles of branches that I then had to dispose of in my woods 😉 I definitely give the Anbull rechargeable electric pruning shears two thumbs up (and I still have both of my thumbs because I didn't get distracted and lop one off by accident!).
Price: $109.99
Where to buy: Amazon
Source: The sample for this review was provided by Anbull.