We use affiliate links. If you buy something through the links on this page, we may earn a commission at no cost to you. Learn more.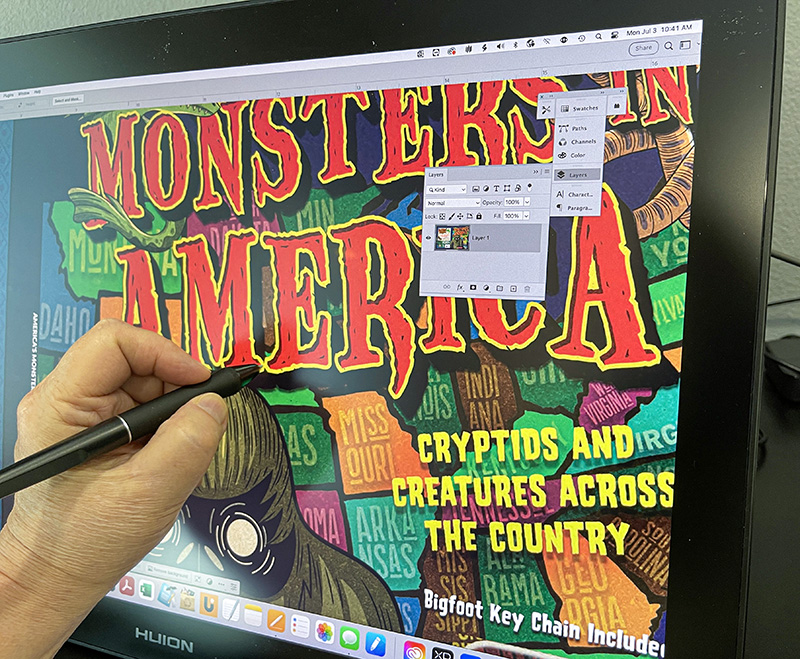 REVIEW – Not only have I come to appreciate the broad selection of Huion pen tablets and pen displays, but I also depend on them in my daily work. My desktop contains two 24 in. Huion pen displays—the Huion Kamvas 24 Plus and now, the Huion Kamvas Pro 24 (4K). The 24 Plus has proven to be a good workhorse pen display. I've been more than satisfied with both its color and resolution. And using the pen for drawing and photo retouching is first-rate. 
When Huion asked if I would be interested in their Kamvas 4K version (the same display size, but in 4K), I jumped. My goal has been to try to see if there is enough quality difference between the Kamvas 24 Plus (at half the resolution of a 4K screen) and the Kamvas Pro 24 (4K) to justify an almost $500 price difference. The answer may not be what you think.

What is it?
The Huion Kamvas Pro 24 (4K) pen display is a large, heavy desktop color monitor that can be directly drawn on with a wireless pen (stylus). The pen can be used like a mouse for pointing and selecting, a brush for digital painting, or a pencil for sketching—all depending on the app being used. 
The Kamvas Pro 24 (4K) is a full-color hi-res 4K display with high color accuracy. It must be connected to a computer—it's not a stand-alone drawing display like an iPad. Color accuracy is rated at 140% sRGB—1.07 billion colors. The screen sports HDR, which can automatically adjust brightness, color, and contrast.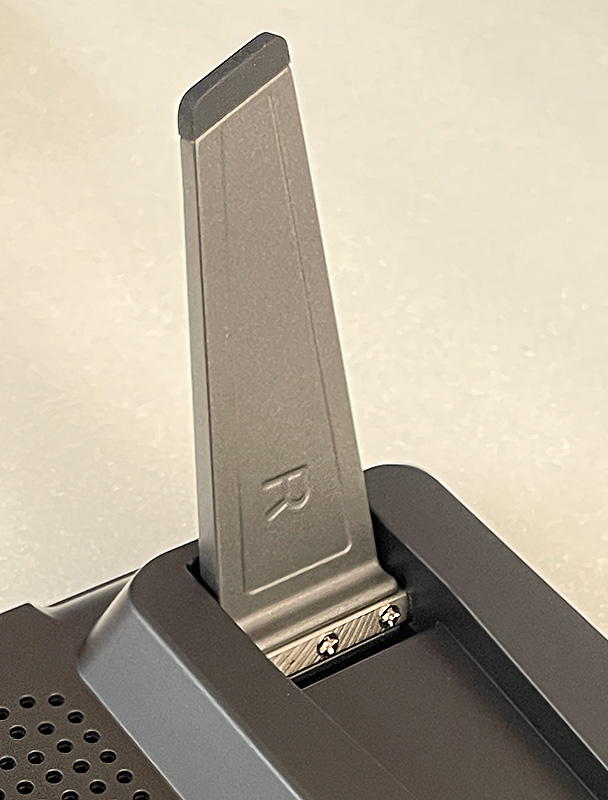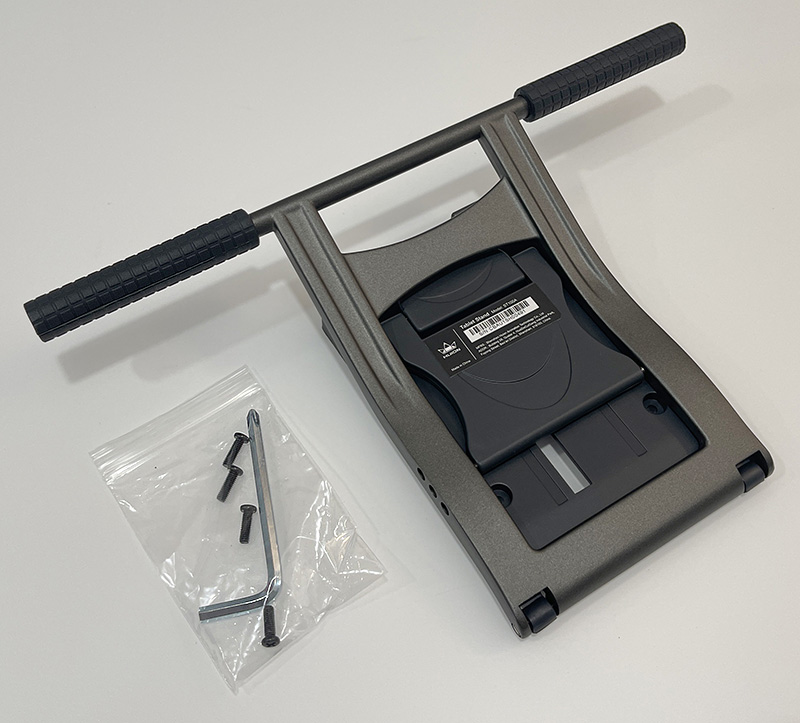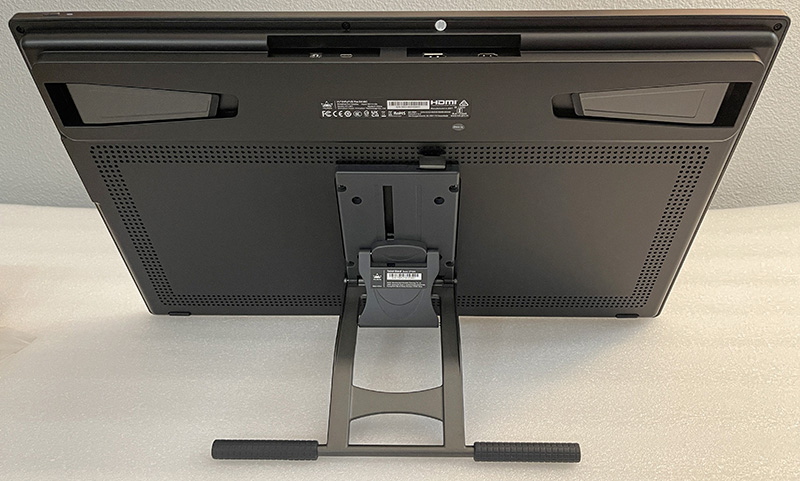 The Huion Kamvas Pro 24 pen display has built-in legs that allow it to be propped up at a set angle for drawing. A Huion multi-adjustable stand is an extra-cost option ($30)—highly recommended. The back of the Pro 24 (4K) has a VESA mount which will work with most monitor arms.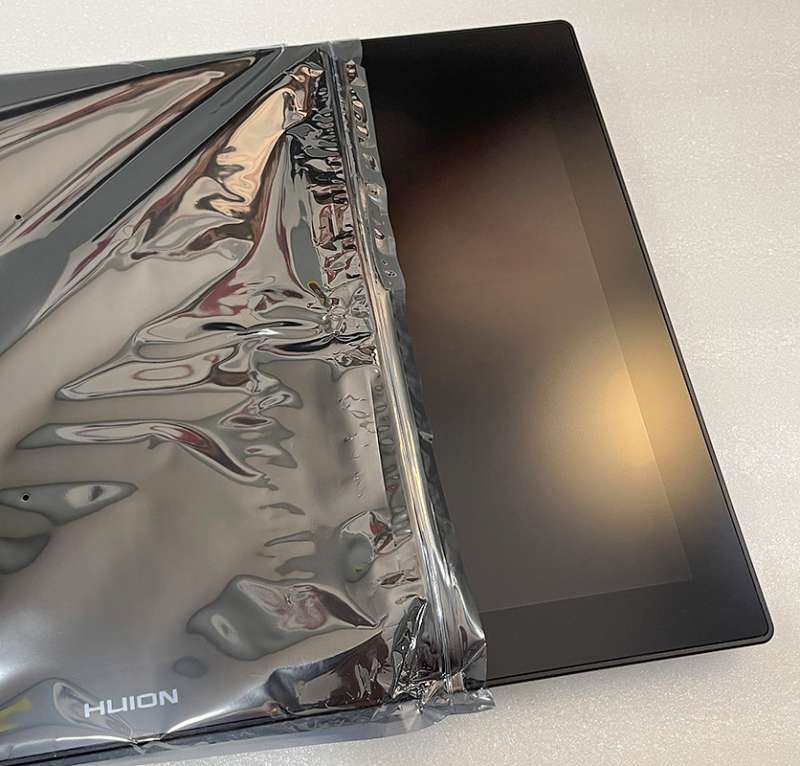 The drawing surface is etched glass. This surface has a slight "tooth" which feels like paper when drawing, plus it's almost scratch-free, unlike many monitors with plastic-covered screens. The screen is fully laminated, which will be explained in the review.
There are no built-in shortcut keys as with many pen displays. I much prefer no keys on the monitor of any kind—just a simple, bare, cleanly-designed screen. Huion does include a portable shortcut key remote with the Huion Kamvas Pro 24.
The included pen has over 8,000 levels of sensitivity as well as a 60° tilt. This is fairly standard in higher-end pen displays. The pen has a non-slip grip and comes with a stand that also houses 10 extra replaceable drawing nibs.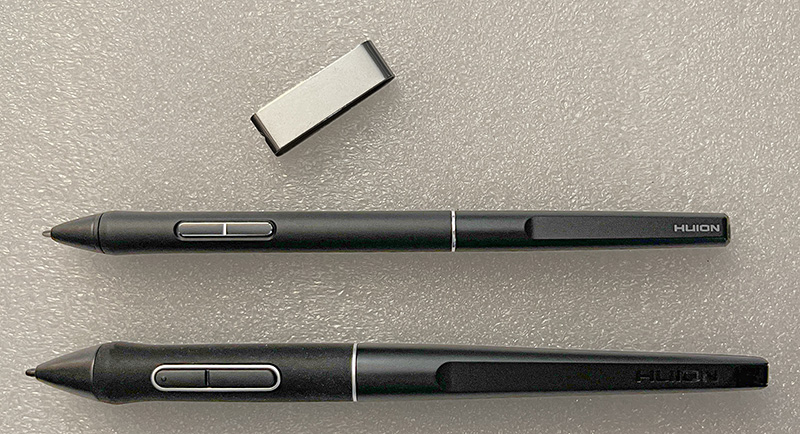 For this review, Huion sent along the optional 550S slim pen ($60). Some may appreciate a thinner pen rather than the "fatter" pen that ships with the display—not me, I still prefer the standard pen.
Hardware specs
Color: Black
Dimension: 23 in. x 14 in. x 1 in. (W x H x D)
Working area: 20.7 in. x 11.5 in.

 

Weight: 13.8 lbs.
Integrated legs: 20°
Interface: HDMI, DP, USB-C, DC, USB-A (2), 3.5mm headphone jack
Resolution: 3840 x 2160 (16:9) UHD
Anti-glare etched glass
Full lamination:
Contrast ratio: 1200:1
Gamut volume: 140% sRGB
Pen: Battery-free electromagnetic resonance
Pen resolution: 5080LPI
Pressure sensitivity: 8192Levels
Tilt support: ±60°
Windows 7 or later, MacOS 10.12 or later, Android (USB3.1 DP1.2 or later), Linux

Design and features
As I said earlier, I wanted to see if the Huion Kamvas Pro 24 pen display was almost $500 better than the display I had been using for many months, the Huion 24 Plus with its lower 2.5K resolution. First, let's get into what I like about this 4K display—and there is a lot to like.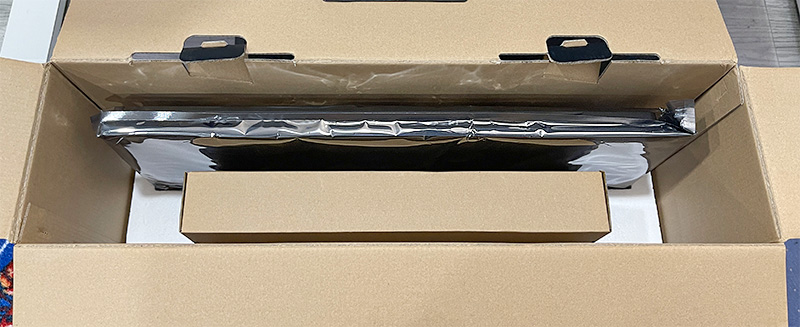 What is apparent when unboxing the Pro 24 (4K) Pen Display is the quality. Display and tablet makers like Huion and XP Pen have come a long way in the last few years, now giving Wacom (the leader of tablet makers) some serious competition.
Connecting the Pro 24 (4K) Pen Display is as simple as it gets—at least for laptops with USB-C. All I had to do to connect to my MacBook Pro was use the USB-C and power cable.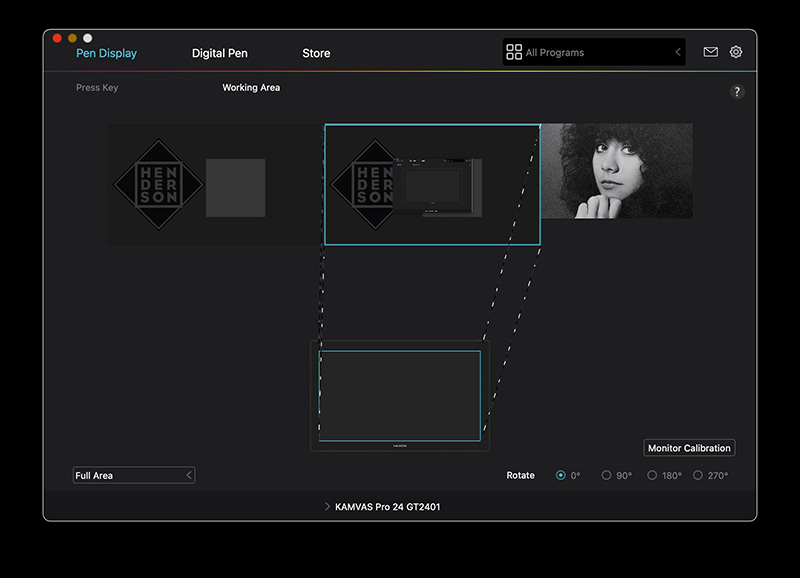 Note that all pen displays require a driver—an app that says, "I am a monitor and let's work together." All drivers are not created equal. While Huion's drivers are relatively problem-free, there have been some issues—mostly from using more than one display. When the HuionTablet driver is run, it always takes exactly two tries to run successfully. Weird, but it's an anomaly I've become used to. When it is running the driver stays in the background and doesn't conflict with any apps I use daily.
Once I connected the Huion Kamvas Pro 24 Pen Display, I use the older 24 Plus pen display as a second monitor placed next to the new display. Unfortunately, I haven't figured out how to get the driver to recognize both pen displays at the same time. Mind you, as a second monitor, the 24 Plus is great, except it's just a monitor right now—not a pen display. Yes, it's rare for anyone to place two 24-inch pen displays side-by-side. I just wanted to point out the issue for those who may be upgrading and keeping the previous display.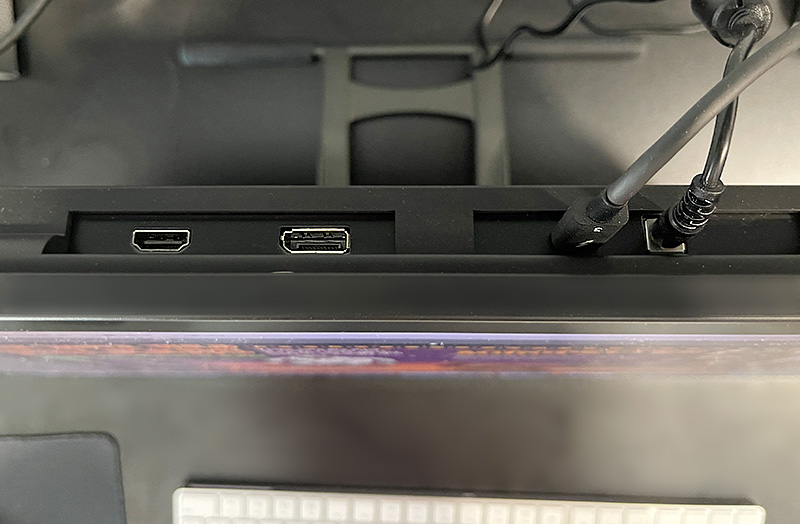 Along with the necessary USB-C and power ports at the top, the Pro 24 (4K) Pen Display sports two extra USB-A, HDMI, display port, and a headphone port—none of which I use. It's good that there are various ways for the Pro 24 (4K) Pen Display to connect, but if you have USB-C, it's a far better connection.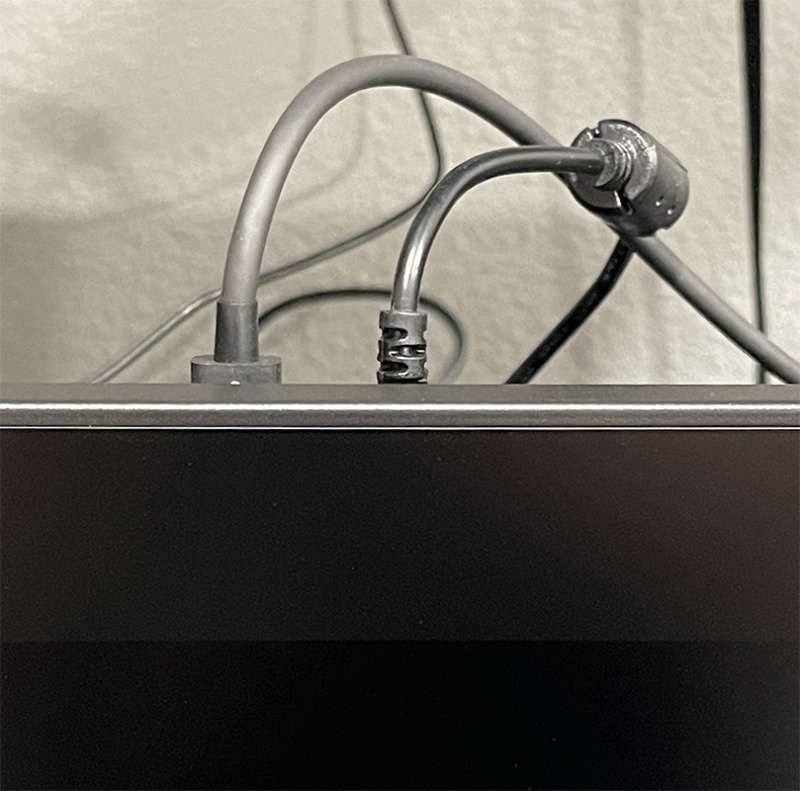 While I am not a fan of any wires protruding out of the top of the Huion Pro 24 (4K) Pen Display, both the power and USB-C cords aren't as distracting as I thought they would be. I still don't understand why any tablet maker designs important ports at the top of the display. It's inelegant at best.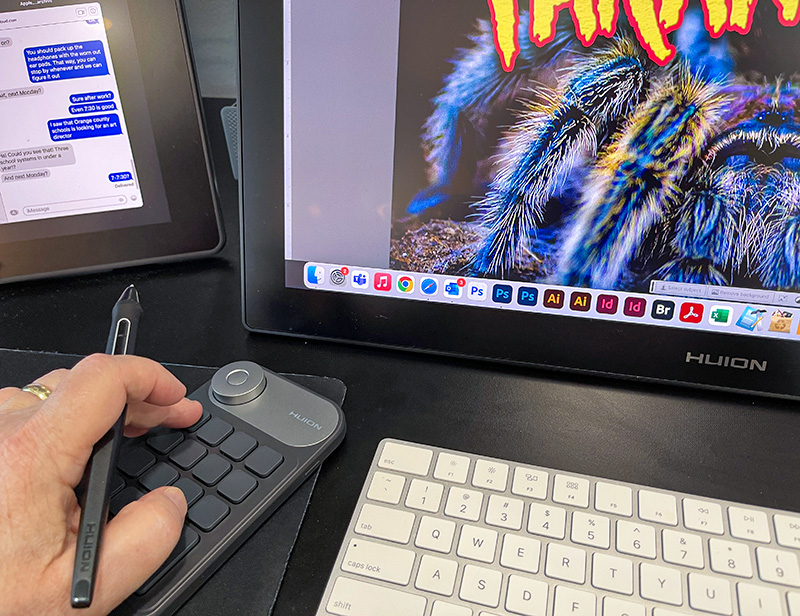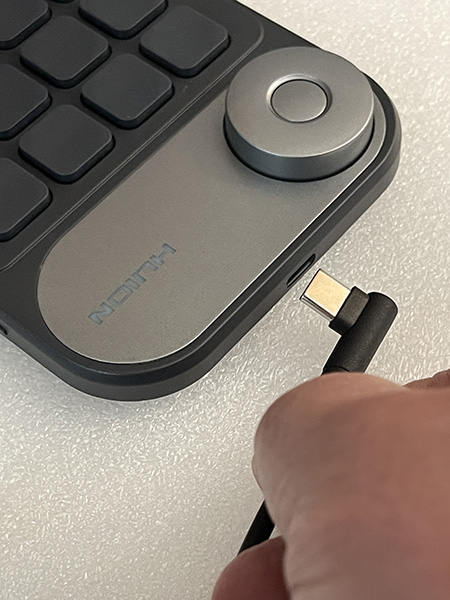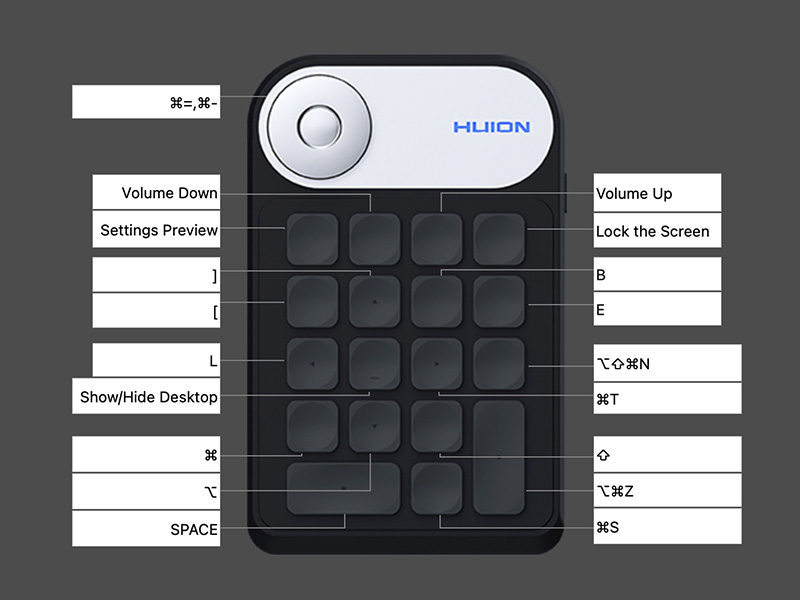 Huion includes what they call a Mini Keydial—a portable keypad for assigning shortcut keys that can be applied to the computer as a whole or to any specific application. It can be either wired to the computer or wireless using the included USB-A dongle. Each key can perform different tasks depending on which app is open. There are a total of 18 keys. There's also a dial that can be set to scroll through websites or zoom in/out in Photoshop—whatever you want! The Mini Keydial can be set on the desk next to a trackpad or mouse pad for easy accessibility. Because the keys are customizable per app, they are unmarked, so a learning curve is required. The Keydial is a good size, comfortable to use, and quite responsive with no lag—but I don't use it. As I have said in other reviews, I am old-school and continue to rely on my trusty Apple keyboard for my shortcut keys. Sorry, Huion. I am sure many artists will appreciate the Mini Keydial for all it can do.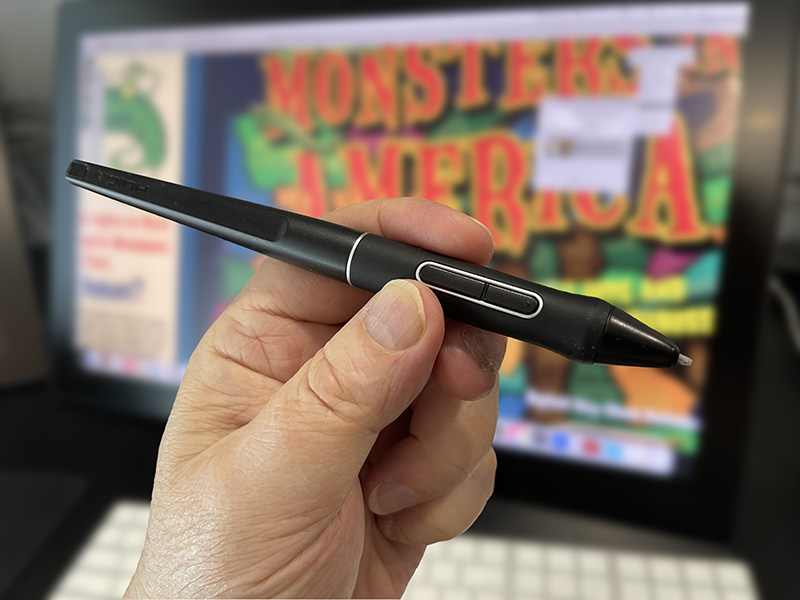 What's it like to draw on the etched-glass screen? While the surfaces of either glass or a plastic coating may feel identical at first, over time, the plastic-covered surface will develop wear marks. That doesn't happen with etched glass. It's worth the extra expense.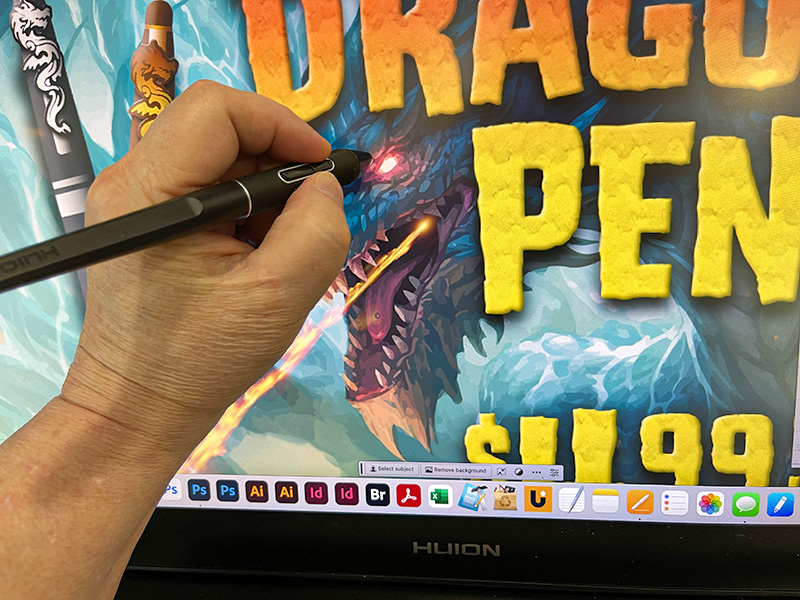 When I am in Photoshop, either making selections, painting/recoloring, or using the many tools, The Kamvas Pro 24 (4K) is instantly responsive and highly accurate, due to its parallax-free laminated screen. This means that the curser—whether it's a brush or arrow—is exactly where the pen's point touches the screen. Only a more expensive laminated screen can allow that. The good news is that many displays are now laminated. It's much more common than even a couple of years ago. Gotta love progress. `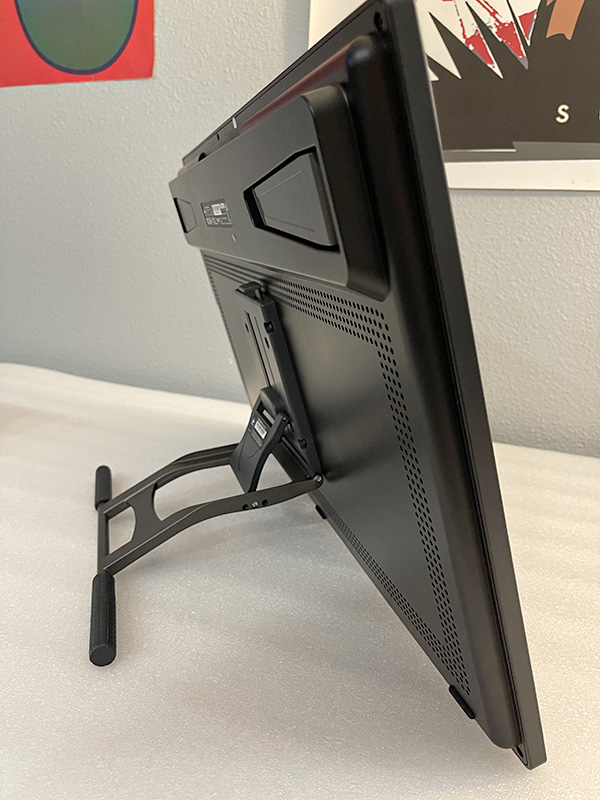 Pardon me while I get a bit geeky here, but let's talk about the 4K image. Here's where it gets a bit problematic. The 4K screen is razor sharp and fantastic looking. However, a 4K (3840 x 2160) screen holds many more pixels than a lesser monitor, such as the 24 Plus 2.5K (2560 x 1440) or the, even more, lesser Kamvas 22 (1920 x 1080). All this means is that a 4K monitor's pixels are smaller in size than other monitors. So, if you are looking at an image that's 1,000 x 1,000 pixels, it will be smaller on the 4K display because the pixels are smaller. It's a math thing. The only reason I bring this up is that everything you see on a 4K display will be smaller. When you are trying to read toolbars or palette text in Adobe products, some of the text is so small as to be almost unreadable for those of us with older eyes. Windows PCs may have a fix for this, but not Apple (of course). My way around this is to enlarge the resolution in MacOS prefs to match the 24 Plus—which defeats the reason to buy a 4K in the first place! Correct? 
Not so fast. Even when the resolution is enlarged to match 2.5K, the image is still a bit sharper than it appears on a native 2.5K screen. Not much, but a bit. That's the conundrum. Do you want to pay an extra $500 for an image that needs to be enlarged to a lower resolution anyway? If it were my money, I would be hard-pressed to pay the difference, unless the monitor had much more to offer than a better screen. 

What I like
Excellent image quality
Affordable (for 4K)
Large size
No fan noise

 

Included Mini Keydial

 

Optional stand is not expensive

What I'd change
Expensive for most people
Reroute cables away from the top
Stand not included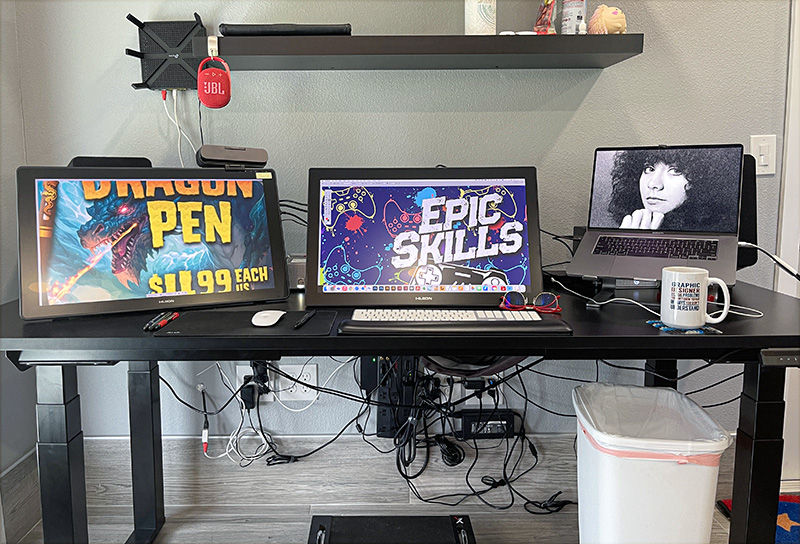 Final thoughts
There are two ways of looking at whether the Huion Kamvas Pro 24 (4K) pen display is for you. If you work with hi-res video or need extra resolution for your work, then it's a no-brainer. The Kamvas Pro 24 (4K) is for you. However, if your work is primarily graphic design using the Adobe Creative Cloud suite of apps, I recommend saving a few hundred bucks and getting the also excellent Kamvas 24 Plus (2.5K) pen display. You can't go wrong with either, but your wallet may breathe easier.
Price: $1,299
Where to buy: Huion and Amazon
Source: The sample of this product was provided by Huion.