We use affiliate links. If you buy something through the links on this page, we may earn a commission at no cost to you. Learn more.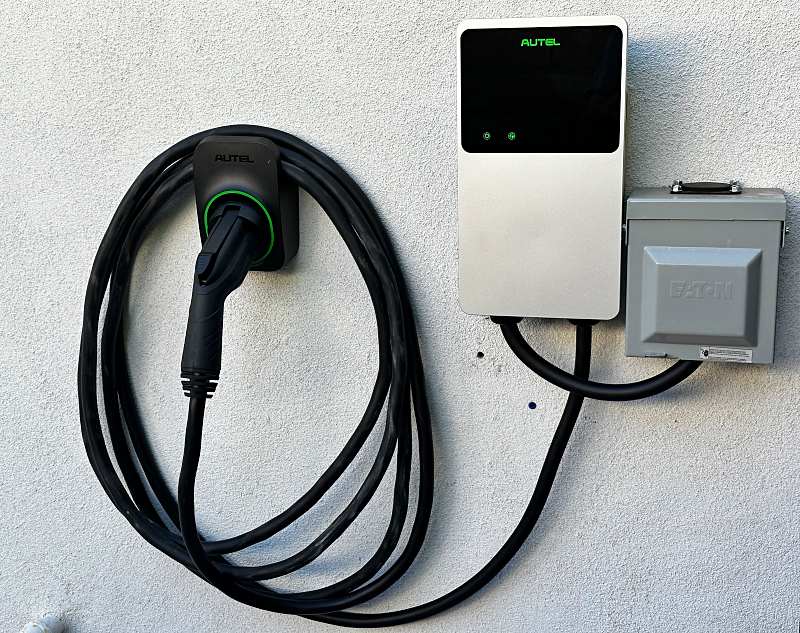 REVIEW – As electric vehicles continue to increase in popularity, public charging stations are becoming more congested. If you have a driveway or garage where you can install a dedicated EV charger, it will pay off pretty quickly in terms of both cost and time saved. This time around I have the 40A MaxiCharger from Autel to review.
What is it?
The Autel MaxiCharger AC Elite Home 40A EV Charger's self-descriptive product name does a pretty good job of calling out what this unit is. The accompanying app however unlocks a lot of useful information that can help you expand capabilities.
What's in the box?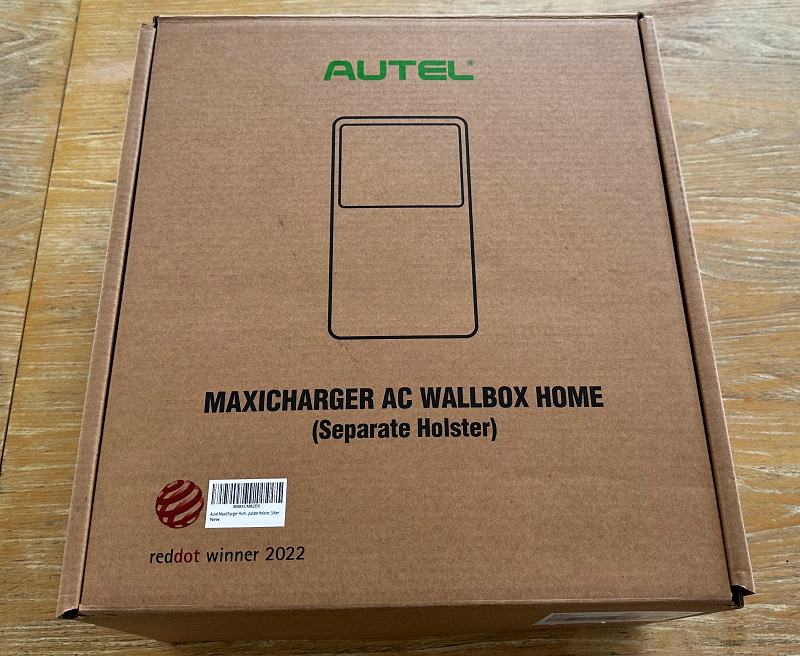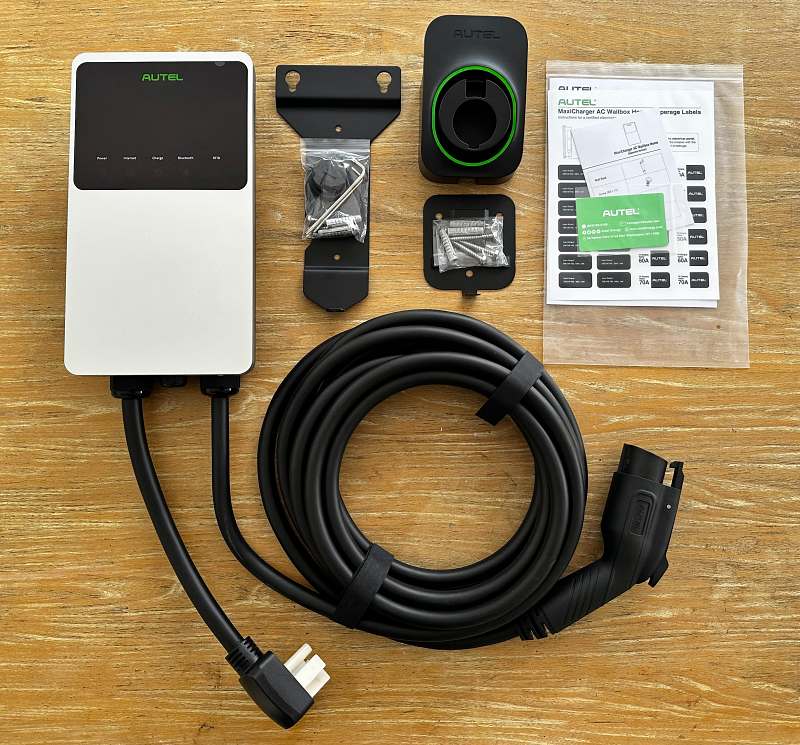 Autel MaxiCharger EV charger
Mounting bracket and hardware
Wall holster and hardware
Instruction manual and additional information
Hardware specs
Connector Type: SAE J1772
Cable Length: 25′ 
Maximum Current: 40Amps | 9.6kW
Input Cable: NEMA 14-50
Color: Dark Gray
Dimensions: 13.5 x 7.5 x 3.5 inches
Enclosure Rating: NEMA 4
Status Indication: LED or phone APP 
Design and features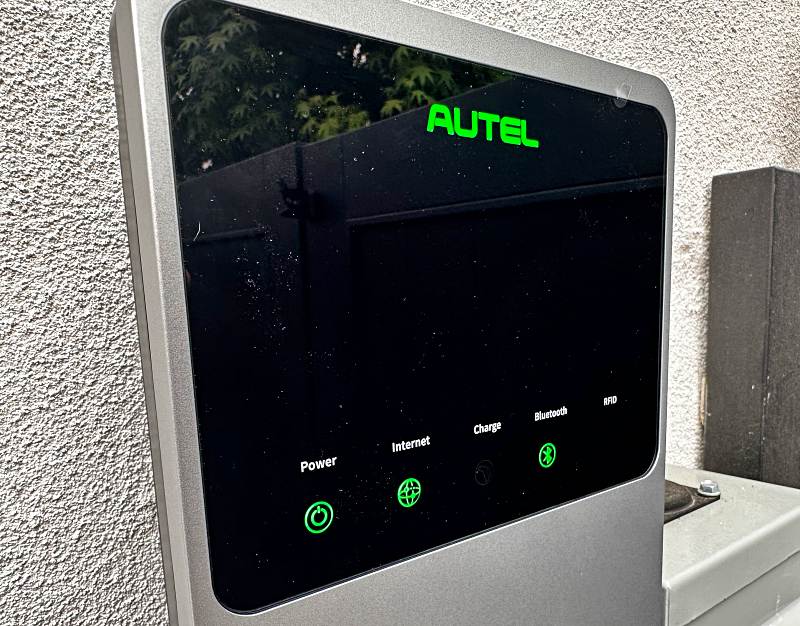 The Autel MaxiCharger has a big display-like area that actually only has LEDs across the bottom edge and behind the Autel logo. The 5 icons across the bottom edge are Power, Internet status, Charge status, Bluetooth status, and RFID confirmation. The white descriptive text is printed on a peel-off protective layer.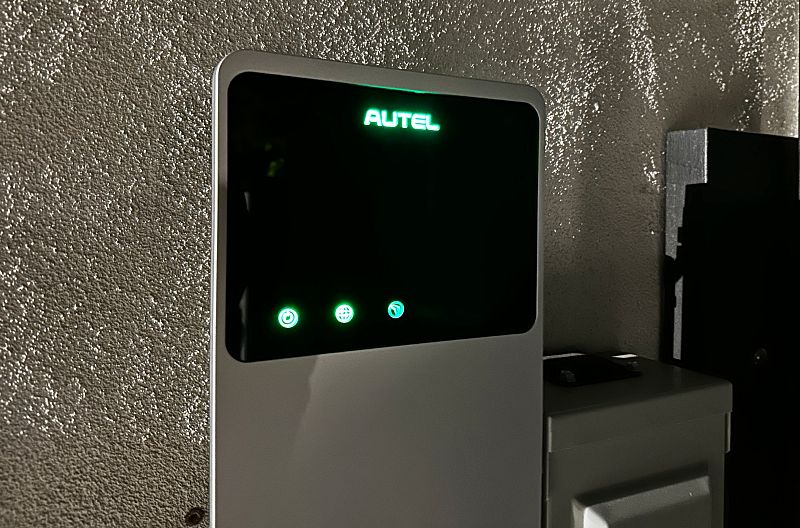 The Autel logo is actually an ink print in an eerily LED-matching green (see what's in the box photo), that is illuminated by LEDs behind at night. No issues seeing the indicators at night. It looks like the black deadfront is a carryover from their commercial series which does have more display functionality in the middle expanse.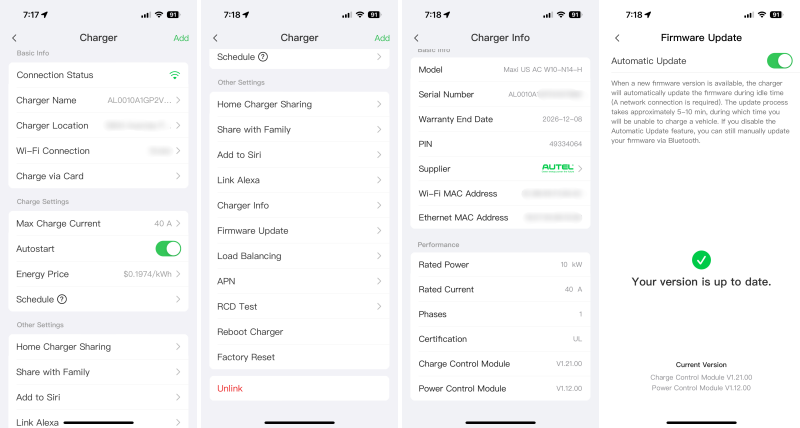 There are lots of settings and functionality to dive into with the app.
Setup
The Autel MaxiCharger AC Elite Home EV Charger can be purchased in a 50A hardwired unit or with a NEMA plug, either 6-50 or 14-50. I received the NEMA 14-50. If your home is not already wired for a 240v EV charger, please contact a licensed electrician to arrange installation. I already have a 14-50 outlet from previous EV Charger installations.
In my case, the first step was to flip the orientation of the outlet as the plug on this unit was the opposite of the unit I was replacing.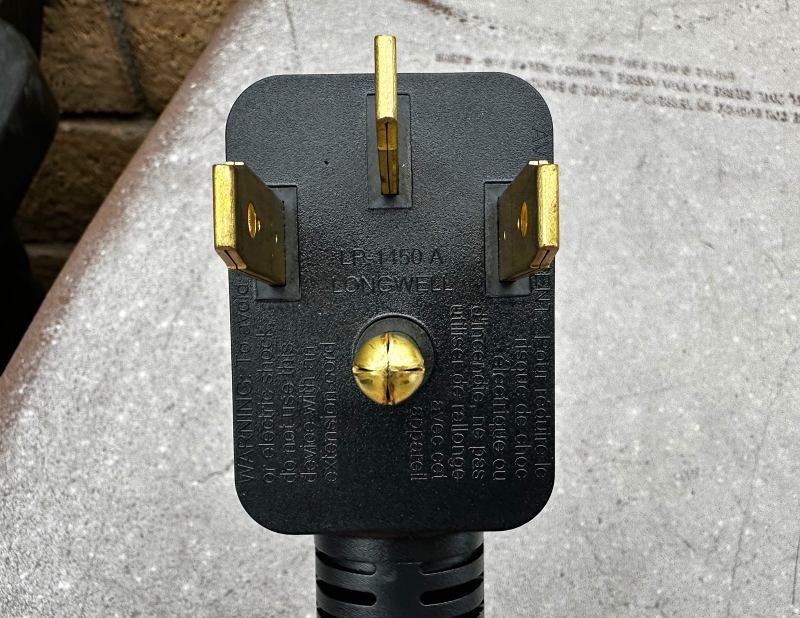 This is relatively trivial with my setup and just involves turning off the breaker, opening the panel and then removing the two screws anchoring the socket to flip it. Turn the breaker back on and verify that everything is working before proceeding further.

Hanging the charger and installing the wall holster are both similar processes. First, you mount the plate to the wall. Wall anchors are included but you may need to provide your own depending on your wall's materials. The wall holster plate is shown below.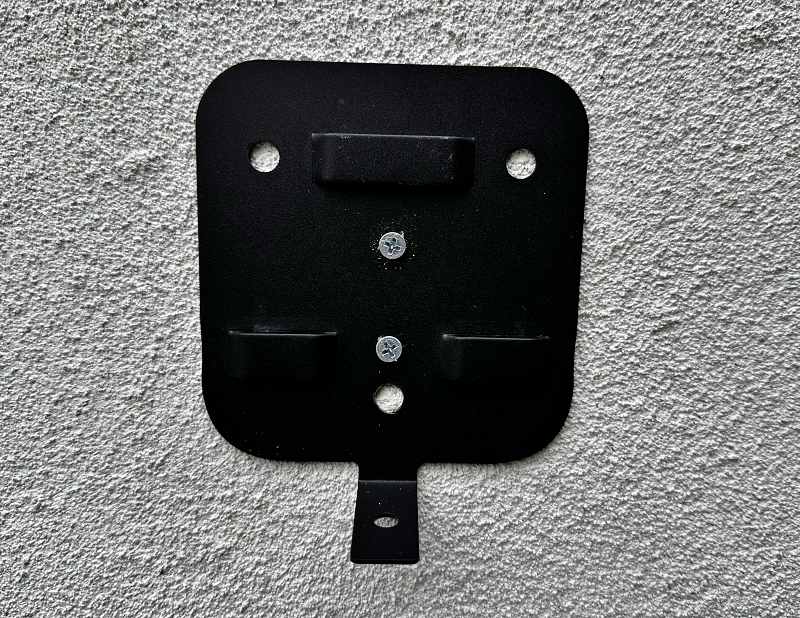 I drilled two holes in the holster plate to be able to use some previously used wall anchors. I did a similar thing with the charger wall plate. After that, you slide the corresponding part down onto the wall plate and then install a security screw-up from the bottom using the provided security torx wrench. Here it is installed.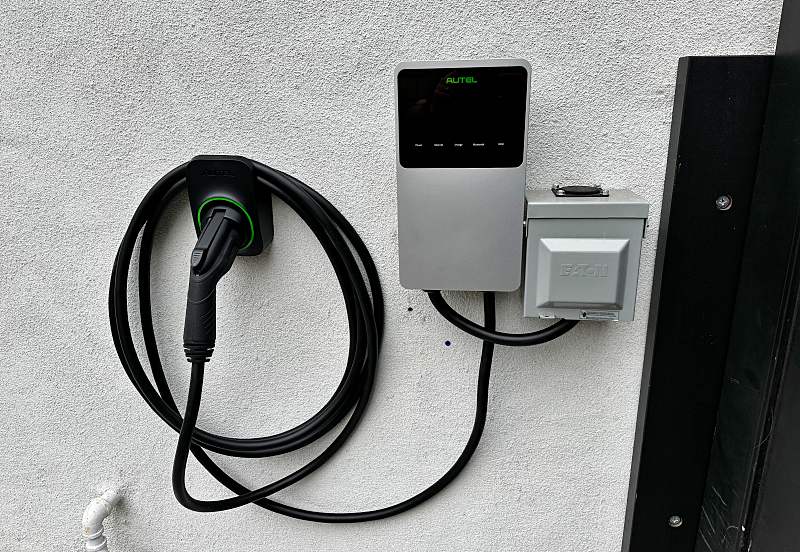 As you'll notice in the above photo, the NEMA plug is unbelievably short, resulting in the awkward placement of the charger. The charging cable on the other hand is a full 25′ length making it easy to get to most charging port locations on various EVs.
Now you can set up the app, or use it without should you choose. Download, register and then follow the prompts.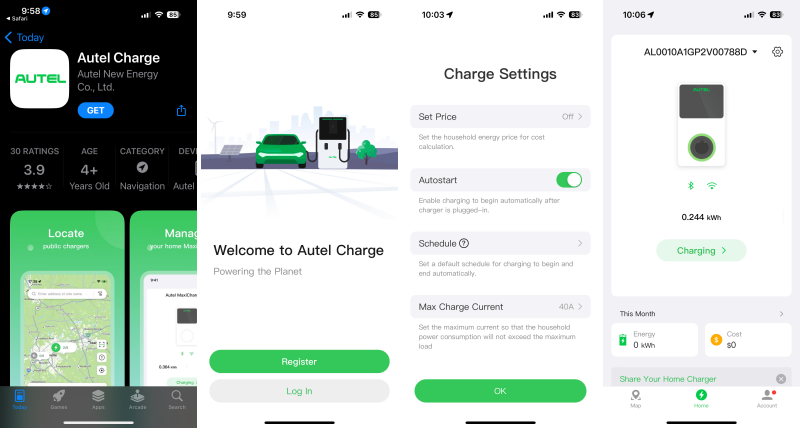 There are a few more things in the app you may want to do, but they're all preference related so you can tackle those as you need or want.
Performance
From a daily use perspective, the Autel MaxiCharger has been flawless. It's worked every time it's plugged in, charging at full speed for a 40A charger. The main body of the charger looks good and is weather rated. The charger handle feels especially robust. Shown here using a separately purchased Tesla adapter.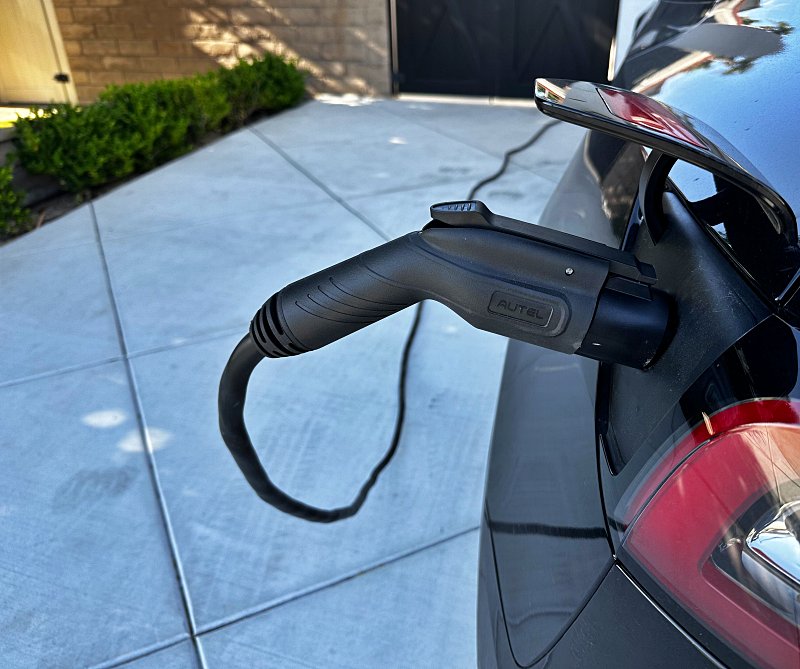 One specific thing to call out is the cable. It's 25 feet long and I honestly feel that this should be the minimum length for all cables. It's smaller in diameter than a lot of cables and as a result, is really easy handle. It does have a little bit of memory to it though, and over time can start to appear a bit lumpy if overly twisted in the same direction. I'd take both of those details over larger heavier cables every time.
The wall holster holds all that cable length easily and has a receiver port that rotates about 30º which makes clicking the handle into place feel very purposeful and a lot like returning the pump handle to the gas pump.
The app is extremely easy to use and adds a lot of functionality as well as different ways to visualize the data. I was able to plug in my electricity rate for the off-peak hours when I want to charge and the app did the rest. I installed the charger around May 20th and this shows through June 22nd for two EVs.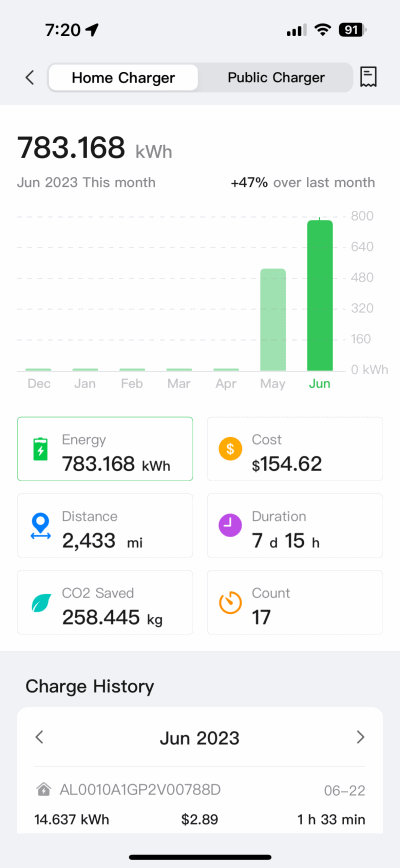 You'll want to adjust notification settings as the app likes to announce what's happening otherwise. We set charging schedules in the EVs themselves, so if we plugged in before charging starts at 9pm, we'd immediately see a "charging suspended by vehicle" alert. Better to know than not know, but turning off alerts for common occurrences becomes necessary. Don't read too much into the times on start/stop above as we frequently switch the charger between vehicles to top the other one off.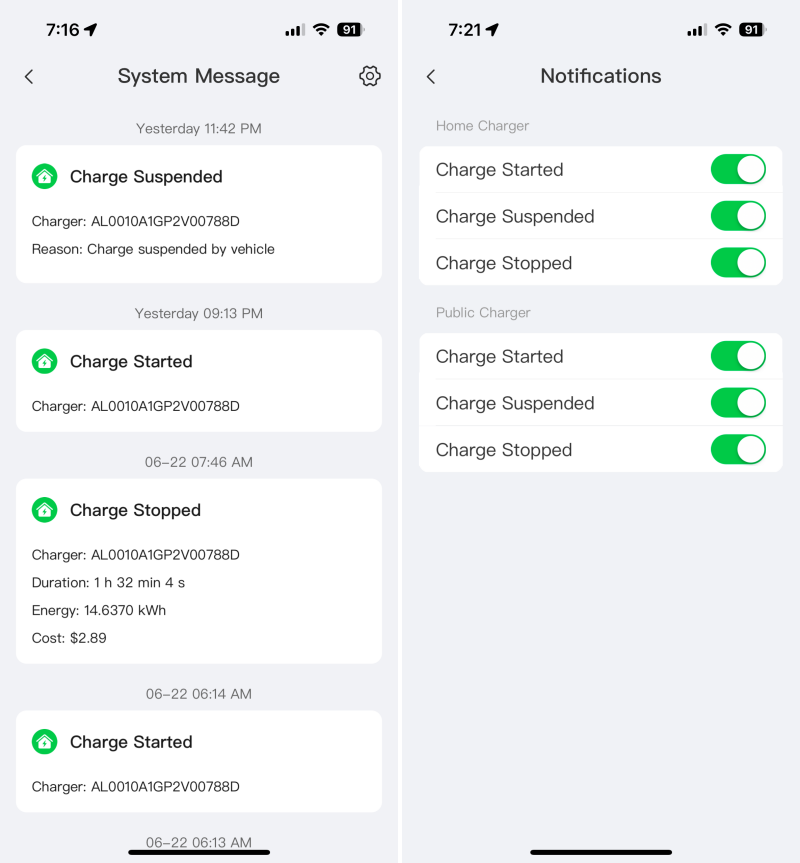 Another feature that I was not able to test is adding RFID cards that disable the charger unless a card is tapped. This seems like a great option for a charger installed at a small business, or a way to future-proof if you somehow find that your charger is getting used when you're not home. I haven't heard of that kind of thing happening, but it, unfortunately, seems like it might be inevitable.
What I like
Clean look and great build quality
NEMA 14-50 plug option
Powerful app
What I'd change
Add another 2 feet to the NEMA plug cable
FUTURE REQUEST: Would love to see a dual EV model that can smartly divide the load between 2 EVs
Final thoughts
There are a lot of EV Chargers available and no easy way to compare them all. Autel's MaxiCharger is a complete package that installs easily, looks clean and professional, and has a lightweight cable that's easy to deal with. The companion app serves up relevant information, can help keep an eye on your charging costs and even lock out unauthorized users if you opt in for their RFID activation. Whether you're looking for a hardwired or NEMA version, Autel has you covered.
Price: $559.00
Where to buy: Amazon
Source: The sample of this product was provided by Autel Energy.