We use affiliate links. If you buy something through the links on this page, we may earn a commission at no cost to you. Learn more.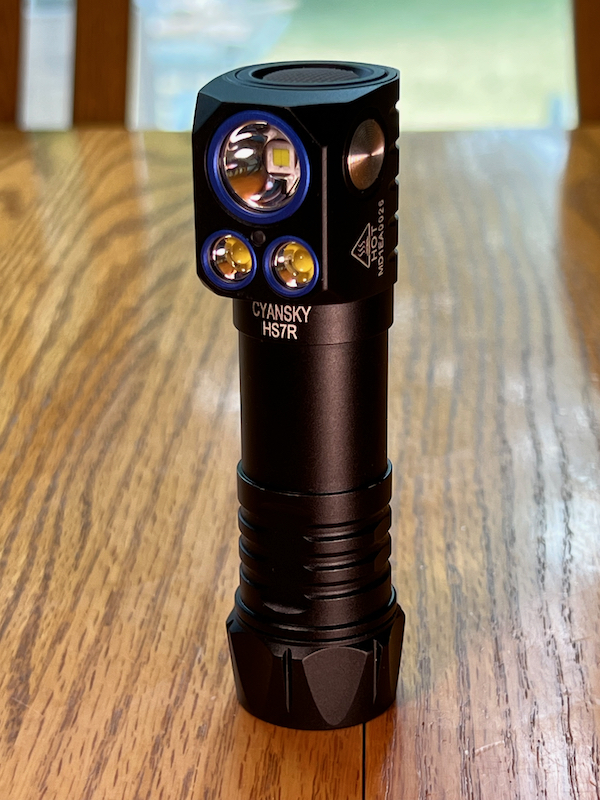 REVIEW – In my job I often work in dark spaces, under counters, in equipment racks, in ceilings, all situations that require me to use a flashlight, preferably hands-free. I've held flashlights in my teeth before but since they're almost always made of metal that's not very comfortable. I can use a work light, sitting on a table or hanging from something, but that's not always pointing where I need it. For situations like these I prefer to use a headlamp. When the opportunity came up to review the CYANSKY HS7R 2,800 Lumen Headlamp I was excited to test it out.
What is it?
The CYANSKY HS7R is a bright headlamp with a spotlight and floodlight mode. The light includes a band that goes around and over the head or a hard hat to support the light for hands-free use, but it's also removable for handheld use, and also includes a magnetic tail cap to allow it to be hung in a variety of positions. With the included rechargeable battery this light should last for several long days of working in dark spaces.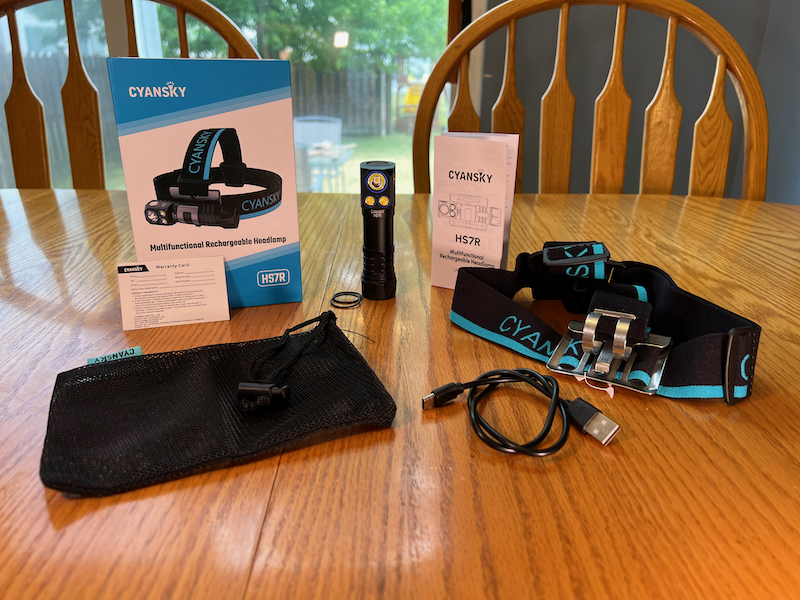 What's in the box?
HS7R Headlamp
Headband With Integrated Bracket
BL2150U 5,000 mAh 21700 Rechargeable Battery
USB-A to USB-C Charging Cable
Storage Bag
2x Spare Waterproof O-rings
User Manual
Warranty Card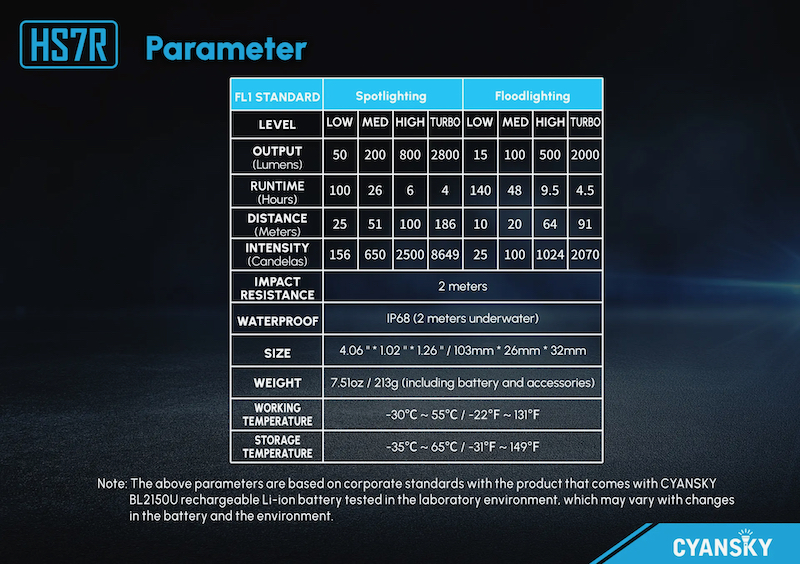 Hardware specs
Max. Output: Spotlight 2,800 Lumens, Floodlight 2,000 Lumens
Max. Intensity: Spotlight 8,649 Candela, Floodlight 2,070 Candela
Max. Distance: Spotlight 186 Meters, Floodlight

 

91 Meters
Max. Runtime: Spotlight 100 Hours, Floodlight 140 Hours
Charging Voltage: Up to 5V/2A
Angle: Spotlight 20°, Floodlight 90°
Body Construction: A6061-T6 Aluminum Alloy
Reflector: All Metal Design
LEDs: Spotlight: Luminus SFT70 cool white; Floodlight: 2x OSRAM DURIS P9 Medium White
LED Lifespan: Up to 50,000 hours lifespan
Size: 4.06 x 1.02 x 1.26 in (103 x 26 x 32 mm)
Weight: 2.47 / 5 / 7.51 oz (70 / 142 / 213 g) (HS7R/+Battery/+Stand & Headlight Band)
Water Resistance: IP68 (2 meters underwater)
Impact Resistance: 2 meters
Working Temperature: -22℉ ~ 122℉ / -30℃ ~ 50℃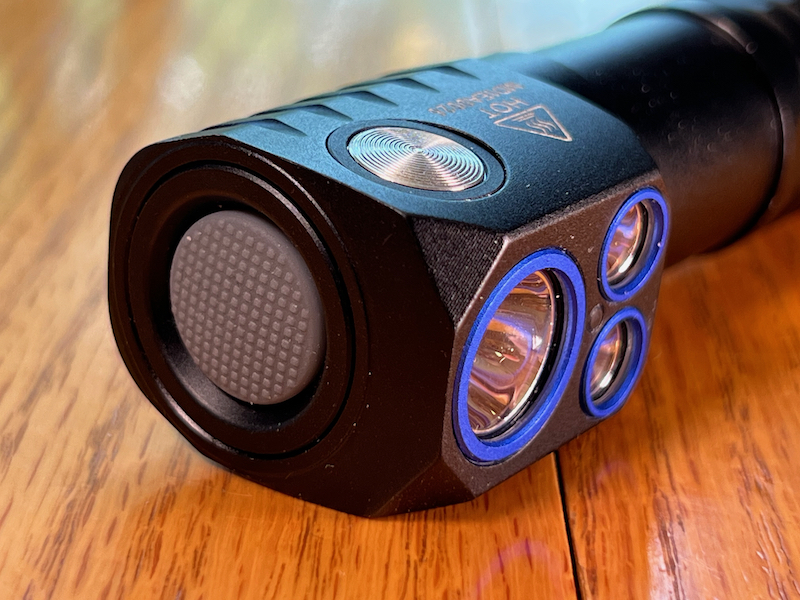 Design and features
This flashlight shares the typical barrel style form factor, except that the LEDs are on a small section that is 90º to the rest of the body rather than at the end of the light. This form factor allows it to be used as a headlamp or to be handheld and with the magnetic tail cap it can be easily attached to a metal surface. The body of the light is made from an aluminum alloy which feels like it can withstand quite a bit of shock. The body features an anti-slip design pattern and the tail cap has several flat spots to help prevent the light from rolling off a table.
The light features two sets of LEDs, one a spotlight and one a floodlight. The spotlight has a 20º lens and can light up to 186 meters; the floodlight has a 90º lens and can light up to 91 meters. There are two different color temperatures as well: the spotlight is a cooler color and the floodlight is warmer; not an extreme difference but noticeable. The cooler light makes the spotlight mode feel even brighter.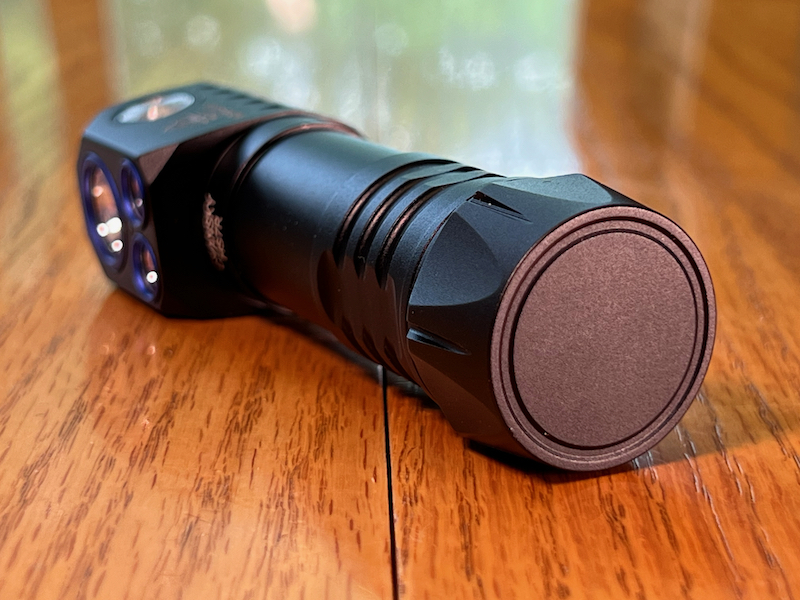 There are two on/off switches on the CYANSKY HS7R headlamp, one at the top, which is a silicone-covered button. The other switch is a smaller metallic button, on the right side of the light if you're looking at the LEDs.
When in the headband bracket the light can tilt 90º +/-, allowing for a 180º swing to reach whatever you're trying to illuminate in front of you.
The spotlight has four brightness levels, up to 2,800 lumens, and the floodlight has four brightness levels, up to 2,000 lumens. Each mode includes a memory function, which returns the light to the last used brightness level when turned on each time, except turbo mode. Both modes can run in turbo level for up to 1 minute, after which the lights return to the high level for temperature protection. When the battery level runs down to 3V the light automatically switches to low mode and shuts off when the battery gets to 2.7V. 
This light also features a light sensor, which automatically lowers the brightness when it's too close to an object to prevent burning skin or melting through a pocket or pouch. This sensor can be defeated by double-pressing the top switch.
The CYANSKY HS7R headlamp is capable of fast charging, only taking 2 hours to charge at 5V/2A, which is about typical for a 5,000 mAh battery. The battery is removable and is the 21700 size.
Inside the silicone button at the top there is a battery level display, which lights up when the flashlight is turned on or when either button is quickly pressed while the light is off. There are four levels of battery level indication:
Solid Green: 76% – 100%
Flashing Green: 50% – 75%
Solid Red: 26% – 50%
Flashing red: <25%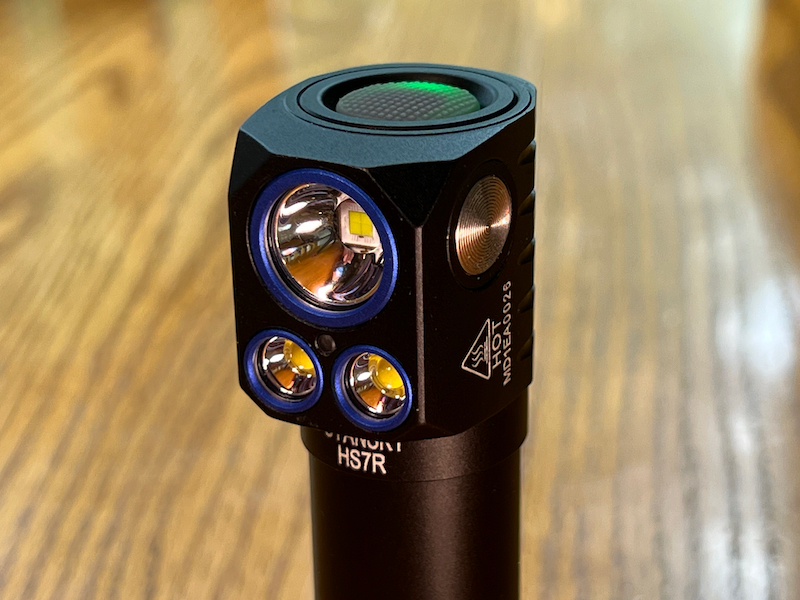 The CYANSKY HS7R headlamp also features a lockout mode which can be enabled by pressing either button for 3 seconds. After flashing a couple of times the light turns off and is locked. While in lockout mode, pressing either button flashes that mode's LEDs twice. To unlock the light, press either button again for 3 seconds.
The included headband fits around the head comfortably and can be expanded to fit around a hard hat for situations that require it.
Installation and setup
The flashlight came out of the box partially charged. Before first use, there is a small plastic insert that has to be removed. It's always recommended to fully charge a new device before using it. Once that is done and the light is clipped into the headband, it's ready to be used.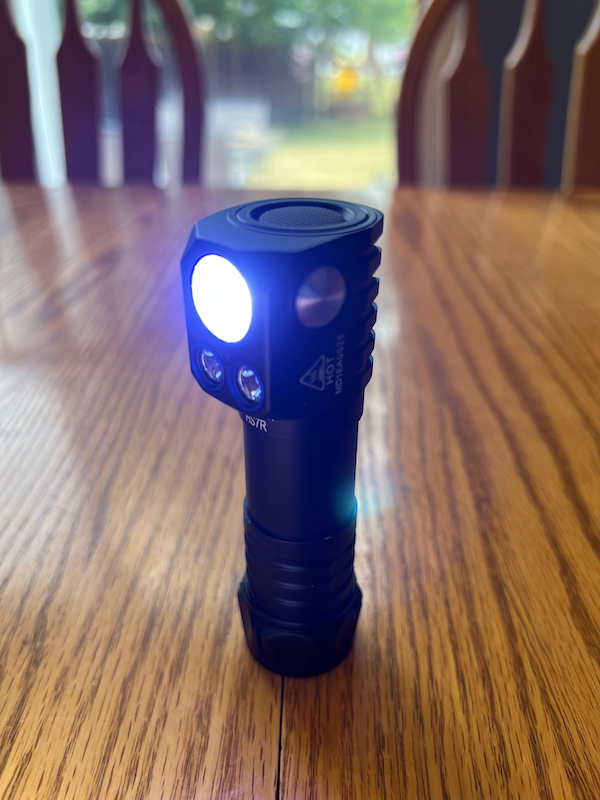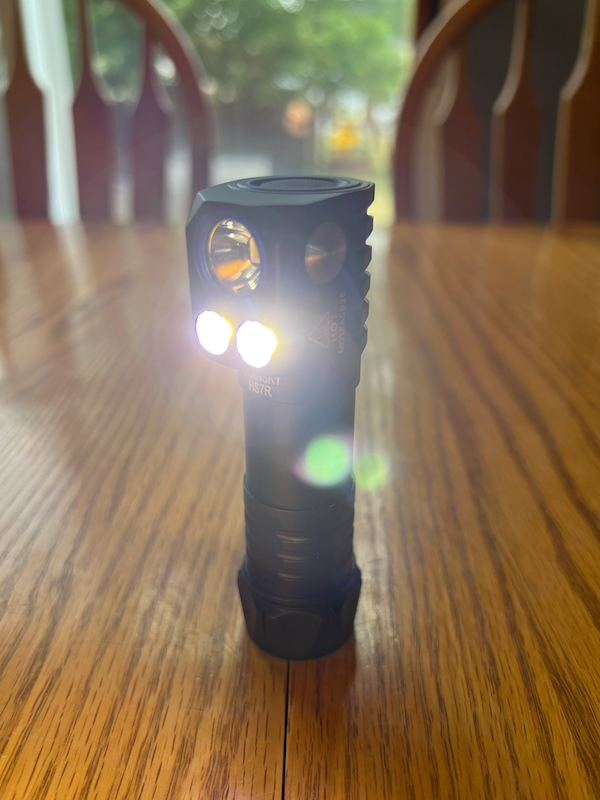 To turn on the flashlight, press the top button for .5 seconds for spotlight mode. Pressing the button again cycles through low, medium, high, and turbo brightness levels. To turn on the floodlight mode, press the small metal button for .5 seconds; pressing it again will cycle through low, medium, high, and turbo modes for the floodlight as well. To turn off from either mode, press that mode's button for .5 seconds.
In use
The CYANSKY HS7R is a really bright headlamp. Both the spotlight and floodlight modes reach a pretty high brightness level. I can't imagine a work situation where this headlamp won't be bright enough. I know there are more extreme jobs out there than mine so someone can probably come up with a situation where this light isn't enough, but for the average Joe, this light is going to be plenty bright.
The aluminum construction is solid and feels like it's built to last. Considering that it features IP68 water & dust resistance, this light will last a long time.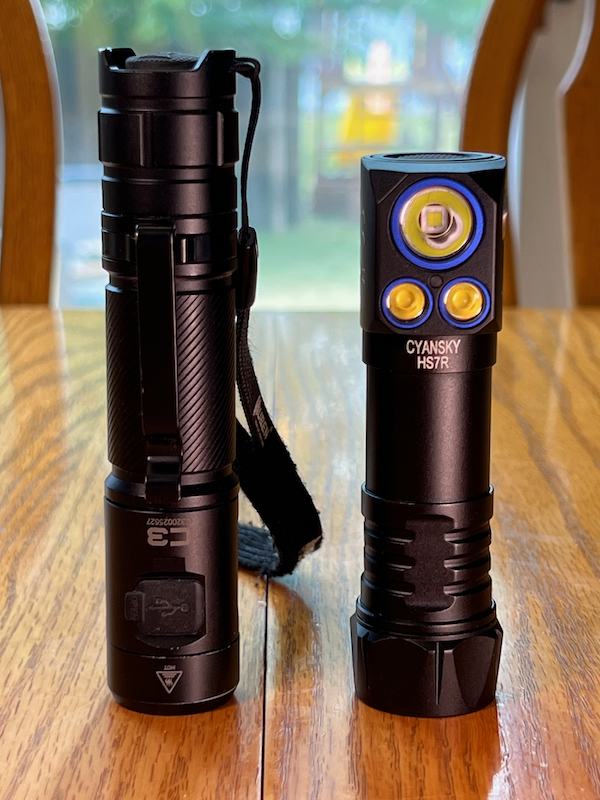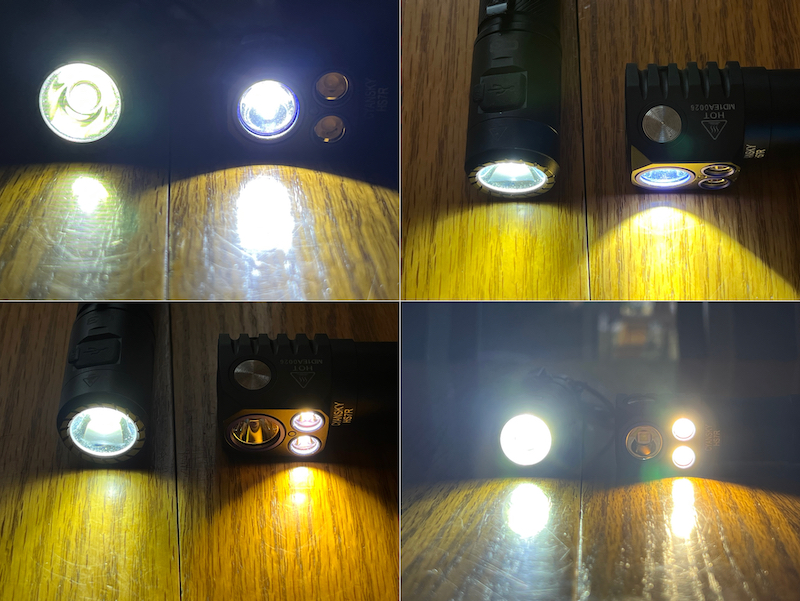 The magnetic tail cap isn't the strongest magnet I've ever used but it attaches and stays put to any standard ferromagnetic metal, flat surface, and since the light only weighs about half a pound I think it's plenty strong to stay put.
The proximity sensor is very effective and instantaneous. I plan to keep this feature on all the time because after just a few seconds of turbo mode shining right at my hand, it started to feel uncomfortably hot. The body of the light where the LEDs are housed also gets pretty hot after a little while, too hot to hold very long for sure. There is plenty of surface area to still hold on to, but be careful of the head as it will start to feel uncomfortable after just a few seconds in turbo mode. When strapped onto the head this shouldn't be an issue because the headband and steel bracket keep the light far enough away from the skin that it shouldn't be a problem.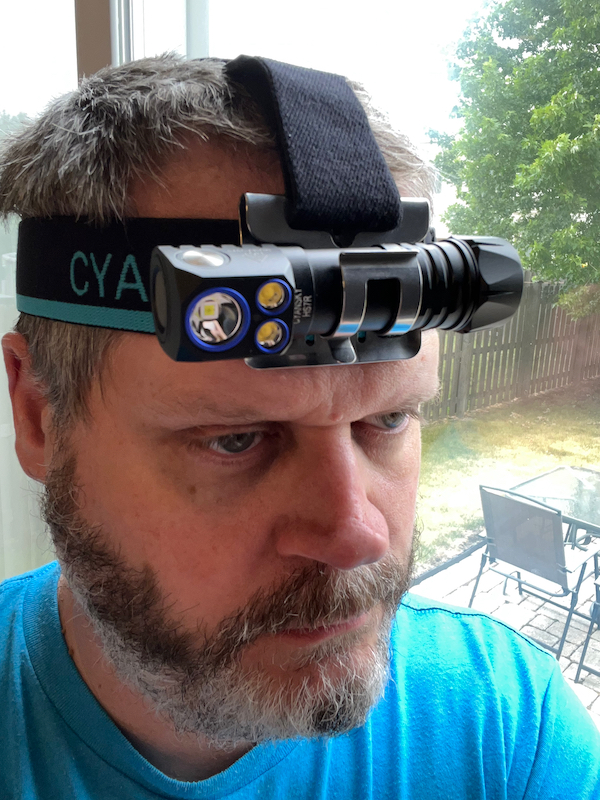 The CYANSKY HS7R headlamp isn't heavy per se, but it is the largest headlamp I've ever used. When it's strapped to your head you won't forget it's there. It's not painful really but you'll notice the weight a little bit. I suppose if you use it with a hard hat you won't even notice the added weight.
There is no strobe mode available with this flashlight. I assume that's because it's meant as a headlamp and not a primary flashlight for most people, so presumably, you'll have another one that can strobe. A 2,800 lumen strobe light would be pretty effective, though. I've never actually used a strobe mode with any of my flashlights, but I always like knowing it's there just in case.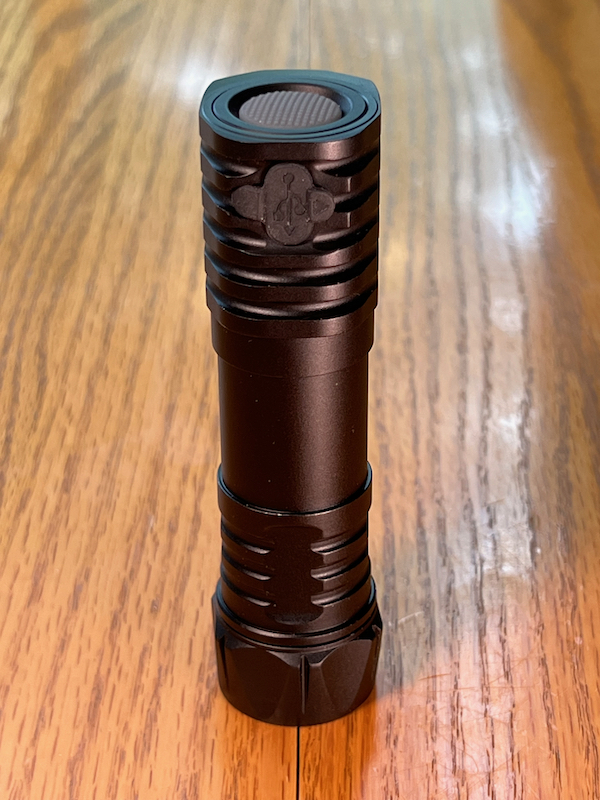 One thing I'm hoping for is that the silicone cover over the top button will last. I recently had to retire a much cheaper flashlight that I bought less than a year ago because the rubber cover over the button broke apart under average use. I didn't pay much for the light but it was still unfortunate. CYANSKY says their button withstood 100,000 presses in testing so I don't expect this to be a problem.
What I like
Flexibility
Brightness
Spotlight and floodlight options
Proximity sensor
IP68 rating
What I'd change
It feels a little too heavy on the head after a while
Final thoughts
Since the CYANSKY HS7R headlamp doesn't include a holster I won't be able to use it as an everyday carry light, but I do plan to keep it either in my backpack or at work so I always have a bright light available when I'm working in dark spaces. With the options of being head-mounted, handheld, or magnetically attached, I'm sure this light will come in handy anywhere I need to see more clearly.
Price: $109.95
Where to buy: cyanskylight.com or Amazon
Source: The sample for this review was provided by CYANSKY. For more information visit their site.