We use affiliate links. If you buy something through the links on this page, we may earn a commission at no cost to you. Learn more.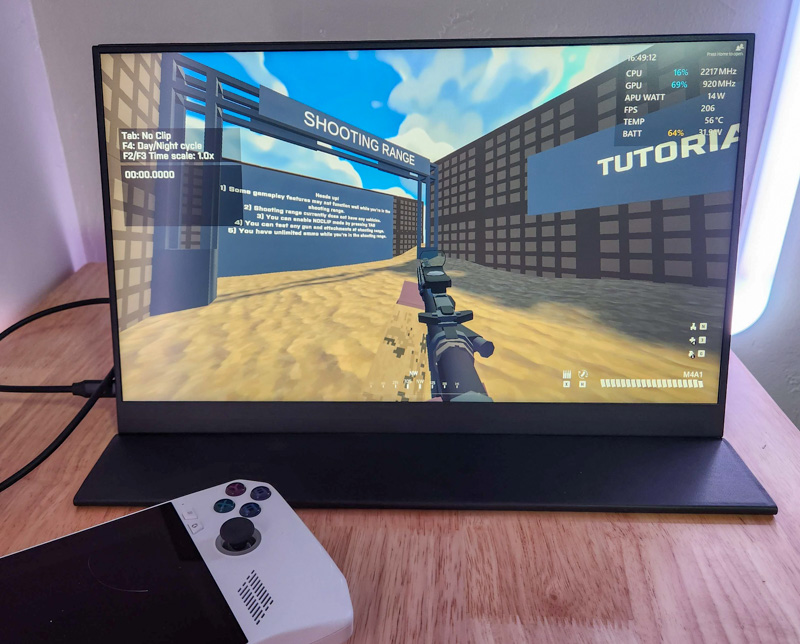 REVIEW – Portable gaming monitors have been fairly expensive since the first models hit the market since the panels made for gaming are more demanding than your average consumer panels. Many gamers today demand high refresh rates and minimal input lag, especially if they're using said portable monitor for e-sports or other fast-paced titles. Previously I haven't been able to tell much of a difference over about 150 Hz: the jump from 60 Hz to 120 is a big improvement to my elder millennial eyes, but higher and higher refresh rates are lost on me, at least on all the panels I've had capable of it so far (which isn't very many). I put the UPERFECT UGame K5 17.3″ Portable Gaming Monitor through its paces with both Windows and Xbox games for several weeks (sometimes I love this job).
What is it?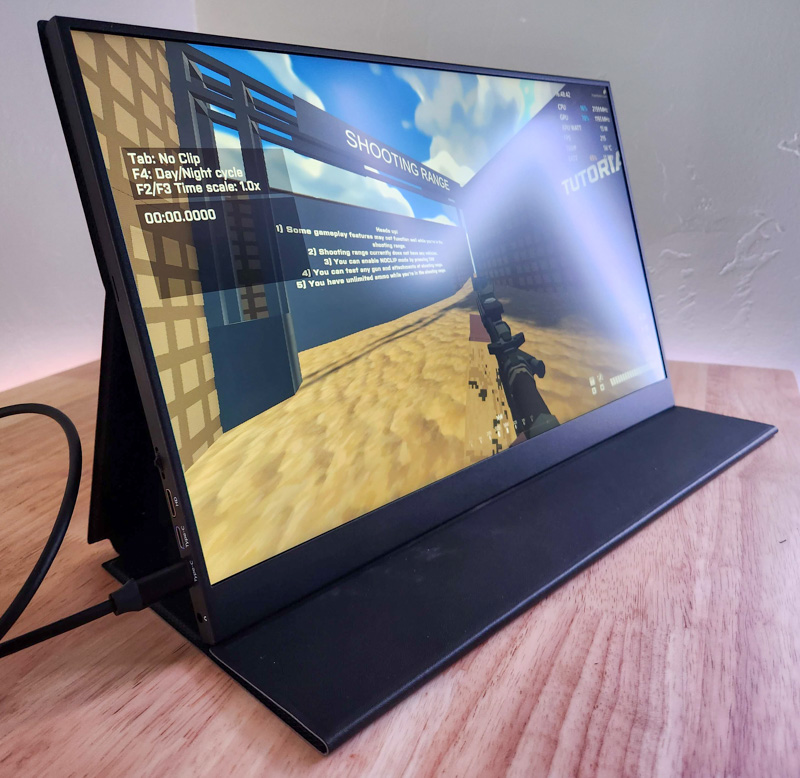 I just finished reviewing the very similar UPERFECT UPlays C2 16″ Portable Gaming Monitor, which is a 2k-resolution portable gaming monitor. UPERFECT also sent over this model, the UPERFECT UGame K5 17.3″ Portable Gaming Monitor, which is a bit larger and has a bit faster refresh rate, at the expense of screen resolution: this model is a 1080P panel that can push to 240 Hz for ultra-smooth gameplay (if your device can handle pumping out that many frames per second).
What's in the box?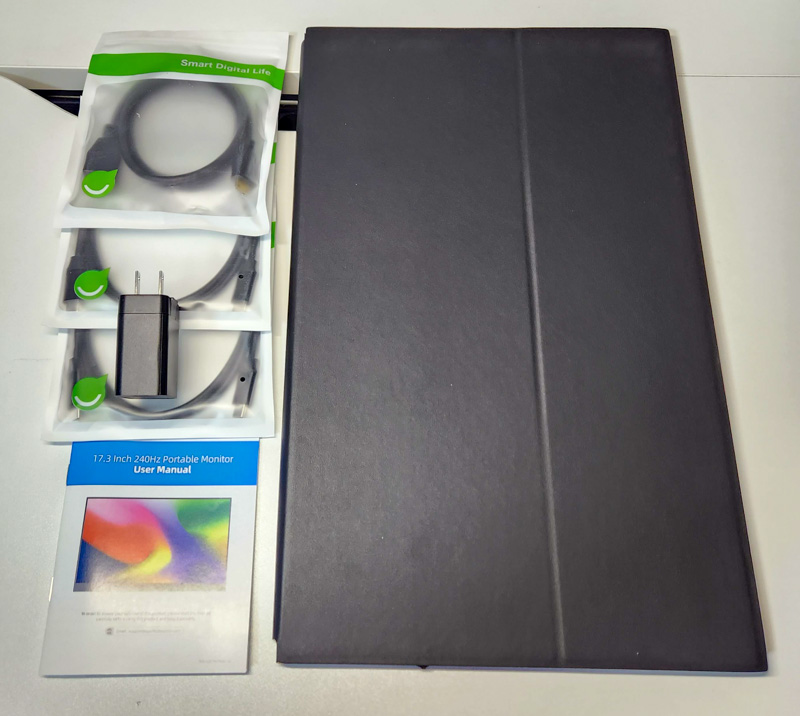 UPERFECT UGame K5 17.3″ Portable Gaming Monitor
2 x USB-C to USB-C cables
1 x mini-HDMI to HDMI cable
1 x AC Power adaptor
1 x Magnetic Smart Cover
Manual
Hardware specs
Resolution: 1920 x 1080 pixels (FHD)
Screen Size: 17.3″ diagonal
Refresh rate: up to 240 Hz
Display Ratio: 16:9
Viewing angles: 178°
Panel type: IPS
Contrast Ratio: 1000:1
Color Gamut (sRGB): 100%
Power consumption: 12 watts
Brightness: 300 cd/m2
Frame material: Metal
Auto-rotation: no
Touchscreen: no
Built in battery: no
HDR: yes
FreeSync: yes
VESA: yes, 75 x 75 mm x 4 mm
Built in Speakers: yes, stereo 1 Watt
Size: 392 × 242 × 12 mm (15.43 × 9.53 × 0.47 inch)
Weight: 0.96 kg (2.11 lbs)
Design and features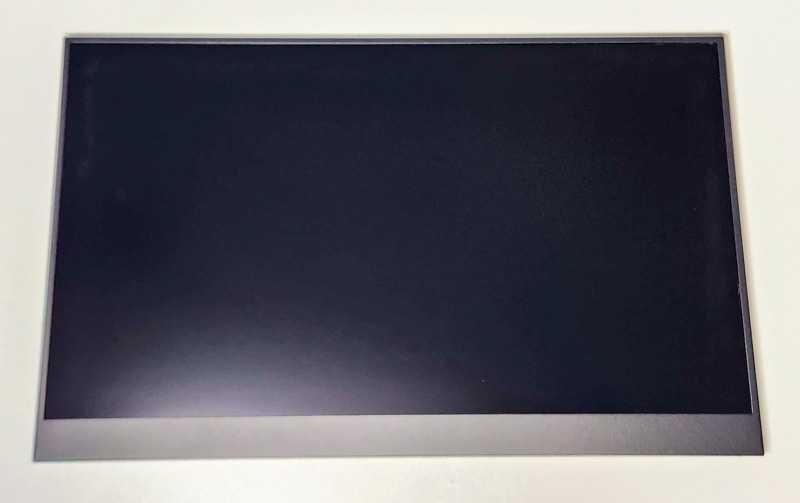 The UPERFECT UGame K5 17.3″ Portable Gaming Monitor is a typical portable monitor: a dark grey rectangle with slim side and top bezels and a bigger "chin" bezel.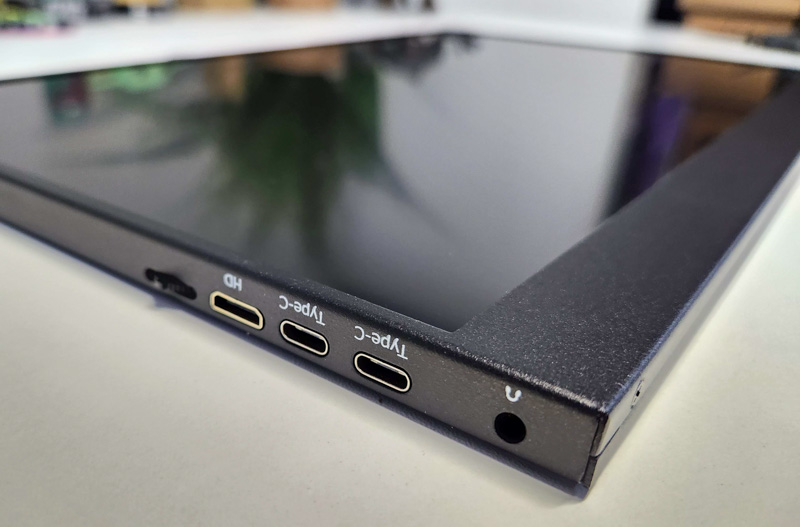 On the left side, you have a headphone/audio-out 2.5mm port, two USB-C ports that can both be used for power and/or video transmission, an HDMI port for devices that don't support video-over-USB, and a rocker menu/volume switch.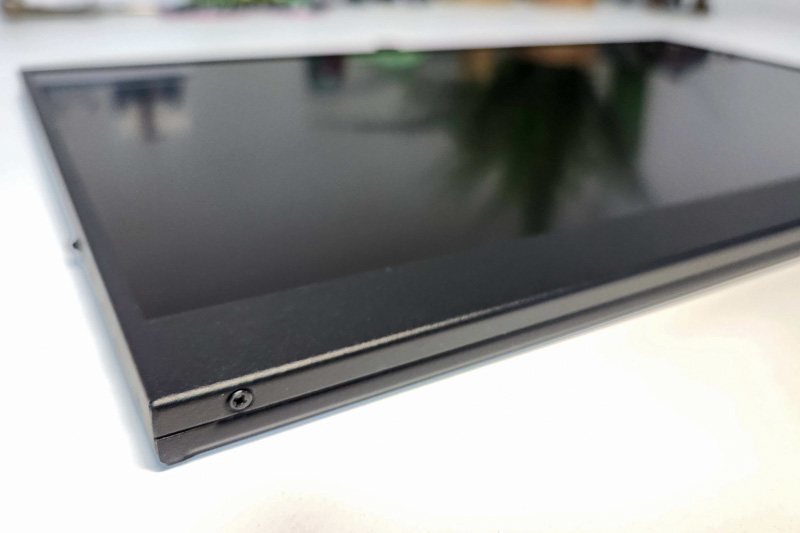 The whole frame of the UPERFECT UGame K5 17.3″ Portable Gaming Monitor seems to be aluminum, and screws are visible as shown above. This gives it a slight industrial vibe, very at home for a gamer device.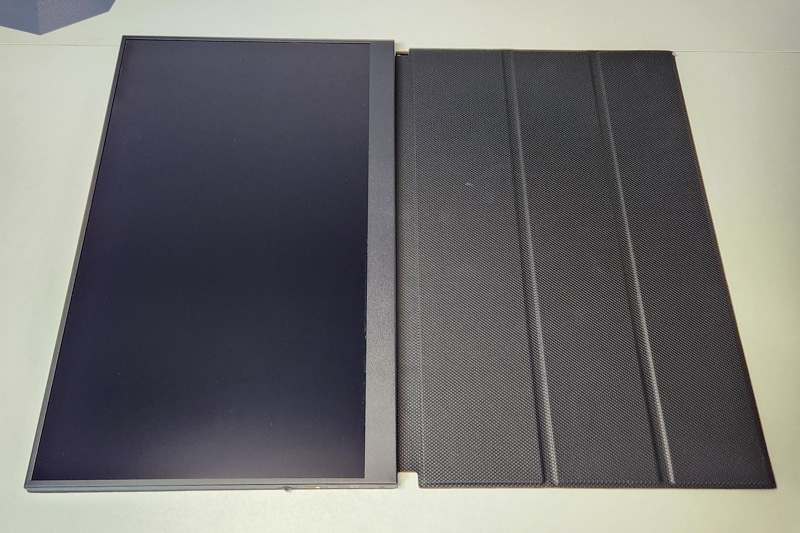 The included removable magnetic cover doubles as a monitor stand when not in screen-protective mode. Below is the monitor in stand mode (with the outer third of the cover folded back):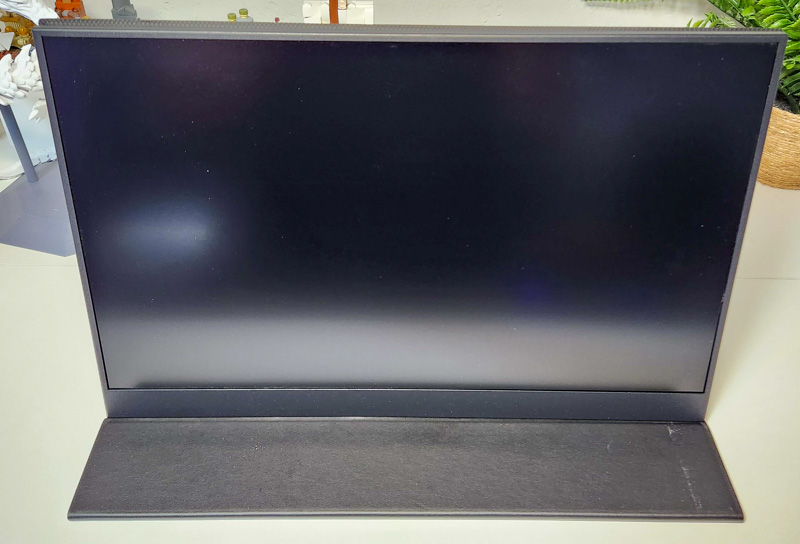 The right side (shown below) is entirely flat except for a speaker cutout. The stereo speakers are not particularly loud and they lack bass, but I always like having the option just in case, so I'm glad they included them. There are much better laptop speakers on the market these days, I wish these portable monitor companies would pick them up, but maybe there's not enough room in the slim chassis to allow any bass to reverberate. The Apple iPad Pro would disagree with that guess though, if you've ever heard those speakers cranked up you know it's possible in a device this large as well.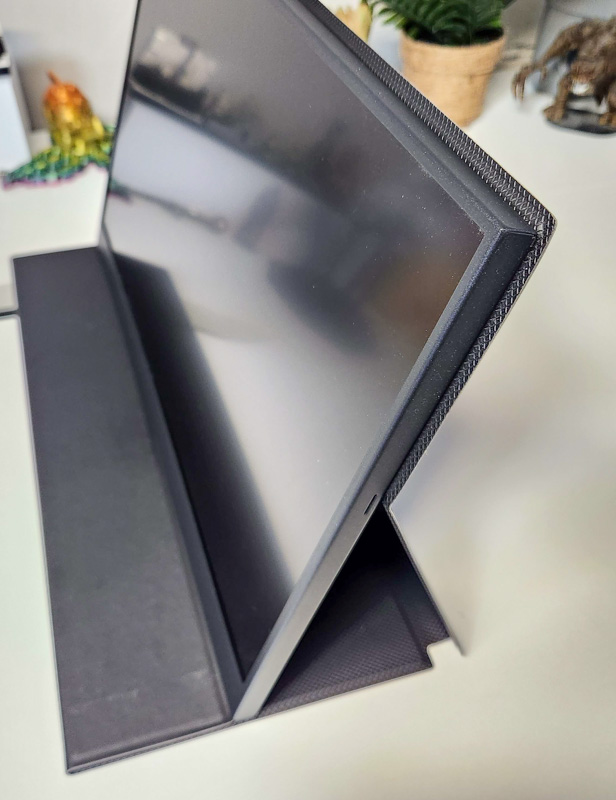 Below is a shot from the back: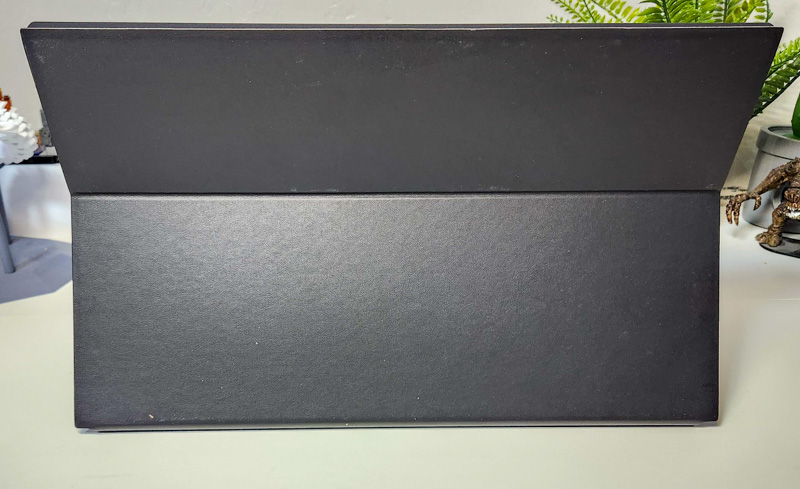 And another from the left side to show the angle when using the portable stand: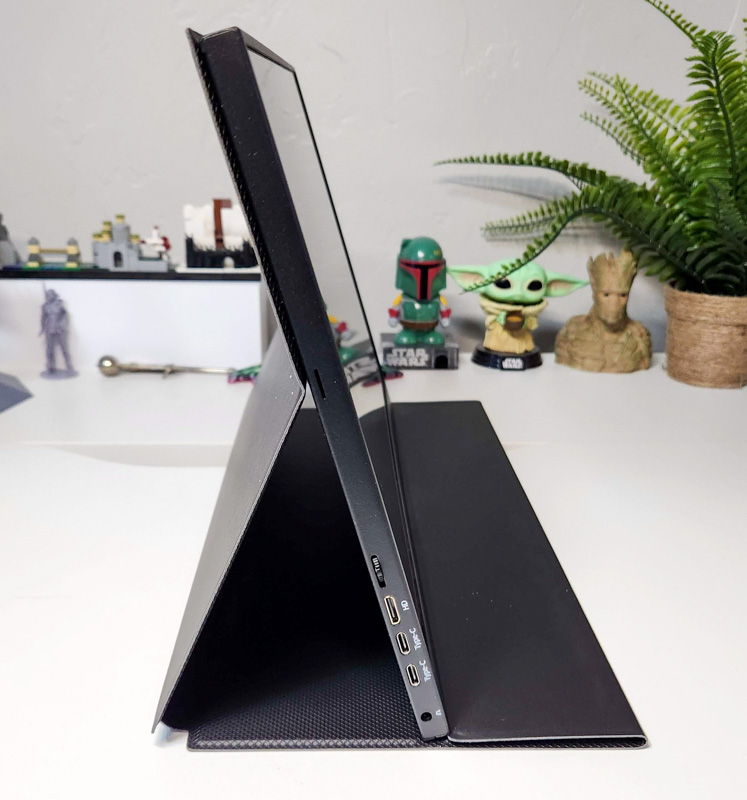 There are also four VESA mounting holes (75 mm VESA size, but screws – not included – must be less than 4 mm or they might poke into the screen itself)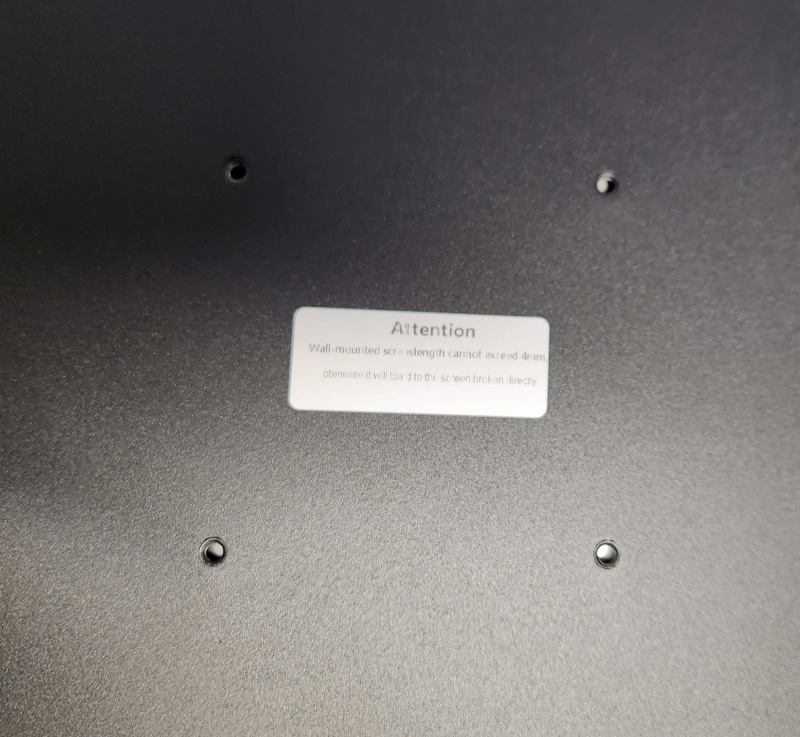 As I mentioned in my review of the UPERFECT UPlays C2, I love the addition of these VESA mounting points, it allows you to use this screen as a primary or secondary monitor by popping it on a VESA mount.
Performance
The video above shows the UPERFECT UGame K5 17.3″ Portable Gaming Monitor in action on both Windows 11 at 240 Hz and Xbox Series X at 120 Hz. Unfortunately, I don't have a camera that can record at 240 frames per second, so you'll have to use the video as reference more for the color screen uniformity than the refresh rate.
As with previous high refresh rate monitors I've tested, I really can't tell the difference between ~120 Hz and 1080p 240hz monitor except for very specific scenarios (like shaking a window from side to side with a mouse, I can just see a bit more smoothness to the quick motion if I'm really paying attention. I don't have the hand-eye coordination to benefit from such high refresh rates, but if you do you might value that more than me. I could detect no input lag at all, as can be expected with a quoted 3-5 ms response time.
Speaking of colors, the panel on the K5 seems like a better-than-average IPS panel, with 100% sRGB color gamut and up to 300 nits of brightness. It performed well in dark and well-lit rooms, though you'll struggle in very sunny rooms, and don't bother taking it outside.
If you're playing on a device like a Playstation, Xbox, or Switch, you'll need to use the HDMI cable (included) as well as power the monitor with the included AC wall adaptor. On a Windows desktop or laptop, if your device supports video-over-USB then you'll probably be fine with a single USB-C cable. I like that they included a second cable though just in case your device can't power it.
Speaking of gaming consoles, the HDR capability seemed to work on the Xbox, but on Windows turning on HDR (has to be enabled both in Windows and in the On Screen Display) resulted in a very dim and washed out screen. I've found that only the best and brightest HDR monitors are worth bothering with on Windows, if it's under 1000 nits brightness I just stick with SDR for a better experience.
One thing that became an annoyance while testing, especially when I disconnected the monitor and moved it to different rooms to test lighting conditions, was the fact that brightness (and other) settings don't save between uses unless you keep the monitor continually powered. Even on a single cable connection to a laptop, if the laptop goes to sleep the monitor reverts back to a brightness setting of 1 (out of 10), and changing brightness and other settings isn't exactly fast and easy with the combination rocker/push switch on the side. Other portable monitors I've used and tested have mitigated this annoyance by making the brightness fast to change (such as by pushing up on the rocker to immediately access the brightness slider and down to jump right to volume). It's too bad the K5 didn't follow this design queue and instead only used up/down for fast volume adjustments.
What I like
Good color and high refresh rate
Big screen size while still being slim and light for portability
USB and HDMI connectivity options
What I'd change
A bit more brightness would expand the types of rooms you could use this monitor in
A lot more brightness is needed to really benefit from HDR
No saved settings between uses means you're constantly adjusting the brightness with the On Screen Display
Final thoughts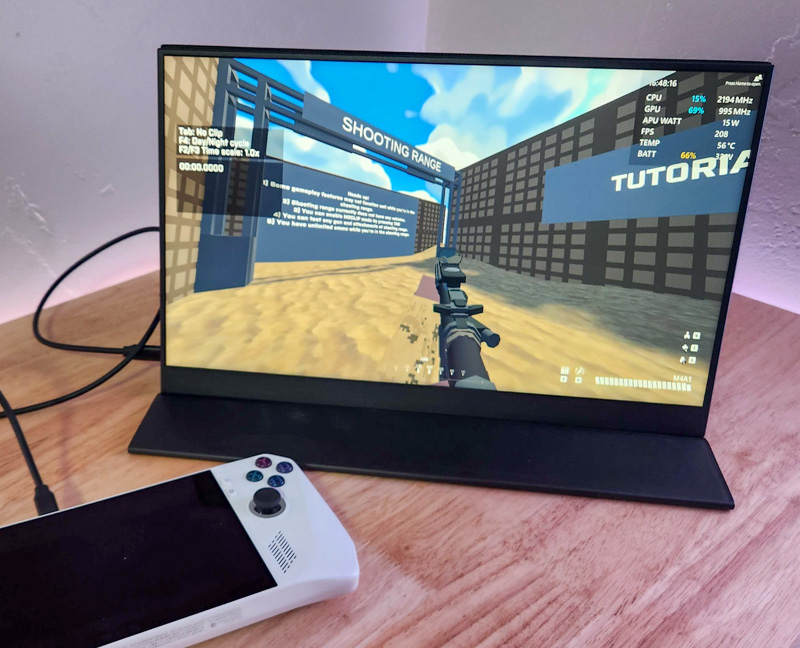 If I was asked to pick between the UPERFECT UGame K5 17.3″ 1080p gaming monitor and the other monitor I just reviewed (the C2 16″ 2K), I'd heartily recommend the 16 inch C2 over this one. The 17.3″ K5 is a good device, but unless you really need the extra refreshes, I like everything about the C2 16″ more: sharper screen at a slightly higher resolution, still a high enough refresh rate for me, brighter and more vivid colors to my eyes, and cheaper. However, if you're using a console or playing esports or just want a slightly larger portable monitor – the 1080P panel at 300 Hz on the K5 might be exactly what you're looking for, in which case this could be a good option for you.
Price: $499.99 (on sale for $329 at time of review)
Where to buy: UPERFECT
Source: The sample of this product was provided by UPERFECT