We use affiliate links. If you buy something through the links on this page, we may earn a commission at no cost to you. Learn more.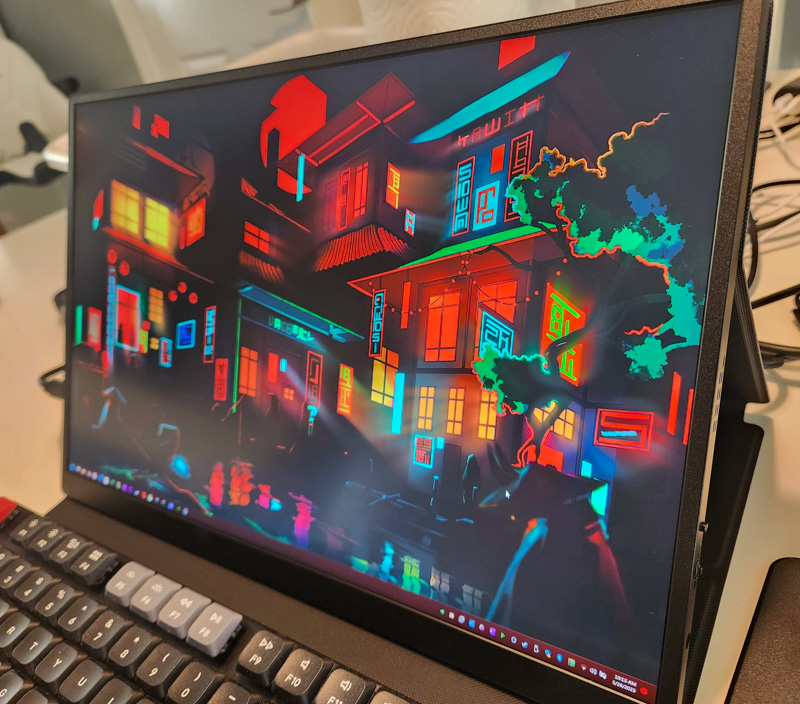 REVIEW – Portable monitors have exploded over the last few years, with a wide variety of brands and sizes, though most tend to be the ~15″ 1080P sort. I've seen a couple of gaming-focused portable monitors, but many have been a low 60 Hz refresh rate, which isn't the best for gaming. Models with high refresh rates and higher than 200 nits brightness have previously been in the $500+ range, so I haven't seriously considered them before. When the offer for a sub-$300 model came in to review, I was intrigued. Did Uperfect cut corners to get a good portable gaming monitor at this price? Or is it just a sign of dropping wholesale prices for these panels in general?
What is it?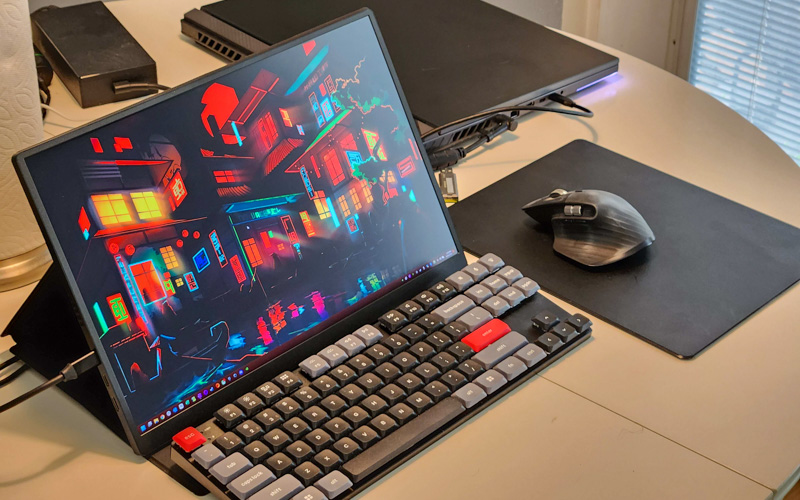 The UPERFECT UPlays C2 16″ Portable Gaming Monitor is well described in it's product title. It's a portable monitor that's good for gaming, it's 16 inches diagonally with a 16:10 aspect ratio, and it sports a high refresh IPS panel for good colors and fast smooth motion in modern games. It can be used with any computer that can output video over USB, or HDMI, as well as gaming consoles like Sony Playstations, Xbox, or Nintendo Switch (or any others that support HDMI).
What's in the box?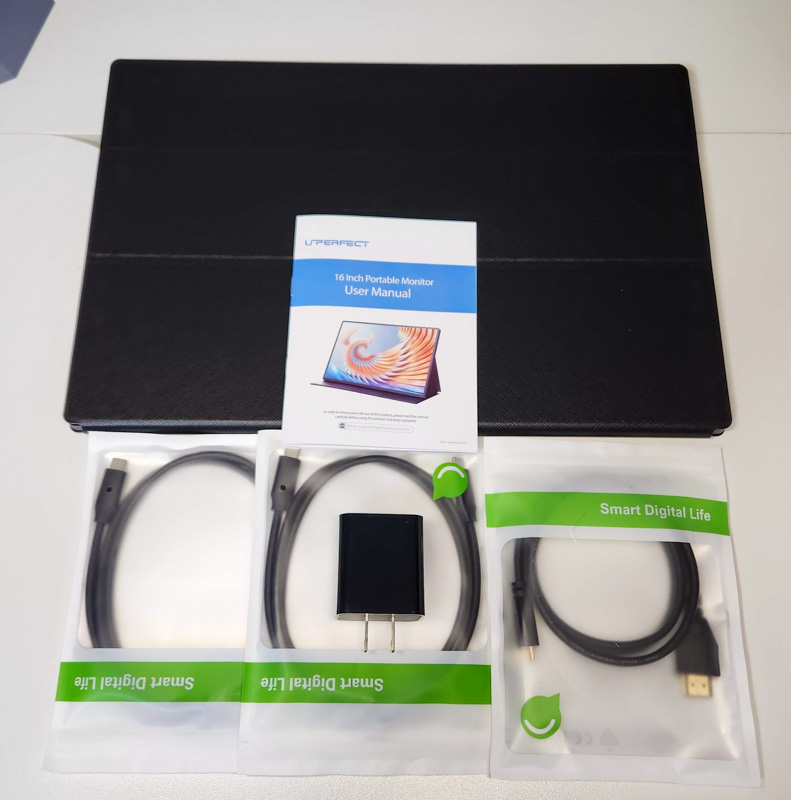 UPERFECT UPlays C2 16″ Portable Gaming Monitor
2 x USB-C to USB-C cables
1 x smart folding magnetic cover
1 x Power Adapter (AC)
1 x mini-HDMI to HDMI Cable
Manual
Hardware specs
Resolution: 2560 x 1600 pixels (2K QHD)
Refresh rate: up to 120Hz
Screen size (diagonal): 16 inches
Display ratio: 16:10
Viewing angles: 178°
Panel type: IPS
Contrast Ratio: 1200:1
Brightness (max): 400 cd/m2
Color Gamut (sRGB): 100%
Color Depth: 16.7 Million (8-bit)
Response time: 3-5ms
Rated power: 12W
Frame material: ABS
Touchscreen: No
Auto Rotation: No
Built in Battery: No
HDR: Yes
FreeSync: Yes
VESA: Yes: 75 x 75 mm, M3*4mm screws (be sure not to use longer screws as it could damage the panel)
Built in speakers: Yes, stereo 1 Watt
Size: 360 × 237 × 10 mm (14.17 × 9.33 × 0.39 inch)
Weight: 0.72 kg (1.59 lbs)
Design and features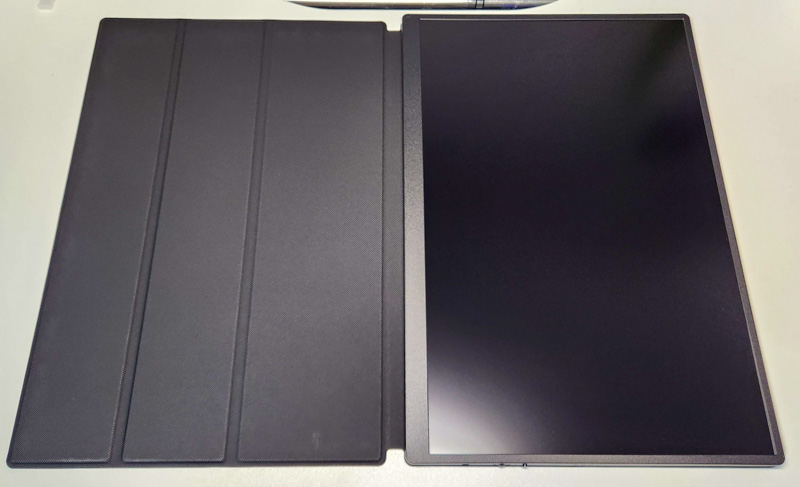 Like most other current portable monitors, the UPERFECT UPlays C2 16″ Portable Gaming Monitor resembles a giant tablet with a folding magnetic cover that doubles as a stand. The display itself magnetically attaches to the cover, which can be removed completely.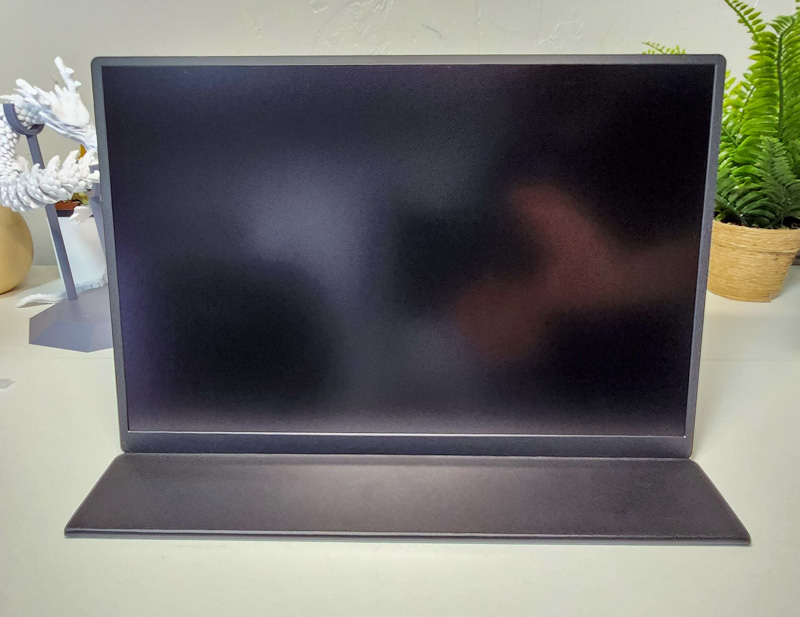 When folded up, it has two viewing angles that it can be slotted into.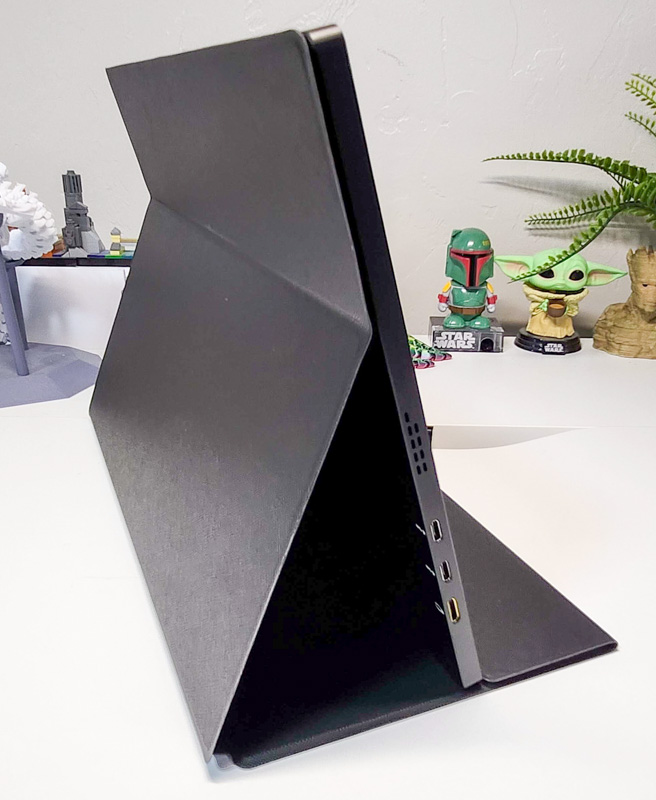 On the left side we have a speaker grill, two USB-C ports, and a mini-HDMI port. You can also see how the magnetic cover can be placed during use.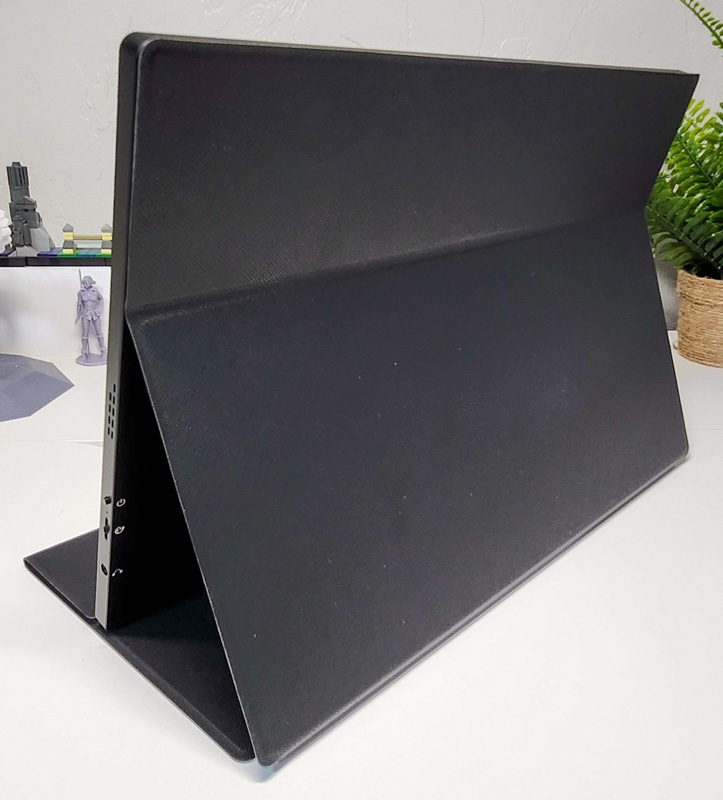 On the right side is a power button, 2.5mm audio port, and a multifunction switch for the onscreen display (this nub can be pressed in, or pushed up and down to navigate menus).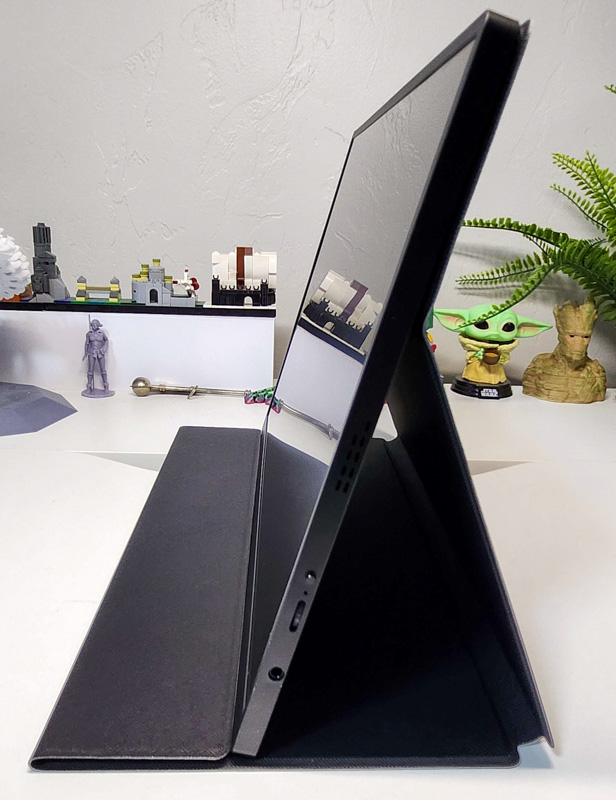 When placed in the more upright position, the UPERFECT UPlays C2 16″ Portable Gaming Monitor doesn't take up much space at all.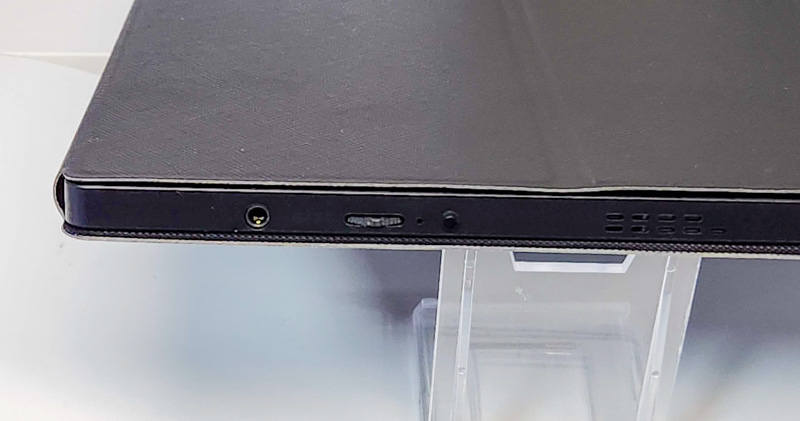 Above is a closer look at the menu rocker, audio port, and power button with the smart cover closed. Below is the other side as well.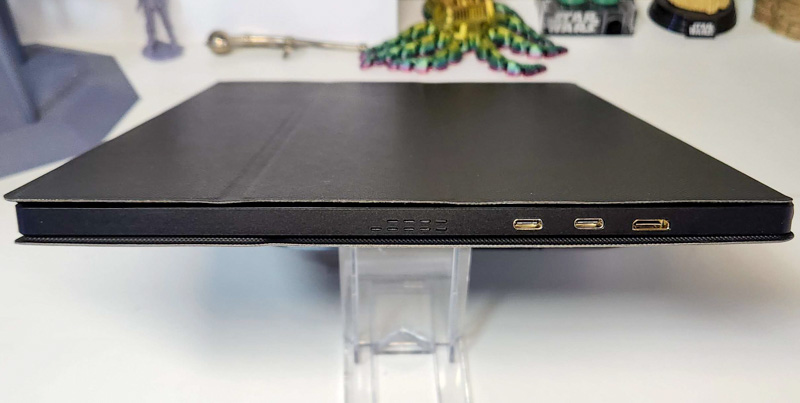 The monitor has 75 mm VESA holes, so you can use this with VESA compatible stands like the one shown below: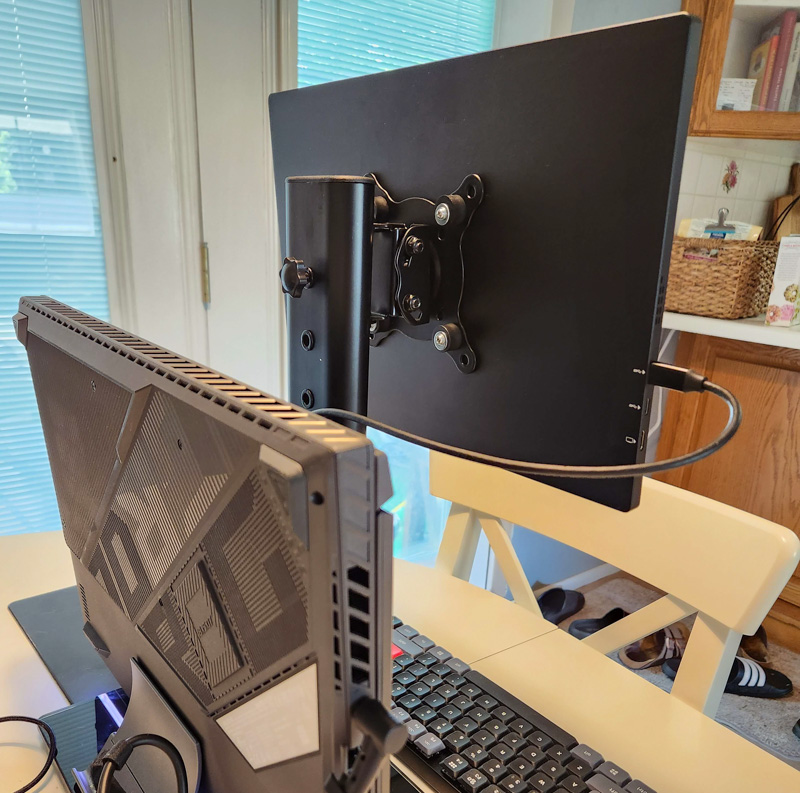 Setup
Setup is as simple as connecting a single USB-C to USB-C cable between the UPERFECT UPlays C2 16″ Portable Gaming Monitor and your computer, if using a computer. If you're using a gaming console or your computer doesn't support video over USB, then you'll need to connect the monitor to power via USB-C, and use the included mini-HDMI t0 HDMI cable to connect your device. I tested on Xbox Series X, and my gaming laptop, and both supported the full resolution and refresh rate by simply selecting those in display settings: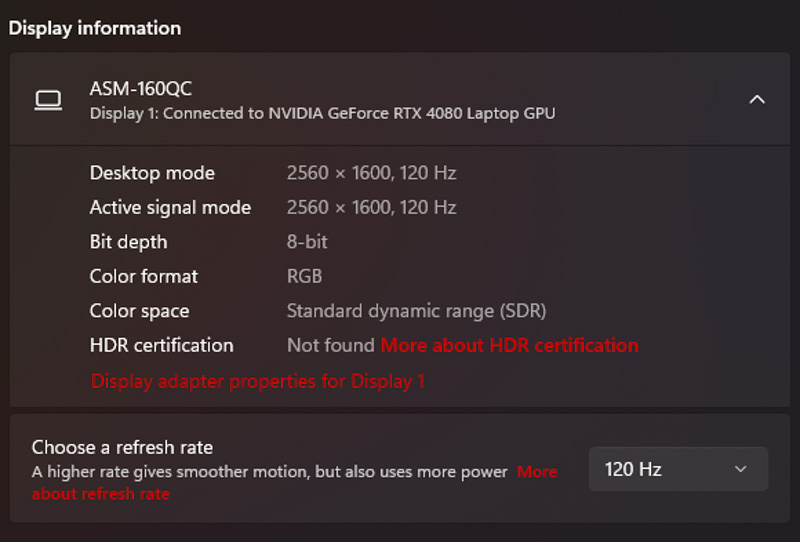 Performance
Since the UPERFECT UPlays C2 16″ Portable Gaming Monitor is marketed for gaming, I primarily tested this out with gaming. That said, it's also a great media consumption and even work screen with the higher than 1080P resolution and good colors.
The screen's native resolution is 2560 x 1600, which is an excellent resolution in between the common 1080P and 4K that many other screens have. For gaming, 4K is exponentially harder for graphics cards to handle, while 1080P can be a bit blurry especially on 15+" screens. 2560 x 1600 give a bit sharper image, while not overly straining most modern mid-to-high range graphics cards. The up-to-120 Hz panel also results in much more fluid motion in game compared to the old standard 60 Hz (if you've used any of the modern flagship mobile phones, part of the buttery smooth feeling is the higher refresh screens that are becoming more common). Gamers like me have been using 120 – 240 Hz panels for years (and some newer ones go to 300 or even higher!). Having used screens up to 300 Hz, I personally don't find much benefit past the 120Hz mark, but 120Hz feels a lot better to my eyes than 60 Hz.
One final note on this is that in order to take advantage of the extra refresh rate, your graphics card in your computer will need to be able to pump out over 60 frames per second, if it can't do that then the extra headroom is wasted.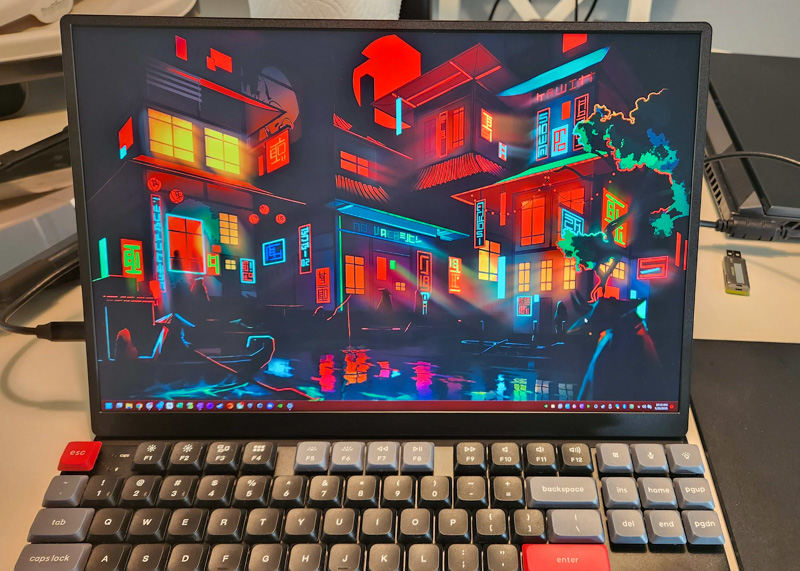 Besides the high refresh rate, the colors and viewing angles are great, which is typical for an IPS panel. It can also get pretty bright, up to 400 nits claimed (and real world testing feels like this probably an accurate spec, though I lack the proper testing equipment to verify). Next to a bright window where I sometimes work in the kitchen, I could still clearly see everything on screen, though in the brightest conditions the side nearest to the window was a bit washed out. In most rooms it's going to be more than enough brightness.
The speakers (like all of the other ones I've tested on every portable monitor so far) are not great. They're not the worst I've heard, but they have little to no bass and don't get very loud. You'll want headphones or better speakers, though these will do in a pinch (and I'm glad they include them, if you're using this with an Xbox or something similar, it's nice to at least have something).
I also like that they have a VESA mounting option, the UPERFECT UPlays C2 16″ Portable Gaming Monitor makes for a great small portable screen that can take up much less storage space compared to a typical 24 inch screen. Beware the shallow screw requirements though, I would worry about damaging the screen if I used screws too long when mounting it. By putting it on a VESA mount, I was able to raise it to a more ergonomic position so my neck isn't looking down at my laptop: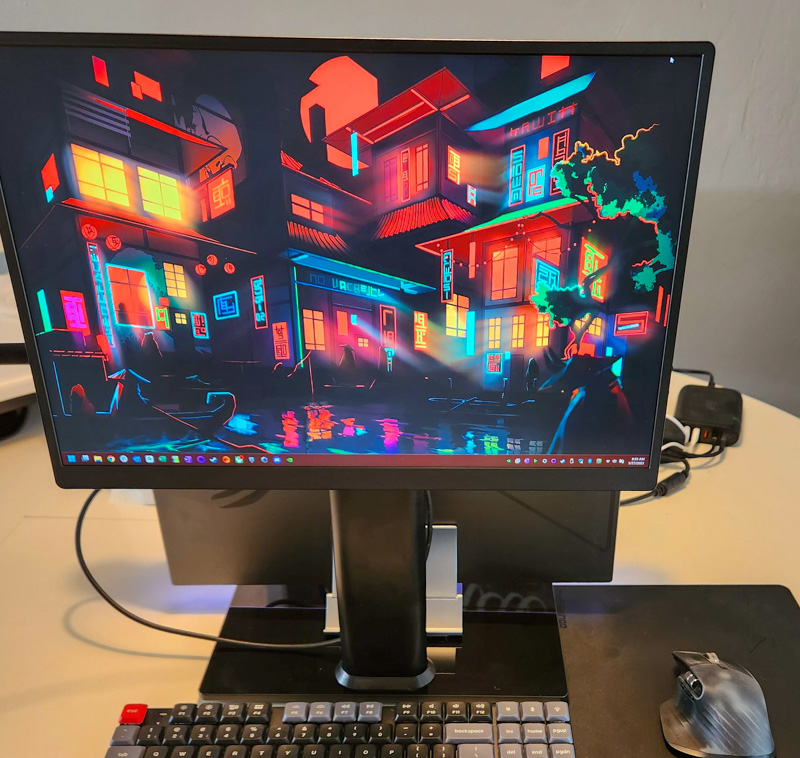 Finally, this short testing video shows a slow-mo capture from my phone of the panel in high refresh rate mode, then a minute or so of gaming including sound routed through the monitor's speakers:
What I like
Great color, brightness, and high refresh rate
Good resolution for a 15-16″ screen (4k is wasted at this size)
Price
What I'd change
I really couldn't think of any cons for a product at this price point. It would be nice to have features like G-Sync or a built in battery, but the extra price those would probably then kill the value proposition for me.
I would love if they did a 17 or 18″ version of this same product, the larger 17 inch one I'm also reviewing is 1080P rather than a 2k resolution.
Final thoughts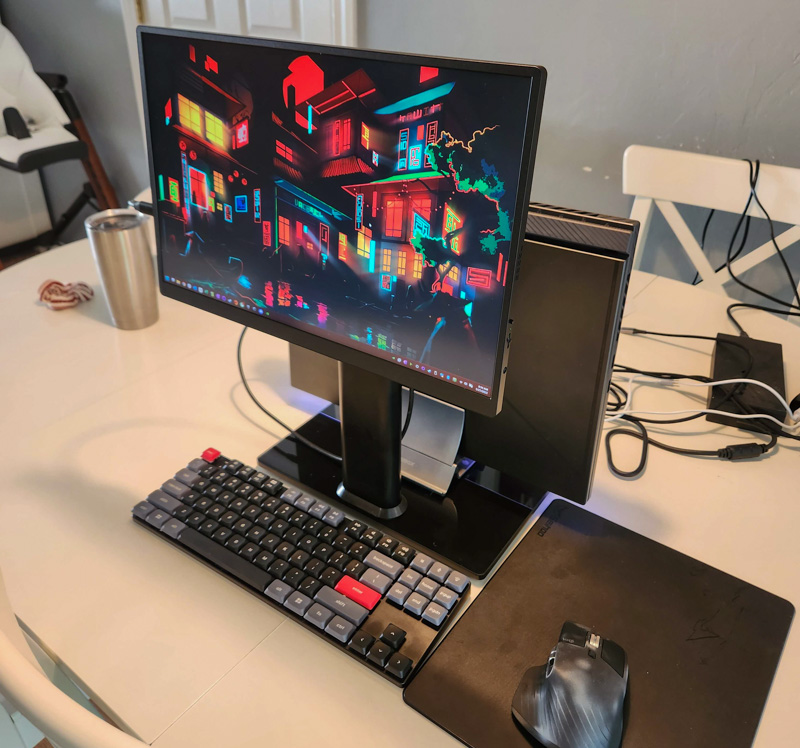 The UPERFECT UPlays C2 16″ Portable Gaming Monitor takes the ubiquitous portable monitor format and slaps a gaming panel into it. This is fantastic for people who want a higher quality panel for gaming, creative, or general use, and Uperfect priced it very reasonably compared to other portable gaming monitors on the market. Mounted to a VESA mount or standalone, this is a product I'll be using heavily going forward, it currently spends most days on our kitchen table with the vertical laptop mount behind it, the higher monitor position is much better for my neck with longer work or gaming sessions, and I don't have to lug around a much bigger monitor to accomplish this setup.
Price: $269.99
Where to buy: Uperfect
Coupon codes:
GADGETEER20, $20 off for order amount above $150
GADGETEER40, $40 off for order amount above $300
Source: The sample of this product was provided by Uperfect